In this post, you'll find 40 Easy Vegan Dinner Recipes everyone will love: Pasta, curries, comforting meals, burgers, rice dishes, pizza, tacos, and wraps. Get everyone to the table, Dinner is served!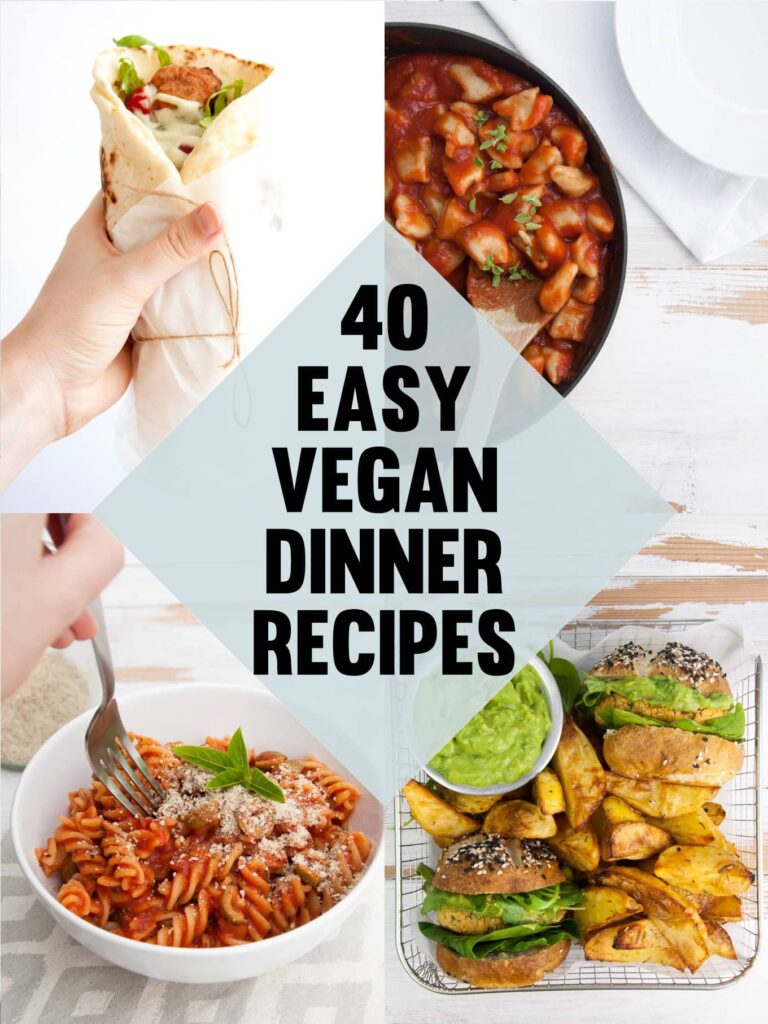 In my opinion, one can never have too many dinner ideas! I love to experiment with different ingredients and cuisines and over the time of four years of having this blog I've created over 300 vegan recipes, can you believe it? I never thought I'd cook that many different meals!
In this post, you'll find my favorite 40 Easy Vegan Dinner Recipes!
Vegan Pasta – pasta is always a winner in my book because it's so quick to make!
Vegan Curries – I can never resist a creamy curry (with flatbread and basmati rice, of course!)
Comforting Meals – e.g. gnocchi, lasagna, savory strudel, goulash, and schnitzel!
Vegan Burgers & Sandwiches – I've included instructions on how to make your own burger buns from scratch!
Vegan Rice Dishes – Rice is life!
Vegan Pizza – No matter how your day was, if there is pizza for dinner, it was a good day!
Tacos and Wraps – not only for #TacoTuesday!
If you don't have a lot of time (or motivation after a long day at work – I feel ya!) in the evening, you can prepare many parts of the meals beforehand: e.g. Most pasta sauces, curries, goulash, gnocchi, burger buns and patties, pizza dough,… This makes preparing dinner much quicker and almost fuss-free.
Vegan Pasta
Vegan Curries
Comforting Meals
Vegan Burgers & Sandwiches
Vegan Rice Dishes
Vegan Pizza
Tacos and Wraps
Don't forget to bookmark or pin this page, so you'll always have a huge selection of Easy Vegan Dinner Recipes handy!
Reader Question: What is your go-to Dinner?
Ready for dessert now? Head on over to my post 20 Vegan & Refined Sugar-Free Desserts!
Affiliate Disclosure: This post may contain affiliate links, which means I may earn referral fees if you make a purchase through my link. While clicking these links won't cost you any extra money, they will help me keep this site up and running!