These 15+ Vegan Fish & Seafood Recipes are creative, fun, and inspiring! You really can make anything vegan: Battered fish fillets, fish tacos, lobster rolls, tuna sandwiches, carrot lox, scallops, calamari, even homemade caviar!
I absolutely love how fun, creative, and inspiring vegan cooking is! You can make fish and seafood from a variety of plant-based ingredients including chickpeas, artichokes, carrots, mushrooms, tofu, banana blossoms, hearts of palm, even cauliflower!
Why vegan fish & seafood is the better option
The options of either fish from the sea loaded with micro-plastics or farmed fish loaded with antibiotics to survive in the crowded and super filthy enclosures are both terrible. And of course, fish feel pain.
But with all the amazing vegan options, there is really no need to support the fishing industry.
Vegan Fish Recipes
You can make all kinds of fish vegan! You will find plant-based versions of battered fish fillets, tuna, ceviche, and even lox below!
Banana Blossom Vegan Fish – The soft and flaky texture of the banana blossoms is the perfect base for these battered fish filets!
Vegan Artichoke Fish – Canned artichokes have a similar flaky and soft texture to the banana blossoms above, yet they are easier to find in the stores.
Tofish and Chips – You can make delicious fish out of tofu! The nori sheet and the light tempura-style batter will make it taste just like fish. Serve it with chips and vegan tartar sauce.
Vegan Fish Tacos by The Stingy Vegan – Perfect for Taco Tuesday! Crispy battered fish with purple cabbage slaw, mango avocado salsa, and chipotle lime crema.
Vegan Fish Taco Bowl from Vegan Bowl Attack via Veggies Don't Bite – This amazing Fish Taco Bowl is made with pulled hearts of palm, cabbage slaw, and pico de gallo.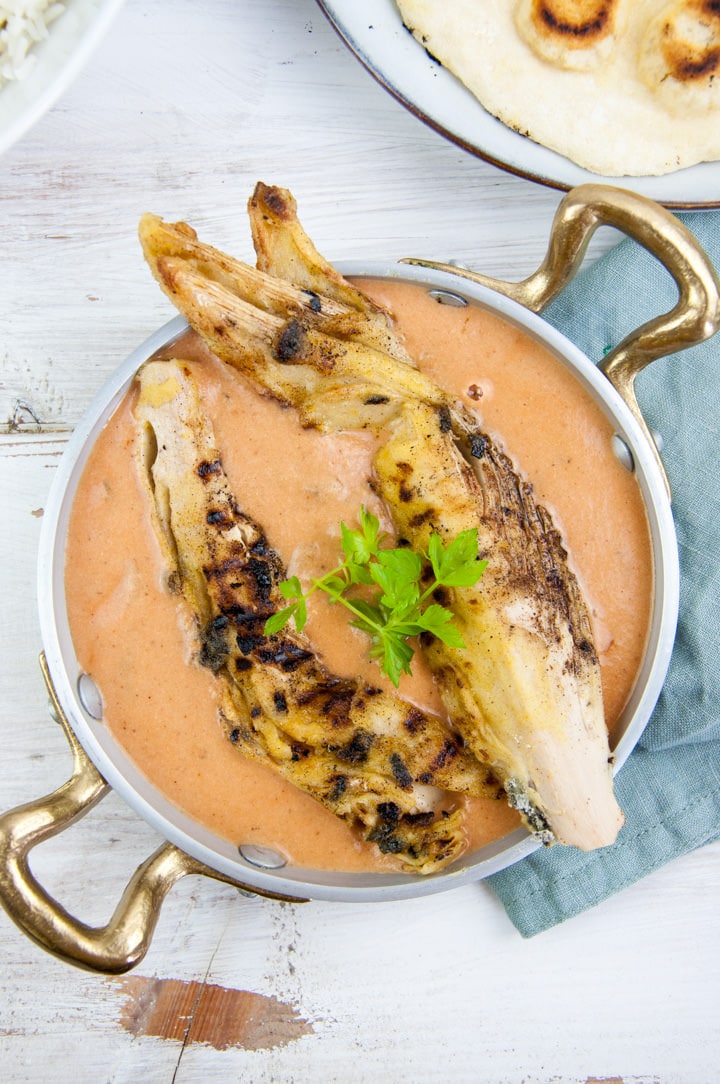 Vegan Fish Curry – This Vegan Fish Curry made with banana blossoms is mind-blowing! The 'fish' is crispy on the outside and soft and flaky on the inside.
Vegan Fish Burger – Who doesn't love burgers?! 'Fishy' battered tofu filet with lettuce, and tartar sauce in homemade pretzel buns, served with chips.
'Chickpea of the Sea' Tuna Salad Sandwich by The Simple Veganista – You can make amazing vegan tuna out of chickpeas! This is the perfect sandwich to take to school or work!
Tofu Tuna Salad Sandwiches by Dianne's Vegan Kitchen – Did you know that you can also make tuna out of tofu? It gets its 'fishy' flavor from seaweed flakes and lemon juice!
Vegan Lox Bagel Sandwich by My Darling Vegan – Roasted and marinated carrots make the perfect vegan lox alternative! Add cream cheese, capers, and dill for the typical flavors!
Cauliflower Ceviche by Veggies Save The Day – Ceviche is typically made from raw fish cured in lemon or lime juice. This vegan version is made with cauliflower!
Vegan Seafood Recipes
You really can make anything vegan! Here you will find vegan alternatives for calamari, scallops, crab cakes, lobster rolls, and even homemade caviar!
Vegan Oyster Mushroom Calamari by Sweet Simple Vegan – The texture of king oyster mushrooms is amazing for vegan seafood. These fried 'calamari' are perfect for parties!
Creamy Fettuccine with King Oyster Mushroom Scallops by The Simple Veganista – Another great seafood dish made with king oyster mushrooms! The tender but meaty texture of the mushrooms taste just like scallops.
Vegan Crab Cakes by Vegan Heaven – These vegan crab cakes can be made in 20 minutes! Artichokes and chickpeas add a lovely soft texture while lemon juice, dill, and fish seasoning will add the fishy flavor.
Vegan Crab Bites by Vegan Huggs – These Crab Bites made out of hearts of palm are the perfect 'fishy' party appetizer. Done in 20 minutes!
Maine Lobster Rolls by Strength and Sunshine – This veganized version of the classic fast-food sandwich uses hearts of palm for the lobster.
Vegan Caviar by Very Vegan Val – Last but not least, an adventurous recipe to make your own vegan caviar at home!
Don't forget to bookmark or pin this page, so you'll always have the most amazing plant-based fish & seafood recipes at hand! And please let me know your favorites in the comments below! :)
Don't want to miss out on any new recipes? Subscribe to my newsletter, follow me on Instagram and Facebook!
Looking for more recipes with vegan meat alternatives?