These 15+ Vegan Fish & Seafood Recipes are creative, fun, and inspiring! You really can make anything vegan: Battered fish fillets, fish tacos, lobster rolls, tuna sandwiches, carrot lox, scallops, calamari, and even homemade caviar!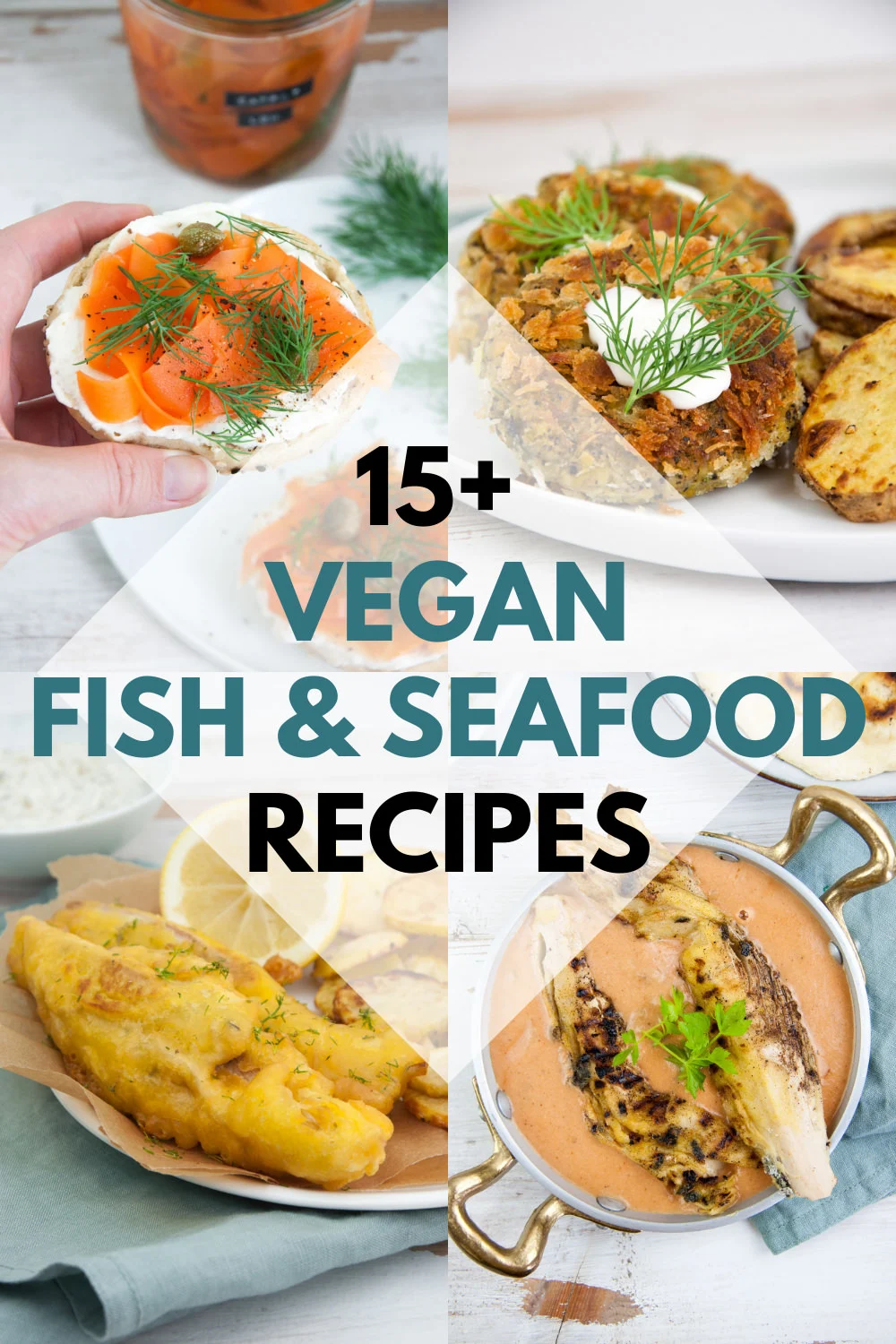 I absolutely love how fun, creative, and inspiring vegan cooking is! You can make fish and seafood from a variety of plant-based ingredients including chickpeas, artichokes, carrots, mushrooms, tofu, banana blossoms, hearts of palm, and even cauliflower!
Why vegan fish & seafood is the better option
The options of either fish from the sea loaded with microplastics or farmed fish loaded with antibiotics to survive in the crowded and super filthy enclosures are both terrible. And of course, fish feel pain.
More and more people are reducing or cutting out fish products from their diet. This is great because it's the best we can do to fight overfishing, polluting the oceans (old fishing nets are one of the main sources of plastic in the ocean), and destroying the ocean grounds (bottom trawling). If you're interested in learning more about this, I can highly recommend the documentary Seaspiracy.
But with all the fantastic vegan options, there is really no need to support the fishing industry.
You can make all kinds of fish vegan! In this blog post, you will find plant-based versions of
battered fish filets
tuna
ceviche
lox
crab cakes
calamari
oysters
caviar
and so much more!
Vegan Fish Recipes
Vegan Seafood Recipes
You really can make anything vegan! Here you will find vegan alternatives for calamari, scallops, crab cakes, lobster rolls, and even homemade caviar!
Don't forget to bookmark or pin this page, so you'll always have the most amazing plant-based fish & seafood recipes at hand! And please let me know your favorites in the comments below! :)
Don't want to miss out on any new recipes? Subscribe to my newsletter, follow me on Instagram and Facebook!
Looking for more recipes with vegan meat alternatives?