Are you looking for a vegan pizza recipe? Try this super creamy vegan Chanterelle Pizza with homemade vegan cheese sauce and homemade crust!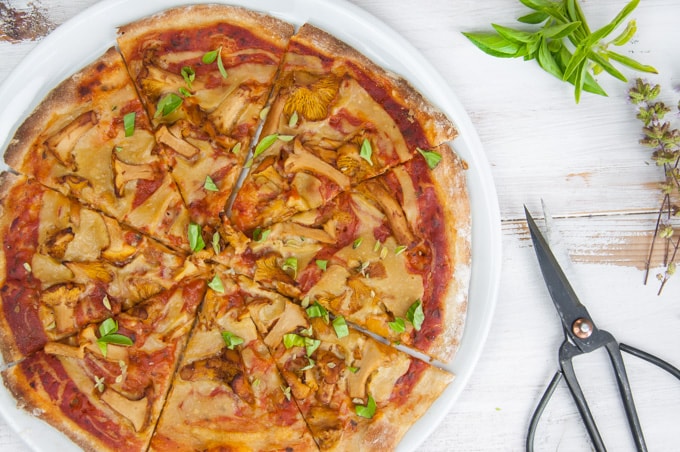 I love chanterelles! And I love pizza! So what could possibly go wrong with a chanterelle pizza? I loved how creamy this pizza turned out.
Chanterelles are my favorite fungi ever, although I eat common mushrooms much more often because they are available all year around and easily accessible, I always look forward to chanterelle season.
Vegan Cheese
For the cheese I used the Nooch Cheese Sauce from the blog – the amount of the cheese sauce is exactly right for two pizzas! If you only make one pizza you should half the recipe for the cheese sauce or use the rest for something else – a dip for tortilla chips for example!
Quicker Alternatives for the Pizza Crust
For the crust, I made a regular pizza crust from scratch, but if you're pressured for time, have a look at my yeast-free pizza dough (because no yeast = no rise = no wait) or you could use a store-bought pizza crust (but that's not as cool as making your own).
Take your pizza to the next level with Fresh Herbs
After baking, I topped the pizza with fresh basil and oregano harvested from the garden. I love having all the basic herbs outside on my balcony. Fresh herbs just take the whole meal to the next level :)
How to make vegan Chanterelle Pizza – Recipe Video (2 min)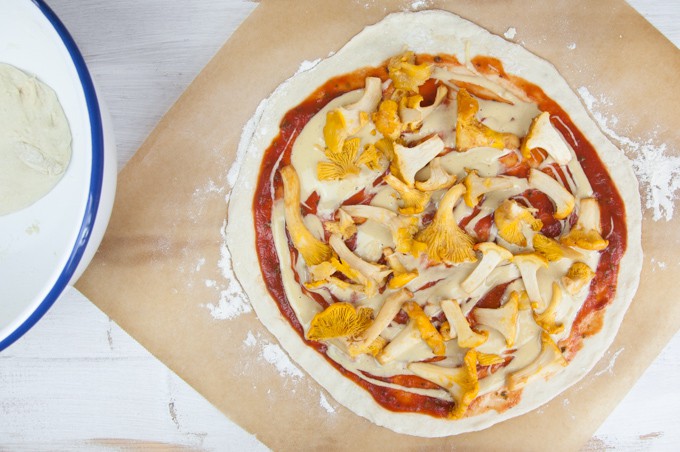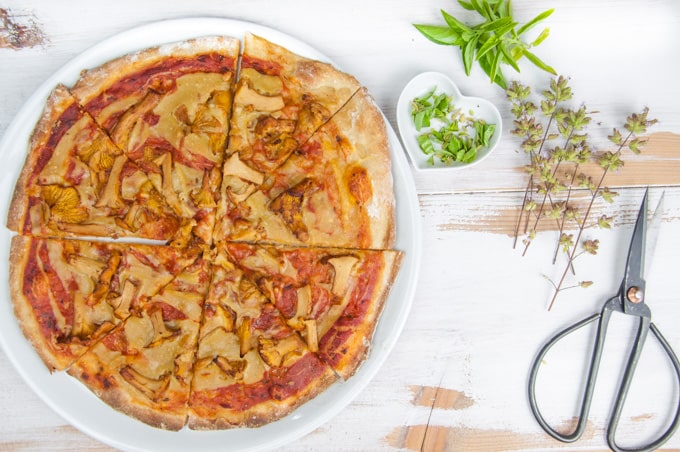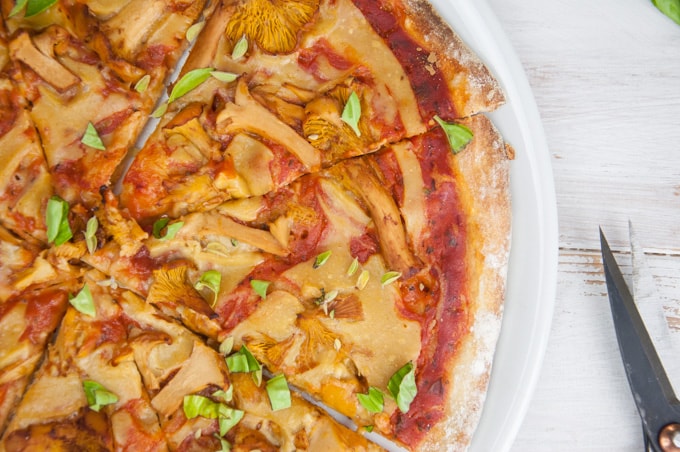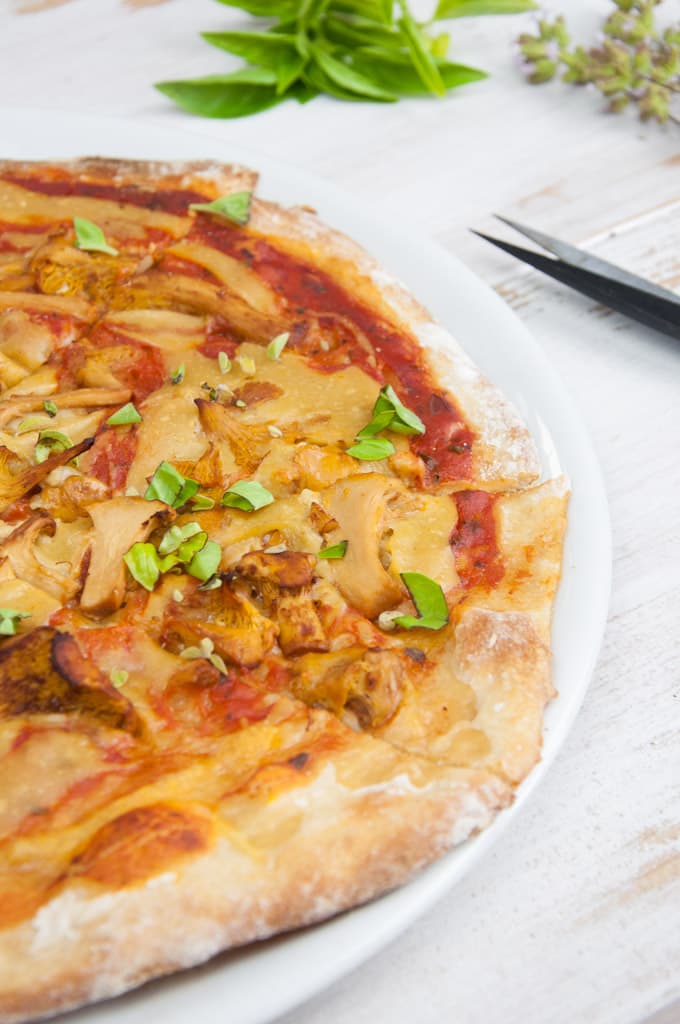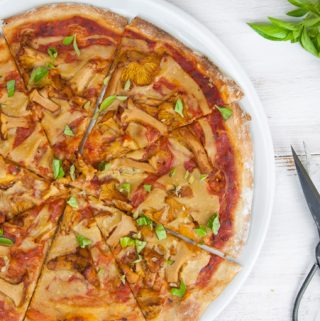 Vegan Chanterelle Pizza with homemade 'Cheese'
Are you looking for a vegan pizza recipe? Try this super creamy vegan Chanterelle Pizza with homemade vegan cheese sauce and crust made from scratch!
Ingredients
Ingredients for the pizza dough *
2 1/2

cups

00-flour

- perfect for pizza!

1/2

teaspoon

salt

1/2

teaspoon

instant yeast

2/3

cup

warm water

1

tablespoon

olive oil
Ingredients for pizza toppings
1/2

cup

tomato purée

**

1/4

teaspoon

salt

1

pinch

garlic powder

1

portion

Nooch Cheese Sauce

3

cups

chanterelles

1

tablespoon

chopped fresh basil

1

tablespoon

fresh oregano
Instructions
For the pizza dough, put all the ingredients in a

kitchen machine

or mix by hand and let it rise covered in a warm spot until it doubles in size (about 2 hours).

Preheat the oven to 480°F/250°C.

Divide the pizza dough into two equal pieces, and roll out each of it on a floured parchment paper until it's a nice pizza base. At this step I already like to transfer the parchment paper with the pizza dough onto a baking sheet.

Mix the tomato purée with the salt and garlic powder. Add it to the dough and spread it with a large spoon.

Wash and clean the chanterelles. Cut large ones in half and add it onto the pizza.

Put the pizza in the oven and bake for about 10-15

minutes.

After baking, top the pizza with the fresh basil and oregano. Enjoy!
Recipe Notes
*If you don't have a lot of time to let the pizza dough rise, you could also use my yeast-free (no yeast = no rise = no wait) pizza dough instead or use a store-bought pizza crust.

**I used store-bought tomato purée (with salt, no additional herbs) for this recipe - it's often canned or in tetra paks, not to confuse with tomato paste which is thicker in consistency.
Should you decide to give this super creamy Chanterelle Pizza a try I'd love to hear how it went! Write me a comment or post a picture on instagram, use the hashtag #elephantasticvegan and tag me via @elephantasticvegan to make sure I'll see it ^.^ I love to see all your lovely creations! Thanks! <3