This is Mock Chicken coated in a deliciously decadent Sweet and Sour Sauce served on fried rice with veggies. It's vegan and it's so much healthier than what you get at the restaurant! Plus, your kids are going to love it.
This post is in cooperation with Hofer. Hofer is an Austrian supermarket chain. Starting September 11, 2017 they'll introduce new vegan products. And I was lucky enough to get a sneak peek!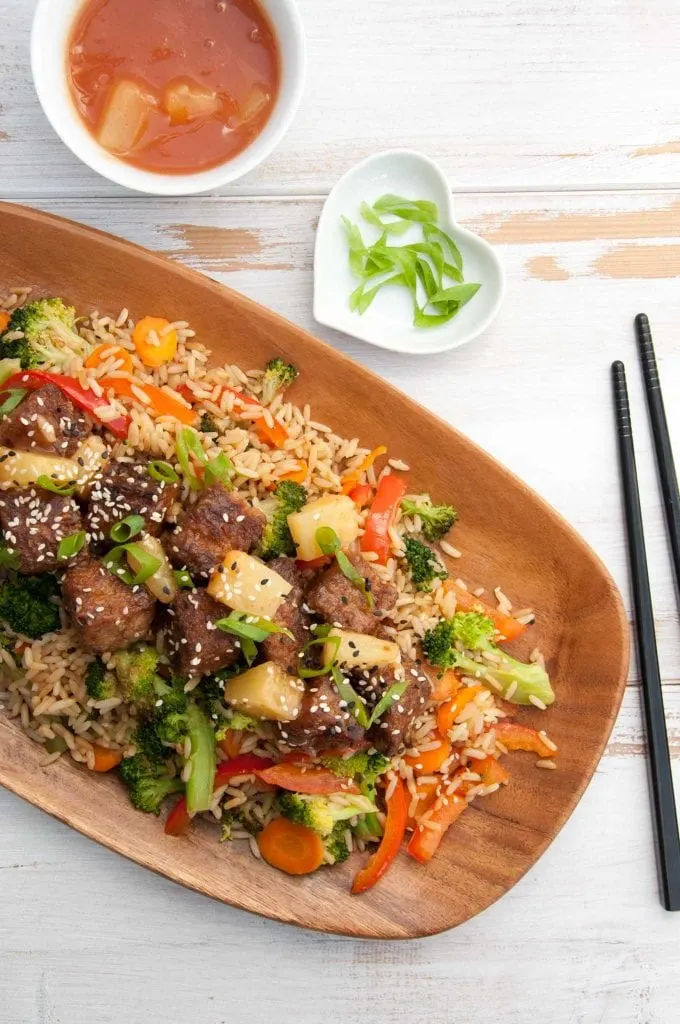 I love sweet and sour recipes! Go ahead, judge me all you want, but I've always liked pineapple in burgers and on pizza, and it's a great addition to this Sweet and Sour Mock Chicken recipe!
Before I went vegan, sweet and sour dishes were my go-to in Asian restaurants. Now, whenever I have the craving for it, I just whip up a quick, vegan version at home.
Don't be intimidated by the long list of ingredients. Most of the stuff you will have at home, and there are not many steps to recreate this beautiful dish. I've included all the instructions for the sweet and sour sauce, the fried rice and additional ingredients such as the mock chicken and the toppings.
Sweet and Sour Sauce
First of all, you don't have to make the sweet and sour sauce from scratch. If you have a good glass of store-bought sauce at home and you are looking for a way to skip a few steps, absolutely go ahead. However, even though there are many ingredients, the sauce itself can be done within just 5 minutes. You can easily adjust the sauce to your own preference: Want it sweeter? Add more sugar! Want it tangier? Add more apple cider vinegar!
Mock Chicken
For the vegan chicken, I used Chicken Style Nuggets by VBites. If you're from Austria, you can get these at Hofer soon (more info below). The nuggets are the perfect fit for this recipe! I usually like to pan-fry the nuggets until golden and crispy and then I generously coat them in my homemade sweet and sour sauce.
Fried Rice
My fried rice recipe is loaded with veggies – and not just small bits of carrots and peas, like you would get fried rice in many Asian restaurants – nope, I am using large-cut veggies. I like to add the broccoli into the pan first and cook it in water with the lid on because it needs the longest to get soft. Then I add in the other veggies and lastly the rice.
Long-grain rice works best for stir-fries. Short-grain rice would get too mushy. I prefer to use parboiled rice because it doesn't really stick and parboiled rice is healthier than white rice because a large part of the nutrients in the bran are pushed into the inside of the recipe through the parboiling process. Isn't that cool?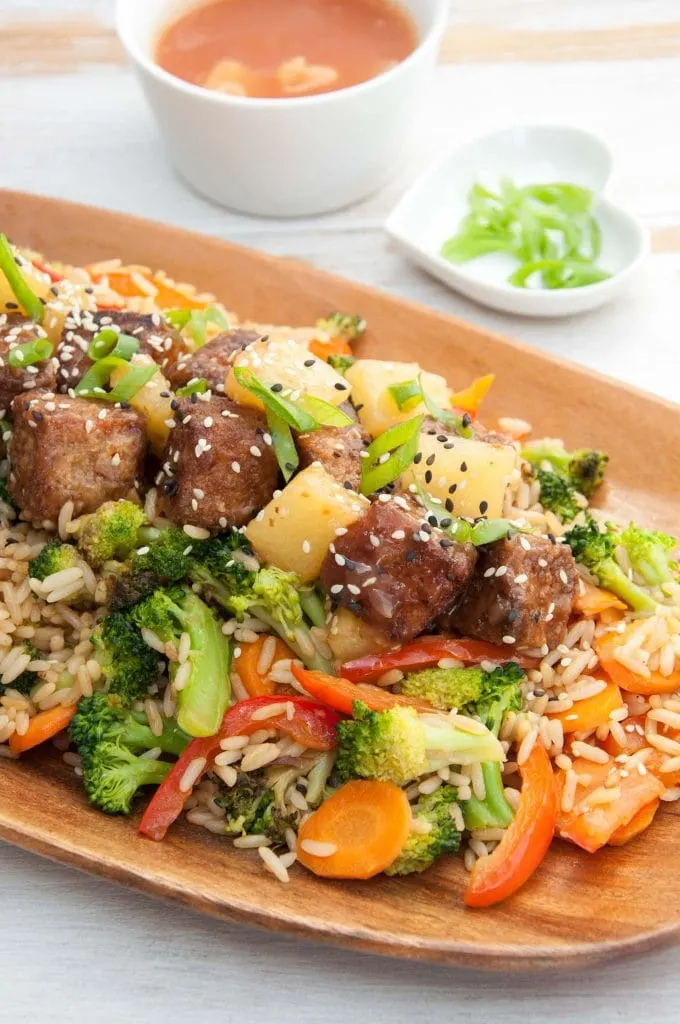 Special Vegan Products at Hofer
Starting from Monday, 11 September there will be a couple of new vegan products at Hofer in Austria. Yeay! I always love it when new vegan products hit the shelves – even if it's just a temporary thing! The products are only available while stocks last, so time is of the essence here! :)
There will be
Beef Style Pieces
Chicken Style Pieces
Schnitzel
Chicken Style Nuggets (I've used these in this recipe!)
The mock meats are made out of a mix of wheat gluten and soya and I'm pleasantly surprised of the texture. It actually comes pretty close to the 'real thing'.
Intrigue your omnivore friends and treat your kids to this vegan goodness. Don't want sweet and sour? Make another sauce. Don't want rice? Throw it into a wrap, a salad or whatever. I'm really excited about those nuggets, and you should be too.
You can read more about these new vegan products at Hofer here.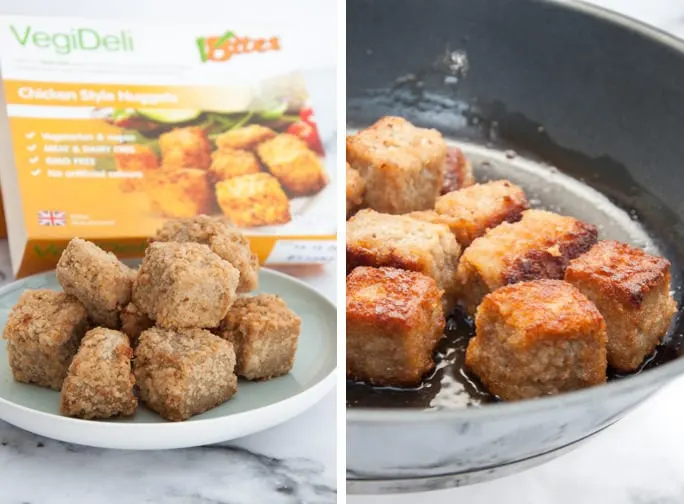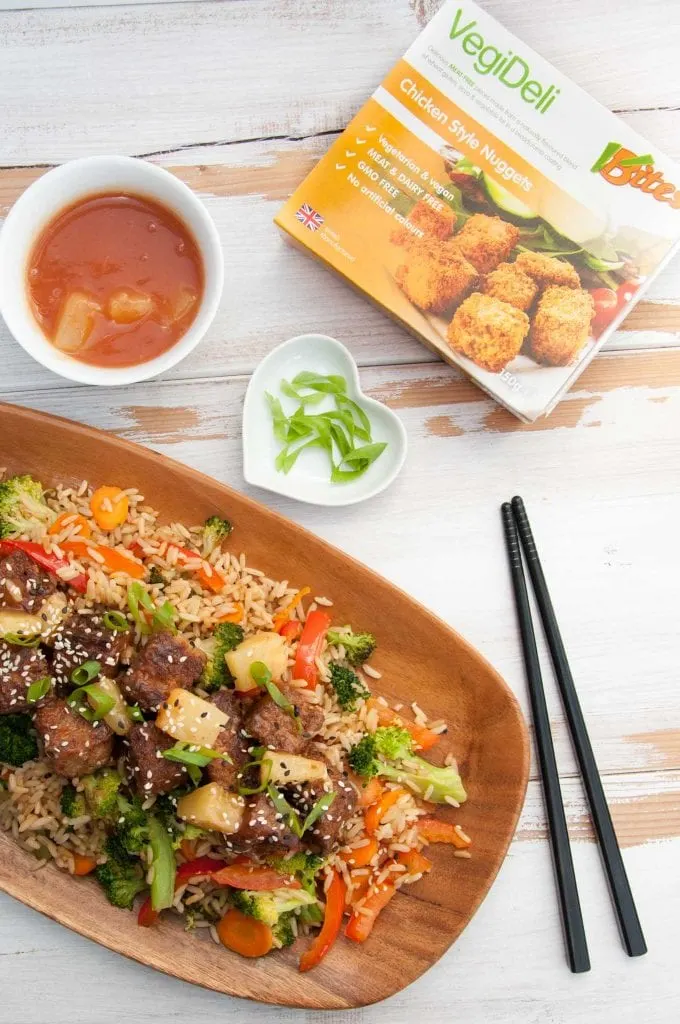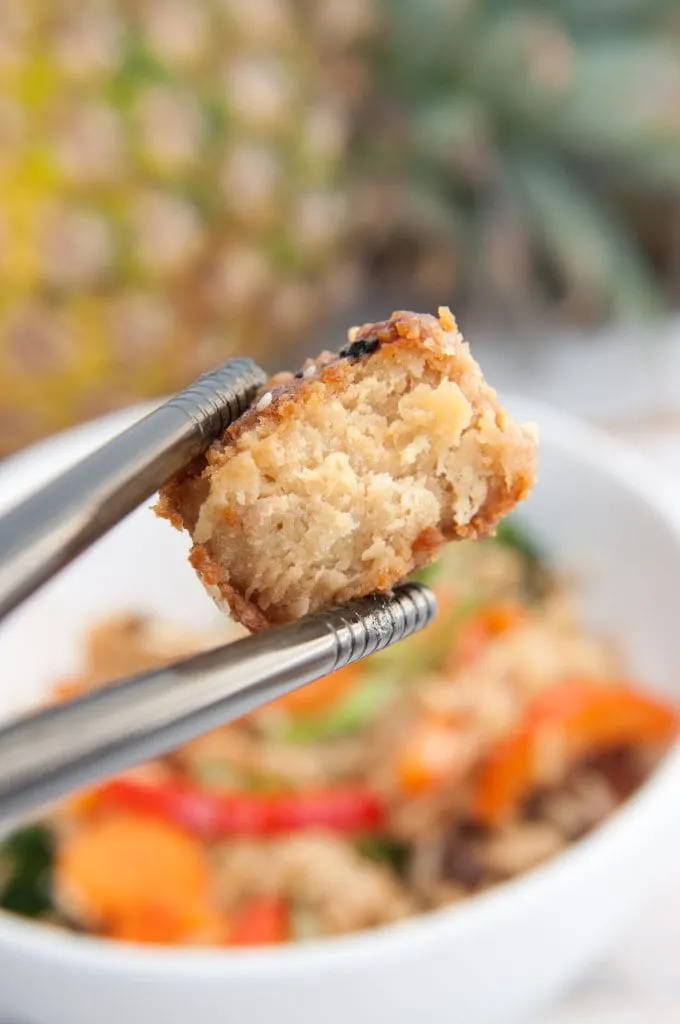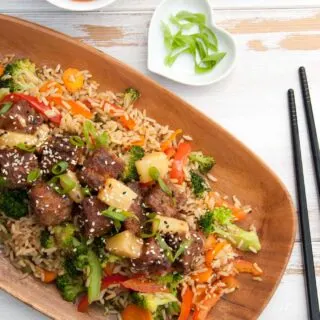 Vegan Sweet and Sour Mock Chicken on Fried Rice Recipe
Recipe for a vegan Sweet and Sour Mock Chicken on Fried Rice. Store-bought 'chicken' cubes coated in a delicious, homemade sweet and sour sauce and served on fried rice with veggies. Hot damn!
Ingredients
Fried Rice
2

cups

cold cooked rice

- I used parboiled but any cold long-grain rice will work

2

cups

broccoli florets

1/4

cup

water

2

carrots

, peeled and sliced

1/2

red bell pepper

, cut in strips

1

garlic clove

1

teaspoon

peanut oil

or canola oil

1/8

teaspoon

salt

and more to taste

2

teaspoons

soy sauce
Mock Chicken and Toppings
1

package

Chicken Style Nuggets

- VBites

1

teaspoon

canola oil

1

tablespoon

scallions

, sliced

1

teaspoon

white sesame seeds

1

teaspoon

black sesame seeds
Sweet and Sour Sauce
1

tablespoon

corn starch

1

tablespoon

water

2/3

cup

pineapple juice

from canned pineapple

1

tablespoon

brown sugar

1

teaspoon

tomato paste

3/4

teaspoon

apple cider vinegar

1/2

teaspoon

soy sauce

1/4

teaspoon

salt

and more to taste

1/3

cup

canned pineapple chunks

- without added sugar
Instructions
Sweet and Sour Sauce
In a saucepan, combine the pineapple juice, brown sugar, tomato paste, apple cider vinegar, soy sauce and salt. Give it a mix and let it cook on medium heat until the sugar has dissolved.

In a separate bowl, whisk together the corn starch and water and pour it into the sauce. Whisk until combined and the sauce has thickened. Then add in the canned pineapple chunks, let it simmer for another minute and set aside.
Fried Rice
In a large pan, add in the broccoli florets and the water. Let it cook on medium heat with the lid on until the water has evaporated and the broccoli is soft.

Then add in the peanut oil, carrots, and red bell pepper. Make place in the pan for the garlic and let everything cook without the lid on for about 3-4 minutes, until the garlic is slightly brown.

Once the carrots and the red bell pepper are soft, add in the cold rice. Season with soy sauce and salt.
Mock Chicken
In a separate medium-sized pan, heat the canola oil and add in the mock chicken. Let it pan-fry until golden brown on each side for about 1-2 minutes.
Assemble
Put the fried 'chicken' cubes in a bowl and add about 3/4 of the sauce. Toss around until coated on all sides. Serve the sweet and sour sauce coated 'chicken' cubes on the fried rice with the rest of the sauce. Sprinkle with sliced scallions, black and white sesame seeds and enjoy!
Nutrition
Calories:
465
kcal
Carbohydrates:
94
g
Protein:
9
g
Fat:
6
g
Sodium:
961
mg
Potassium:
850
mg
Fiber:
6
g
Sugar:
33
g
Vitamin A:
11810
IU
Vitamin C:
141.2
mg
Calcium:
124
mg
Iron:
2.2
mg

Did you make this Vegan Sweet and Sour Mock Chicken? Tag @elephantasticvegan on instagram and use the hashtag #elephantasticvegan to make sure I'll see it :)
Thanks to Hofer for partnering with me for this post! And thanks to you, dear reader, for supporting the brands that help support Elephantastic Vegan in return.
Affiliate Disclosure: This post may contain affiliate links, which means I may earn referral fees if you make a purchase through my link. While clicking these links won't cost you any extra money, they will help me keep this site up and running!