Smooth peanut butter and a quick homemade Strawberry Chia Jam between two fluffy pancakes. These vegan PBJ Pancake Sandwiches could be your next breakfast!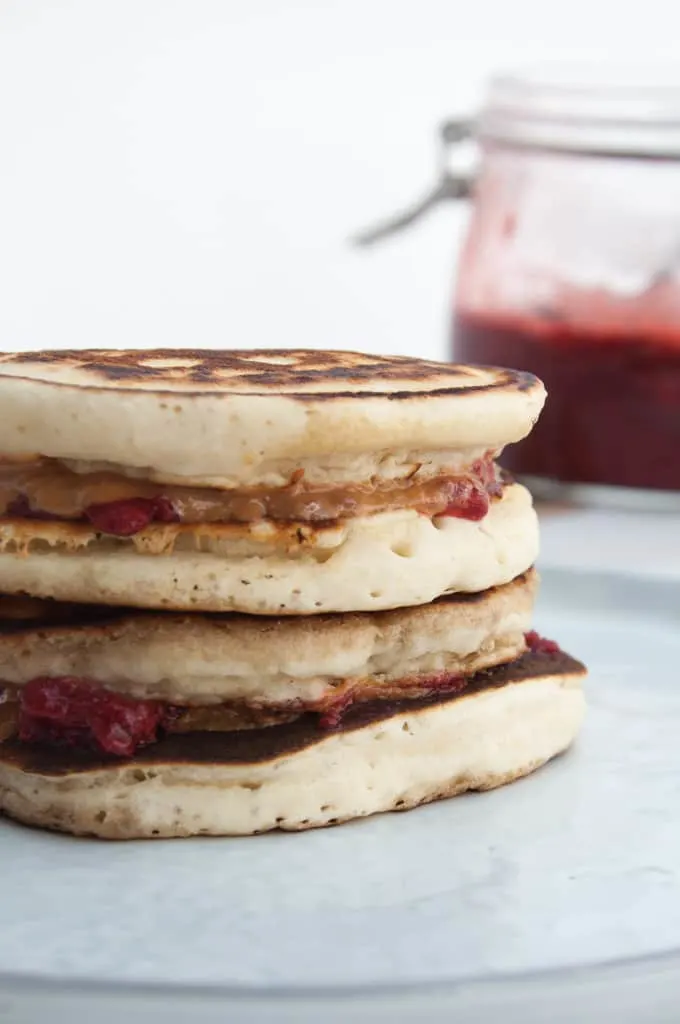 I've been meaning to make these vegan PBJ Pancake Sandwiches for quite a while now. It all started with the Chocolate Peanut Butter Pancakes. I was having leftover pancakes and I wanted to take a couple of them to work. I also had leftover peanut butter sauce. So I simply spread the peanut butter sauce between two pancakes. It was easy to transport, absolutely delicious and it gave me the idea for these PBJ Pancake Sandwiches.
These Pancake Sandwiches are filled with smooth peanut butter and a quick homemade strawberry chia jam. For the peanut butter, I actually used peanut butter made from 100% peanuts that I found in the Asia market for very little money – I think it was only 3€ for a large jar. You can't go wrong with the classic Peanut Butter & Jam combo.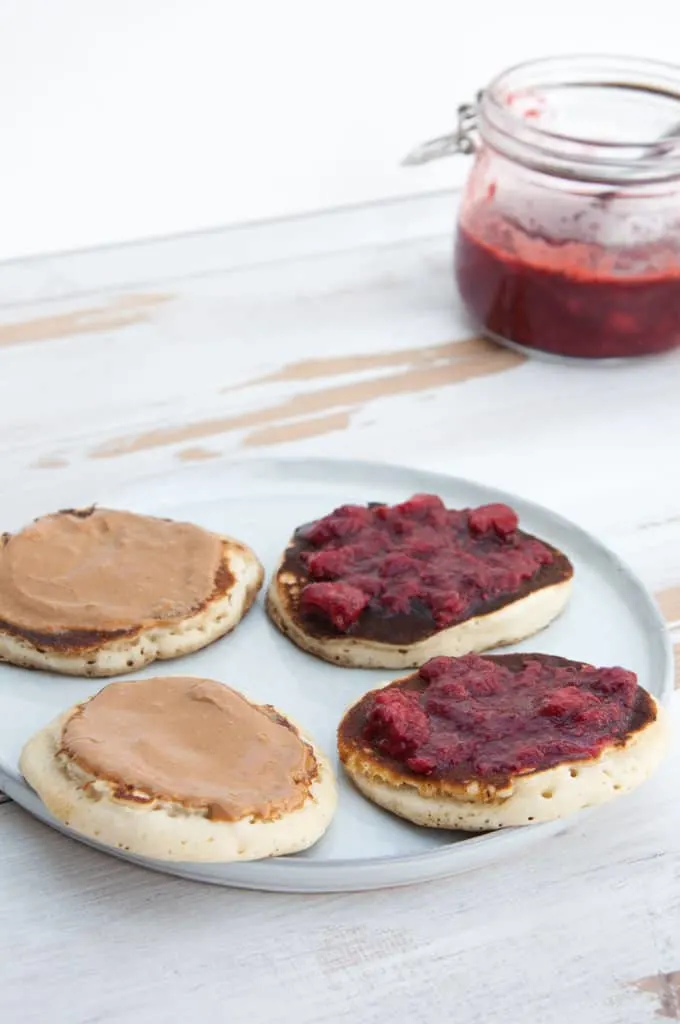 Peanut Butter on one side. Strawberry Chia Jam on the other. And together they're a match made in heaven. I'm sure you'll love these!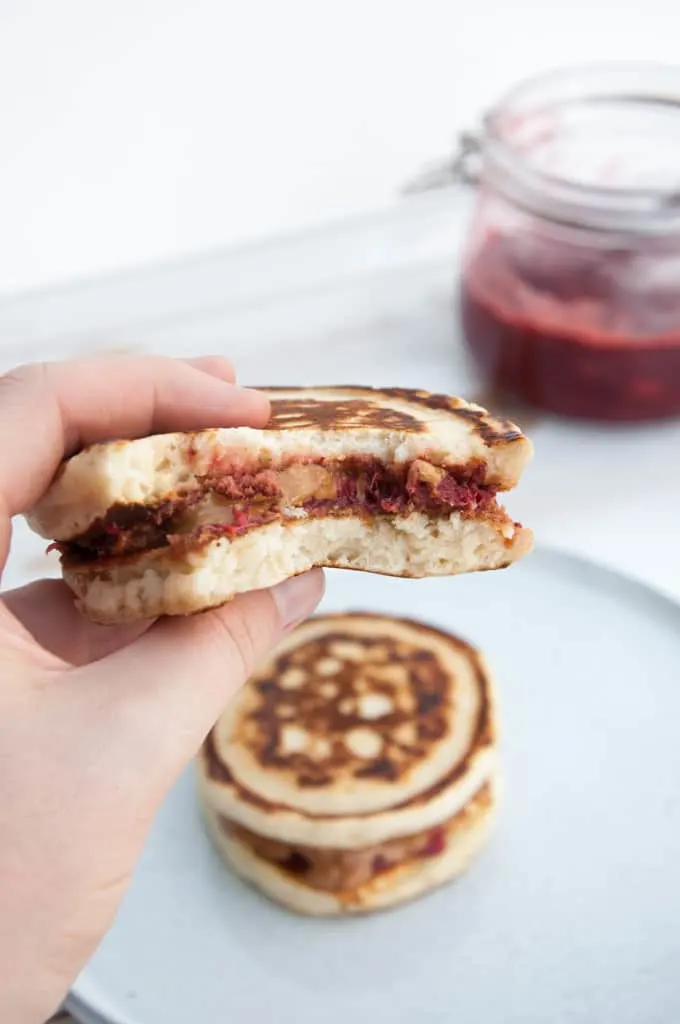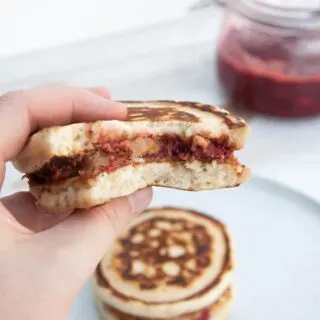 Vegan PBJ Pancake Sandwiches - Recipe
Smooth peanut butter and a quick homemade Strawberry Chia Jam between two fluffy pancakes. These vegan PBJ Pancake Sandwiches could be your breakfast!
Ingredients
Fillings - Strawberry Chia Jam and Peanut Butter
1

cup

frozen strawberries

1/2

teaspoon

maple syrup

1

pinch

salt

1/4

teaspoon

chia seeds

2

teaspoons

peanut butter
Instructions
First, let's prepare the Strawberry Chia Jam. Put the frozen strawberries together with the maple syrup in a pot and heat it on medium to high heat until soft. Use a potato masher or fork to mash the strawberries. Add a pinch of salt and the chia seeds. Let it cook further for a couple of minutes until the liquid starts to reduce. Let it cool off. You won't need the whole strawberry jam for the pancake sandwiches. You can keep the rest of the jam in a glass jar and store it in the fridge for 1-2 weeks.

Add the flour, baking powder, and salt in a mixing bowl, give it a quick whisk. Add in the maple syrup, plant-based milk and coconut oil. Whisk until incorporated. Let it sit for a few minutes.

Spray a flat pan or griddle with oil and heat it up to medium to low heat. Add a small ladle of pancake batter. Let it cook until the middle becomes bubbly and the corners set, then flip with a spatula. Let it cook on the other side until done. Repeat for all the pancakes. You should be able to get 4 pancakes out of the batter.

Find two matching pancakes, spread 1 teaspoon peanut butter on one pancake, spread 1 tablespoon of jam on the other pancake. Combine and enjoy! Repeat for the other pancake sandwich.
Nutrition
Calories:
248
kcal
Carbohydrates:
43
g
Protein:
5
g
Fat:
6
g
Saturated Fat:
1
g
Sodium:
94
mg
Potassium:
369
mg
Fiber:
2
g
Sugar:
13
g
Vitamin C:
42.3
mg
Calcium:
87
mg
Iron:
2
mg

Did you make these vegan PBJ Pancake Sandwiches? Tag @elephantasticvegan on instagram and use the hashtag #elephantasticvegan. Don't forget to subscribe to the Elephantastic Vegan Newsletter to see Reader Remake Features!
Affiliate Disclosure: This post may contain affiliate links, which means I may earn referral fees if you make a purchase through my link. While clicking these links won't cost you any extra money, they will help me keep this site up and running!