In this post, I've compiled my favorite 12 Vegan Breakfast Recipes ranging from Chia Puddings to Tofu Scrambles and Pancakes. You'll love these!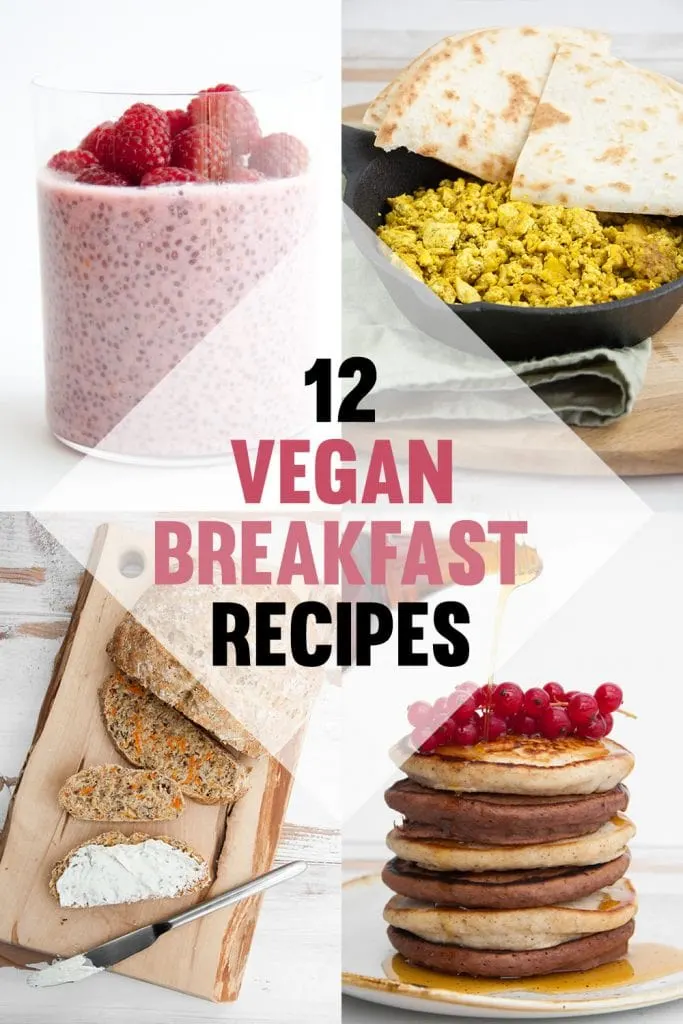 As we learned in Arrested Development, breakfast is the most important thing (or was it family?…) – so I thought I'd compile a list of my favorite vegan breakfast recipes. When I started changing to a vegan diet, breakfast always has been a bit difficult for me. I never knew what I could eat and I ran out of ideas quickly. This is why I wanted to create this collection of breakfast ideas.
All of the vegan breakfast recipes in this post are vegan, some of them are also gluten-free (tofu scrambles, chia puddings, spreads & chickpea omelets).
What kind of breakfast I eat, depends on the day and how much time I have. On weekdays, I often eat chia puddings or toasted bread slices with spreads, because chia puddings are great to prepare the day ahead and toasting bread slices in the morning is really quick too and I keep the spreads prepared in the fridge. On weekends, however, it's on! Hello, brunch! I usually make tofu scrambles or pancakes (or both, because why not :D).
I've grouped the recipes into the following categories:
Tofu Scrambles
Chia Puddings
Breads
Spreads
Chickpea Omelets
Pancakes
What are you eating for breakfast typically? Sweet or savory? Let me know your favorite breakfast dishes in the comments!
Ready for lunch now? Head on over to 15 Quick & Healthy Plant-Based Recipes and to 15 Amazing Vegan Curry Recipes :)
Don't forget to bookmark or pin this page, so you'll always have a neat selection of breakfast ideas!
More Vegan Breakfast Recipes
Affiliate Disclosure: This post may contain affiliate links, which means I may earn referral fees if you make a purchase through my link. While clicking these links won't cost you any extra money, they will help me keep this site up and running!