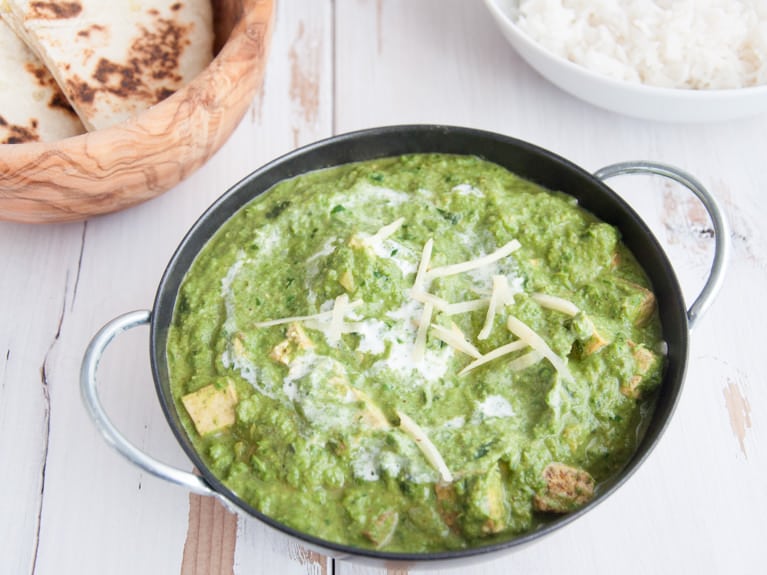 I loved eating Palak Paneer at Indian Restaurants, because of the delicious and creamy spinach curry. But I stopped eating it because of the Paneer, which is a traditional indian cheese. I don't need that! I can make my own Palak Paneer, a vegan Palak Paneer. Firm tofu is actually consistency-wise very similar to Paneer, so it's the perfect substitution!
Spinach is rich in iron and calcium. The Palak Tofu uses 3 cups of spinach, so I'd say this dish is the most delicious way of getting an iron boost. I've had this Palak Tofu with homemade Naan and Basmati Rice. The combination was soooo good.
Palak Tofu
This is a vegan version of the indian spinach curry "Palak Paneer". It uses tofu instead of the traditional indian cheese. The spinach curry is creamy & delicious and rich in iron!
Author:
Elephantastic Vegan
Ingredients
3 cups spinach, fresh
½ cup raw cashews
½ cup hot water
½ cup coconut water
½ block / 6 oz firm tofu
2 teaspoons of canola oil
½ teaspoon Kala Namak
½ teaspoon curry powder
½ teaspoon paprika powder
½ teaspoon ginger powder
1 inch piece ginger root
¼ cup full-fat canned coconut milk
¼ cup tomato purée*
salt to taste
Instructions
Place the cashews in a bowl and pour ½ cup of hot water over them. Let them sit for about half an hour to soften them. Pour the cashews along with the water in a blender and blend as smooth as possible.
Wash the spinach and add it into the blender along with the coconut water. Blend again. You can blend until the spinach is completely fine, or you can leave some spinach pieces in there.
Cut the tofu in cubes. Heat a large pan with 2 teaspoons of canola oil.
When hot, place the tofu in the pan and season with the Kala Namak, curry powder, paprika powder & ginger powder. Sear the tofu for about 5 minutes.
Peel and mince the ginger root.
Add the ginger (minus a few pieces for topping later) in the pan along with the tofu.
After like 2-3 minutes, pour the spinach-sauce over the tofu.
Add in the coconut milk and tomato purée.
Let it cook for about 15-20 minutes and add salt to taste.
Once the curry thickened, it's ready to serve. Add thinly cut strips of ginger on top.
Notes
Adapted from
Vegan Richa
.
*I used store-bought tomato purée (with salt, no additional herbs) for this recipe - it's often canned or in cartons, not to confuse with tomato paste which is thicker in consistency.
The Palak Tofu is best served with some
Homemade Naan
and Basmati Rice.