Recipe for vegan Chicken Tacos using TVP soy strips. Served in homemade tortillas with salad, avocado, tomatoes and a Cilantro Coconut Sauce. So good!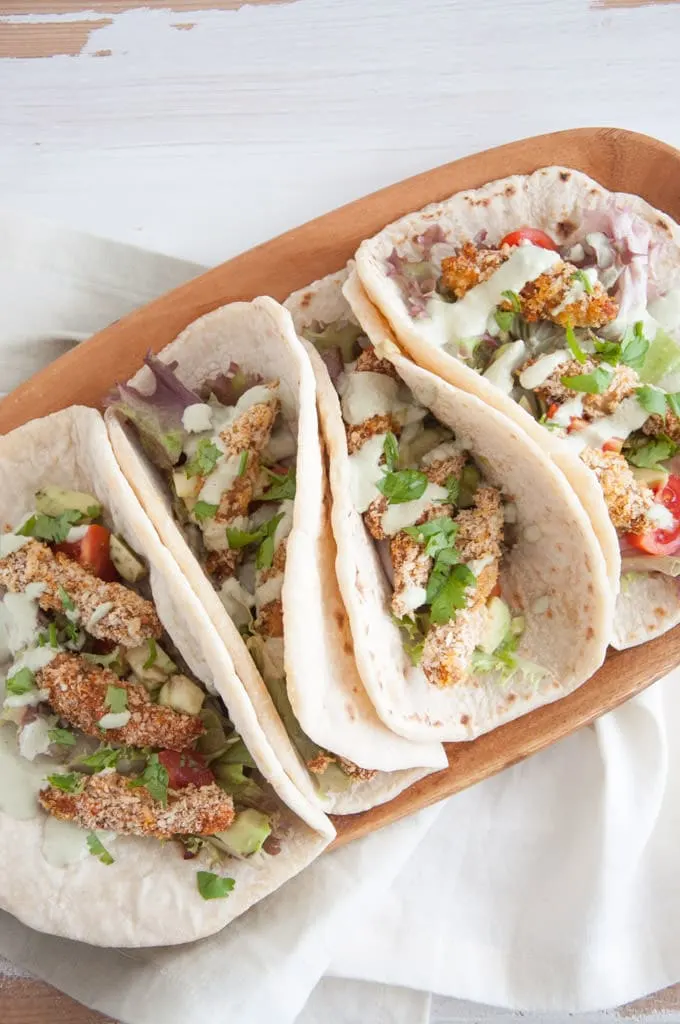 I made tacos. Well, let me rephrase that… I made vegan Chicken Tacos! I also made a Cilantro Coconut Sauce to go with it. And of course, no taco is complete without avocado and cilantro, so those are in there as well. What else? A few salad leaves from the balcony garden and cherry tomatoes. But that's it. And I filled all of that in homemade, soft tortillas made out of a mix of wheat and spelt flour. I have to warn you though… these are addictive!
These vegan Chicken Tacos are super flavorful, completely cruelty-free and made from scratch.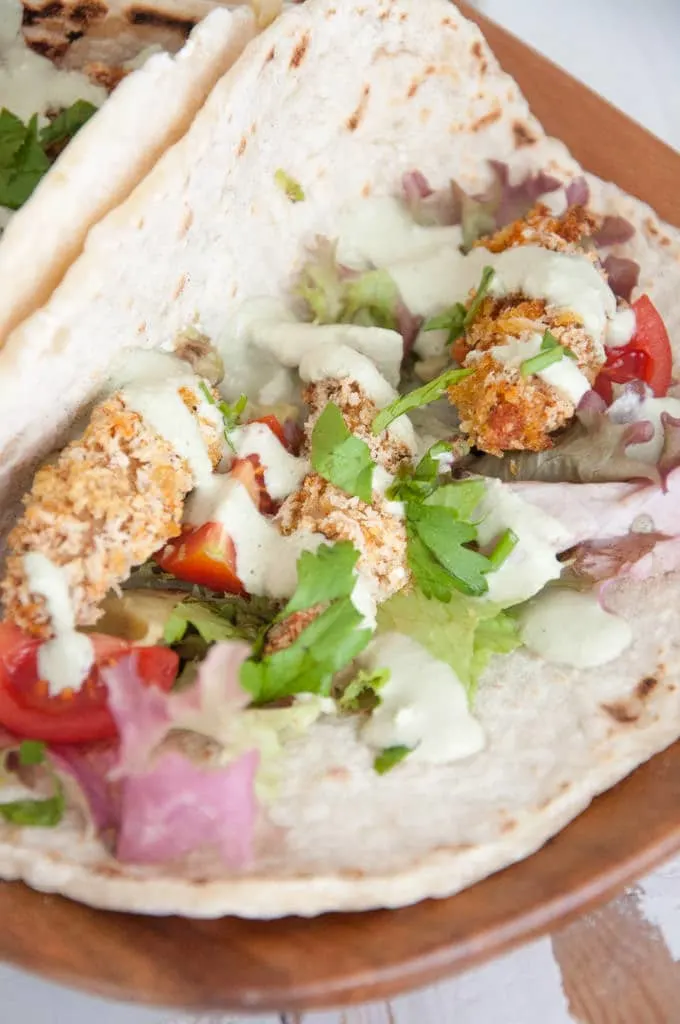 Usually I'm more a wrap-person, so I wanted to change things up a bit and made smaller tortillas for tacos. I love food that you can eat with your hands. You probably wouldn't have guessed that with the sheer amount of finger food / party snacks I have on the blog. ;)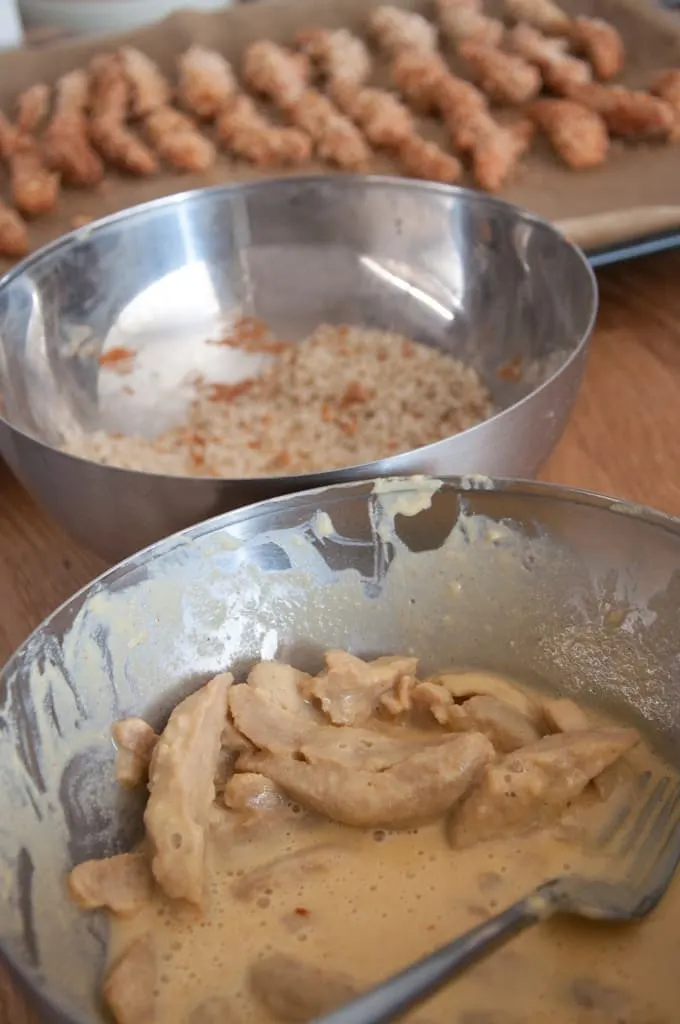 For the vegan chicken, I've used textured vegetable protein (TVP) in strips. I love that stuff because the consistency is amazing and so meat-like! After cooking the TVP, I drained it, tossed in our vegan-egg batter (chickpea flour + water + salt + sriracha), then in a panko flake breading (panko flakes + spices). Don't hold back on the spices. You have to season it well to taste like chicken (except you use other meat alternatives that are already pre-seasoned). I sticked to the classic salt, paprika, garlic powder, onion powder combination and added dried dill to give them more of a lemony taste. After that I baked it in the oven until golden and crispy.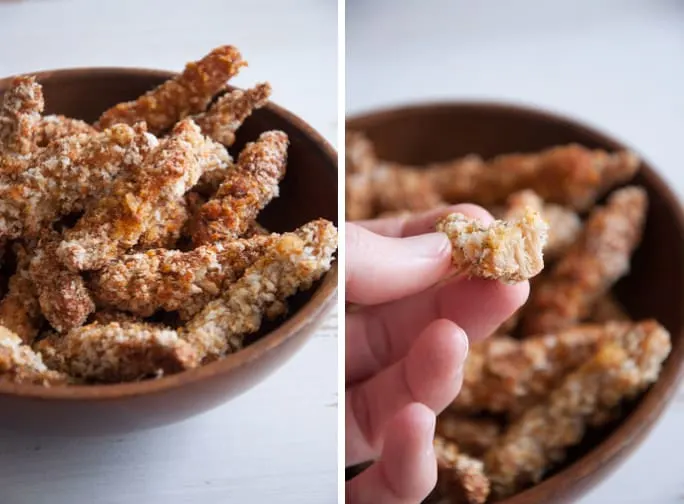 Can you see the stringy meat-like consistency of the textured vegetable protein? That's how you fool omnivores ;)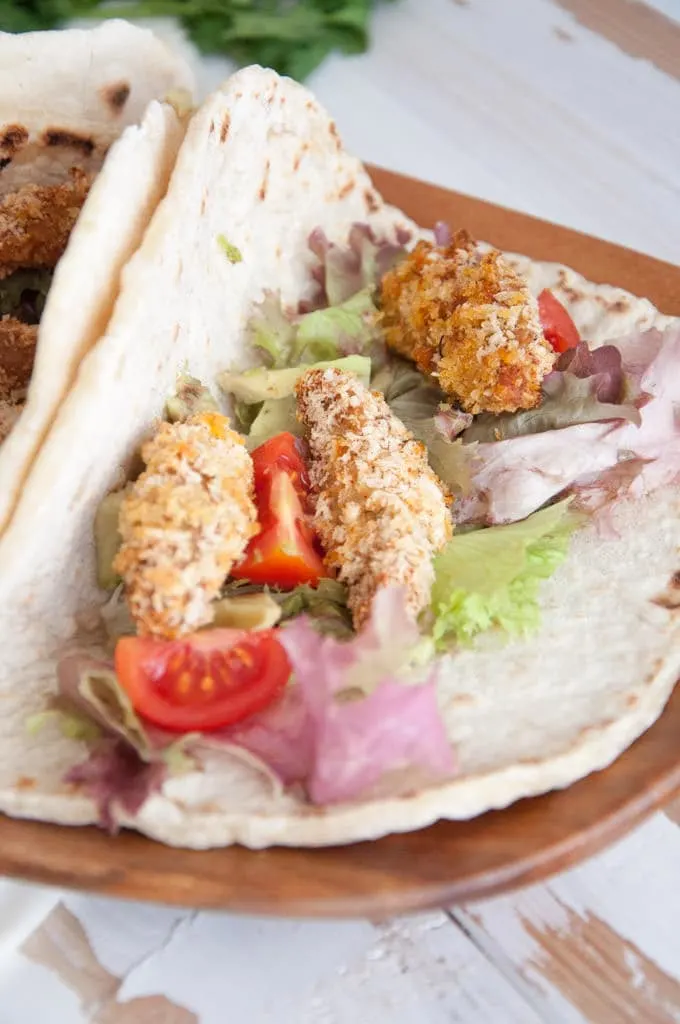 You'll have leftover chicken strips and you will have more of the Cilantro Coconut Sauce than you will need for the tacos. Guess what… the chicken strips taste amazing when you dip them in the light and lemony sauce. You could also use the chicken strips on pizza, on couscous or rice. I'm sure you'll find a use for them.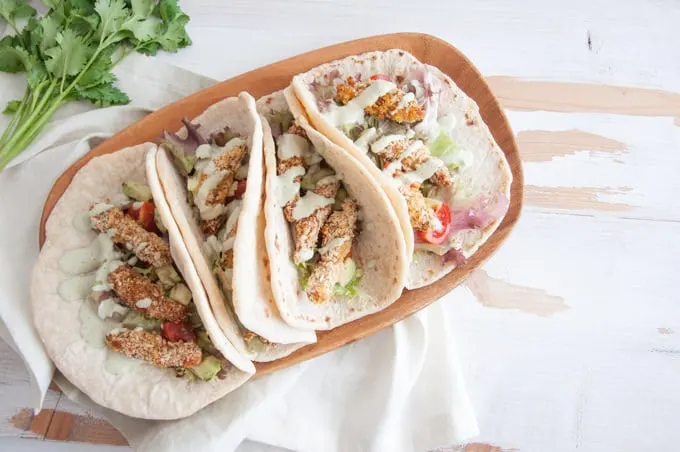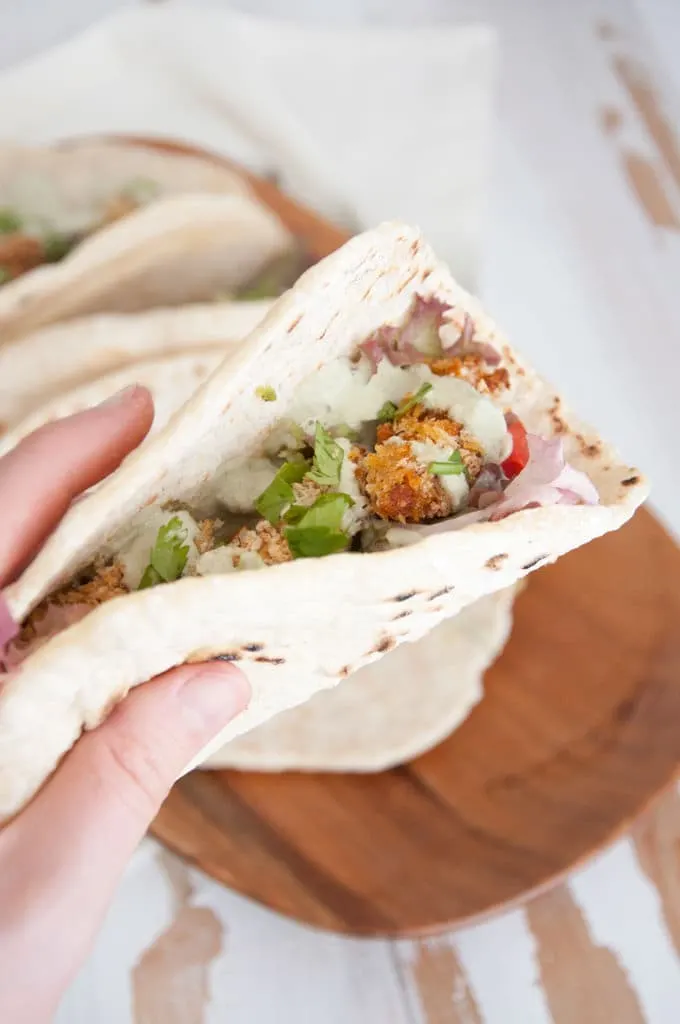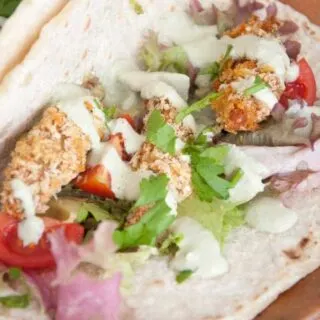 Vegan Chicken Tacos with a Cilantro Coconut Sauce
Recipe for vegan Chicken Tacos using TVP soy strips as the chicken alternative. Served in homemade tortillas with salad, avocado, tomatoes and a Cilantro Coconut Sauce.
Ingredients
Ingredients for the Vegan Chicken
1

cup

TVP Soy Strips*

3/4

cup

panko flakes

1/2

teaspoon

paprika powder

3/4

teaspoon

salt

, divided

1/4

teaspoon

garlic powder

1/4

teaspoon

onion powder

1/4

teaspoon

dried dill

1/3

cup

chickpea flour

1/3

cup

water

1/2

teaspoon

sriracha
Ingredients for the Cilantro Coconut Sauce
1/2

can

full-fat coconut milk

2/3

cup

sunflower seeds

lemon juice from 1 lemon

1/2

teaspoon

salt + more to taste

1/2

cup

fresh cilantro + more cilantro to garnish

1/4

cup

water
Other ingredients
4

small tortillas**

3

cherry tomatoes

1

avocado

1

tablespoon

chopped cilantro

2

cups

loosely packed salad of your choice
Instructions
Prepare the tortillas as given in the other post or use store-bought ones.
Instructions for the Vegan Chicken Strips
Preheat the oven to 500°F/250°C.

Heat water (about 3 cups) in a large pot and toss in the dried TVP Soy Strips once it's boiling.***

Meanwhile mix the chickpea flour, sriracha, 1/4 teaspoon salt and water in a large bowl (it should have the consistency of an egg, add more water or flour if needed).

In another bowl prepare a mixture of panko flakes, dill, paprika powder, onion powder, 1/2 teaspoon salt and garlic powder.

When the TVP strips are soft, drain them and gently press excess water out of them.

Toss the TVP strips first in the chickpea flour-water mixture until coated evenly, then in the breadcrumbs.

Place them on a baking sheet and bake them for about 15-20 minutes until lightly golden and crispy.
Instructions for the Cilantro Coconut Sauce
Add all the ingredients for the sauce in a high-speed blender and blend until completely smooth. If you want the sauce to be thinner, you can always add more water.
Instructions for assembling
Quarter the cherry tomatoes, scoop out the avocado flesh and cut it in cubes. Wash the salad.

Divide the salad onto the 4 tortillas, add the avocado cubes and cherry tomatoes. Add the vegan chicken strips, drizzle with the cilantro coconut sauce and top with chopped cilantro.

Enjoy!
Notes
*I used the german brand Vantastic Foods, but these look rather similar. | You won't need all the chicken strips for the tacos. You can dip the rest of them in the Cilantro Coconut Sauce – so good!
**I used my Wheat Flour Tortillas recipe, substituted the whole wheat flour with spelt flour and made 4 small tortillas.
***Leave out this step when you use other meat alternatives, that don't need any cooking.
Nutrition
Calories:
489
kcal
Carbohydrates:
70
g
Protein:
13
g
Fat:
47
g
Saturated Fat:
15
g
Sodium:
1056
mg
Potassium:
717
mg
Fiber:
22
g
Sugar:
19
g
Vitamin A:
620
IU
Vitamin C:
14.3
mg
Calcium:
92
mg
Iron:
6.5
mg
Affiliate Disclosure: This post may contain affiliate links, which means I may earn referral fees if you make a purchase through my link. While clicking these links won't cost you any extra money, they will help me keep this site up and running!