Recipe for a vegan Goulash with smoked tofu & potatoes. Perfect fall/winter food – very comforting and delicious. It practically cooks itself!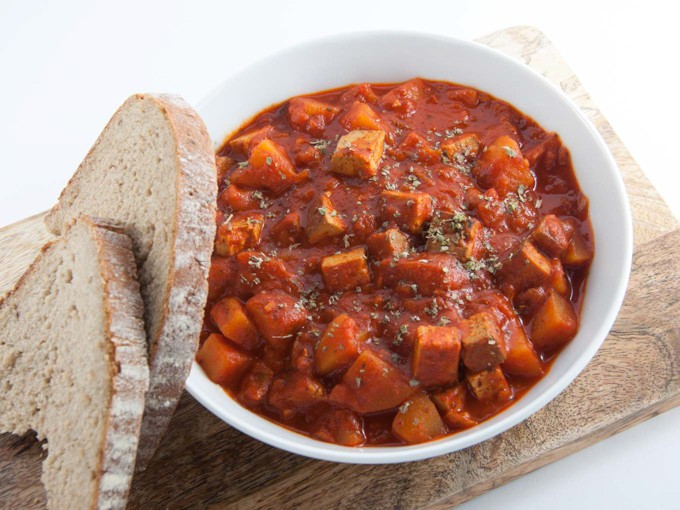 The temperatures have been dropping significantly lately… this means… fall is coming. And while I really enjoyed this crazy-hot summer, I'm looking forward to all the delicious fall and winter veggies and dishes. Soups, stews, goulashes… here I come!
Goulash is one of these dishes that practically cook themselves – they don't need constant monitoring which makes them great meals when you don't have a lot of time to spend on cooking. Also… I think Goulash gets better with every time it's reheated like chili!
We've got a zero-waste supermarket in Linz now, called Holis, and I'm so happy to collaborate with them. They offer recipe boxes, meaning people can choose a recipe they like and they can get all the ingredients needed for the recipe ready to go in a neat looking tote bag. This should help people who have problems with leftovers (because they only buy the ingredients in the amounts they need for a recipe) and motivate people who don't know what to cook usually. I'm so happy that this vegan Goulash was among the first recipes people could choose!
I love it when vegan recipes are easily accessible to all people. That's why I started the blog all along and I really appreciate having the opportunity to provide vegan recipes for this new supermarket.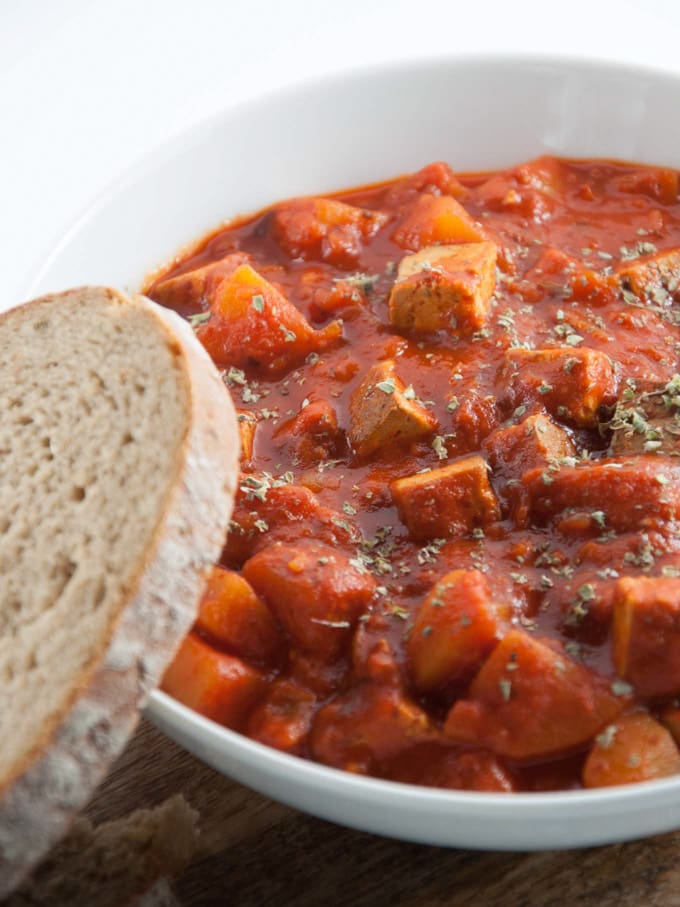 This is a recipe for a vegan Goulash with smoked tofu and potatoes. Somehow I always thought that I don't like smoked tofu – well, I tried it again and now I love it! I even snack it plain and uncooked sometimes. Yummy! Smoked Tofu is perfect for dishes like this goulash because the tofu is firm, has a strong taste and goes well with saucy kinds of meals.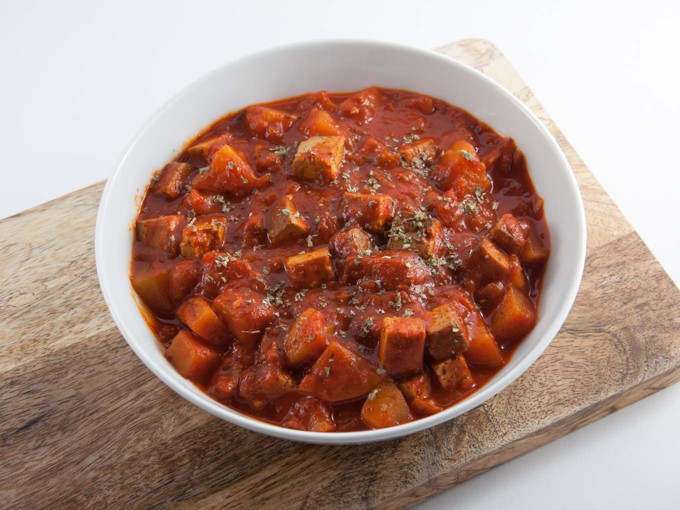 The amount of paprika powder in this recipe may seem excessive.. but they are really meant to be 5 tablespoons of paprika powder in there. Goulash is one of the national dishes of Hungary and is traditionally a stew of meat and vegetables, which are seasoned with paprika and other spices. The smoked tofu takes in this dish the role of the meat. So there is no strict recipe for the traditional "goulash" but there are many varieties and also many possibilities (why not add in some broccoli or mushrooms next time?).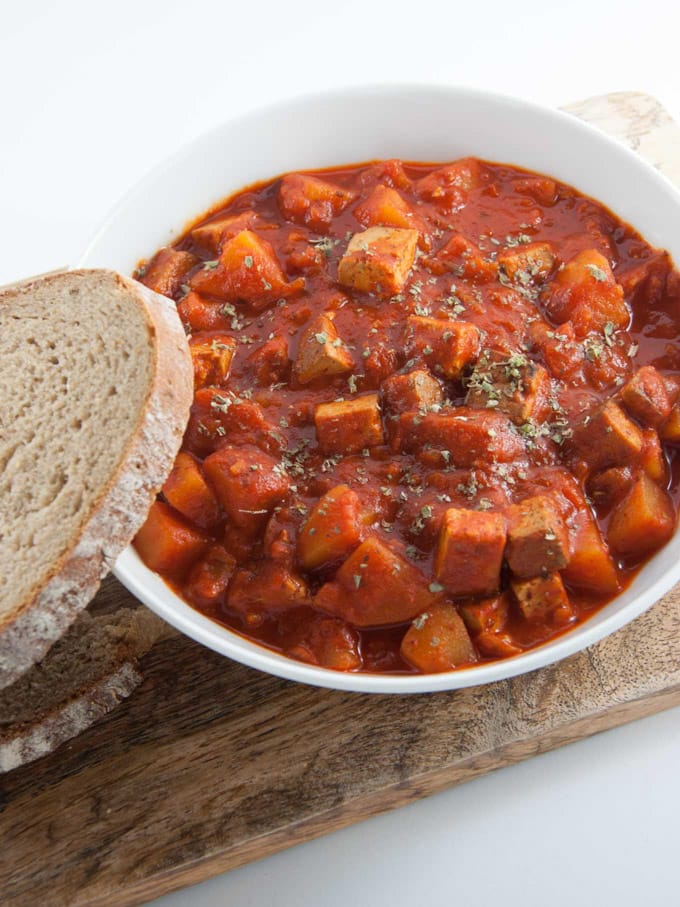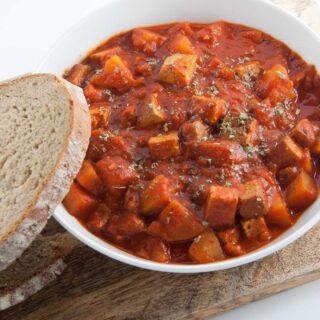 Vegan Goulash with smoked tofu & potatoes
Recipe for a vegan Goulash with smoked tofu & potatoes. Perfect fall/winter food - very comforting and delicious.
Ingredients
2 1/2

cups

diced potatoes

(about 6 medium-sized potatoes)

1

onion

5

garlic cloves

5

tablespoons

paprika powder

, mild

1/2

teaspoon

salt

1

teaspoon

canola oil

8

oz

smoked tofu

2 1/2

cups

water

1

teaspoon

dried marjoram

1

tablespoon

tomato paste
Instructions
Dice the onion and mince the garlic cloves. Wash, peel if necessary, and cut potatoes in small cubes. Dice the smoked tofu.

Heat the canola oil in a big pot.

Put the diced onion & minced garlic in the pot.

When the onion and garlic are starting to brown, add the potato cubes, smoked tofu and paprika powder and give it a good mix.

Let it roast for about 2-3 minutes, then add 2 1/2 cups (500ml) of water.

Let it cook without the lid on for about 30-45 minutes on medium-high heat, the water will reduce itself. If the goulash is getting too thick, you can add more water again until the potatoes are soft & the goulash has reached the preferred consistency.

Add the salt, dried marjoram & tomato paste and stir until the tomato paste dissolves.
Notes
If you like it spicy, you can also add Sriracha or cayenne powder.
Nutrition
Calories:
164
kcal
Carbohydrates:
26
g
Protein:
9
g
Fat:
3
g
Sodium:
371
mg
Potassium:
947
mg
Fiber:
7
g
Sugar:
3
g
Vitamin A:
4370
IU
Vitamin C:
19.1
mg
Calcium:
95
mg
Iron:
6.9
mg
Want more Easy Vegan Dinner Recipes?
Affiliate Disclosure: This post may contain affiliate links, which means I may earn referral fees if you make a purchase through my link. While clicking these links won't cost you any extra money, they will help me keep this site up and running!