Vegan Schnitzel – a veganized version of a classic Wiener Schnitzel. Check out a new and modern turn on the traditional Austrian cuisine.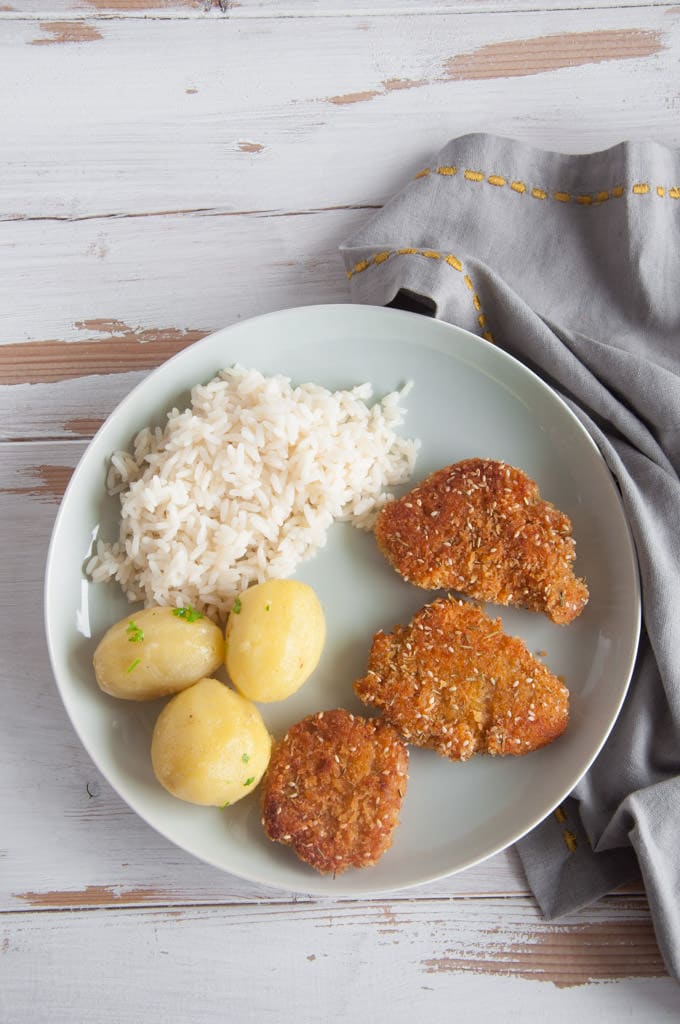 As an Austrian, schnitzel was part of my childhood. I even had phases were I practically lived off that stuff.  Therefore when I went vegan I looked for something that could be my equivalent of the traditional schnitzel. And I found it by using TVP slices for a base for the vegan schnitzel.
I usually make a big batch of these mini-schnitzel and use half of them immediately (they taste soft – reminding me more of chicken) and the other half of them cold in a burger or for a cold plate (they'll get a more pork-like texture).
Watch how to make vegan Schnitzel – Recipe Video (2 min)
Here's a video on how I made the vegan Schnitzel! I hope you like it. :)
The base: TVP
This is TVP (Textured Vegetable Protein) – the base product we're working with in this recipe. I really love this stuff as a meat alternative, because the texture is so meat-like and you can store it for months. I've written a whole guide about TVP (what it is and how to use it). Definitely check it out if you want to learn more about it and I've also included my favorite recipes using TVP in that guide.
How to get the breading to stick without eggs
Breading TVP or any other meat replacements, tofu, veggies etc. without eggs is not hard at all. For the egg alternative, I mix together chickpea flour (alternatively all-purpose flour does work too), water, salt and sriracha (optional) until it reaches an egg-like consistency. You can check out the detailed ratios below in the recipe.
If the egg-replacement is too thick, you can always add more water. If it's too thin, add more chickpea flour. Then dip the cooked TVP slices or whatever you want to bread in the egg-replacement before you coat it in panko flakes or breadcrumbs. Works like a charm! No one needs eggs for that (or for anything for that matter) :)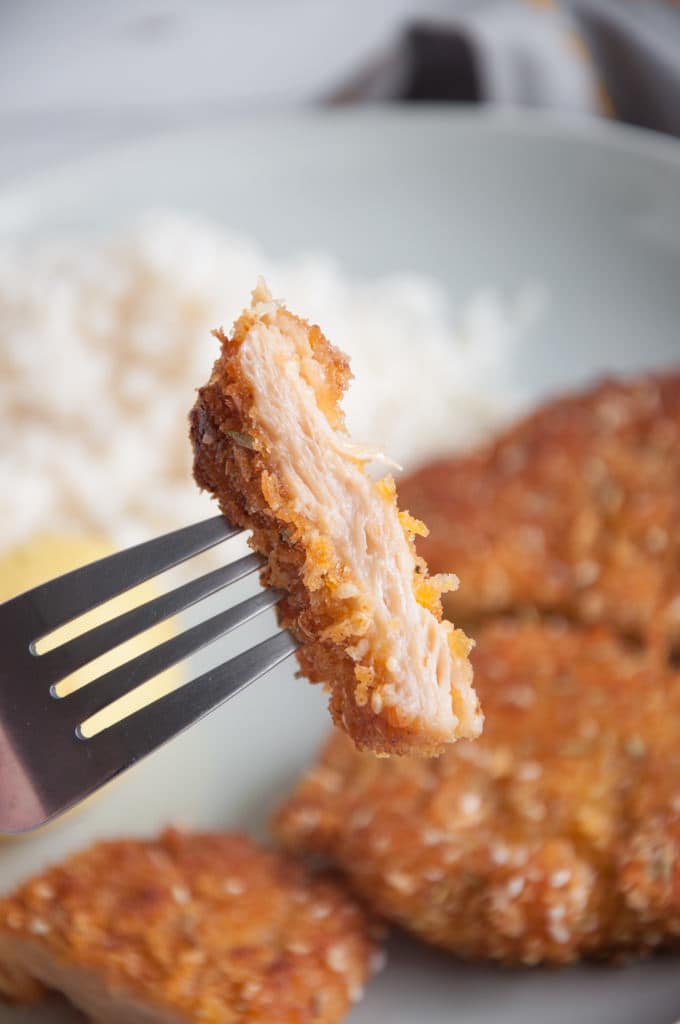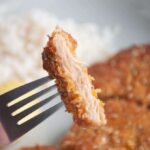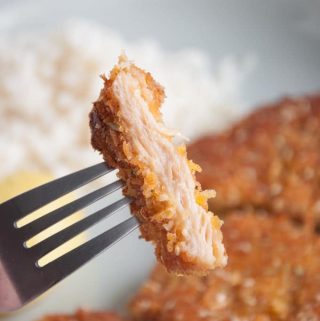 Vegan Schnitzel
Recipe for vegan Schnitzel made with TVP (Textured Vegetable Protein). So delicious! All vegetarian, vegan and plant-based.
Servings
:
2
(6 schnitzel)
Instructions
Heat water in a big pot and toss the TVP slices in there once it's boiling. When the TVP slices are soft, drain them and gently press the water out of them.

In a bowl, mix the chickpea flour, water, 1/8 teaspoon salt and sriracha (it should have the consistency of an egg, add more water or flour if needed). In another bowl mix the breadcrumbs (or panko flakes), sesame, dried rosemary, garlic powder, onion powder, paprika powder and 1/2 teaspoon salt.

Put one TVP slice after another first in the egg alternative mixture, then in the breadcrumbs.

When all TVP slices are coated you can put them in a large hot pan with enough canola oil so the whole pan is coated. Turn them once the side is golden and crispy.

Pan-fry it on the other side for 3-4 minutes.

Serve with parsley potatoes and rice for example and enjoy!
If you give this vegan Schnitzel a try I'd love to hear how it turned out for you! Leave a comment or post a picture on instagram, use the hashtag #elephantasticvegan and tag me via @elephantasticvegan to make sure I'll see it ^.^ I love to see all your lovely creations! Thanks! <3