Make your own battered fish filets without fish! Thanks to tofu we can make a cruelty-free, plant-based alternative – perfect for vegan Tofish and Chips!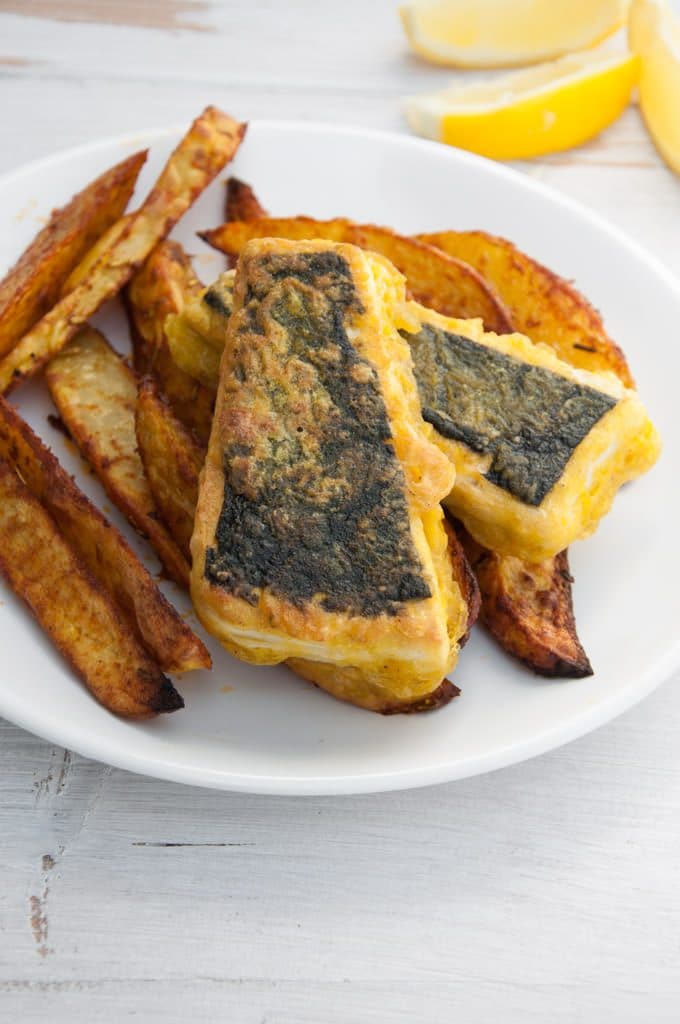 I have been vegan for over 5 years now, and for me, fish was one of the hardest things to give up. If you know me, I'm always trying to find a way to make the foods I used to love in my pre-vegan times in a vegan and cruelty-free way. That's why I really wanted to start experimenting with vegan fish recipes.
I tried many vegan fish products on the market, but they all disappointed. Also, they are really, really expensive. So I like the homemade vegan fish version much more!
What is Tofish?
Tofish is a great-looking, cruelty-free alternative to fish (perfect for fish and chips-lovers!). It's made out of tofu filets with a sheet of nori, which adds a lovely ocean, algae taste. Then it's coated and pan-fried in a light batter with seltzer water. You could also use beer or cider in that case.

Why Tofish is the better option
Fish was actually one of hardest things to give up when I went vegan (besides cheese, obviously because cheese addiction is a thing). But even in my pre-vegan days, the options of either fish from the sea loaded with micro-plastics or farmed fish loaded with antibiotics to survive in the crowded and super filthy enclosures were both terrible. No thanks, I'm sticking to Tofish! You can read more about aquafarms here.
While this Tofish doesn't have the consistency of fish (it's still tofu), it certainly looks like "real fish"! That's enough reason for me to share the recipe with you!
Serve with…
Served with wedges (or cut the potatoes in fries to make them more like chips!) this vegan 'fish' makes quite an appearance. Don't forget to add freshly squeezed lemon juice on top. Makes it only better! :)
You know what also would be good with this tofish? Peas and vegan tartar-sauce! Anything you would serve with regular fish would be delicious with this cruelty-free, vegan alternative!
How to make Tofish
Many people don't give tofu the love it deserves. Tofu is so versatile, it's great. For this recipe, you'll want to use firm tofu, not silken tofu as it would be too wobbly and would not hold its shape.
Scroll down to see the full recipe!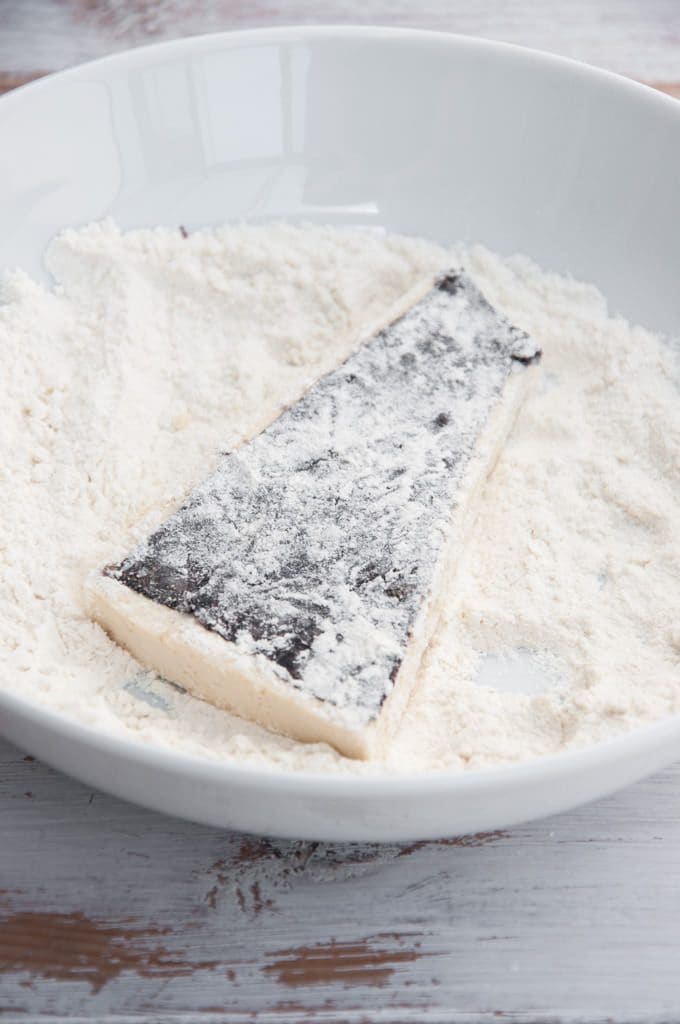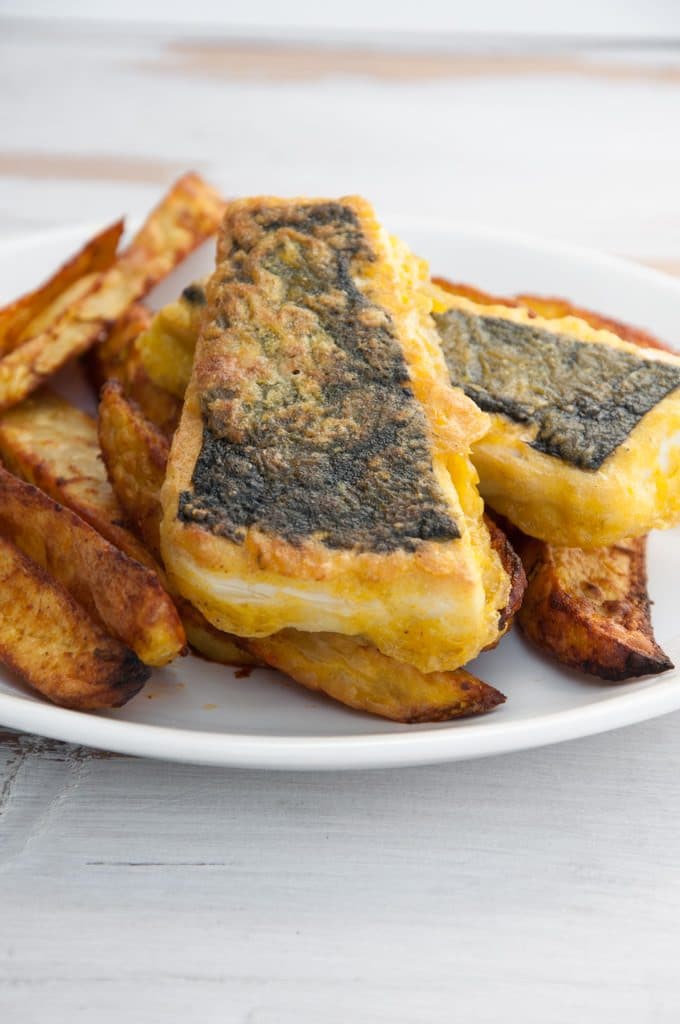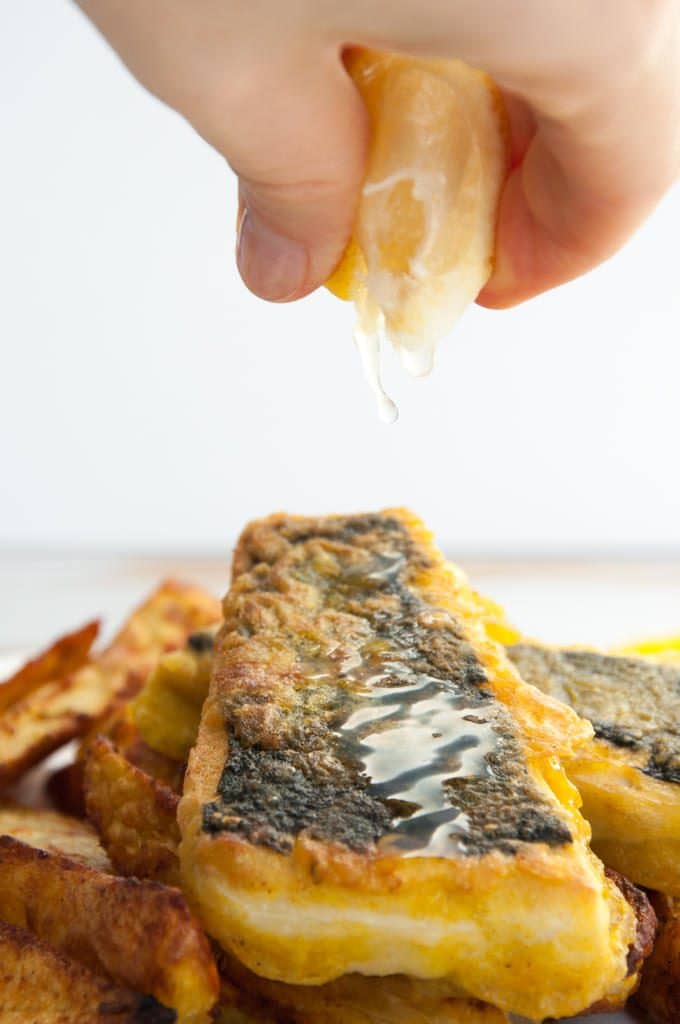 Yasssss. Add lots of freshly squeezed lemon juice!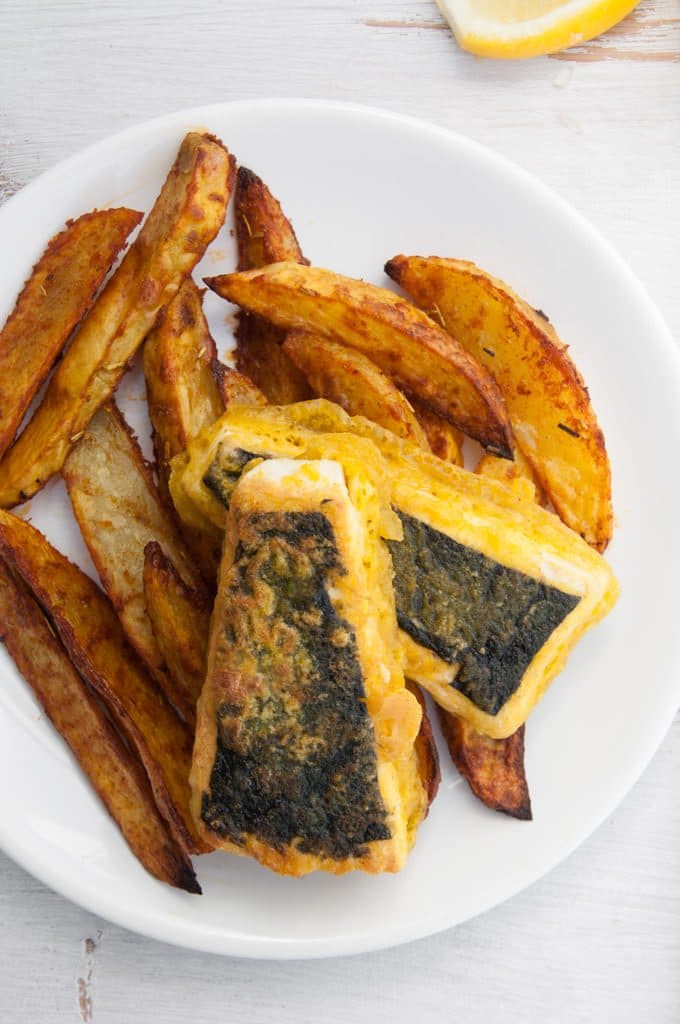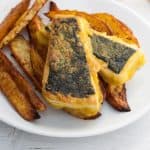 Vegan Tofish and Chips Recipe
Make your own battered fish filets without fish! Thanks to Tofu we can make a cruelty-free, plant-based alternative - perfect for vegan Tofish and Chips!
Ingredients
Tofish
2

slices

firm tofu

1/4

cup

all-purpose flour

1

tablespoon

corn starch

1/2

teaspoon

salt

, divided

1/4

teaspoon

turmeric powder

1/2

cup

seltzer water

(or beer or cider)

1-2

tablespoons

canola oil

for pan-frying
Chips
5

large potatoes

2

teaspoons

olive oil

1/2

teaspoon

salt

1/2

teaspoon

curry powder

1

teaspoon

dried rosemary

1

teaspoon

corn starch
Instructions
Chips
Preheat the oven to 480°F / 250°C.

Peel the potatoes. Cut them in wedges or fries. Put them on a baking tray lined with parchment paper. Add oil, spices and corn starch on top. Mix it well so they're all coated. Spread them around the baking tray so they don't overlap each other. Bake in the oven for about 20 minutes until golden and crisp.
Tofish
Cut the two large slices of tofu in half, so you have 4 pieces. Cut the nori into the forms of the tofu and put the nori sheet on the tofu slices. Press the nori a bit onto the tofu so that it sticks.

Combine all-purpose flour and 1/4 teaspoon salt on a deep plate. Coat all the tofu filets in the flour and set them aside. Then add corn starch, 1/4 teaspoon salt, and turmeric to the rest of the flour on the plate. Add more flour if there isn't much left. Add seltzer water and whisk until it's a slightly thick, runny batter.

Prepare a pan and fill enough canola oil so it covers the bottom and bring it to medium to high heat.

Dip the tofu with the nori sheet into the batter, flip until coated on all sides and put it in the hot pan. Pan-fry for about 3-4 minutes on each side until golden.

Once the wedges are ready, put them on a plate and stack the tofish on top. Garnish with lemon wedges and enjoy!
Nutrition Facts
Vegan Tofish and Chips Recipe
Amount Per Serving
Calories 537
Calories from Fat 126
% Daily Value*
Total Fat 14g 22%
Sodium 1272mg 53%
Potassium 2362mg 67%
Total Carbohydrates 85g 28%
Protein 21g 42%
* Percent Daily Values are based on a 2000 calorie diet.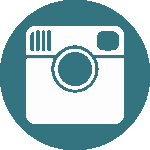 Did you make the vegan Tofish and Chips? Tag @elephantasticvegan on Instagram and use the hashtag #elephantasticvegan. Don't forget to subscribe to the Elephantastic Vegan Newsletter to see Reader Remake Features!

Affiliate Disclosure: This post contains affiliate links. If you click on a link and buy something I will get a small percentage. This helps me produce more great content and recipes.