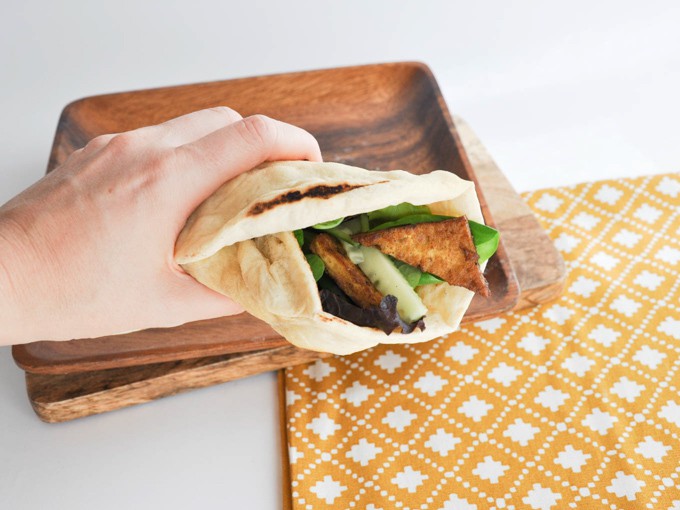 This Crispy Tofu Wrap is so good! You have to try it! It's the best filling lunch one could ever have, the tofu is seasoned with curry powder and salt and pan-fried until brown and crispy. Together with salad, cucumber sticks and a creamy avocado mayo it's packed in a wonderful fluffy and filling homemade wheat tortilla. I looove really thick tortillas but there is no chance to buy them here so making them at home is the best choice. You could also roll them out thinner if you like but they are so fluffy, airy and delicious when a bit thicker.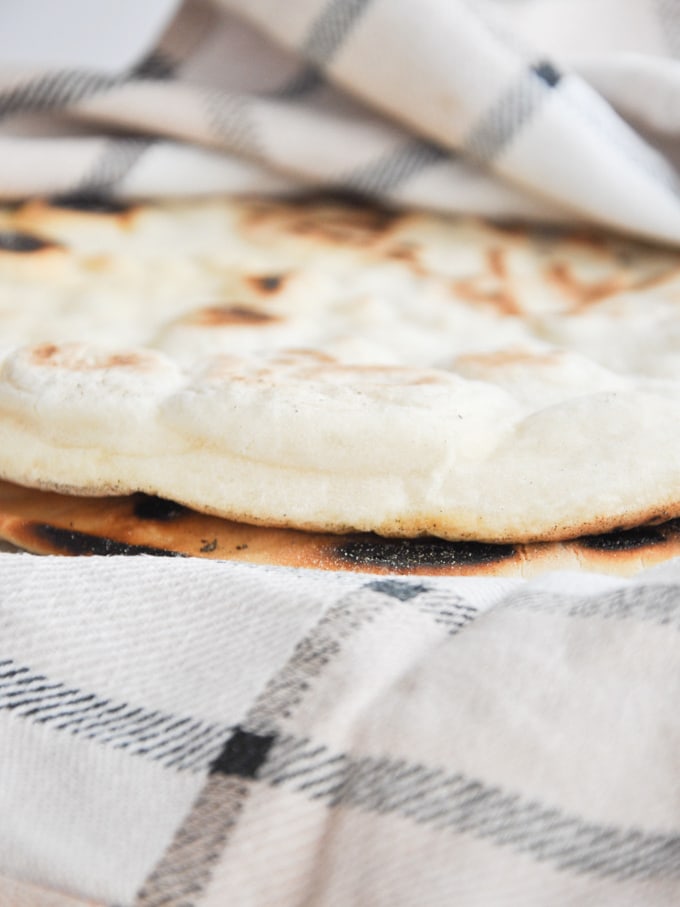 Look at that surface, so bubbly and fluffy.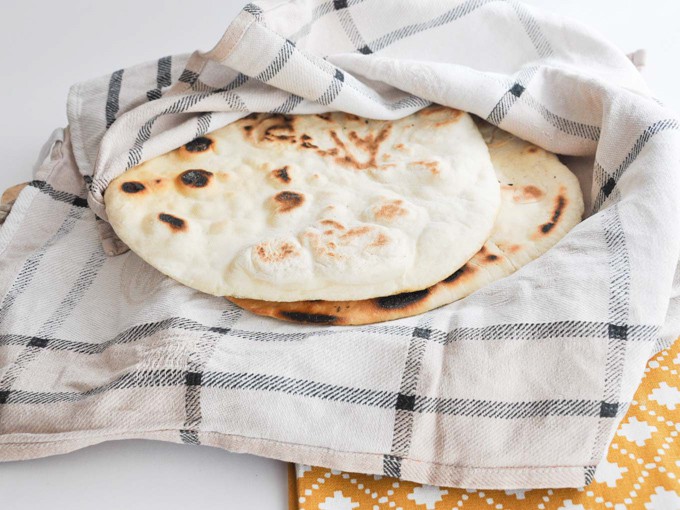 Keep the tortillas in a clean kitchen towel until you use them. This will keep them soft.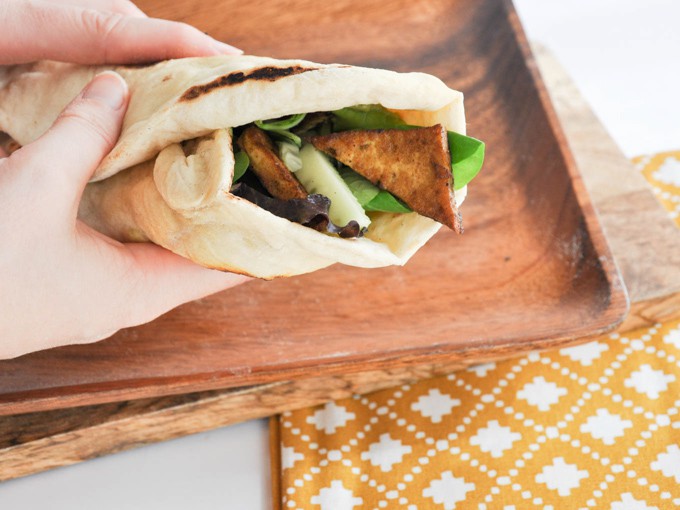 The bread is so crazy soft, I may or may not have said that I want to make a pillow out of this bread. Yupp.. I wanted to dig my face in all the time – so fluffy!
I hope you like my tofu wrap gif! :D Mhhh Yumm! I'm getting hungry seeing this again. The killer combo: Fluffy homemade flatbread, creamy avocado mayo, fresh salad mix, crispy blackened tofu triangles aaand the cucumber sticks.
Crispy Tofu Wrap with Homemade Tortillas & Avocado Mayo
Recipe for a vegan crispy Tofu Wrap with homemade wheat tortillas, avocado mayo, salad and cucumbers. The wheat tortilla is super fluffy! Great for lunch and kids.
Author:
Elephantastic Vegan
Ingredients
Ingredients for the homemade tortillas
1⅔ cups / 200g all-purpose flour + extra for dusting
1 teaspoon active dry yeast
½ teaspoon salt
1 teaspoon olive oil
about ⅓ cup / 90ml water
Ingredients for the filling
½ block firm tofu
2 teaspoons canola oil
½ teaspoon curry powder
½ teaspoon salt
2-inch piece of a cucumber
2 cups mixed greens salad (I used a mix of spinach, lollo rosso, lollo verde, arugula and lamb's lettuce)
1 avocado
½ teaspoon lime juice
¼ teaspoon salt
1 teaspoon chopped cilantro
ground pepper
Instructions
Instructions for the homemade tortillas
In a mixing bowl add the dry ingredients first and give it a mix, pour in the oil and add the water little by little and knead (by hand or use a stand mixer) the dough until smooth. Add more water if necessary - it should be a smooth, non-sticky dough.
Cover the bowl with a clean kitchen towel and let it rest in a warm place for about an hour.
Punch the dough down, and cut it in 2 equal pieces.
Form the pieces into balls and roll them out on a floured surface.
Put one tortilla in a very hot (!) pan (a flat pan like a crepe-pan works best) and let it in there for a few seconds to a minute and then turn when the tortilla is getting bubbly on the surface. Repeat for the other tortilla.
Keep the tortillas covered in a clean kitchen towel until using them to prevent them from getting hard.
Instructions for the filling
Cut the tofu in slices and then in triangles. Heat the canola oil in a large pan, add in the curry powder and salt and tilt until mixed well. Add in the tofu and let it pan-fry for about 5 minutes on high-heat on each side until crispy brown.
Wash the salad and cucumber and cut the cucumber in strips.
Peel and pit the avocado, put the avocado flesh in a food processor. Add the salt & lime juice & ground pepper. Let it chop until completely fine. Taste and add more salt & lime juice to taste. Mix in the chopped cilantro.
Once everything is ready, you can assemble your wrap. Spread the avocado mayo on the wrap, add the salad, crispy tofu triangles and cucumber strips. Roll in and enjoy!
If you make this recipe, I'd be so happy if you'd leave me a comment. Should you post a photo of it on instagram, please use the hashtag #elephantasticvegan and tag me via @elephantasticvegan. I loooove to see all your lovely creations! Thanks <3