Recipe for a vegan Kohlrabi Schnitzel with crushed toasted pumpkin seeds in the breadcrumb coating. It's a traditional Austrian dish.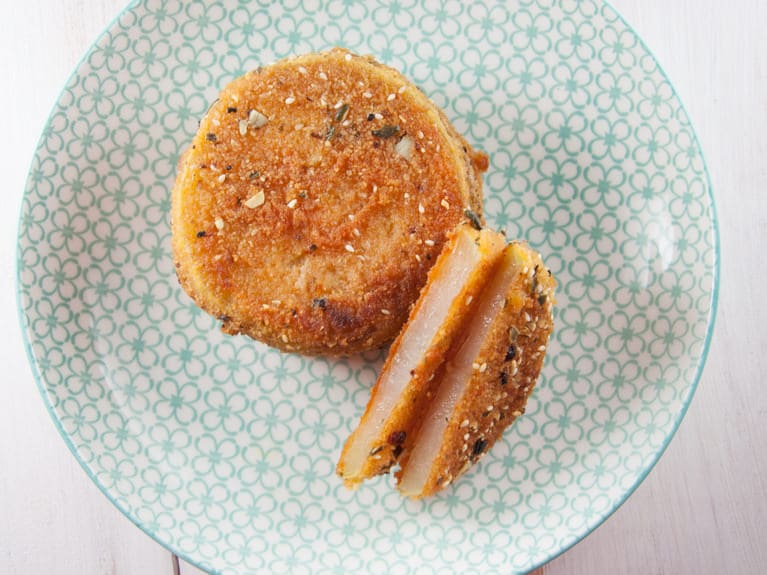 I had to look up was Kohlrabi was in english, because I didn't know and found that it is also called Kohlrabi, some say cabbage turnip or german turnip. My Austrian instinct totally came through in this recipe – I mean – Schnitzel anyone? It is such a great way to prepare Kohlrabi and I liked it a lot! I ate it with parboiled rice and salad and the combination was great. I added some crushed pumpkin seeds and white sesame seeds into the breadcrumbs – delicious!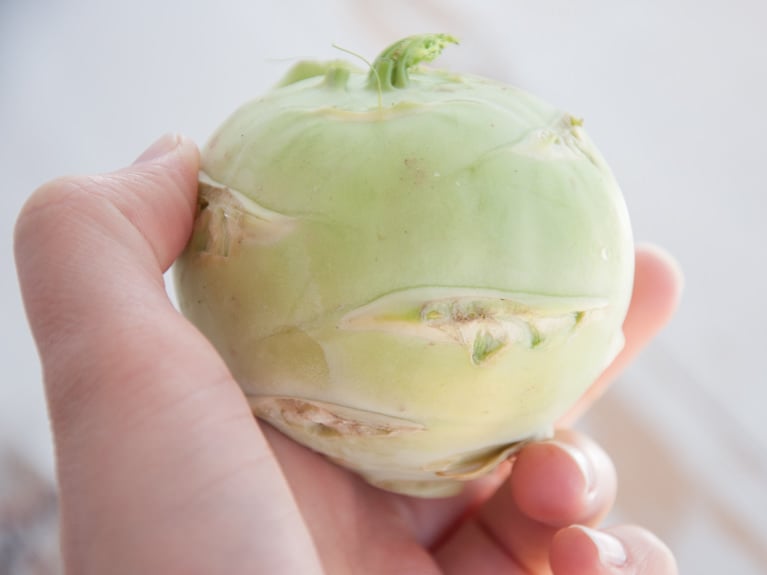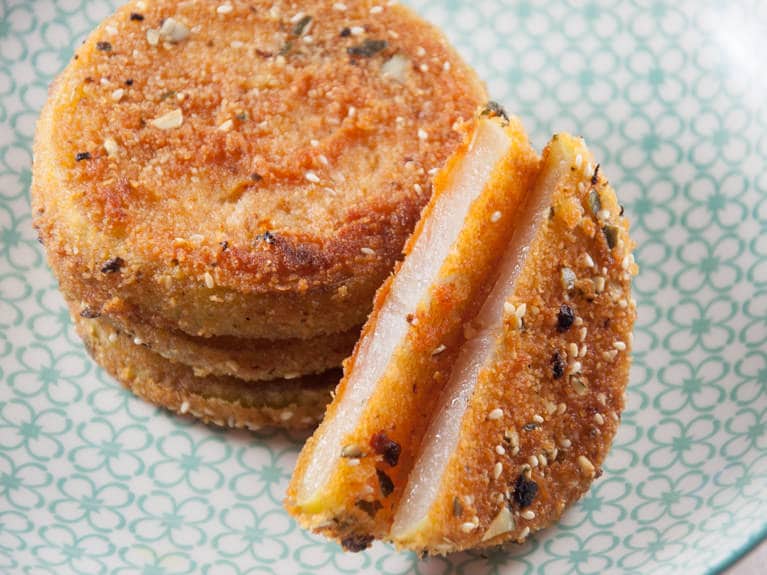 I think I've never had a Kohlrabi Schnitzel before, although it is not an unusual dish in Austria. I remember that my grandmother used to make these sometimes. Somehow it never got to me, but know I'm rediscovering a lot of different vegetables and I love to eat seasonally so of course I had to try it.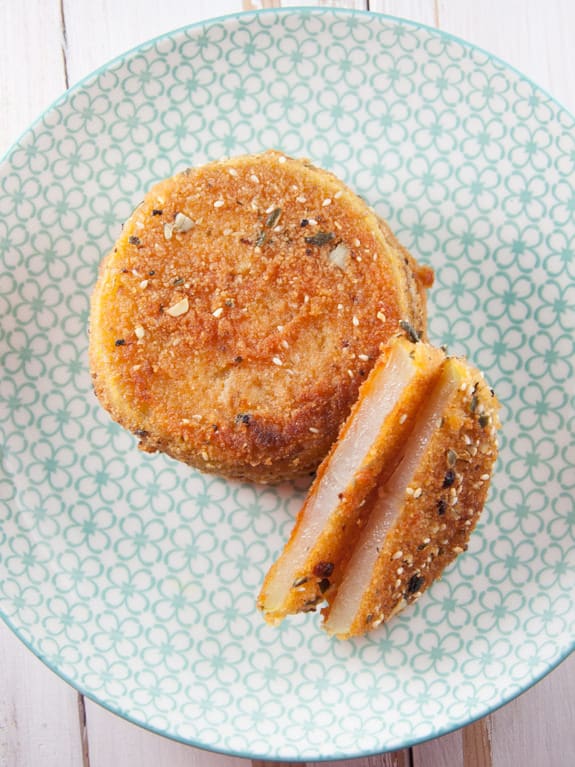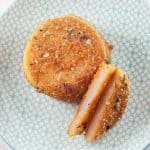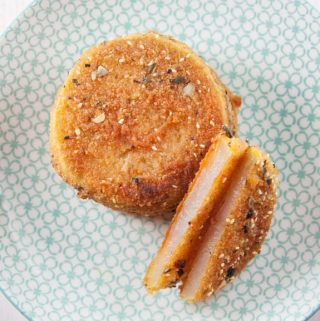 Kohlrabi Schnitzel
Recipe for a vegan Kohlrabi Schnitzel, Kohlrabi slices breaded in Breadcrumbs. One large Kohlrabi resulted in 7 Kohlrabi Schnitzel and we ate two for dinner per person (and the rest later in the evening).
Ingredients
1

large Kohlrabi

2

tablespoons

all-purpose-flour

(you can sub it with besan or soy flour)

1

teaspoons

paprika powder

1

teaspoon

salt

2

tablespoons

bread crumbs

a few pumpkin seeds

(optional)

1

teaspoon

sesame seeds

(optional)

1

tablespoon

olive oil
Instructions
In a large pot bring water to a boil.

Take any additional leaves off the Kohlrabi and wash it. Cut the Kohlrabi in slices (about 1/3 inch) and around the slices with a veggie peeler to remove the outer layer. Place them in the hot water, reduce the heat to medium-high. Let them cook for about 8 minutes.

Meanwhile mix the flour with three tablespoons of water and add 1/2 teaspoon of salt & 1/2 teaspoon of paprika powder (it should have an egg-like consistency, add more water or flour to achieve that).

Pour the breadcrumbs on a plate and add 1/2 teaspoon of salt, 1/2 teaspoon of paprika powder, also add in crushed pumpkin seeds and the sesame if you like.

When the Kohlrabi Slices are a bit softer, place them first in the flour-water mixture, then in the breadcrumbs-mixture and set them aside.

In a large pan heat the olive oil and add in the Kohlrabi Schnitzel. Let them fry on medium-high heat for about 5 minutes per side.

They should be golden on both sides.

After frying, put them on a paper towel to remove excess oil and enjoy!
Recipe Notes
The Kohlrabi Schnitzel is great with rice or cooked potatoes, salad or in a bun!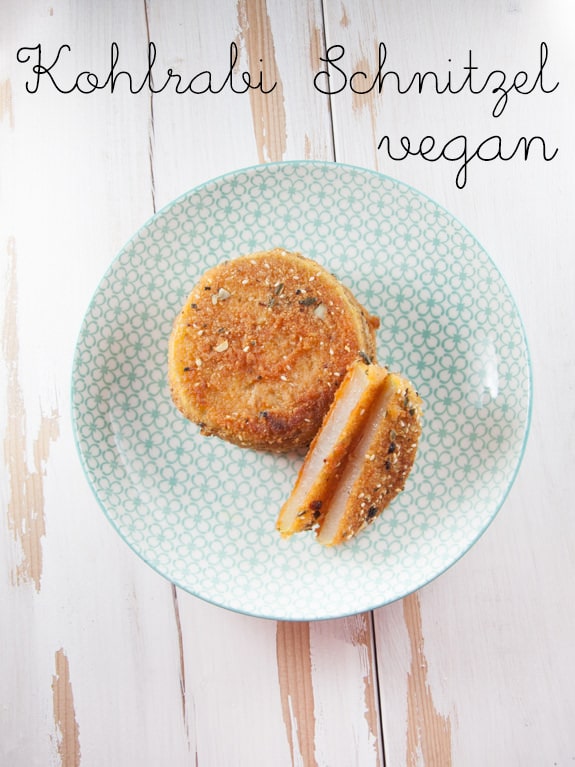 Should you decide to give this vegan Kohlrabi Schnitzel a try I'd love to hear how it went! Write me a comment or post a picture on instagram, use the hashtag #elephantasticvegan and tag me via @elephantasticvegan to make sure I'll see it ^.^ I love to see all your lovely creations! Thanks! <3