Homemade Bread is the best! I love making everything from scratch (bread loaves, burger buns, flatbreads, tortillas for wraps, Indian bread to serve with curries). In this post, I'm sharing my favorite vegan bread recipes! No eggs. No dairy.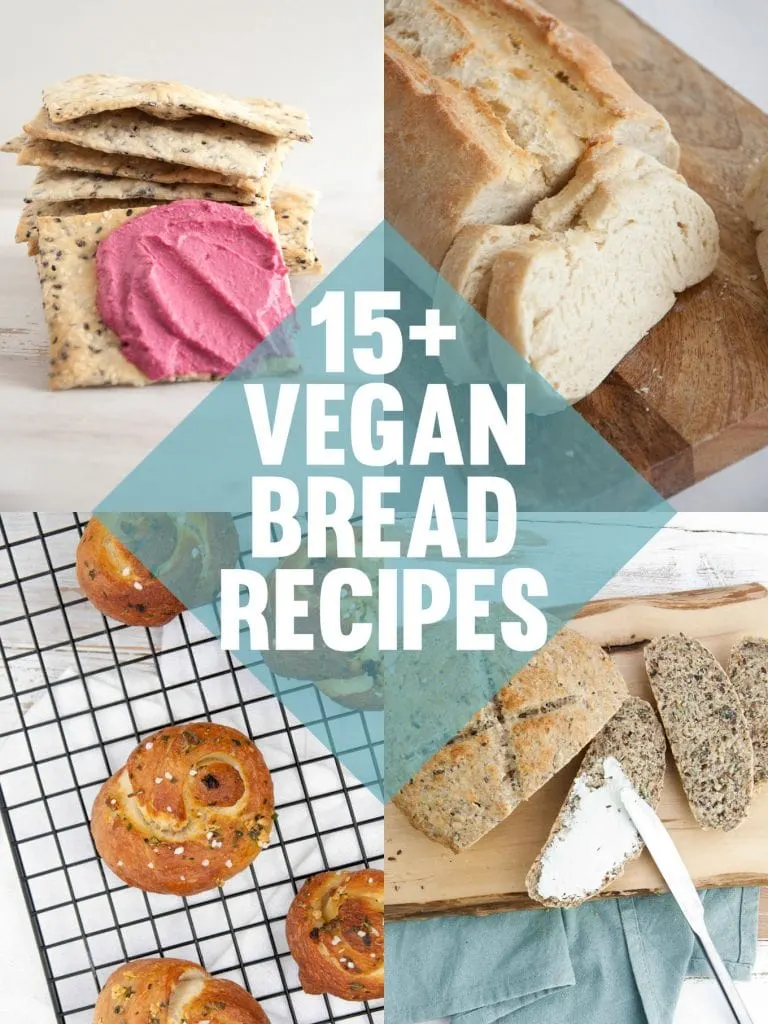 I love homemade bread fresh out of the oven! I don't think there's anything better than that. Also, the apartment smells amazing each time! Over the years, I've started to bake more and more of the bread loaves, tortillas, flatbreads, naan, etc. from scratch. It's quite addictive, I have to say!
Yes, it's more work than buying bread in the supermarket. BUT homemade bread is totally worth it!
All of the vegan bread recipes in this round-up are made without eggs and dairy. They do contain yeast or baking powder as a rising agent.
In this round-up you'll find:
Basic White Bread (this is my go-to recipe for SO many bread adventures). You can make a loaf, burger buns, hot dog, buns, breadsticks, pizza crust, … really anything you can think of!
Vegan Bread Loaves such as a Carrot Bread Loaf or a Wild Garlic Pesto Swirl Bread!
Buns and Knots (a burger with homemade buns tastes so much better!)
Tortillas for Wraps (same as with the burger, once you had homemade tortillas for your warps, it's really hard to go back to store-bought ones!)
Flatbreads (especially the crispy flatbread is great for breakfast because it keeps fresh for a really long time)
Indian Bread to serve with curries (eating curries without bread should be forbidden ;)
I really hope you enjoy these vegan bread recipes!
Basic White Bread
Vegan Bread Loaves
Wreath
Vegan Buns and Knots
Tortillas for Wraps
Flatbreads
Indian Bread to serve with Curries
Don't forget to bookmark or pin this page, so you'll always have the best vegan bread recipes at hand! I'll add more bread recipes to this post as time passes, so make sure you check back!
If you make any of the breads, leave a comment, rate the recipe or tag me on Instagram (@elephantasticvegan) to make sure I'll see it! :)
And let me know your favorites in the comments below!
Affiliate Disclosure: This post may contain affiliate links, which means I may earn referral fees if you make a purchase through my link. While clicking these links won't cost you any extra money, they will help me keep this site up and running!