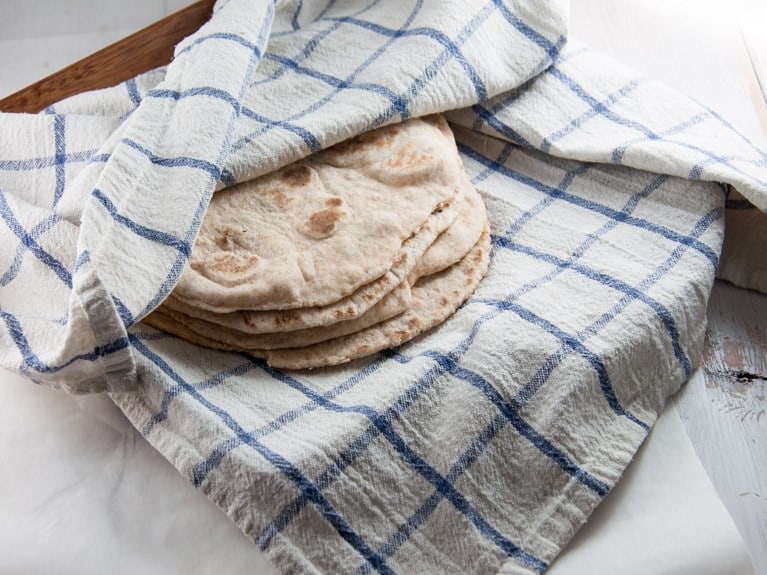 I've started relatively early making Tortillas from scratch. This was one of my best decisions, because Homemade Tortillas are so much more filling and delicious than the store-bought ones. Wheat Flour Tortillas are always a great idea, especially for a light, fresh and healthy dinner. I love to use the Tortillas for Falafel Wraps and Veggie Ball Wraps. These Wheat Flour Tortillas are really easy to make and it's best to eat them fresh and still warm!
I've used a combination of all-purpose flour and whole wheat flour, but can omit/sub the one or the other. 100% whole wheat Tortillas are likely to need more water, just add more when you see that the dough stays crumbly.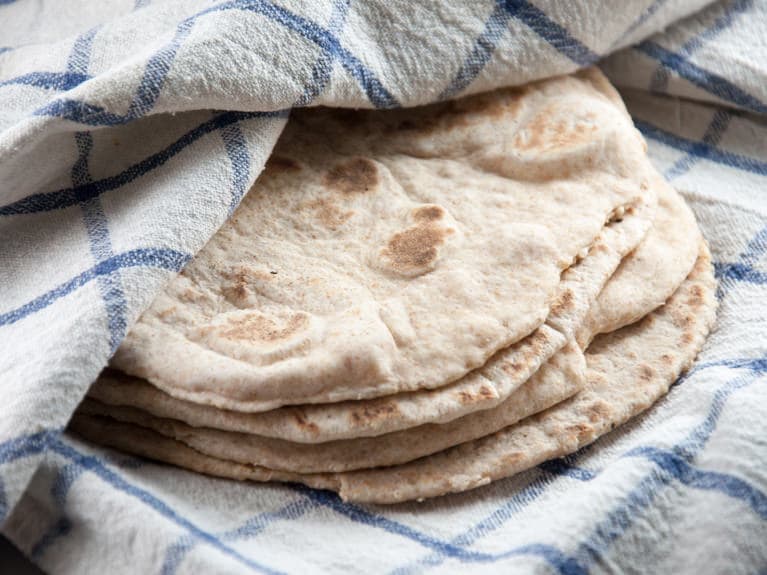 Wheat Flour Tortillas
Vegan Wheat Flour Tortillas are not hard to make and so much more filling than store-bought ones! Fill with Falafel, Veggie Balls or whatever your tummy desires. The recipe yields 2 larger or 4 smaller Tortillas!
Author:
Elephantastic Vegan
Ingredients
1¼ cups / 150g all-purpose flour
⅓ cup / 40g whole-wheat flour
1½ teaspoons active dry yeast
½ teaspoon salt
1 teaspoon of walnut oil (or any plant-based oil)
between ⅓ and ½ cup / 95ml water
Instructions
In a mixing bowl add first the dry ingredients and mix.
Pour in the wet ingredients and knead the dough until smooth. Add more water if necessary.
Cover the bowl with a clean kitchen towel and let it rest in a warm place for about an hour. (I've put my bowl next to a heater)
Punch the dough down, and cut it in 4 equal pieces.
Form four balls and roll them out flat on a floured surface.
Put one Tortilla in a very hot (!) pan (a flat pan like a crepe-pan works best) and let it in there for a minute or two and then turn when the tortilla is getting bubbles on the surface.
Repeat for the other Tortillas.
Keep the Tortillas covered in a clean kitchen towel until using them to prevent them from getting hard.