This post contains 15 of the best & amazing Vegan Curry Recipes including Palak Tofu, Vegan Butter Chicken, and Jackfruit Curry. All of the recipes are dairy-free, egg-free, cruelty-free, and plant-based! Some are gluten-free and soy-free as well! Dig in!
Do you love curries as much as I do? Especially in the colder months, there is nothing better than a bowl of hot, pure comfort food.
Vegan, plant-based curries are by no means boring – they are flavorful and there are so many different kinds. Some of the curries in this post are with chickpeas, lentils, beans, veggies, tofu, … even jackfruit!
In this article, I've compiled 15 of the Best Vegan Curry Recipes, featuring awesome recipes from my food blogger friends.
Whether you're looking for a vegetable curry for a crowd or you're cooking for one – I'm sure you'll love these easy vegan curry recipes. I've made the Palak Tofu and Falafel Curry for my parents and they all loved it. But who doesn't love curries?!
And if you're still looking for a great flatbread recipe, make sure you check out my Spelt Chapati or 4-ingredient yeast-free & oil-free Sesame Naan. Every curry needs its naan! :)
Best Vegan Curry Recipes
Palak Tofu by Elephantastic Vegan
Slow Cooker Lentil Curry by The Pretty Bee
Butter Chicken with Soy Curls by Elephantastic Vegan
Lentil & Vegetable Curry by hot for food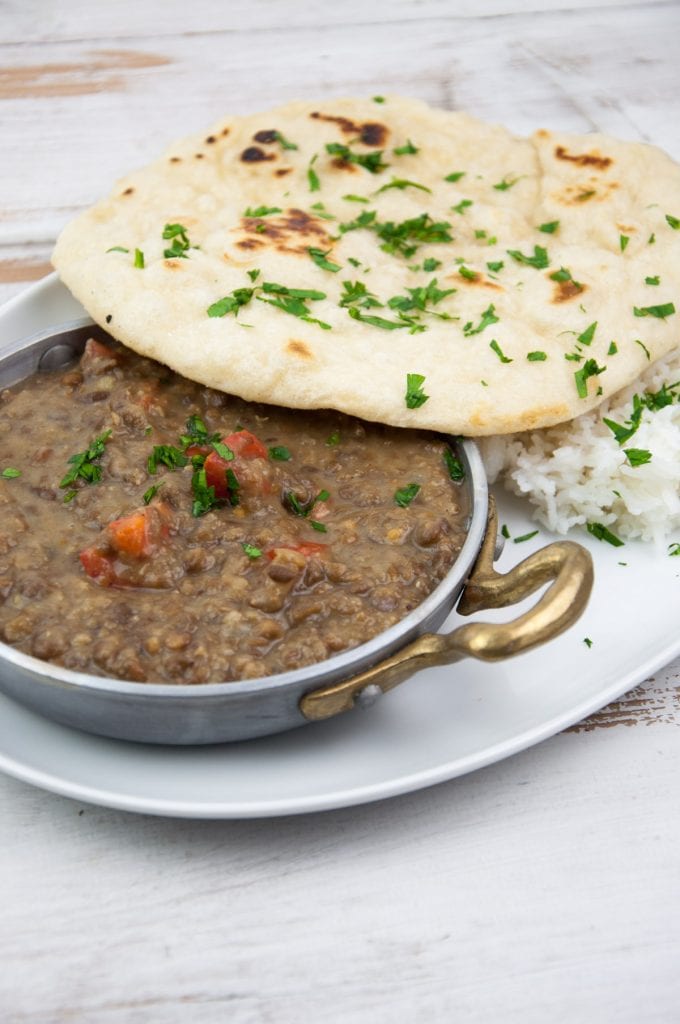 Vegan Dal Makhani by Elephantastic Vegan
15-Minute Vegan Chickpea Curry by Elephantastic Vegan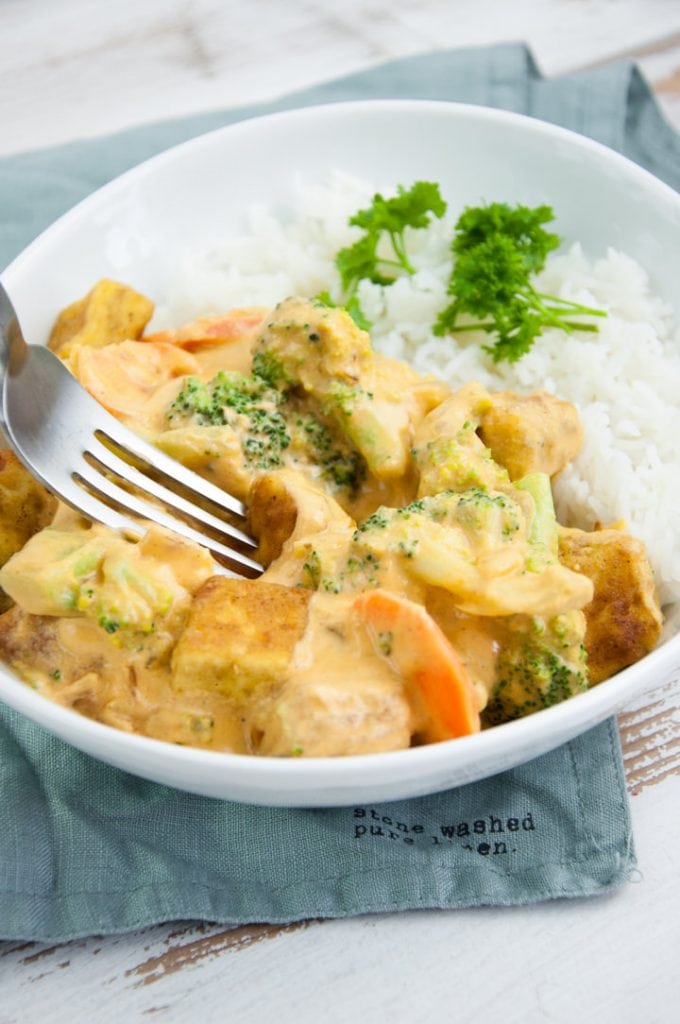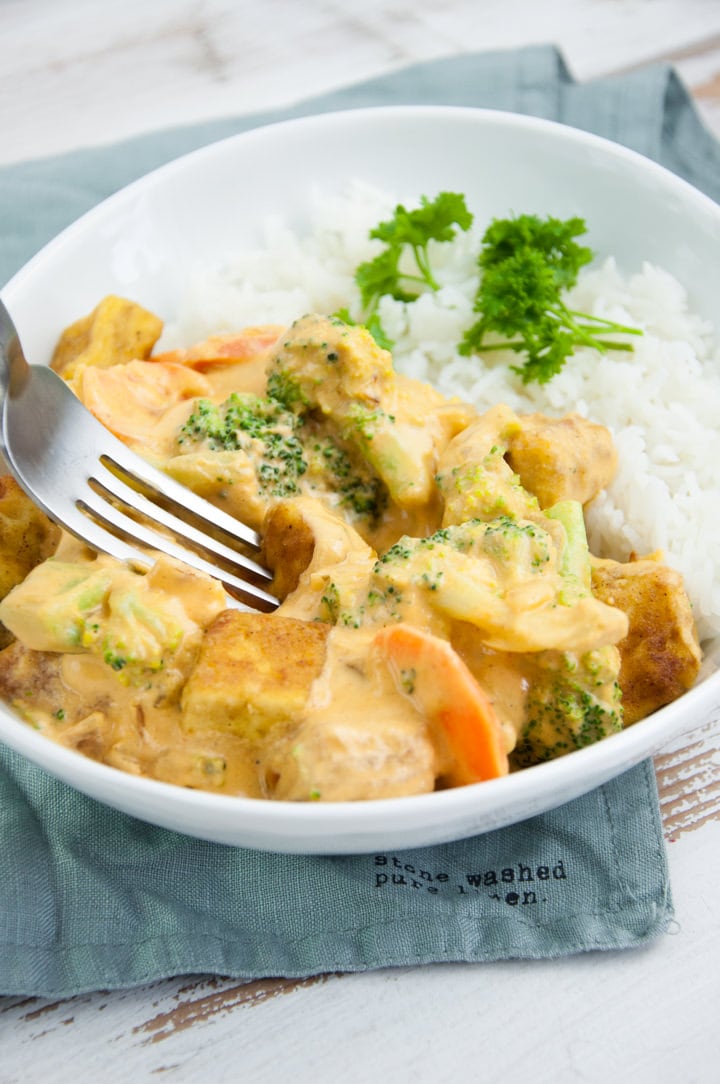 Tofu Cashew Curry by Elephantastic Vegan
South Indian Coconut Curry by Lazy Cat Kitchen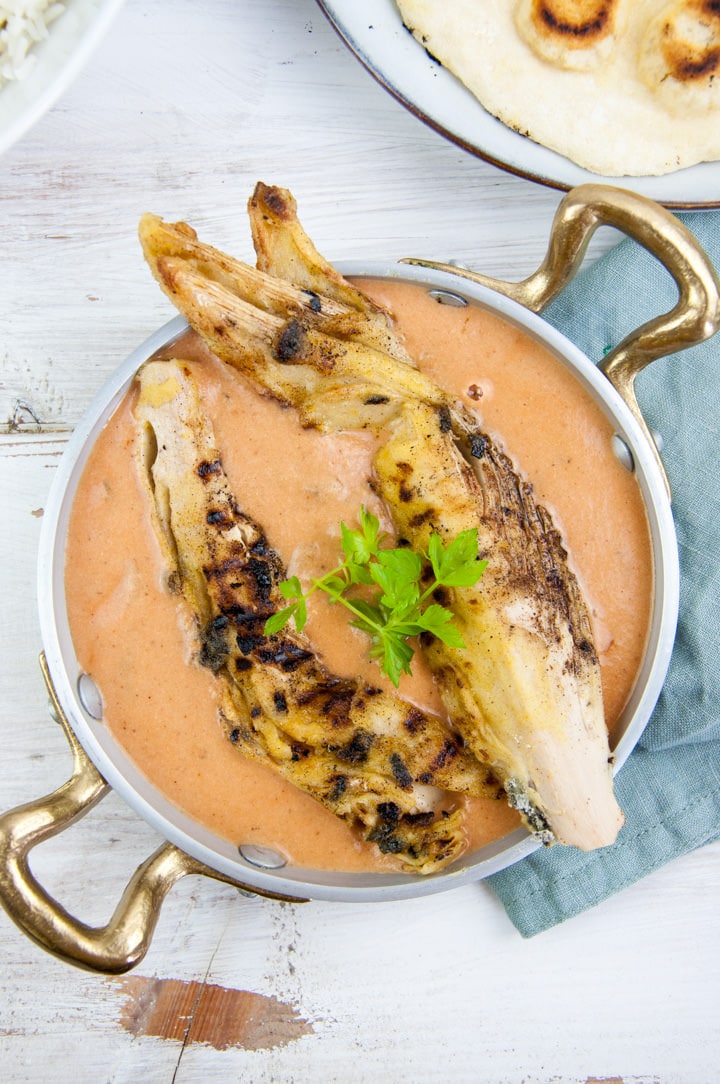 Vegan Fish Curry by Elephantastic Vegan
Aloo Palak (Potato Spinach Curry) by Elephantastic Vegan
Easy Jackfruit Curry by Vegan Richa
Sweet Potato Curry by Elephantastic Vegan
Vegan Butter Chicken by Ceara's Kitchen
Coconut Curry with Crispy Tofu by Elephantastic Vegan
Tomato and Chickpea Curry with Coconut Milk by Vegan Sandra
Roasted Smoked Eggplant Curry by Vegetarian Gastronomy
Falafel Curry by Elephantastic Vegan
… and don't forget the flatbread!
Bookmark or pin this page, so you'll always have the most amazing vegan curry recipes at hand! Let me know your favorite curries in the comments below! :)