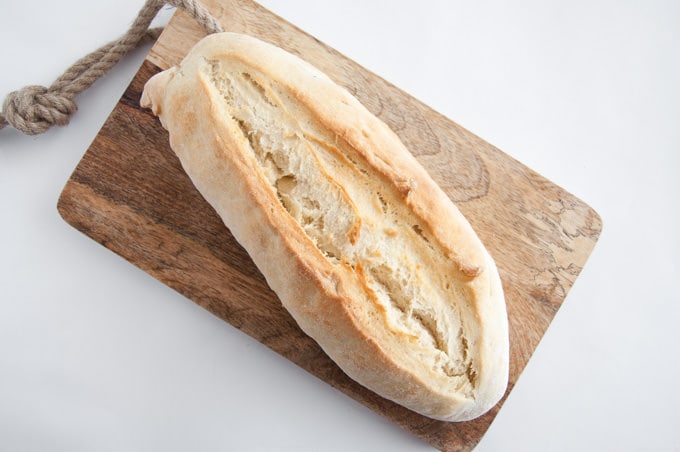 I have been making this Basic White Bread for years now. It's delicious, fluffy and you can easily add special ingredients into it like olives (I love that one for grilling), cumin, seeds, dried tomatoes… It is perfect for sandwiches, bruschetta or to make some rolls. Often when I make this bread, I make one loaf with part of the dough and some rolls to use for burger buns. You can also sprinkle some sesame seeds or poppy seeds on top!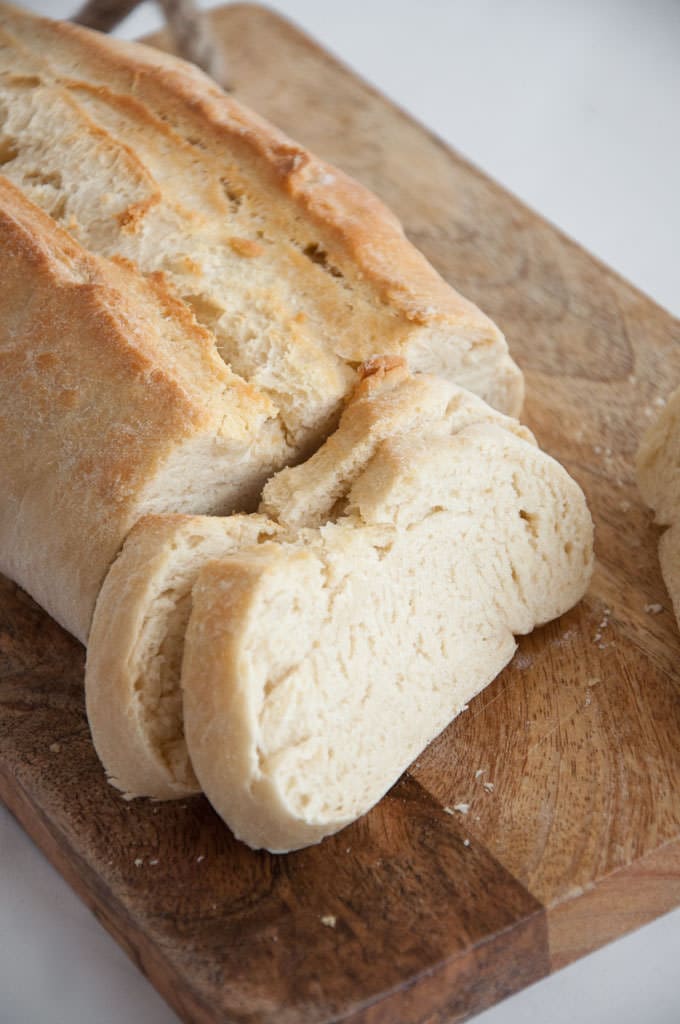 Basic White Bread
Recipe for a vegan Basic White Bread. It's ideal for sandwiches, burger buns or bigger loaves. The recipe yields 2 loaves. You can easily half the recipe.
Author:
Elephantastic Vegan
Ingredients
4 cups / 500g all-purpose flour
1 package / 7g active dry yeast
¾ teaspoon salt
1 tablespoon olive oil
1¼ cups / 300ml lukewarm water
Instructions
Mix all the ingredients and knead by hand until a soft dough firms or put all the ingredients in a bread baking machine or kitchen machine and let the machine knead the dough for you.
Let it sit, covered unter a clean kitchen towel, in a warm spot until it doubles in size (about 1½-2 hours).
Preheat the oven to 250 °C or 480 °F.
Cut the dough in two equal pieces and form the loaves.
Carve the surface of the dough lightly with a knife (I've made one long cut across the bread).
Then put the bread in the oven and take it out when the surface is golden. You can knock on the bottom of the bread and when it sounds hollow it's done!
Notes
How long the bread needs to be in the oven depends on the form you're making. Loaves need about 20-30 minutes, rolls 15-20 minutes.
I really hope you enjoy it as much as I do ;)
Should you decide to give this Basic White Bread recipe a try I'd love to hear how it went! Write me a comment or post a picture on instagram, use the hashtag #elephantasticvegan and tag me via @elephantasticvegan to make sure I'll see it ^.^ I love to see all your lovely creations! Thanks! <3