Recipe for a vegan Basic White Bread. Super soft, super versatile, delicious, quick and easy! No need to buy bread anymore in the supermarket.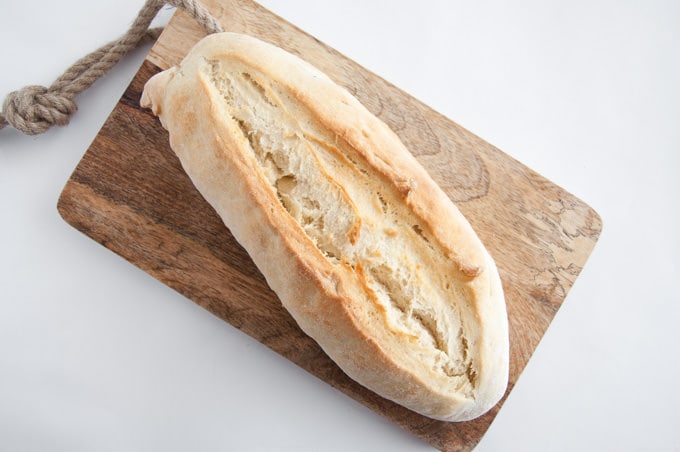 I have been making this Basic White Bread literally for years now. It's the perfect base recipe for all of your bread adventures! It's delicious, fluffy and you can easily add special ingredients into it like olives (I love that one for grilling), cumin, sunflower seeds, dried tomatoes… It is perfect for sandwiches, bruschetta or to make some rolls (like these Seeded Burger Buns or these Pretzel Buns).
Usually when I make this bread, I make one loaf with part of the dough and some rolls to use for burger buns. You can also sprinkle some sesame seeds, flax seeds or poppy seeds on top!
You'll only need 5 simple ingredients for this Basic White Bread: 
all-purpose flour (you could also use a mix of spelt or whole wheat flour with all-purpose flour to make it more nutritious and healthier)
active dry yeast
salt
olive oil
water
Sounds easy, right?! Well it is!
Even if you have never baked your own bread, this is the perfect time for it!
Just keep in mind that the yeast will need time to make the dough rise for about 1-2 hours depending on the room's temperature (it needs less time in a warmer room e.g. in the summer). A good bread just needs a bit of time. But as long as you keep in mind to start early enough, you will be rewarded with delicious crispy white bread!
Storage
Homemade bread is the best on the day it is baked. Store leftovers at room temperature – a breadbox would be best, or a paper bag or in a container with a not completely closed lid to allow airflow. I like to toast bread slices when I use bread that I have baked the day(s) before.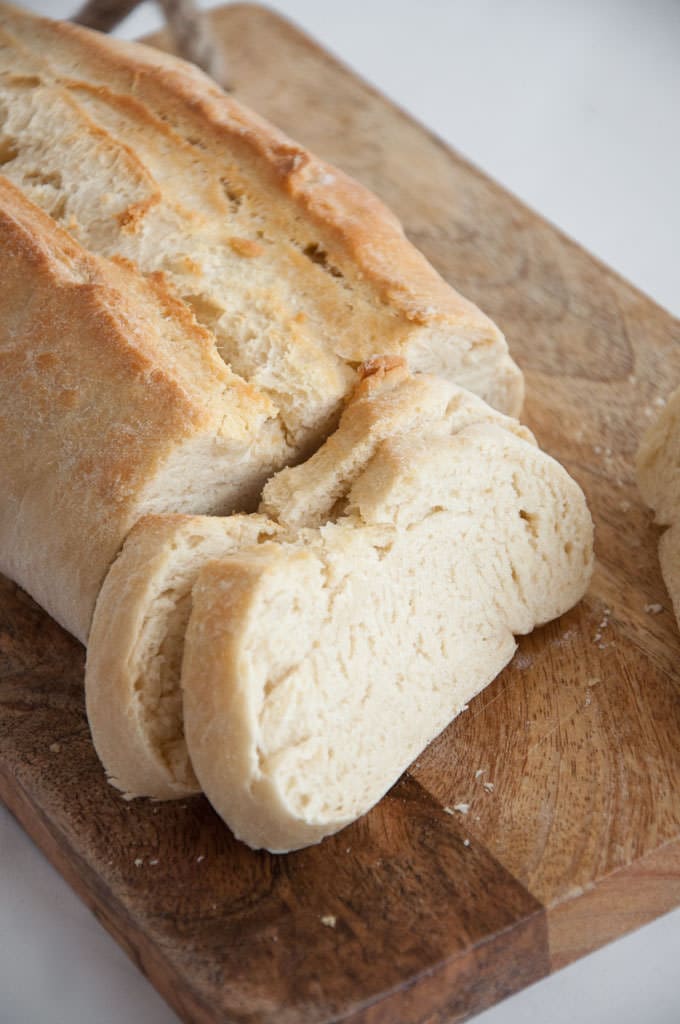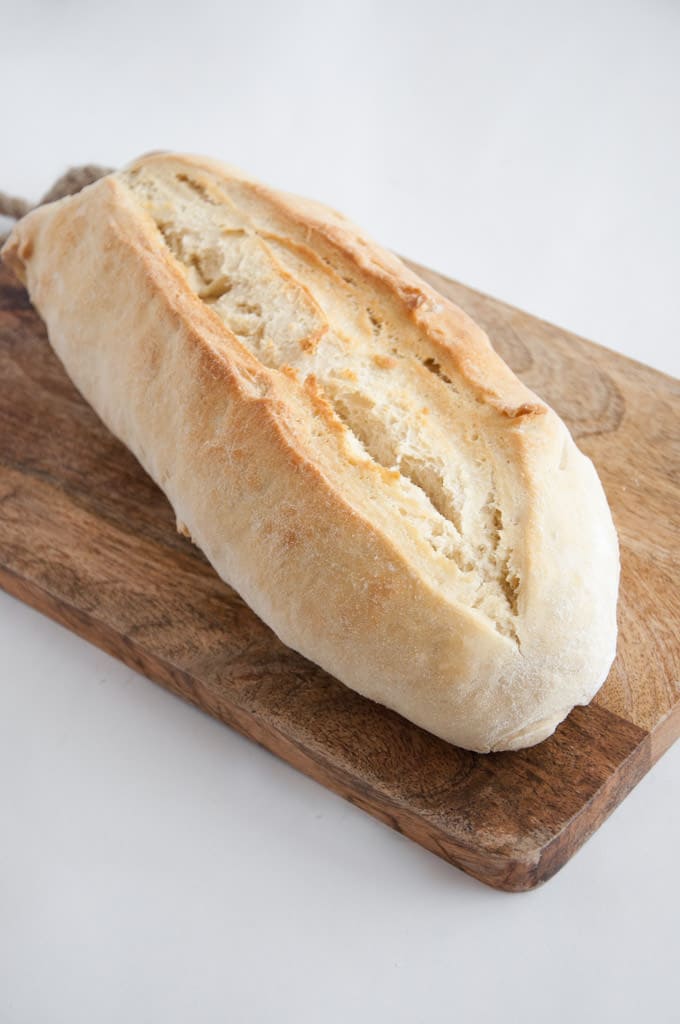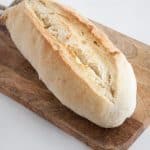 Basic White Bread
Recipe for a vegan Basic White Bread. It's ideal for sandwiches, burger buns or bigger loaves. The recipe yields 2 loaves. You can easily half the recipe.
Ingredients
4

cups

all-purpose flour

2

teaspoons

active dry yeast

3/4

teaspoon

salt

1

tablespoon

olive oil

1 1/4

cups

lukewarm water
Instructions
Mix all the ingredients and knead by hand until a soft dough firms or put all the ingredients in a bread baking machine or kitchen machine and let the machine knead the dough for you.

Let it sit, covered unter a clean kitchen towel, in a warm spot until it doubles in size (about 1 1/2-2 hours).

Preheat the oven to 250 °C or 480 °F.

Cut the dough in two equal pieces and form the loaves.

Carve the surface of the dough lightly with a knife (I've made one long cut across the bread).

Then put the bread in the oven and take it out when the surface is golden. You can knock on the bottom of the bread and when it sounds hollow it's done!
Recipe Notes
How long the bread needs to be in the oven depends on the form you're making. Loaves need about 20-30 minutes, rolls 15-20 minutes.
Should you decide to give this Basic White Bread recipe a try I'd love to hear how it went! Write me a comment or post a picture on instagram, use the hashtag #elephantasticvegan and tag me via @elephantasticvegan to make sure I'll see it ^.^ I love to see all your lovely creations! Thanks! <3