This vegan Seeded Multigrain Bread is filled with super seed power: flax seeds, pumpkin seeds, and sunflower seeds. It's easy to make (even when you are new to bread baking) and done in about 2 hours. The bread is super soft, flavorful, and delicious.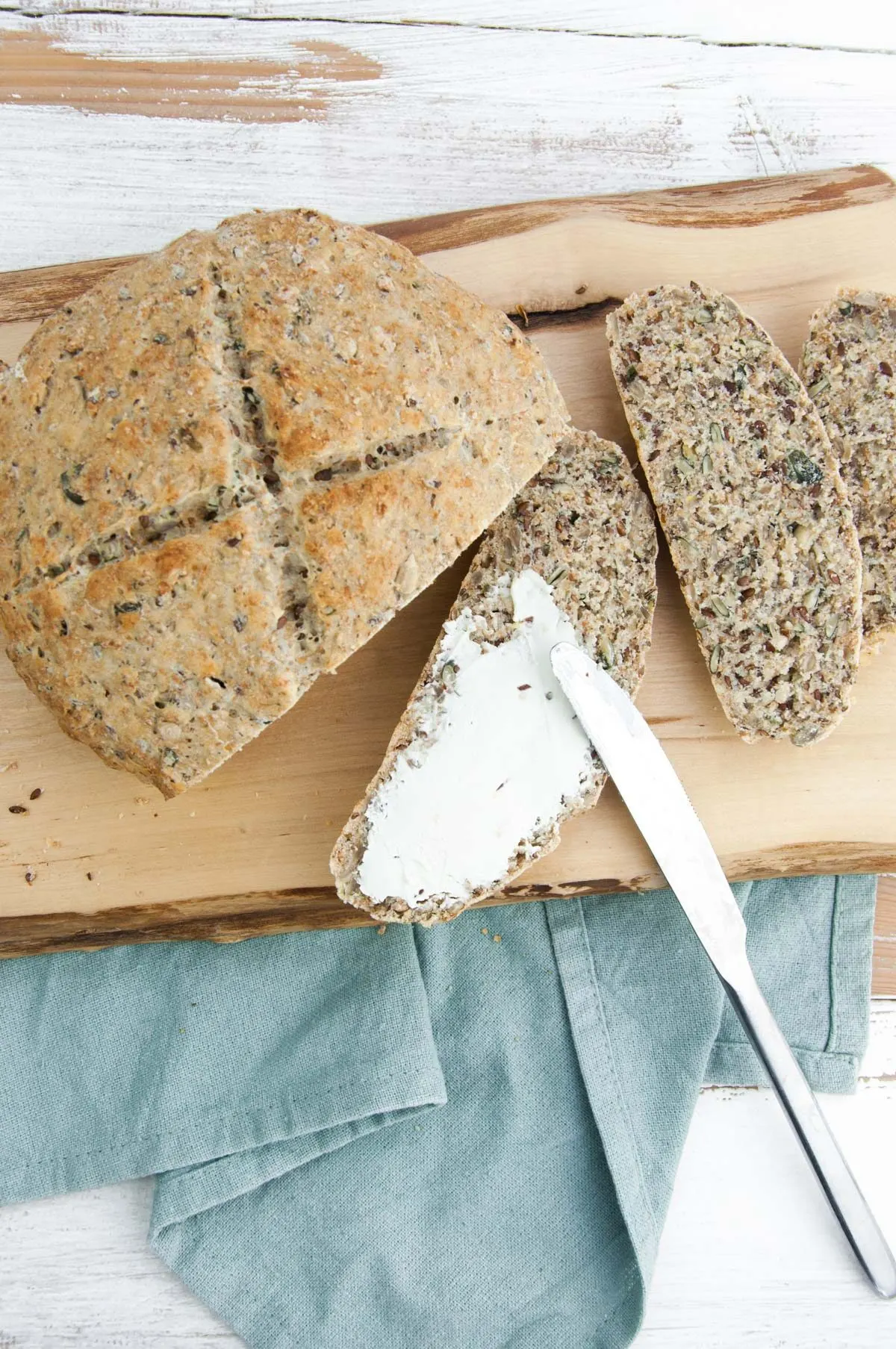 There are not many things that are better than fresh out of the oven, warm, and soft homemade bread. Well, add tons of seeds in there and I'll be in bread heaven!
Seeds don't keep forever in the pantry (they can go rancid), so whenever I want to use up large amounts of seeds, I just make this bread.
In this bread, you can find flax seeds, sunflower seeds, and pumpkin seeds, which all add a lovely crunch and amazing texture. Plus, they are good for you!
These are the staple seeds I always have at home, but of course, if you're not a fan of one of the seeds or ran out of one of them, you can simply omit them or sub them with more of the other seeds. It will still be delicious.
There are also whole caraway seeds in the bread, which gives it that amazing rustic flavor typical for bread!
Multigrain refers to using multiple kinds of grains to make bread, so I am mixing all-purpose wheat flour with whole grain spelt flour.
You can also use whole wheat flour and white spelt flour (which is the non-whole grain version of spelt flour). I personally prefer mixing whole grain flour with non-whole grain. If you only use whole grain flours, the bread will end up a bit denser and not as fluffy.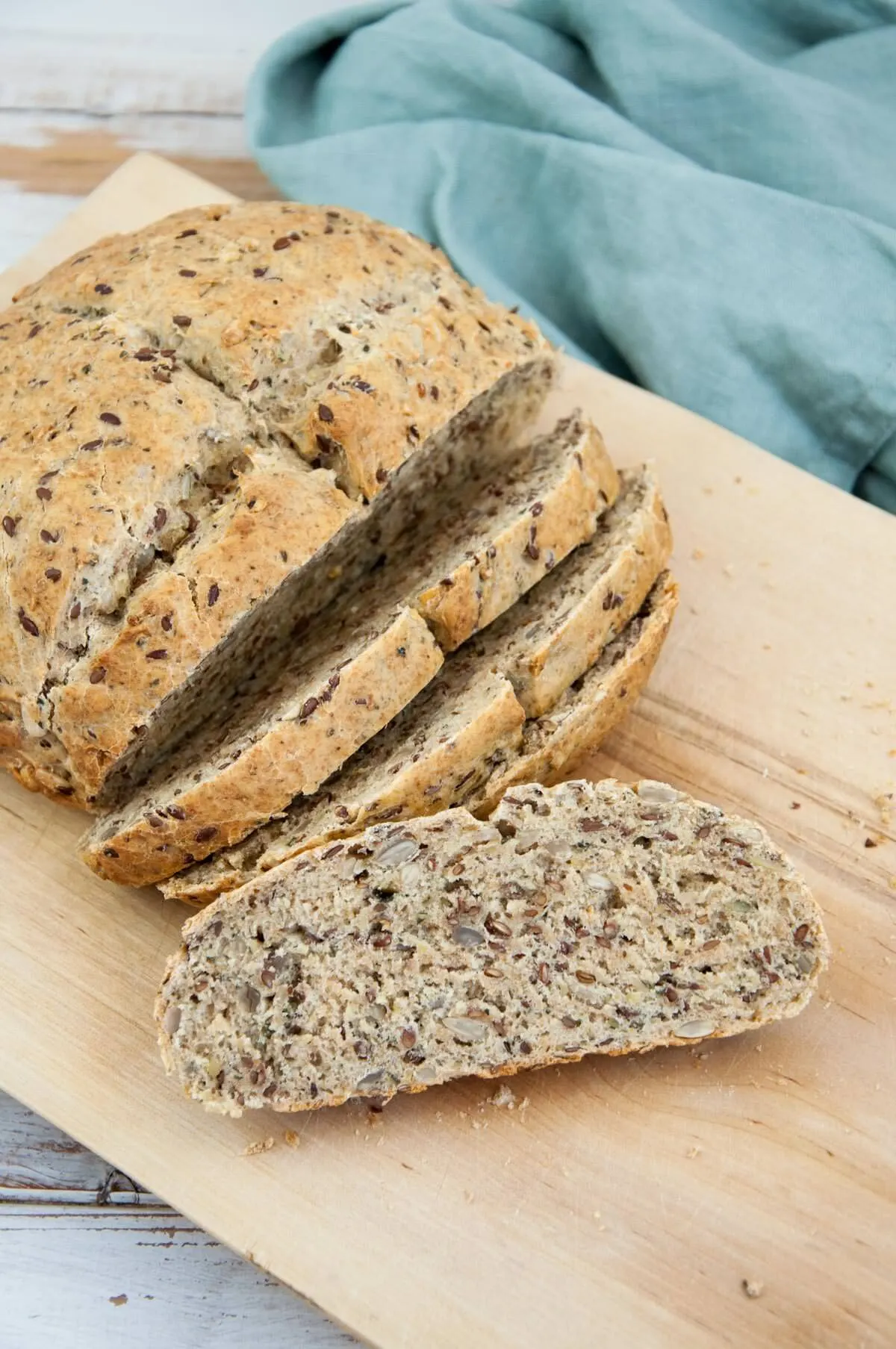 How to make Seeded Multigrain Bread
The Ingredients
You will need:
all-purpose wheat flour
spelt flour – I am using spelt whole spelt flour
instant yeast
salt
flax seeds
sunflower seeds
pumpkin seeds
olive oil
water
The Basic Steps
As always, you will find the whole recipe in the box below but I want to show you the basic steps with photos first.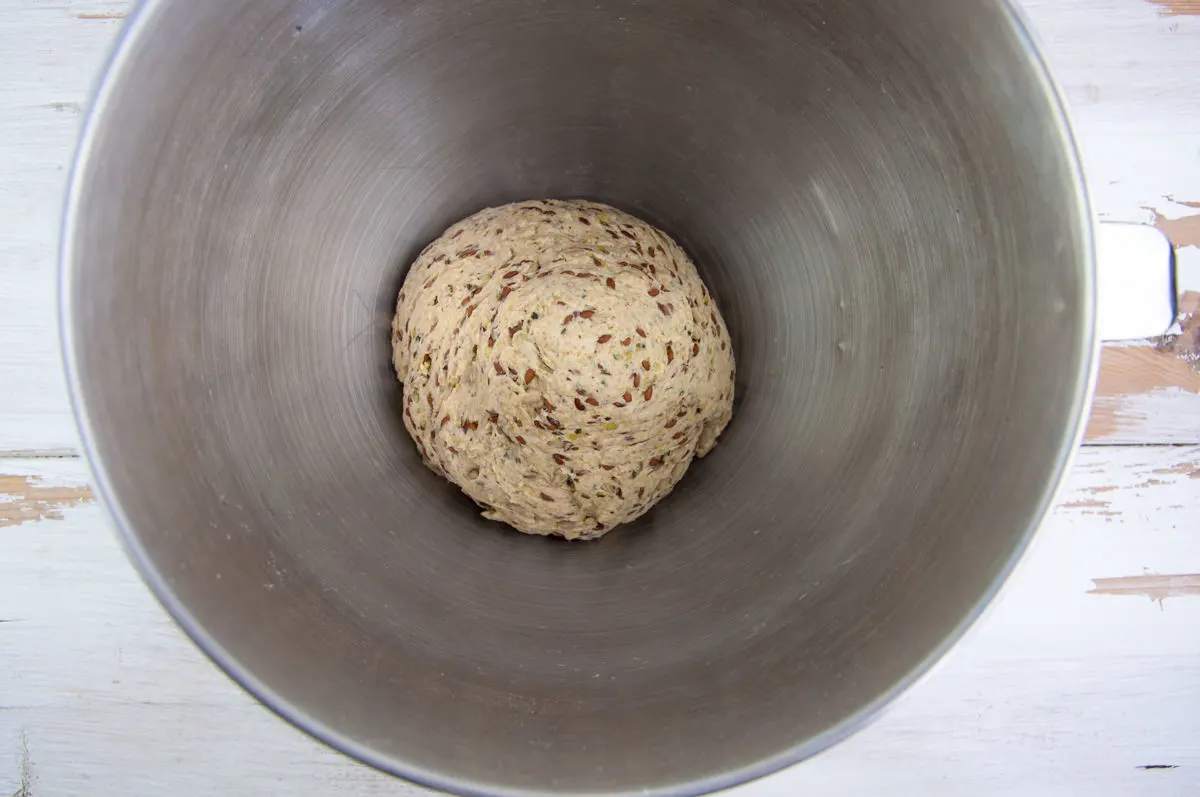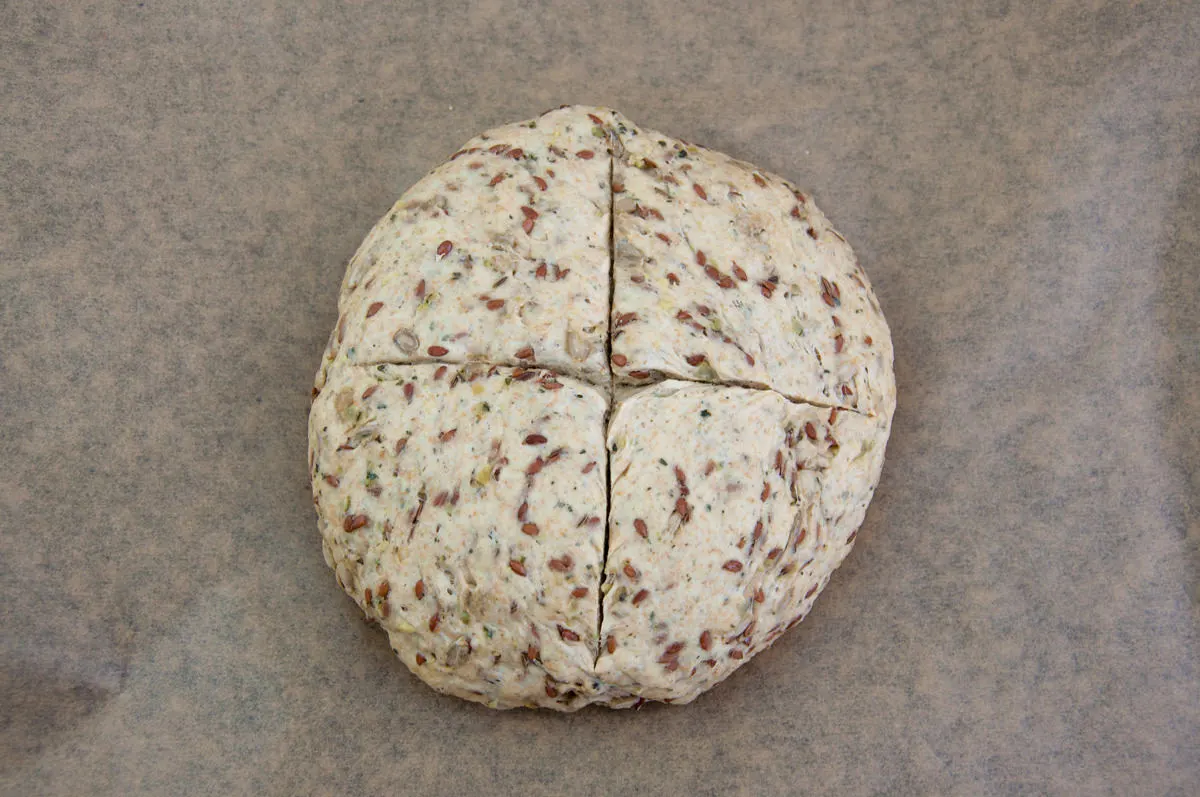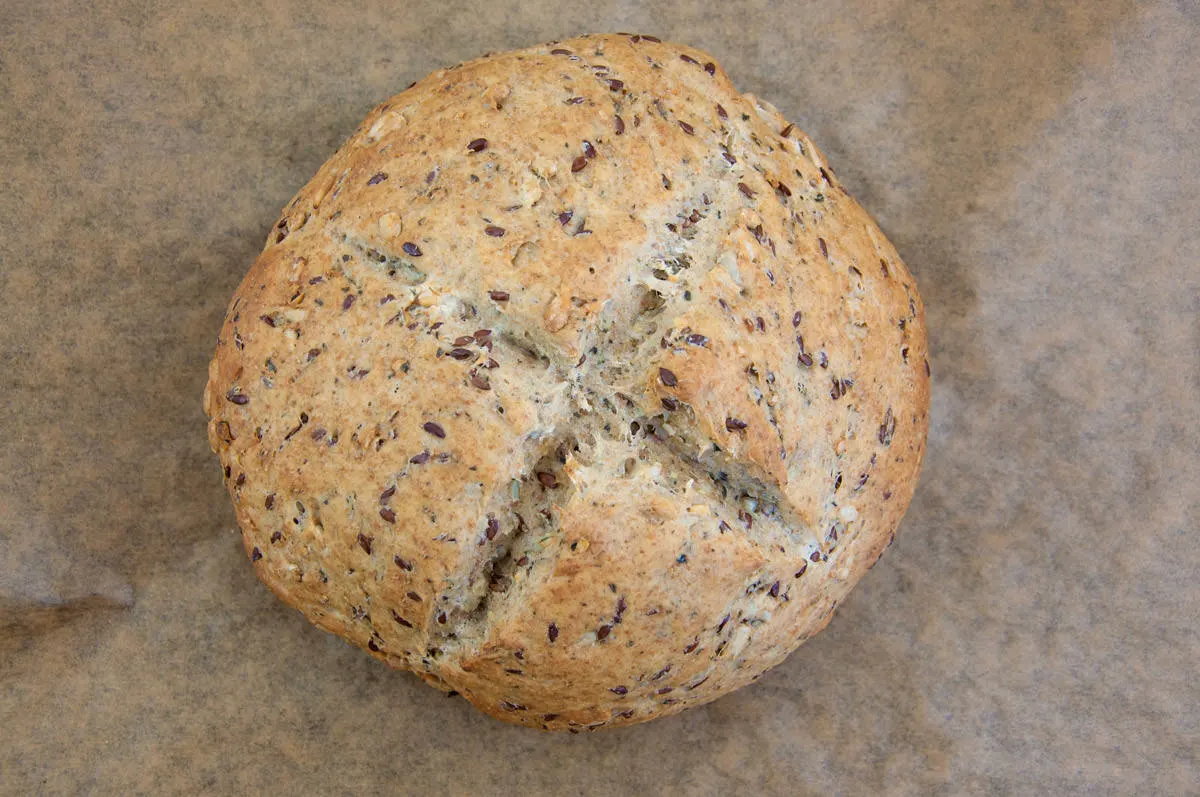 Serve the bread with…
I've been making this bread so many times, I actually stopped counting!
It's delicious for breakfast (how about some Hummus or Almond Cream Cheese to spread on top?), a snack (anyone else just snacking on a slice of homemade bread in between meals?), sandwiches, or to serve it with creamy soups (carrot ginger soup, broccoli soup) or stews (goulash, chili con carne). I'm sure you'll find the perfect use for this bread!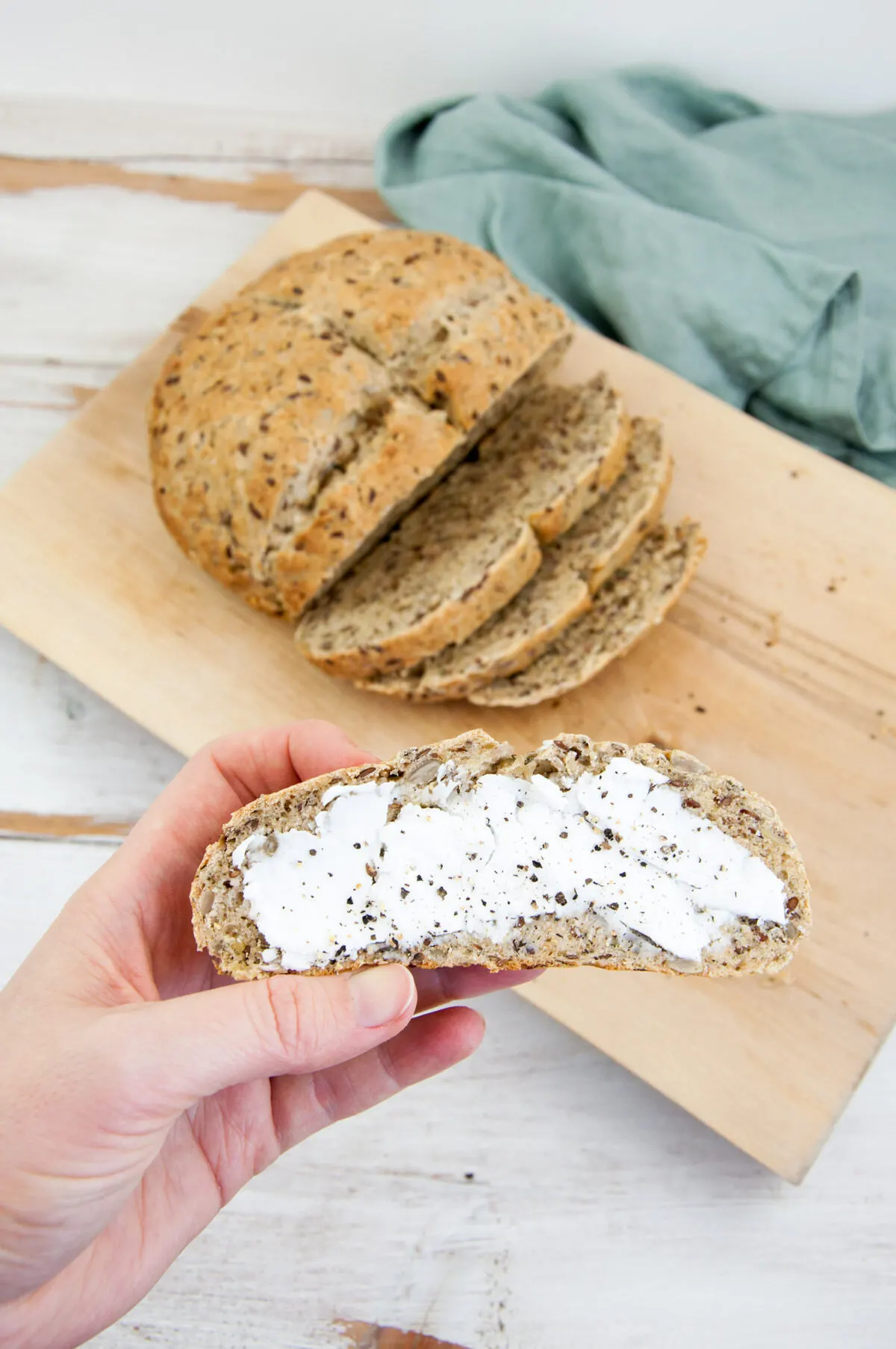 How to store it…
Homemade bread is always the best when it's eaten on the same day, but you can store this bread at room temperature (ideally in a bread box or any box that is not completely airtight) for 2-3 days. I prefer to toast the bread slices if they end up too dry after a couple of days.
Can you freeze the bread?
Absolutely! I usually just slice the bread, then put it in a ziplock bag and freeze it. When I want to eat it, I thaw it at room temperature and toast it in a toaster or pan.
More Bread Recipes
Love it? Rate it!
I hope you will enjoy this vegan Seeded Multigrain Bread as much as I did!
And don't forget to rate the recipe if you like it, this helps other users figure out if it is worth a try!
If you don't want to miss out on any new recipes, subscribe to my newsletter, follow me on Instagram and Facebook!
Cheers, Bianca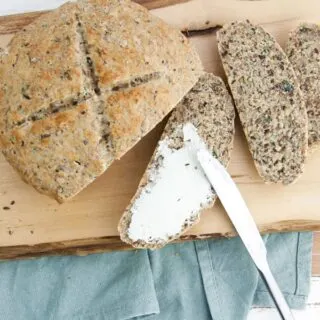 Vegan Seeded Multigrain Bread
This vegan Seeded Multigrain Bread is filled with super seed power: flax seeds, pumpkin seeds, and sunflower seeds. It's easy to make (even when you are new to bread baking) and done in about 2 hours. The bread is super soft, flavorful, and delicious.
Equipment
Ingredients
1

cup

all-purpose wheat flour

1

cup

spelt flour

1/4

cup

flax seeds

1/3

cup

sunflower seeds

1/4

cup

shelled roasted pumpkin seeds

finely chopped or ground

1

teaspoon

whole caraway seeds

1

teaspoon

instant yeast

1/2

teaspoon

salt

1

teaspoon

olive oil

3/4

cup

water

– lukewarm
Instructions
Add all the dry ingredients into a mixing bowl. You can either use a stand mixer with a dough hook, a bread baking machine, or your hands. Give it a stir. Then add the olive oil and water and let it knead until it comes together in a ball of dough.

Adjust the dough: If it's too dry, add more water, if it's too sticky, add more flour.

Cover the bowl with a clean kitchen towel and let the dough rise for about 1-2 hours.

Preheat the oven to 400°F/200°C.

Transfer the dough onto a baking tray lined with parchment paper, form a loaf and carve the surface of the dough lightly with a knife.

Let it bake in the oven until the surface is golden. You can knock on the bottom of the bread and when it sounds hollow it's done! The baking times vary a lot, but it will be somewhere between 15 and 20 minutes depending on the form of the loaf and oven temperature.
Notes
The nutritional info is broken down per slice. 1 loaf of bread = 10 slices.
Nutrition
Serving:
1
slice
Calories:
159
kcal
Carbohydrates:
21
g
Protein:
6
g
Fat:
6
g
Saturated Fat:
1
g
Polyunsaturated Fat:
3
g
Monounsaturated Fat:
2
g
Trans Fat:
1
g
Sodium:
120
mg
Potassium:
103
mg
Fiber:
4
g
Sugar:
1
g
Vitamin A:
3
IU
Vitamin C:
1
mg
Calcium:
19
mg
Iron:
2
mg
Affiliate Disclosure: This post may contain affiliate links, which means I may earn referral fees if you make a purchase through my link. While clicking these links won't cost you any extra money, they will help me keep this site up and running!