Recipe for a vegan and gluten-free Raspberry Chia Pudding. Chia Puddings are awesome because you can make them the night before and therefore enjoy them in the morning without any hassle.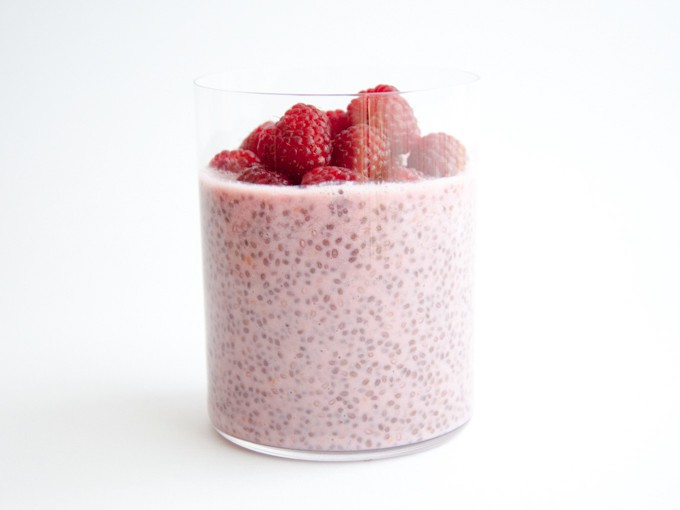 It's September – yeah! This means the wait is over, it's Vegan MoFo time again! If you don't know: Vegan MoFo stands for Vegan Month Of Food and the whole September will be used by various bloggers to talk about veganism, share vegan recipes, share vegan products and so much more. I've participated last year and shared a new vegan recipe every day in September. This year I'll be sharing a few new vegan recipes on the blog throughout the month, but will hopefully be able to spread the messages to Instagram and participate from there every day. So make sure you follow me on Instagram in order to not miss out on this awesome event. Every day stands under a different theme/prompt and I already have the feeling that it will be so much fun! For today the theme is Rise and Shine! It's MoFo time! Tell us about your breakfast. So here I am sharing my fabulous, pink Raspberry Chia Pudding.
Have you jumped on the Chia-train already? This vegan and gluten-free Raspberry Chia Pudding is my favorite breakfast lately. In the summer I simply love to take advantage of the sweet berries nature is giving us and raspberries have always been my favorite (closely followed by blueberries). I even had a raspberry plant this year on my balcony (if you follow me on Instagram you probably know this already because I was posting photos of it all the time!).
https://instagram.com/p/6XbrpkOaEx/?taken-by=elephantasticvegan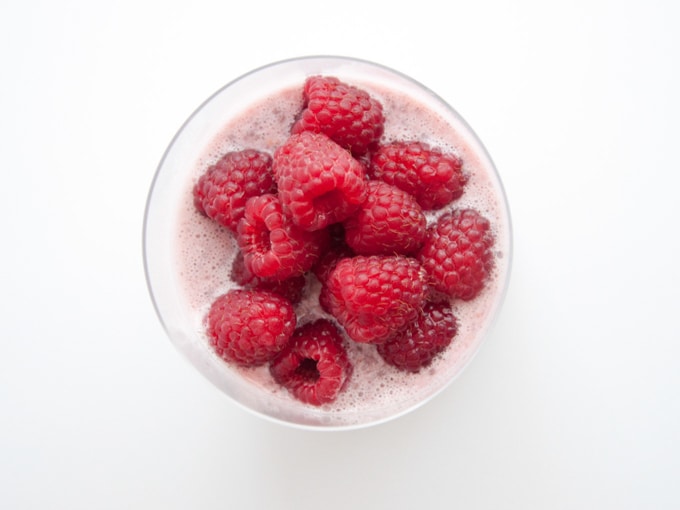 The raspberries used in this Chia Pudding are not from my balcony, because the plant didn't produce enough to use them in this breakfast but I've found these beauties at a local farmer's market and just couldn't resist.
The benefits of Chia Puddings
Chia puddings are such an amazing breakfast because they are very filling and easy to make. I usually make them the night before and enjoy them the next day in the morning. It's a great feeling knowing that your breakfast is waiting for you in the fridge when you wake up. I always feel full of energy after eating a chia pudding, so they are the perfect post-yoga breakfast for me. Chia seeds are rich in omega-3 fatty acids, they are a great source of iron, magnesium, zinc, calcium and many more vitamins. They're delicious and good for your body!
The perfect Chia Pudding Ratio
3 tablespoons chia seeds per 1 cup of plant-based milk
As for the plant-based milk, you can use any milk: soy, oat, hemp, cashew, almond, rice, lite coconut… For this Raspberry Chia Pudding, I've used unsweetened Almond Milk.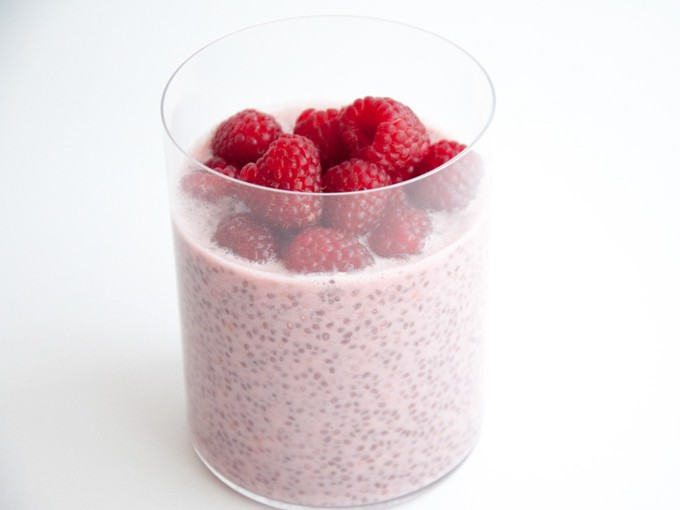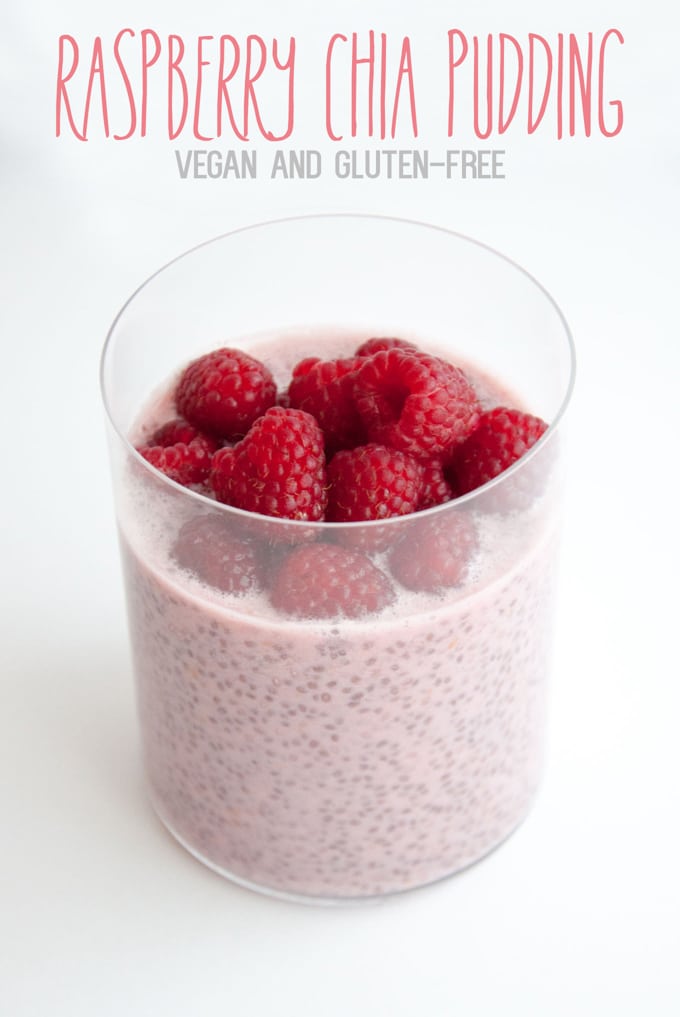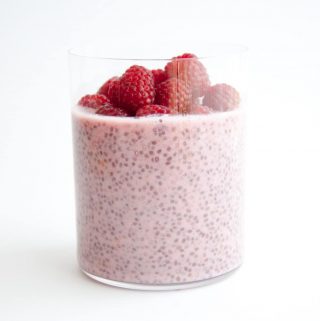 Raspberry Chia Pudding
Recipe for a vegan and gluten-free Raspberry Chia Pudding. Chia Puddings are awesome because you can make them the night before and therefore enjoy them in the morning without any hassle.
Ingredients
1

cup

unsweetened almond milk

1 1/4

cups

fresh raspberries

3

tablespoons

chia seeds

1

tablespoon

brown rice syrup*
Instructions
Wash the raspberries and put 1 cup of them together with the almond milk and brown rice syrup in a high-speed blender. Blend until it's a smooth and fine raspberry milk.

Fill the raspberry milk mixture in a glass and add the chia seeds. Give it a good mix and set it aside for about half an hour.

Mix it again and place it in the fridge to thicken a bit for about 4-5 hours or overnight.

Top the Raspberry Chia Pudding with the rest of the raspberries before eating.
Notes
* If you don't have brown rice syrup, you could use agave syrup or maple syrup instead.
If your glass only holds 1 cup, you have to reduce the amount of the ingredients slightly or fill it into two glasses.
Nutrition
Calories:
342
kcal
Carbohydrates:
49
g
Protein:
9
g
Fat:
15
g
Saturated Fat:
1
g
Sodium:
347
mg
Potassium:
373
mg
Fiber:
22
g
Sugar:
19
g
Vitamin C:
39.3
mg
Calcium:
579
mg
Iron:
3.8
mg
Looking for more Sweet Vegan Breakfast Ideas?
Affiliate Disclosure: This post may contain affiliate links, which means I may earn referral fees if you make a purchase through my link. While clicking these links won't cost you any extra money, they will help me keep this site up and running!