Recipe for a simple vegan Tortilla Espanola – without eggs or dairy! Completely vegan & glutenfree. So good and really easy to make as well.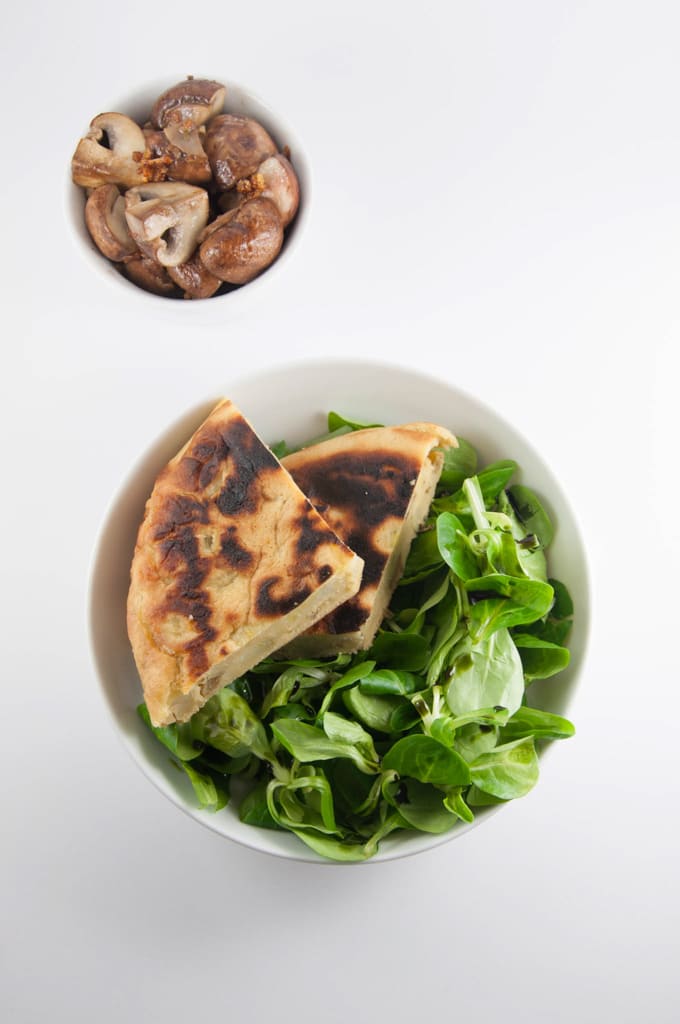 Ever since I've had this amazing vegan Tortilla Española on my vacation in Madrid a few years ago, I've been wanting to make it at home as well. But you know how it is … everyday life gets in the way. But now… I've finally managed to give it a try and after a couple of tweaks – here it is: A super simple vegan Tortilla Española recipe.
If you're unfamiliar with Tortilla Española, it's often also called Tortilla de Patatas and is in its traditional form a Spanish omelet made with potatoes & eggs. For this vegan version, I've used chickpea flour and a very special ingredient, which you've seen in many other of my recipes where I use chickpea/garbanzo flour. It's also one of the 3 secret ingredients that I use in the kitchen all the time.
So is it a main dish or an appetizer? Well.. it can be served as both. I've had some of it for the main meal and some of it in between as a snack. Traditional Tortilla Espanola doesn't use cooked potatoes, but the potatoes are fried in olive oil – well, my kind of Tortilla Española is healthier :)
This is a very basic recipe. If you want some variations, you could also add roasted onions or garlic to it. I've had part of this Tortilla Espanola warm and part cold and both times it was absolutely delicious. A green leafy side salad and garlic mushrooms were the excellent side dishes for this vegan Tortilla Española.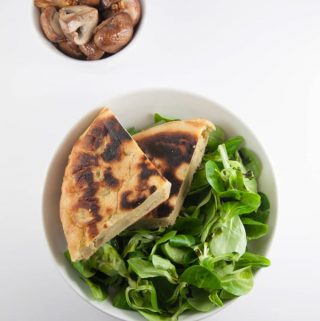 Simple Vegan Tortilla Espanola
Recipe for a simple vegan Tortilla Espanola - without eggs or dairy! Completely vegan & gluten-free. Sooo goood!!
Instructions
Wash and cut the potatoes in small pieces (peel if you want to). Boil the potatoes in water until soft. Drain and set aside.

Mix the chickpea flour with the kala namak and slowly add the water. Mix well until there are no lumps left and the mixture resembles the consistency of eggs. Add the cooked potatoes to the mixture.

Heat the olive oil in a pan* and pour in the chickpea flour-potato mixture. Let it cook on medium-high heat for about 5 minutes until it sets on the sides and you'll be able to turn it. Let it cook on the other side as well for about 3 minutes.

You can serve this dish warm or cold. A green leafy salad and garlic mushrooms would be such great side dishes.
Notes
*The pan I've used was about 7 inches / 18 cm.
Nutrition
Calories:
754
kcal
Carbohydrates:
131
g
Protein:
36
g
Fat:
10
g
Saturated Fat:
1
g
Sodium:
2456
mg
Potassium:
3400
mg
Fiber:
25
g
Sugar:
9
g
Vitamin C:
72.8
mg
Calcium:
232
mg
Iron:
25.1
mg

Should you decide to give this simple vegan Tortilla Española a try I'd love to hear how it turned out for you! Leave a comment or post a picture on instagram, use the hashtag #elephantasticvegan and tag me via @elephantasticvegan to make sure I'll see it ^.^ I love to see all your lovely creations! Thanks! <3