This Vegan Fish Curry made with banana blossoms is mind-blowing! The 'fish' is crispy on the outside and soft and flaky on the inside.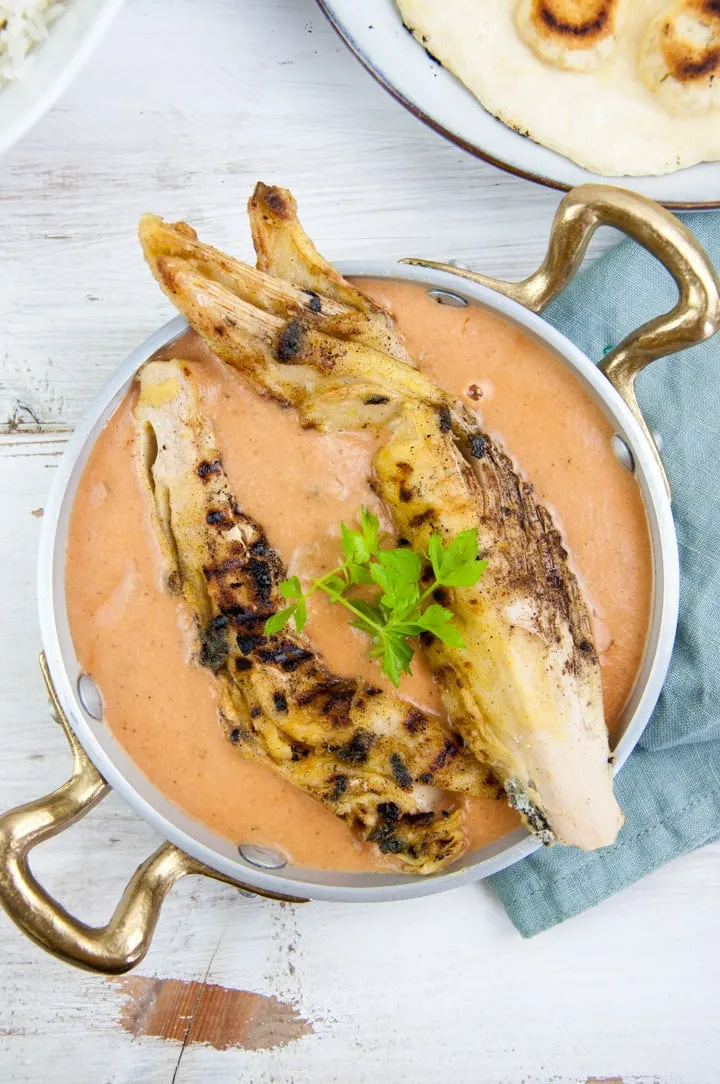 You guys! I made Vegan. Fish. Curry. Yes! Crispy vegan fish using banana blossoms in a rich and creamy curry sauce.
I am SO excited to share this recipe with you for many reasons:
the first recipe using banana blossom as vegan fish was super popular and is now one of my most shared recipes.
working with banana blossoms is new and exciting and amazing and mind-blowing!
before I went vegan in 2012, I was going to this Indian buffet all the time and they had a delicious fish curry and I haven't even tried to recreate it and now I have – and now I am obsessed with my vegan version.
when I made banana blossom vegan fish, I stocked up on canned banana blossoms, and now I have another, delicious way to use them up that doesn't involve frying.
I just love the crispy, flaky 'fish' with the rich and creamy curry combo in this dish. The textures are simply amazing!
What are Banana Blossoms?
Bananas on trees grow in clusters and at the end of the cluster, there's a purple flower growing – this is known as the banana blossom (or banana blower or banana heart).
The petals are fleshy and soft and therefore PERFECT for vegan fish! For the recipe, we are using canned banana blossoms in brine.
Where to buy Banana Blossoms?
Usually, I buy canned banana blossoms in Asian grocery stores but not all of them carry them. Most owners are really nice and stock up on them when there's a demand, so it's worth asking for them!
Until now, I've found canned banana blossoms in brine from three brands: AROY-D, CHAOKOH, and COCK BRAND. I've found that the banana blossoms from AROY-D are in better shape (bigger pieces) and therefore better for making vegan fish but if you can only find the CHAOKOH ones, that's okay, they will work too! The banana blossoms in the COCK BRAND can are huge and there are usually only 4 pieces in the can, which can be hard to work with but they do make really beautiful large fish pieces.
For this vegan fish curry recipe I actually used the banana blossoms from the COCK BRAND because I loved the look of the huge banana blossom fishy pieces in the curry. Of course, you can also use smaller ones and just make more fishy pieces per serving.
You can also order banana blossoms on Amazon.
How to make a Vegan Fish Curry
The ingredients
You'll need:
banana blossoms (for this recipe I am using banana blossoms in brine from the COCK BRAND)
marinade: water, salt, apple cider vinegar, lemon juice, nori
flour coating: flour, salt, curry powder
curry sauce: tomato puree, cashew cream (or full-fat coconut milk), onion, ginger, garam masala, salt, and oil
The basic steps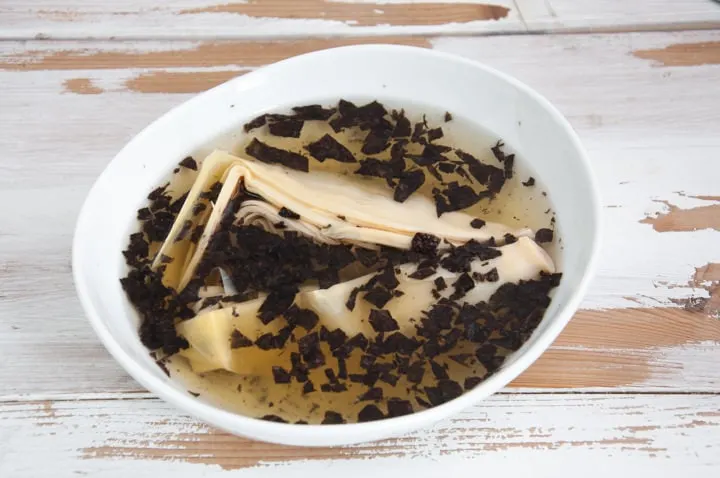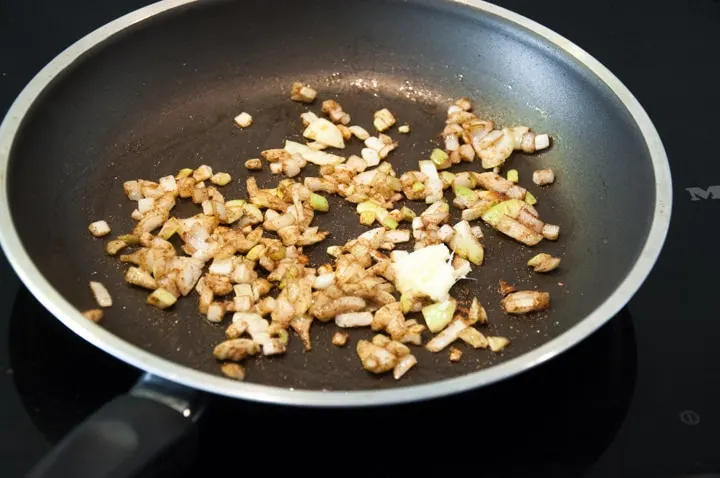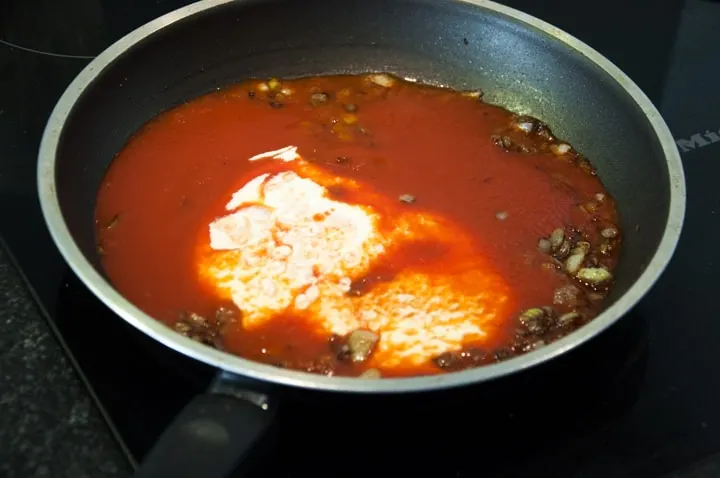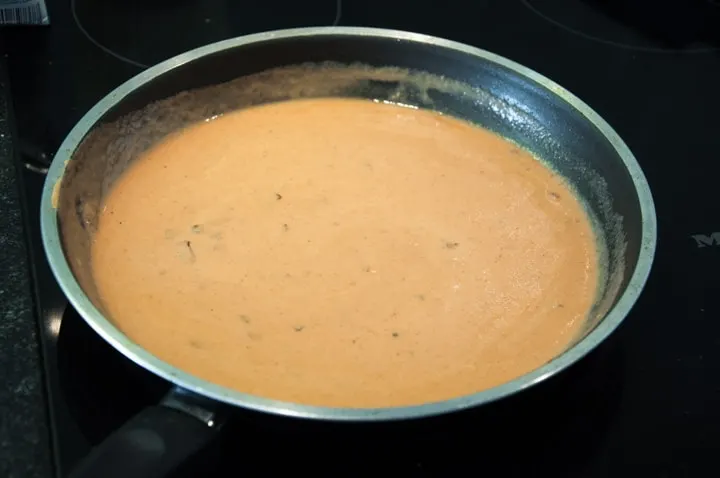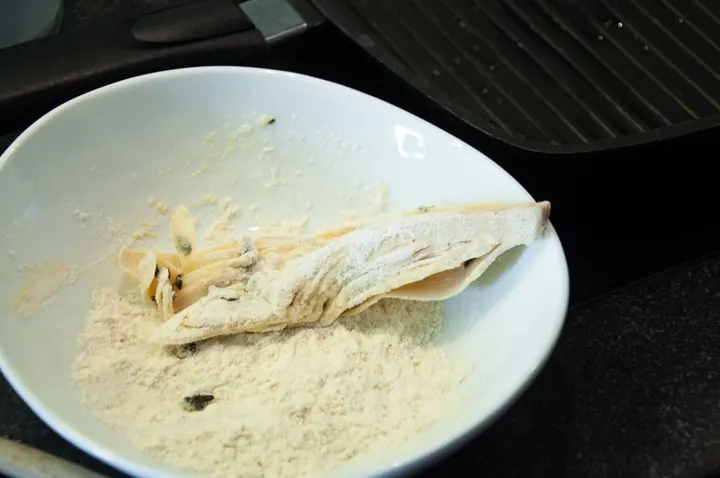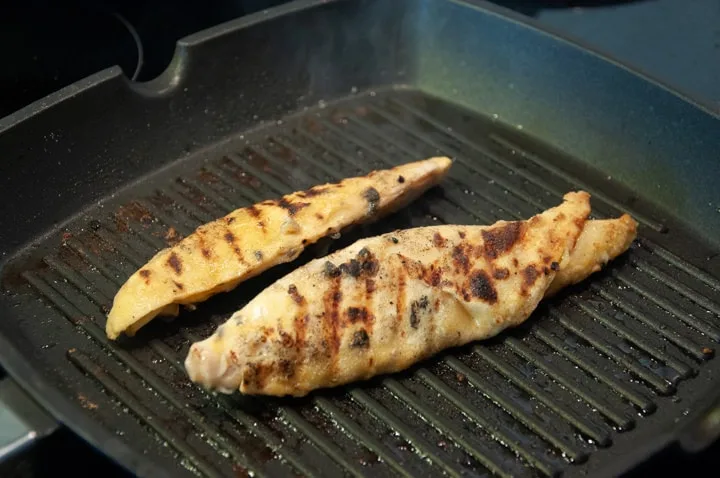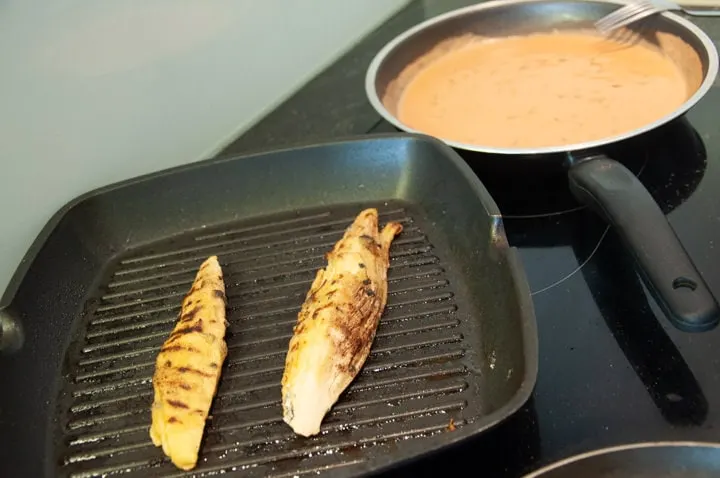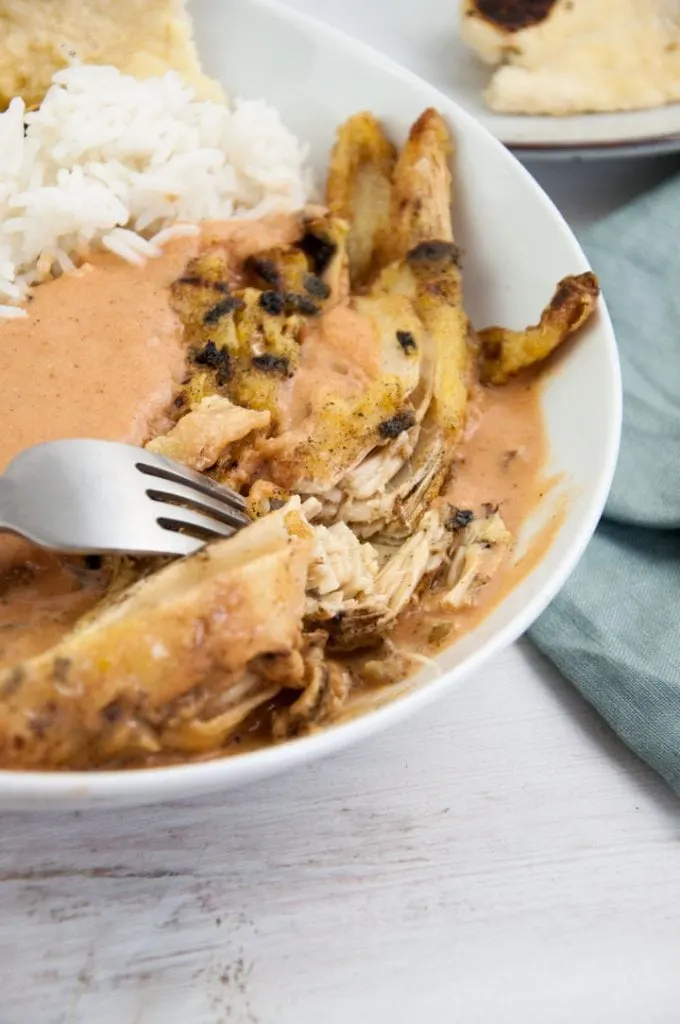 Do you see all the different layers? Banana Blossoms are perfect to make vegan fish! The fish has a crispy outer layer thanks to the flour coating and is soft inside.
More Vegan Fish Recipes
Love it? Rate it!
I hope you will enjoy this 'fish' curry as much as I did! Let me know if you give it a try!
And don't forget to rate the recipe if you like it, this helps other users figure out if it's worth a try!
If you don't want to miss out on any new recipes, subscribe to my newsletter, follow me on Instagram and Facebook!
Cheers, Bianca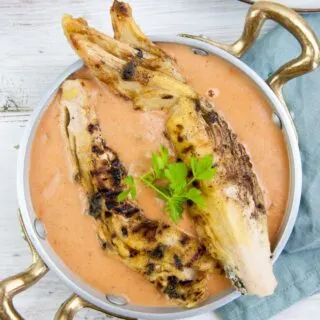 Vegan Fish Curry made with Banana Blossoms
This Vegan Fish Curry made with banana blossoms is mind-blowing! The 'fish' is crispy on the outside and soft and flaky on the inside.
Ingredients
banana blossom marinade
1

cup

water

1/2

teaspoon

salt

3

tablespoons

apple cider vinegar

3

teaspoons

lemon juice

1

tablespoon

nori

cut into small pieces
flour coating
2

tablespoons

all-purpose flour

1/8

teaspoon

salt

1/8

teaspoon

mild curry powder
Instructions
Drain and rinse the banana blossoms. Combine the ingredients for the marinade (water, salt, apple cider vinegar, lemon juice, and small pieces of nori) and cover the banana blossoms. Let them soak in the marinade for at least 20 minutes, meanwhile, we're making the curry.

In a pan over medium heat with oil, cook the onion until soft. Then add the garam masala and ginger and let it cook for another minute. Then turn the heat down and add the tomato purée and cashew cream. Give it a stir, add salt and more to taste and set it aside once warm.

In a bowl for the flour coating, combine the flour, salt, and curry powder.

Bring a grill pan to high heat, add a bit of oil. Dip the marinated banana blossoms into the flour on all sides, then add them to the grill pan. Once they have nice grill marks on one side, flip them around so that they will get those nice marks on all the sides.

Reheat the curry if it has cooled down by now, and add it to plates. Lay the crispy banana blossom fish on top of the curry. It's best served with basmati rice and naan.
Notes
*If your banana blossoms are smaller, you can use these, of course, just make more per serving!
Nutrition
Calories:
326
kcal
Carbohydrates:
27
g
Protein:
5
g
Fat:
24
g
Saturated Fat:
13
g
Sodium:
1073
mg
Potassium:
813
mg
Fiber:
5
g
Sugar:
11
g
Vitamin A:
668
IU
Vitamin C:
23
mg
Calcium:
46
mg
Iron:
4
mg
Affiliate Disclosure: This post may contain affiliate links, which means I may earn referral fees if you make a purchase through my link. While clicking these links won't cost you any extra money, they will help me keep this site up and running!