Make your own falafel at home using dried chickpeas – and better yet, make a huge batch and freeze the rest so you always have falafel ready to go!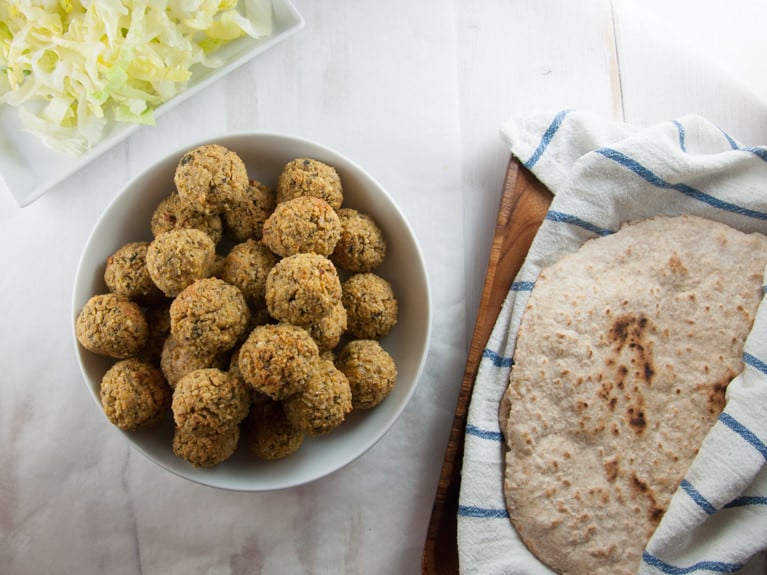 Mhhh! Falafel…do I have to say more? These balls of chickpea goodness are awesome! I always make a huge batch of Falafel, because they freeze well and it doesn't really take that much longer to make more of them. I love the falafel in wraps, on couscous, in the pide bread, in pita-sandwiches or in curries… sooo good!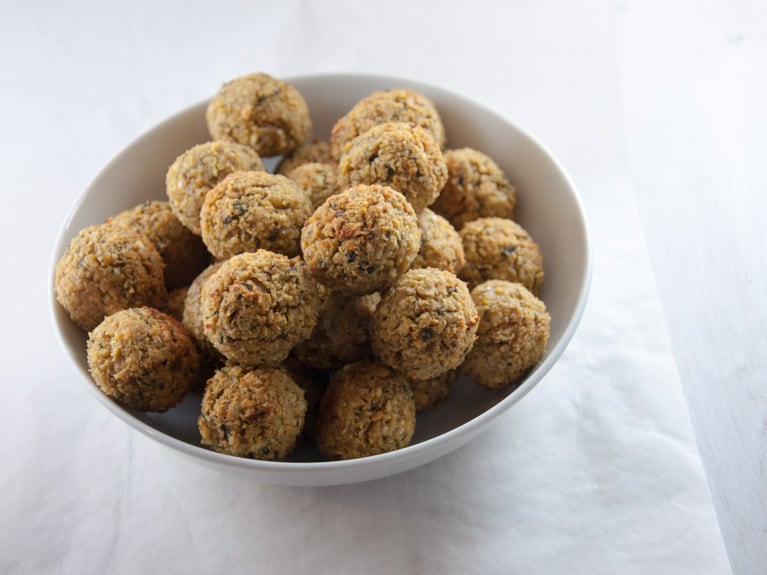 The falafel are not only vegan, but also gluten-free! Chickpeas are rich in protein and iron and because they aren't fried like normal Falafel, these could be considered as healthy (or at least healthier)! For these Falafel, I used dried chickpeas, but if you prefer Falafel with canned chickpeas, I've got a version you'll love here.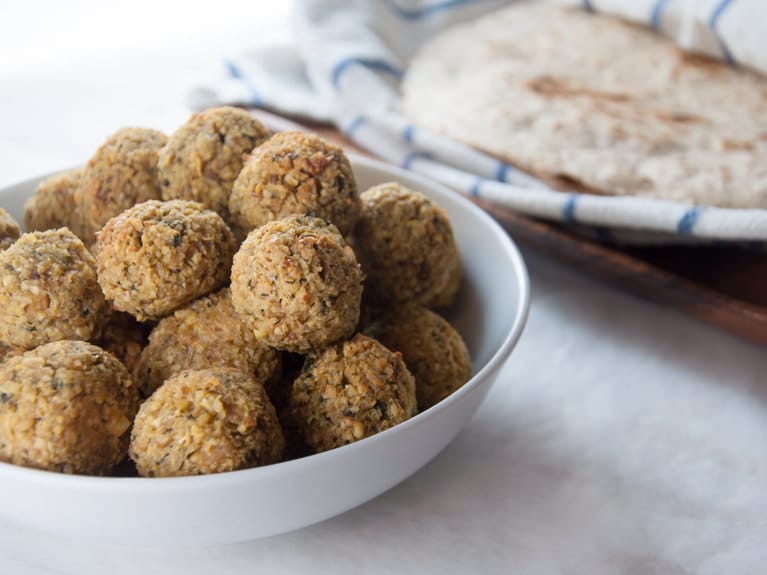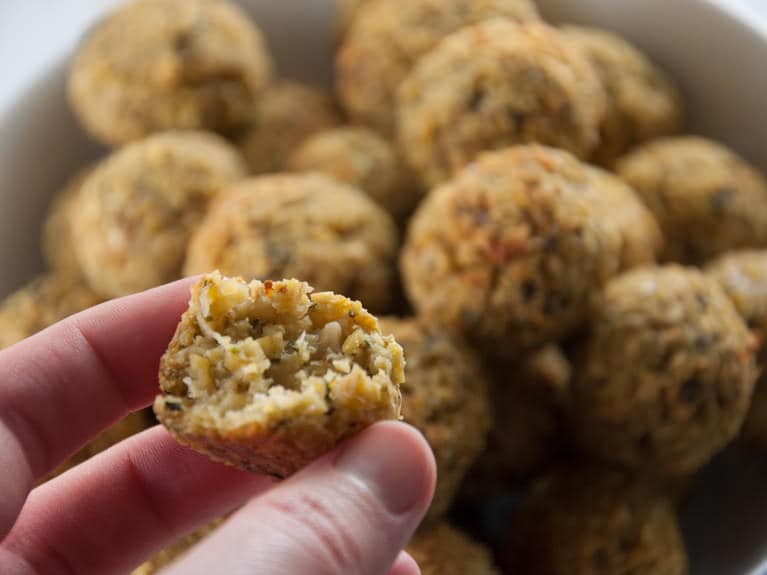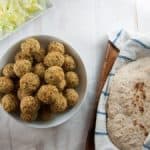 Huge Batch of Falafel
Vegan Falafel, to satisfy your cravings for the delicious little ball of chickpea-goodness. Eaten in a wrap, pita bread, oriental bread or on hummus.
Course:
Basics, Main Course
Cuisine:
Mediterranean, Vegan
Ingredients
2 1/2

cups

dried chickpeas

2

onions

4

garlic cloves

1/2

teaspoon

cumin seeds

1/2

teaspoon

lemon juice

1

bunch

fresh parsley

1/2

teaspoon

cayenne pepper

ground pepper

2

teaspoons

salt

1/2

teaspoon

baking powder

1/3

cup

besan/chickpea flour

1/8

cup

olive oil

1

teaspoon

canola oil
Instructions
Put the dry chickpeas in a large bowl, cover with enough water (the chickpeas will double in size!) and let them sit covered overnight.

Pre-heat the oven to 400°F/200°C.

Peel the onions and garlic cloves. Put them in a food processor and chop.

In a pan with a teaspoon of canola oil, add the chopped onions, garlic & cumin and let it cook on medium-high heat for about 5 minutes or until they starten to brown.

Drain the chickpeas and then work in batches by adding the first batch into the food processor and chop until the pieces are really small (you don't want to make hummus). In one batch add in the parsley to chop it as well. Repeat until all the chickpeas are used. Transfer everything to a huge bowl.

Add the lemon juice, cayenne pepper, salt, ground pepper, baking powder and the onions and garlic. Mix well.

Add in the chickpea flour and olive oil. Mix the chickpea mixture well and form little balls. If the dough does not stick together enough, add more chickpea flour and oil.

Put the falafel on a baking tray and put them in the oven for about 25 minutes or until they turn golden.

You can eat the falafel like that or put them in a pan with a little oil for re-heating when you need them. They freeze very well, so you will have a nice stash of homemade falafel in your freezer, which is super convenient ;)
Should you decide to give this falafel recipe a try I'd love to hear how it went! Write me a comment or post a picture on instagram, use the hashtag #elephantasticvegan and tag me via @elephantasticvegan to make sure I'll see it ^.^ I love to see all your lovely creations! Thanks! <3
My favorite recipe to make with these oven-baked Falafel: Falafel Curry