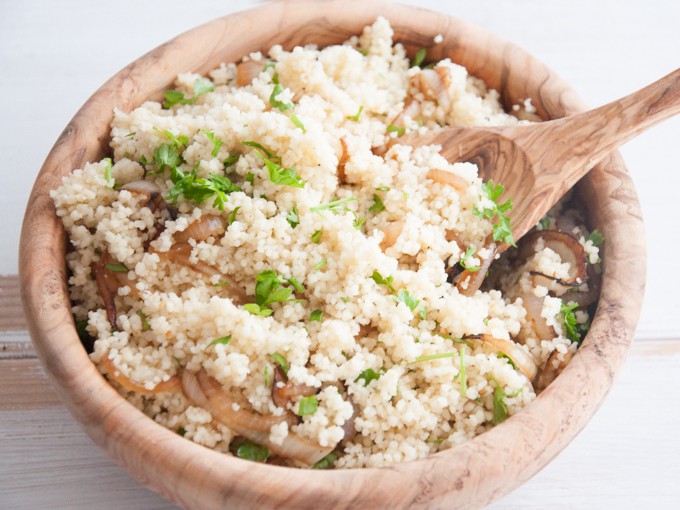 This simple Onion Couscous is my favorite side dish to bring to BBQs and Potlucks! It's super delicious and goes great with veggie sausages & patties, burger, grilled veggies. Whenever we are grilling in the summer I bring this dish and everyone so far loved it! It's delicious warm & cold.
You can make this dish in only a couple of minutes – so it's the ideal choice if there is spontaneous BBQ coming up and you're still undecided what to bring. It uses very basic ingredients: Couscous, onions, parsley and lime! I have these ingredients at home all the time so I always have something to bring when I'm going grilling with friends. It's also a neat side dish for the summer – add some fresh roasted veggies, tofu or tempeh to it and you'll have a quick and easy lunch! 
Simple Onion Couscous
Recipe for a Simple Onion Couscous - it's the perfect side dish to bring to BBQs and Potlucks! Everyone will love it. Only takes a few minutes to make!
Author:
Elephantastic Vegan
Ingredients
1⅓ cup / 300ml water
1 cup / 160g couscous
1 teaspoon salt
lime juice of half a lime (2 teaspoons)
4 small onions
½ teaspoon canola oil
a bunch parsley
a few splashes soy sauce
Instructions
Heat the water for the couscous in a large pot, add in the lime juice and salt.
Once the water is boiling, take the pot off the stovetop and add in the couscous and put the lid back on (the couscous will be ready in a minute or two).
Meanwhile peel the onions and cut them in rings & chop the parsley.
Heat a large pan with the canola oil and place the onion rings in there. Cook them for a few minutes on medium-high heat while stirring constantly, season with the soy sauce, and keep them on the heat until they cook down and get a nice brown color.
Fluff the couscous with a fork, add in the quick caramelized onions and chopped parsley and give it a good mix. Serve warm or cold!

Should you decide to give this delicious couscous dish a try I'd love to hear how it went! Write me a comment or post a picture on instagram and tag me via @elephantasticvegan to make sure I'll see it ^.^