These vegan oil-free oven-baked Falafel with Cilantro will knock your socks off! They are super easy to make, healthy and freeze well! So make a big batch!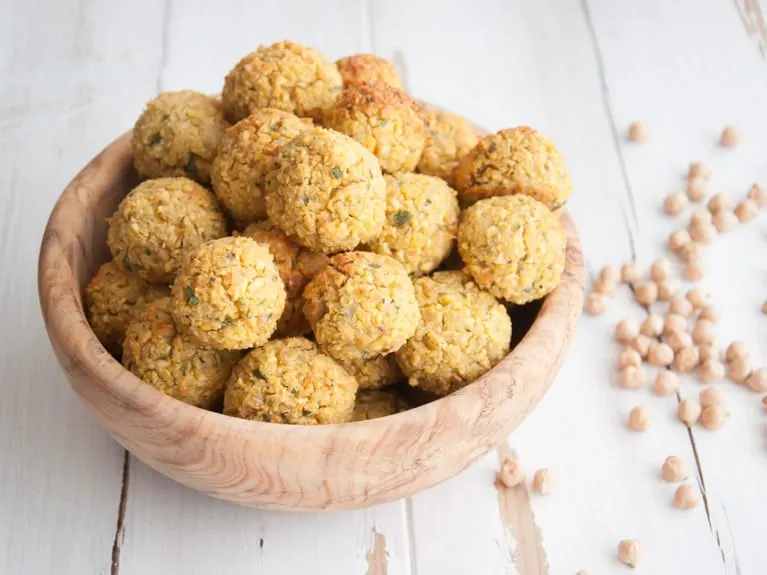 I simply love Falafel! When I'm in the city and looking for a quick snack I often opt for a falafel wrap, but when I'm at home I want to make a healthier version, also I'm not too keen on frying because of the enormous amount of oil one needs, so an oven-baked alternative is the way to go! These Falafel with Cilantro are gluten-free, vegan (duh! obviously) & completely oil-free!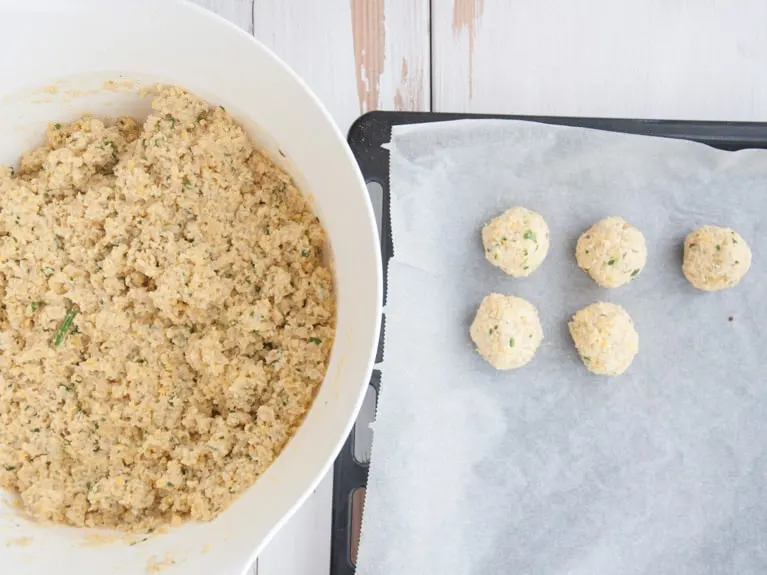 Since my boyfriend brought home a cilantro-plant, I've been putting cilantro on pretty much anything and I love it! In the beginning, I had a hard time liking cilantro and now I can't stop eating. I even snack plain cilantro leaves when nobody is looking! Of course, I had to put cilantro in the falafel as well! It's such a delicious combination. If you don't like cilantro feel free to leave it out or to substitute it with parsley.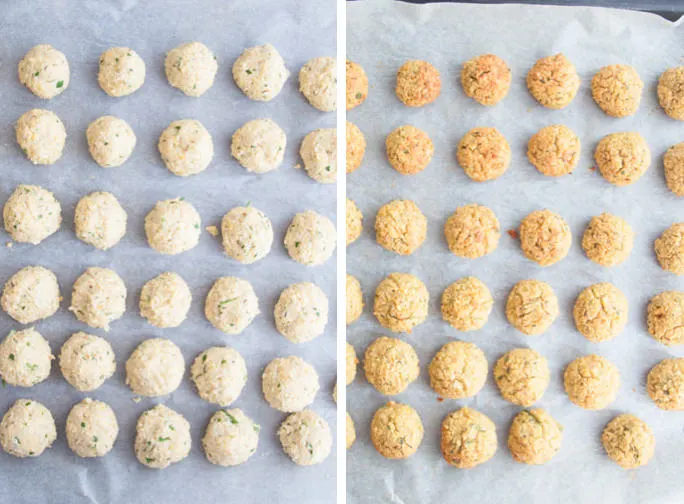 Getting the Falafel mixture right is sometimes a bit tricky – but you can simply add in more water & chickpea flour until you can form the little Falafel balls.
I like to eat my Falafels in Wraps, in Curries, even in Burgers, snack them in between, on couscous or on a salad. How you do you prefer to eat your Falafel?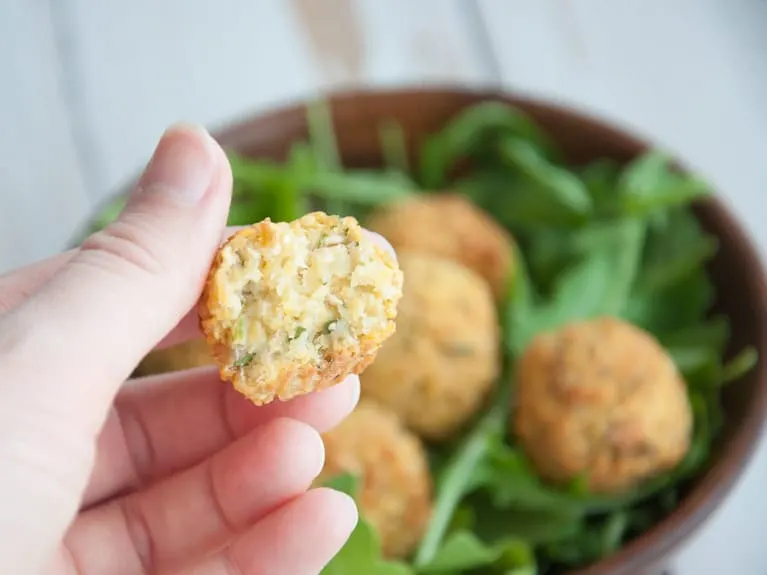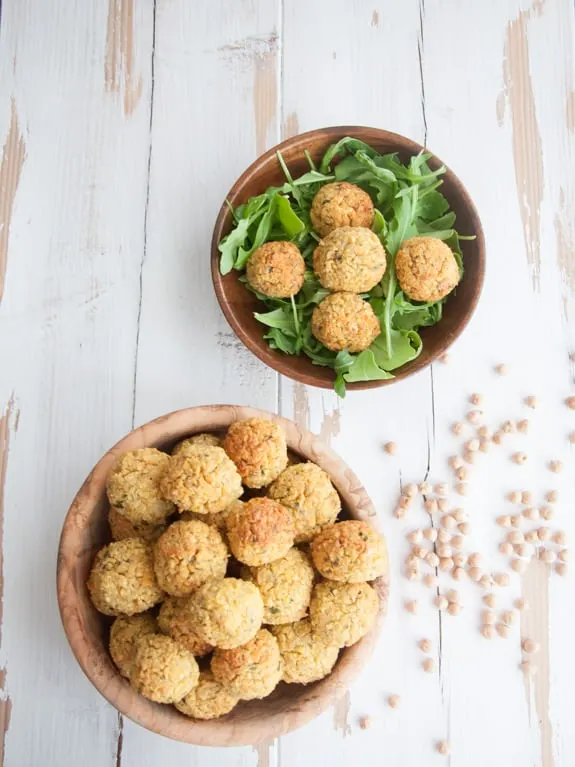 More Falafel Recipes you'll love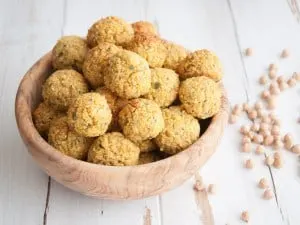 Vegan Oil-Free Oven-Baked Falafel with Cilantro
These vegan oil-free Oven-Baked Falafel with Cilantro will knock your socks off! They are super easy to make, healthy and freeze well! So make a big batch!
Equipment
Ingredients
2 1/2

cups

dried chickpeas

2

onions

4

garlic cloves

1/2

teaspoon

cumin

lemon juice of 1 lemon

1

bunch

fresh cilantro

1/2

teaspoon

cayenne pepper

ground pepper

2

teaspoons

salt

1/2

teaspoon

baking powder

3/4

cup

besan/chickpea flour

1

cup

water
Instructions
Put the dry chickpeas in a large bowl, cover with enough water (the chickpeas will double in size!) and let them sit covered overnight.

On the next day, preheat the oven to 400°F/200°C.

Peel the onions and garlic cloves. Put them in a food processor and chop.

In a non-stick pan, add the chopped onions, garlic & cumin, put the lid on and let them cook until soft on low heat for about 10-15 minutes while stirring occasionally.

Meanwhile, drain the chickpeas and then work in batches by adding the first batch into the food processor and chop until the pieces are really small (you don't want to make hummus). In one batch add in the cilantro to chop it as well. Repeat until all the chickpeas are broken up. Transfer everything to a huge bowl.

Add the lemon juice, cayenne pepper, salt, ground pepper, baking powder and the softened onions and garlic. Mix well.

Add in the chickpea flour and water.

Mix the chickpea mixture well and form little balls. If the dough does not stick together enough, add more chickpea flour and water.

Put the falafel on a baking tray and put them in the oven for about 25 minutes or until they turn golden.

Enjoy them on a salad, couscous, in wraps, curries or whatever you can think of!
Notes
They freeze very well, so you will have a nice stash of homemade falafel in your freezer, which is super convenient ;)
When your defrosted falafel turn out dry, this Falafel Curry recipe is perfect, because they'll get soft again!
Nutrition
Calories:
41
kcal
Carbohydrates:
6
g
Protein:
2
g
Sodium:
88
mg
Potassium:
103
mg
Fiber:
1
g
Sugar:
1
g
Vitamin A:
15
IU
Vitamin C:
0.7
mg
Calcium:
13
mg
Iron:
0.7
mg
Affiliate Disclosure: This post may contain affiliate links, which means I may earn referral fees if you make a purchase through my link. While clicking these links won't cost you any extra money, they will help me keep this site up and running!