You'd be surprised how easy it is to recreate a classic Philly Cheesesteak with all-vegan ingredients. In this recipe, the homemade seitan and cheesy sauce harmonize so well you'd want to see them get married. So go and make this vegan Philly Cheesesteak Sandwich now!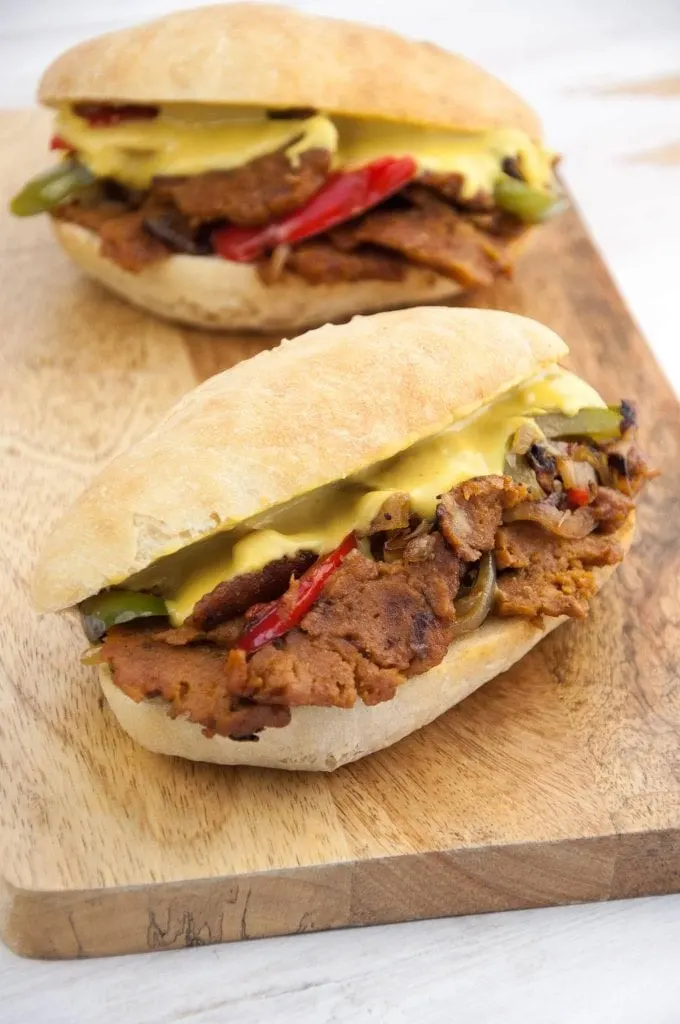 I have very fond memories of the first Philly Cheesesteak I've ever had. It was 2012. 6 years ago! It was one of the first [intentionally] vegan things I ate, in a Loving Hut in San Francisco. And it was super yummy! So this is my turn on a vegan Philly Cheesesteak Sandwich.
The main components of the vegan Philly Cheesesteak:
How to make Seitan that isn't spongy/rubbery/tough?
Recently, I experimented a lot with homemade seitan. My #1 super secret ingredient for seitan that has just the right balance of soft and firm is sparkling water! It's just a simple substitution with a huge effect. Trick #2 is to use canned chickpeas instead of chickpea flour. This makes the seitan soft (even the next day or the day after!).
Homemade Seitan cut in thin slices
Seitan in the pan with bell pepper and onions
Bell peppers and onions are a classic add-in for Philly Cheesesteaks. I've added a mix of green and red bell peppers to add more colors.
More Seitan Recipes you will love
I hope you'll enjoy this vegan Philly Cheesesteak Sandwich as much as I do!
Let me know if you give this recipe a try! I'd love to hear how it turns out for you.
If you don't want to miss out on new recipes, subscribe to my weekly newsletter and follow me on Instagram and Facebook!
Cheers, Bianca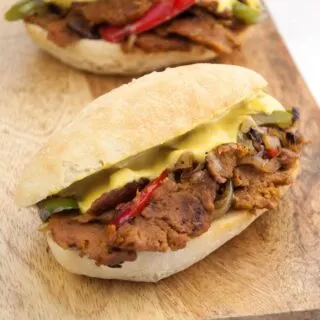 Vegan Philly Cheesesteak Sandwiches
You'd be surprised how easy it is to recreate a classic Philly Cheesesteak with all-vegan ingredients. In this recipe, we create our own seitan and cheesy sauce that harmonize so well you'd want to see them get married.
Ingredients
Ingredients for the seitan
1/2

tablespoon

canola oil

1/2

large white onion

chopped

1

garlic clove

chopped

1/2

teaspoon

cumin seeds

1/2

teaspoon

fennel seeds

1/4

cup

cooked chickpeas

1

tablespoon

tomato paste

1/8

teaspoon

salt

1/2

teaspoon

thyme

1/2

teaspoon

smoked paprika

1

tablespoon

soy sauce

1/4

cup

sparkling water

3/4

cup

vital wheat gluten
Ingredients for the cheesy sauce
2

tablespoons

coconut oil

or vegan butter

1/3

cup

all-purpose flour

1/2

teaspoon

salt

1/8

teaspoon

turmeric powder

1/4

teaspoon

curry powder

1/4

teaspoon

paprika powder

1/3

cup

nutritional yeast

1/2

cup

water
Additional Ingredients
1

white onion

peeled, halved and sliced

1/4

green bell pepper

cut into strips

1/4

red bell pepper

cut into strips

2

sandwich buns
Instructions
In a large pan with canola oil, sautée the chopped onion and garlic cloves until soft. Add the cumin and fennel seeds. Let it cook further until the spices are toasted.

In a food processor, add the chickpeas, onion-garlic-spices mixture, tomato paste, salt, thyme, smoked paprika, soy sauce, and sparkling water. Pulse until it's saucy. Then add the vital wheat gluten and pulse again until it comes together in a ball.

Prepare a large pot (filled with a couple of inches of water) with a steaming basket and bring to high heat.

Divide the seitan into 8 equal chunks. Add the seitan chunks into the steaming basket and let them steam for about 40 minutes, flipping them after 20 minutes.

In the meanwhile, you can prepare the homemade cheesy sauce: Heat the coconut oil or butter in a small pot over low heat. Add the salt, turmeric powder, curry powder, and paprika powder. Add in the flour and whisk. Add nutritional yeast, whisk again until clumpy. Add the water and whisk on low heat for 1-2 minutes until it gets gooey. Set aside. If it gets too thick later on you can add a little bit more water and whisk again.

Let the seitan cool off a bit before slicing it into thin strips.

Bring a large pan with olive oil to high heat, toss in the white onion and let it cook until translucent. Then add the bell pepper and seitan strips and let it pan-fry for 3-4 minutes until the seitan is crispy on the edges and the bell pepper is softened. Add more salt to taste.

Fill the sandwiches with crispy seitan and add the cheese sauce on top. Enjoy!
Nutrition
Calories:
668
kcal
Carbohydrates:
70
g
Protein:
49
g
Fat:
22
g
Saturated Fat:
13
g
Sodium:
1695
mg
Potassium:
583
mg
Fiber:
7
g
Sugar:
6
g
Vitamin A:
1010
IU
Vitamin C:
40.1
mg
Calcium:
150
mg
Iron:
7
mg
This post was first published on November 12, 2014. Updated on September 14, 2018.
Affiliate Disclosure: This post may contain affiliate links, which means I may earn referral fees if you make a purchase through my link. While clicking these links won't cost you any extra money, they will help me keep this site up and running!