These Crispy Fried Falafel are made from dried chickpeas and so, so good! You'll want to add them to your salads, bowls, wraps, sandwiches, everything!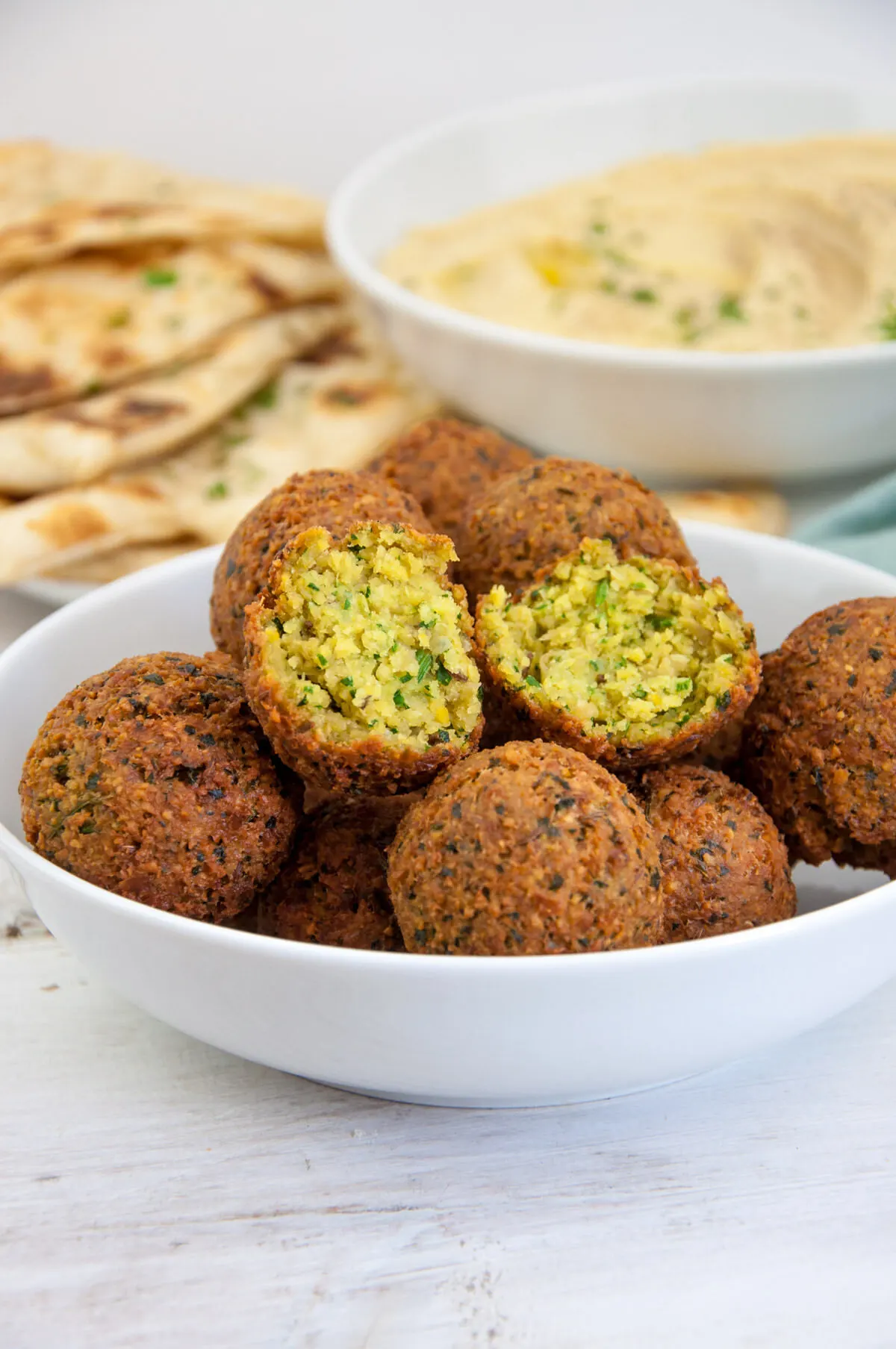 I don't have much to say about these falafel, except that if you're not afraid of frying, you're in for a treat! Because these Falafel are the most authentic (and best) falafel I ever made.
They taste and look amazing!
You don't need a deep-fryer to make these, I use my small wok which is perfect for frying, but you can also use a simple pot. If you haven't fried in a pot before, you might want to check out this guide on frying.
I know we all stocked up on pantry staples such as rice, pasta, beans, pulses, etc. So if you have dried chickpeas at home, this is YOUR SIGN to take them out of the pantry RIGHT NOW and get them soaking to make these Crispy Fried Falafel tomorrow.
They are part of my holy trifecta of Middle Eastern foods, which I am obsessed with right now: These Falafel, Hummus, and Flatbread. Everything is made from scratch. It's the perfect meal for summer days.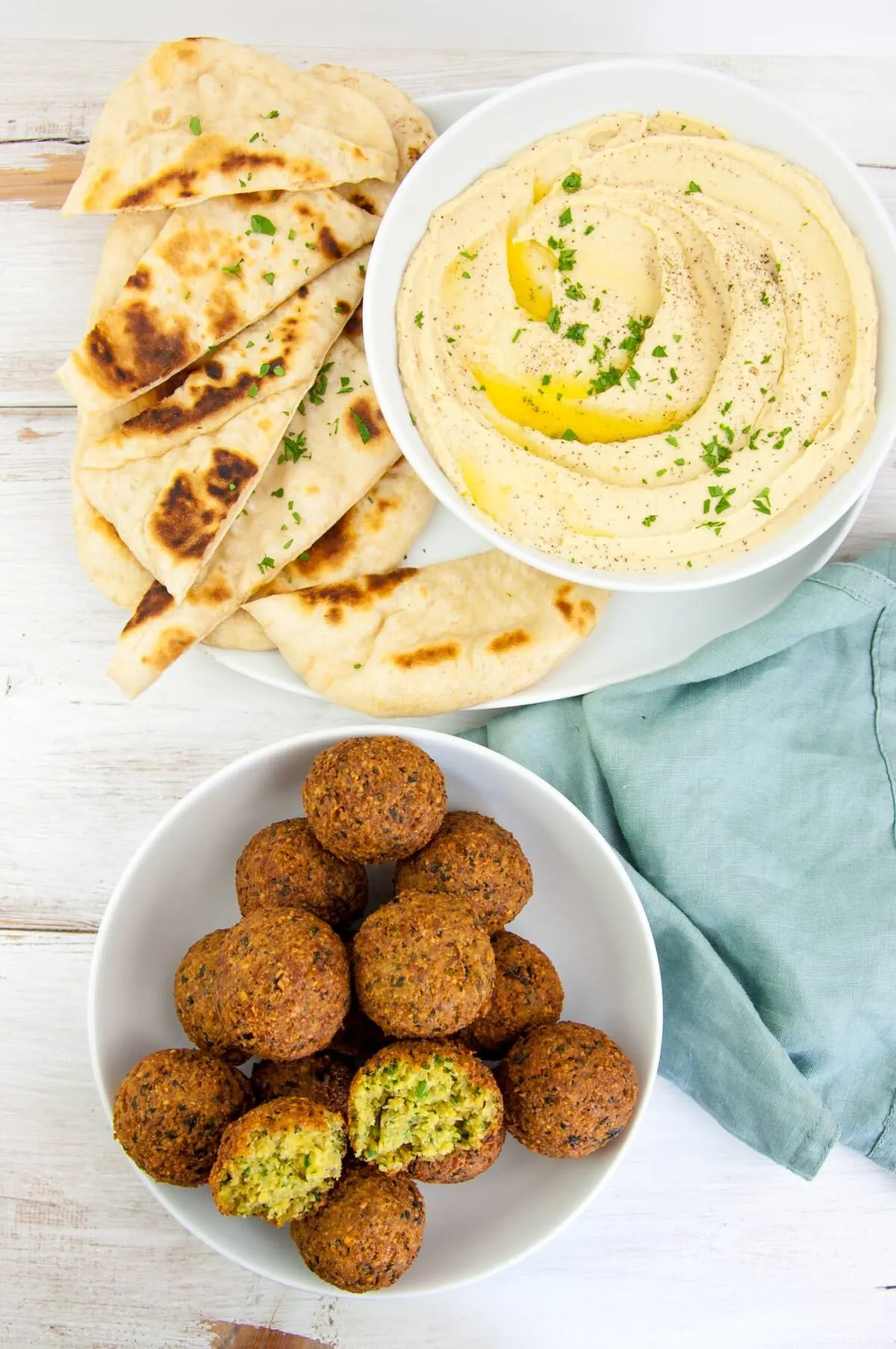 A few notes on dried chickpeas
A regular-sized package of chickpeas is 500g. For this falafel recipe, I am using half of it, BUT you can make the whole package and either make a double amount of falafel OR use half of the soaked chickpeas for falafel, and the other half for making hummus (you will have to cook the chickpeas after soaking).
500g dried chickpeas -> ± 1000g soaked chickpeas
So for this recipe, you will need 250g of dried chickpeas or 500g of soaked chickpeas.
How to make Crispy Fried Falafel
Making Falafel is super easy! As always, you can find the full recipe (ingredients + instructions) in the box at the end of the post but I want to show you the key ingredients and process with step-by-step photos first.
The ingredients
You will need:
dried chickpeas (soaked; not cooked)
onion
garlic
frying oil (rapeseed oil, sunflower oil, or canola oil will work fine)
chickpea flour (as a binding ingredient)
fresh parsley (lots of it)
whole cumin seeds
salt
The basic steps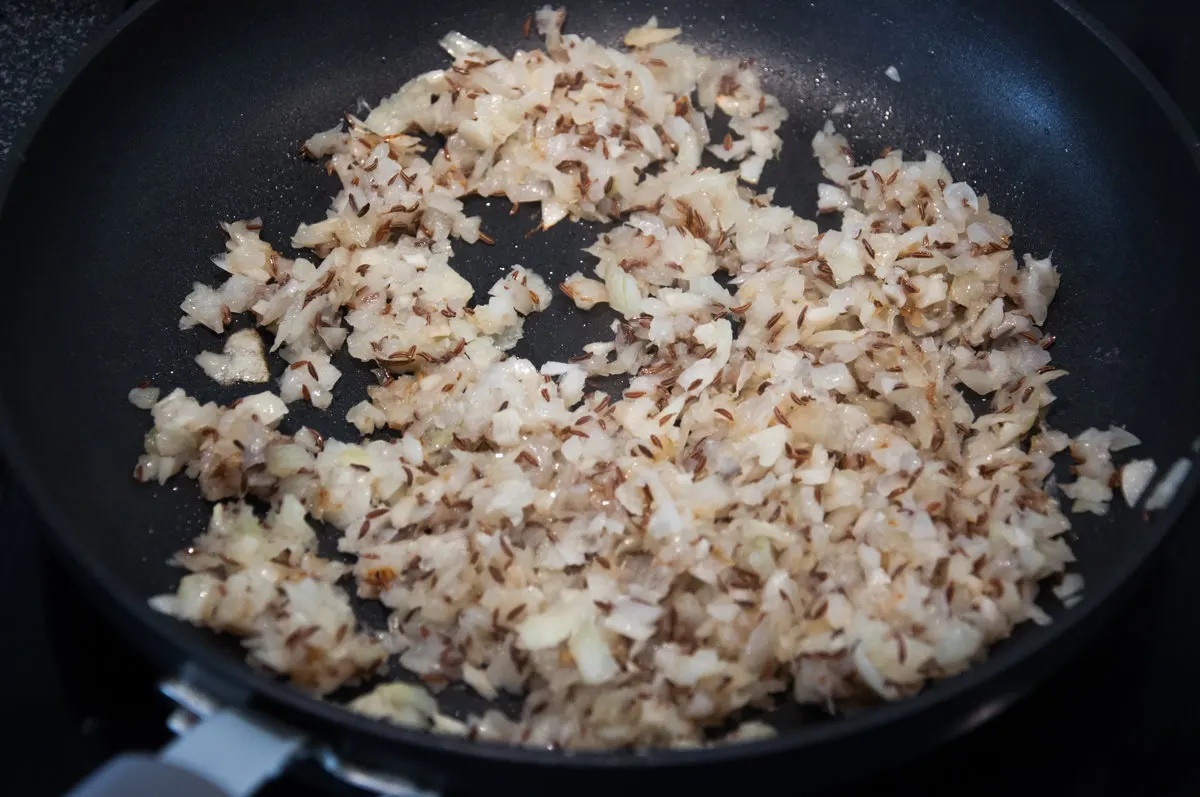 Tip: Use a slotted spoon to lower the falafel carefully into the oil and also to take them out of the oil.
Serve the Falafel…
Falafel FAQ
Can I freeze Falafel?
Yes! Fry them, then let them cool off completely, transfer them into a ziplock bag and freeze for up to 3 months. For reheating, you can pop them in the microwave, bake them in the oven, pan-fry or add them to a Falafel Curry (it's my favorite way to use frozen falafel because it makes them soft again).
Can I use canned chickpeas for Falafel?
Yes and No! DO NOT use canned chickpeas (or cooked chickpeas) in this falafel recipe because I tested it and they fall apart in the frying process. No fun!
If you want to use canned chickpeas, use this recipe for Spinach Falafel and simply leave out the spinach.
Can I prepare the falafel mixture in advance?
Yes, you can either store the falafel mixture in the fridge for up to 3 days or form the falafel balls and then store in the fridge or you can even freeze them. And then fry them later on.
More Falafel Recipes
Love it? Rate it!
I hope you enjoy these Crispy Fried Falafel as much as I do! Let me know if you give them a try!
If you don't want to miss out on any new recipes, subscribe to my newsletter, follow me on Instagram and Facebook!
Cheers, Bianca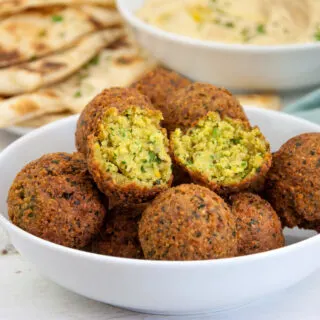 Crispy Fried Falafel
These Crispy Fried Falafel are made from dried chickpeas and so, so good! You'll want to add them to your salads, bowls, wraps, sandwiches, everything!
Equipment
Ingredients
1 1/2

cups

dried chickpeas

1

teaspoon

olive oil

2

onions

5

garlic cloves

1

tablespoon

cumin seeds

2

cups

fresh parsley

(50 g)

1 1/2

teaspoons

salt

2/3

cups

besan/chickpea flour

(+ more if the mixture doesn't stick together)

frying oil

amount depends in the size of the pot
Instructions
Soak chickpeas with enough water (at least 2-3 times the amount) overnight. The next day, drain and rinse them.

Peel the onions and garlic cloves. Put them in a food processor and blitz them up. In a pan with a teaspoon of olive oil, add the chopped onions, garlic, whole cumin seeds, a bit of salt, and let it cook on medium-high heat for about 5 minutes or until they soften.

Into the food processor, add the soaked chickpeas, parsley, the onion-garlic-cumin-mixture, and salt. Pulse. Then add chickpea flour.

Process again until it's fine and easily sticks together. You can always add more chickpea flour if it's not sticky enough.

For evenly sized falafel, I use an ice cream scoop, then roll them in my hands to make balls.

Use a small wok or pot and add frying oil. The falafel should be able to swim in the oil but don't fill the pot too high otherwise you risk an oil overspill. Bring the oil to high heat (you should see some movement in the oil but no smoke!) and fry the falafel for about 6 minutes. Then add them to a kitchen paper to remove excess oil.

Serve them with hummus, flatbread, in salads, couscous, bowls, or whatever your heart desires!
Nutrition
Calories:
89
kcal
Carbohydrates:
13
g
Protein:
4
g
Fat:
3
g
Saturated Fat:
1
g
Polyunsaturated Fat:
1
g
Monounsaturated Fat:
1
g
Trans Fat:
1
g
Sodium:
202
mg
Potassium:
212
mg
Fiber:
3
g
Sugar:
2
g
Vitamin A:
496
IU
Vitamin C:
9
mg
Calcium:
31
mg
Iron:
2
mg
Affiliate Disclosure: This post may contain affiliate links, which means I may earn referral fees if you make a purchase through my link. While clicking these links won't cost you any extra money, they will help me keep this site up and running!