If you're looking for a few vegan treats for the holidays, you'll love these 10 ideas! From fancy-looking Apple Roses to Matcha Ice Cream Cakes, 3-ingredient Apple Strudel and Blueberry Lemon Streusel Muffins.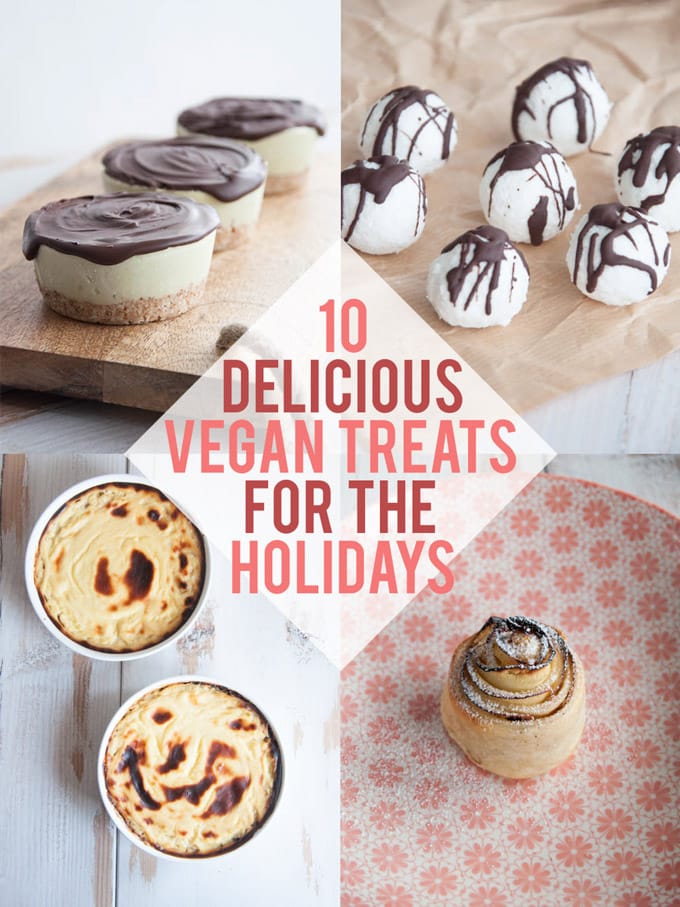 Are you guys excited for the holidays? I sure am..because more free time = more time for food. Also it's totally okay to indulge in all those sweets when you're sharing with family & friends, right?!
To provide some ideas, I've compiled my favorite vegan dessert recipes in one post. All of them are vegan (so dairy-free and egg-free) and some of them are gluten-free like the Coconut Matcha Ice Cream Cakes, Coconut Balls, Raw Cocoa Avocado Tartelette or the Raw Cocoa Coconut Pomegranate Tartelette. Four of the recipes are no-bake: Coconut Matcha Ice Cream Cakes, Coconut Balls and the two Tartelettes.
Some of the treats mentioned in this post are absolute classics like the 3-Ingredient Apple Strudel, which I've made 20+ times, while others are so decadent that you want to eat it everyday but maaaayybee you shouldn't (Lemon Cheesecake & Chocolate Lovers Cake).
10 amazingly awesome vegan treats for the holidays:
Bonus Recipe
Don't forget to bookmark or pin this page, so you'll always have the most amazing plant-based dessert recipes at hand! And please let me know your favorites in the comments below! :)

Should you decide to give some of these treats a try I'd love to hear how it went! Write me a comment or post a picture on instagram, use the hashtag #elephantasticvegan and tag me via @elephantasticvegan to make sure I'll see it ^.^ I love to see all your lovely creations! Thanks! <3