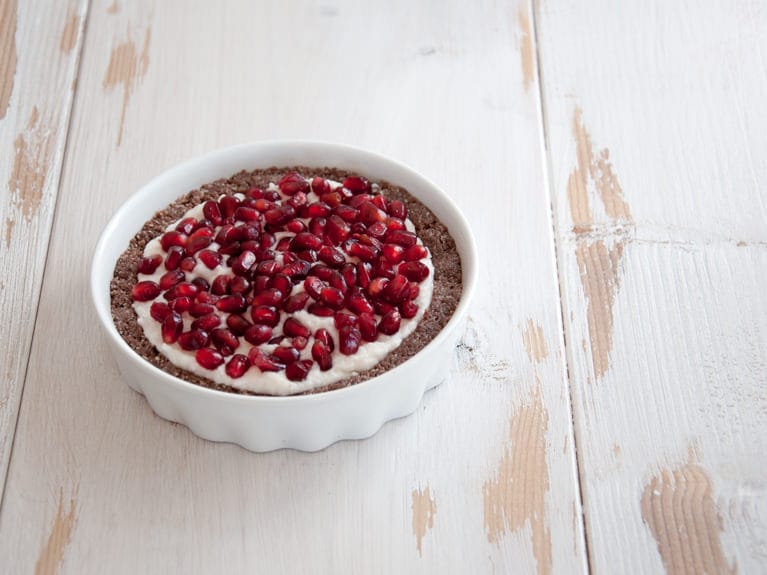 I love raw desserts, because they are so easy to make, don't require any baking and are so delicious! This Raw Cocoa Coconut Pomegranate Tartelette has a crust consisting of raw almonds, rice syrup, desiccated coconut & cocoa powder. The filling uses the coconut flesh of one young thai coconut. I think the Tartelette looks great with a topping of Pomegranate Seeds, but feel free to replace them with blueberries, strawberries or any other fruit you can think of. This raw & vegan dessert is great to share with a loved one :) (I've shared it with my boyfriend)
This recipe is adapted from my Heavenly Raw Coconut Tartelette. If you are looking for another Raw & Vegan Tartelette Recipe, I have a Raw Cocoa Coconut Avocado Tartelette on the blog.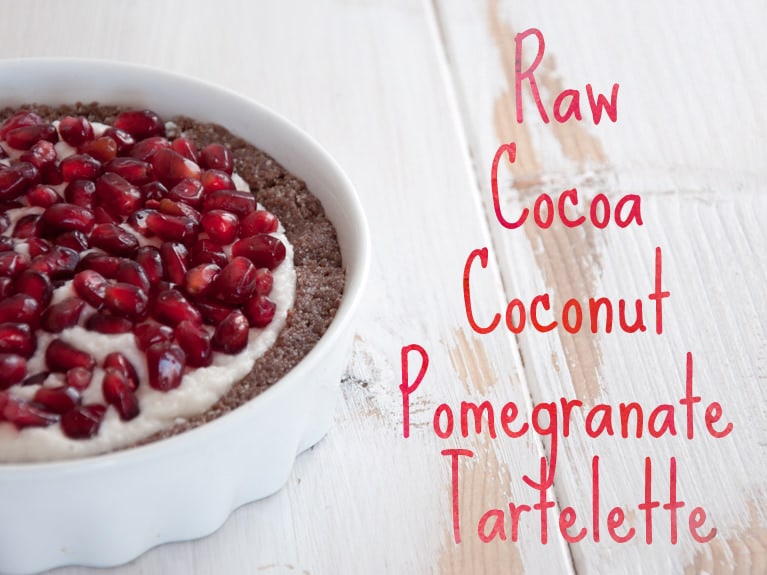 Raw Cocoa Coconut Pomegranate Tartelette
This raw, vegan & gluten-free Cocoa Coconut Pomegranate Tartelette is perfect for sharing with a loved one!
Author:
Elephantastic Vegan
Ingredients
Ingredients for the crust
Ingredients for the filling
Instructions
For making the crust put the blanched almonds, shredded coconut, rice syrup and the cocoa powder in a kitchen processor and blend until the mixture starts to form little clumps.
Put the crust mixture in the tartelette form and press it down on the bottom and on the sides. It's easier when you use a spoon to flatten it.
Clean the kitchen processor.
Spoon out the young coconut flesh. Put the coconut flesh, 1 tablespoon of rice syrup and 1 tablespoon of shredded coconut in the kitchen processor and blend again until it's a smooth cream.
Add the filling onto the crust and flatten the surface with a spatula.
Add a few spoonfuls of pomegranate seeds on top and spread evenly.
Put it in the fridge for about 3-4 hours to thicken up a bit or eat it immediately if you can't wait :D
Notes
My tartelette dish is Ø 5"/12,5 cm.