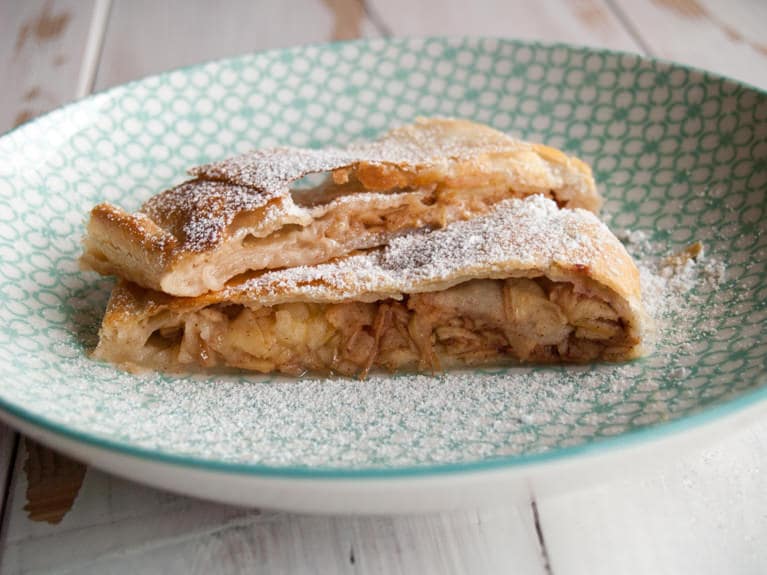 Only three ingredients? Now if you think this dessert tastes flat and bland – you're wrong! It's perfectly sweet from the apples and a bit savory from the pastry dough. It's probably my favorite dessert ever!
It's exactly how my mother made it and now I'm carrying on this tradition. Its deliciousness comes from its simplicity. Some people may add raisins, additional sugar, almond slices… but I think this just distracts from the delicious taste of the apples.
3-Ingredient Apple Strudel
Recipe for a vegan, quick and easy 3-Ingredient Apple Strudel. It's a traditional Austrian dessert!
Author:
Elephantastic Vegan
Ingredients
1 package vegan puff pastry dough*
2 apples
¾ teaspoon cinnamon
(powdered sugar for dusting the top - optional)
Instructions
Pre-heat oven to 350°F/180°C.
Take the vegan pastry dough out of the fridge to thaw.
Peel two apples, get rid of the seeds preferably with an apple corer.
Slice the apples with a mandoline slicer or cut by hand in very thin slices.
Add the cinnamon on the apple slices and mix well by hand. Don't worry about the apple slices breaking.
Put the apple-cinnamon-mixture on the pastry dough and fold it in. Close the edges.
Put the apple strudel in the oven for about 15-20 minutes.
Let it cool off or eat it warm. Either way -> delicious.
You can dust it with confectioner's sugar.
Notes
*Dimensions: 16x9 inches or 42x24 cm. A lovely reader told me that Whole Foods has a vegan puff pastry dough (usually near the ice cream section).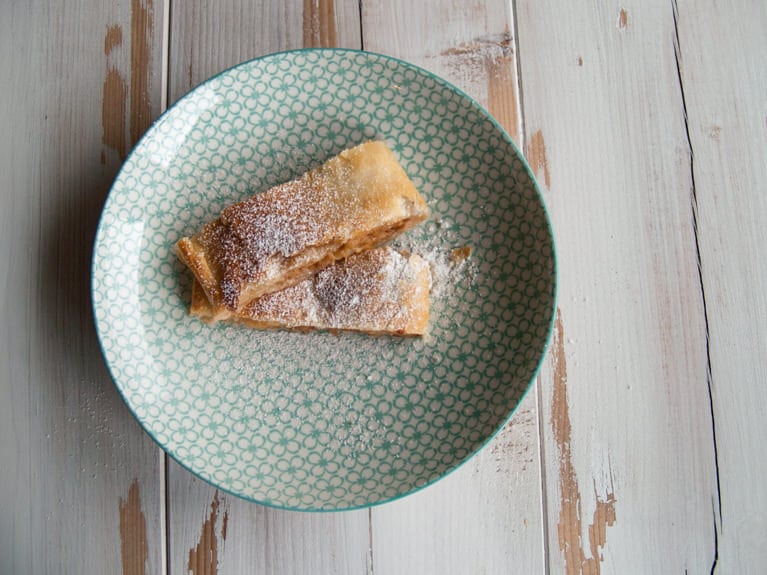 Should you decide to give this yummy 3-ingredient Apple Strudel a try I'd love to hear how it went! Write me a comment or post a picture on instagram, use the hashtag #elephantasticvegan and tag me via @elephantasticvegan to make sure I'll see it ^.^ I love to see all your lovely creations! Thanks! <3