You can make your own homemade crackers with just a couple of ingredients – and you can even make them green by adding spinach!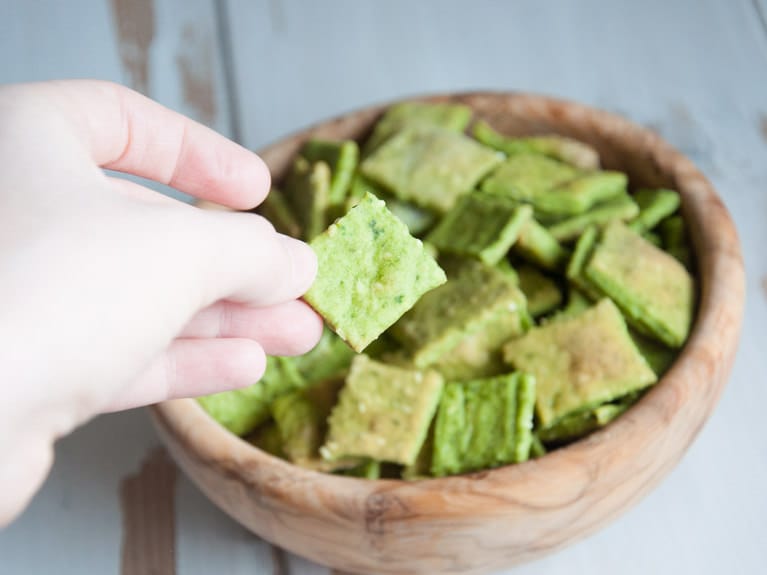 You can call me boring but I enjoy watching documentaries of all kinds. They have been a great influence in why I've adapted a vegan diet, why I started to care about animals & the planet, why I started to live a more conscious life. I always try to improve, live one day better than the last one, but when it comes to buying produce packed in plastic or non-biodegradable packaging, I've always felt so helpless because if I'd commit to only buying unpackaged produce I wouldn't have a lot of choices and it would restrict me – a lot. That is why I was super excited when I heard that in my city, Linz (in Austria/Europe), there were plans for opening up a zero-waste, package-free supermarket! Can you imagine?
It's called Holis (german website) and it's planned to open up later this summer, so I'm super excited and I can't wait for it! When they asked me to join their team of food bloggers to create zero-waste recipes, of course I couldn't resist but to say yes!
We had a food blogger meet-up for the Holis Market recently and it was so much fun! I had the chance to get to know other bloggers in my region and to learn more about the Holis Market, which was great. I didn't want to come empty handed so I decided to make some Crackers (and Hummus, obviously!), because they are simply perfect to snack on! They are green Spinach & Sesame Crackers!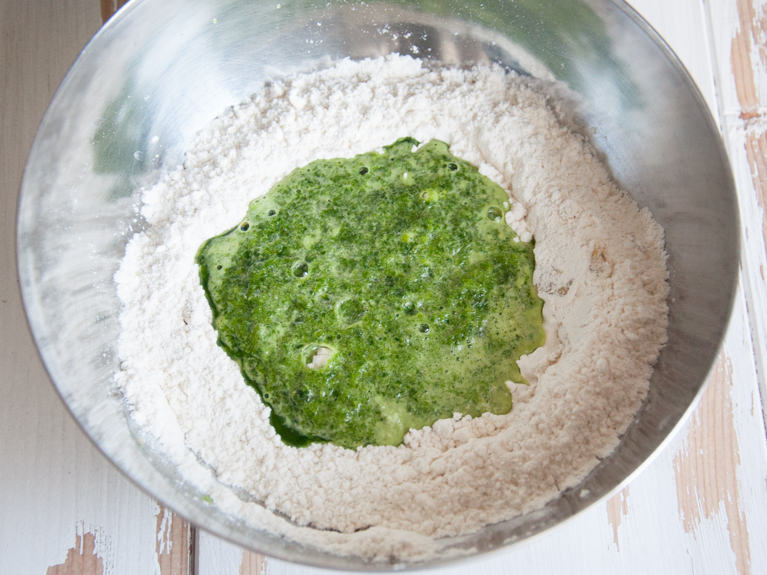 I wouldn't say that they taste a lot like Spinach.. but they are greeeen!!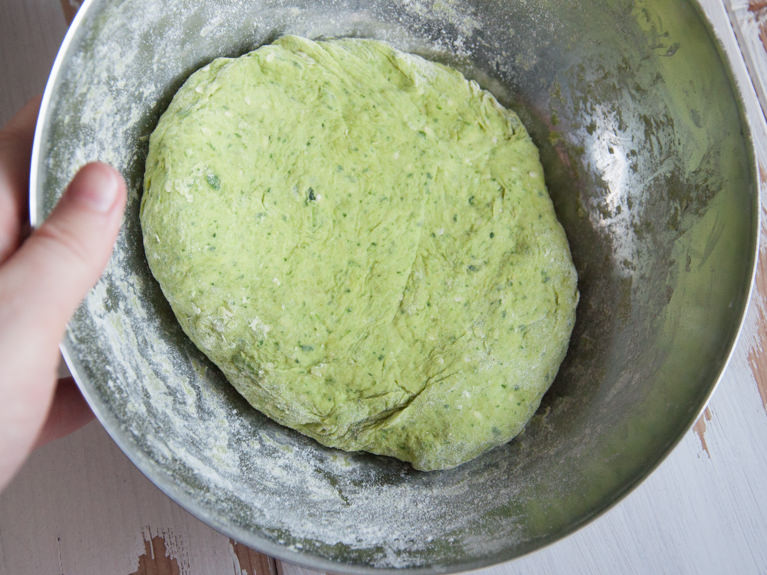 Making these Crackers is pretty similar to my other Cracker recipes, like my Whole Wheat Seed Crackers or the Cheesy Poppyseed Crackers. Instead of mixing the dry ingredients with water, you simply use a spinach-water mixture and tada: green!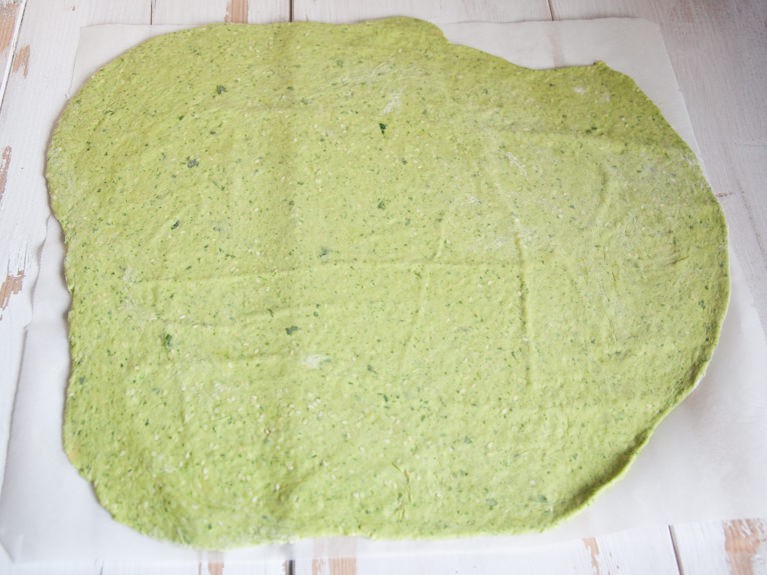 The dough is super easy to work with. I've used all-purpose flour so that the color of the spinach is more intense.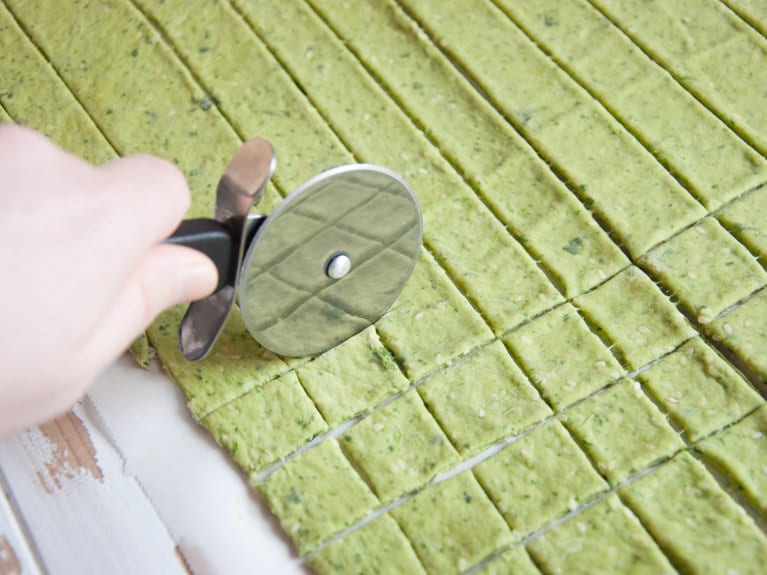 Using a pizza cutter to make the Crackers is the simplest & fastest method – yeay to convenience!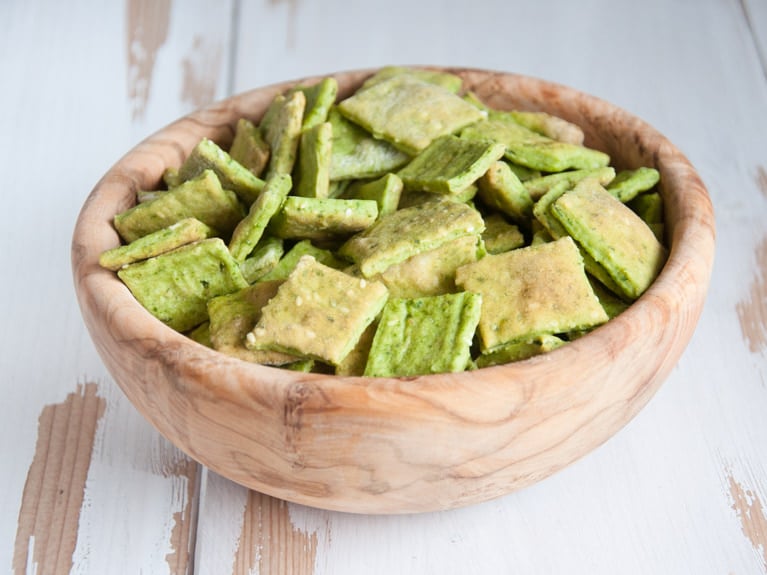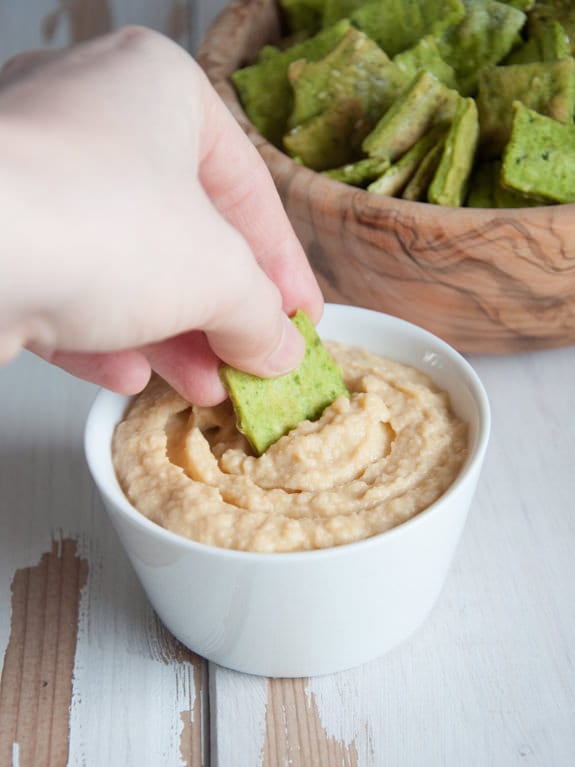 The Spinach Crackers are absolutely delicious with simple, Homemade Hummus, but I imagine they go really well with a lot of different dips (Guacamole, White Bean Dip, …).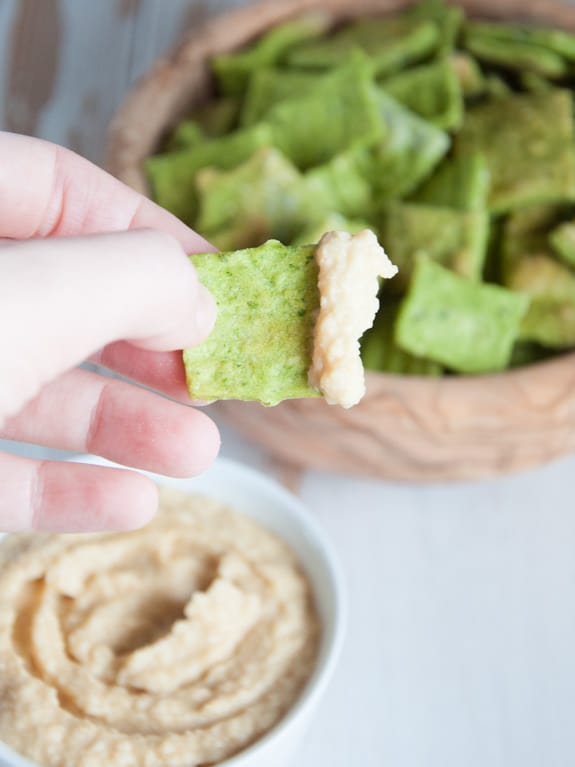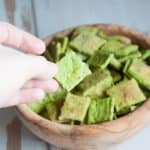 Spinach & Sesame Crackers
Recipe for vegan Spinach & Sesame Crackers. They have a lovely green color and are great to dip into hummus! Perfect for Parties or as a snack. Recipe is for one bowl of Crackers.
Ingredients
1 2/3

cup

all purpose flour

1 1/2

teaspoons

baking powder

1

teaspoon

salt

1

tablespoon

white sesame seeds

1

tablespoon

olive oil

1/4

cup

water

2

cups

fresh spinach
Instructions
Pre-heat the oven to 400°F/200°C.

Wash the spinach and put it in a blender together with the water and blend until completely smooth.

In a mixing bowl add in the dry ingredients (including the sesame seeds), whisk and then add in the spinach-water and olive oil. Mix and knead with your hand until it's a smooth dough. Add more flour if your dough is too sticky.

On a floured baking sheet roll out the dough until thin and evenly.

Cut it with a pizza cutter length- and widthwise.

Bake them in the oven for about 20 minutes (until they get crispy).

Let them cool off a bit and enjoy!
Should you decide to give these a try I'd love to hear how it went! Write me a comment or post a picture on instagram and tag me via @elephantasticvegan to make sure I'll see it ^.^