Recipe for a creamy, dreamy vegan Broccoli Soup with Coconut Milk & Pumpkin Seed Oil Swirls. Super easy and super quick to make.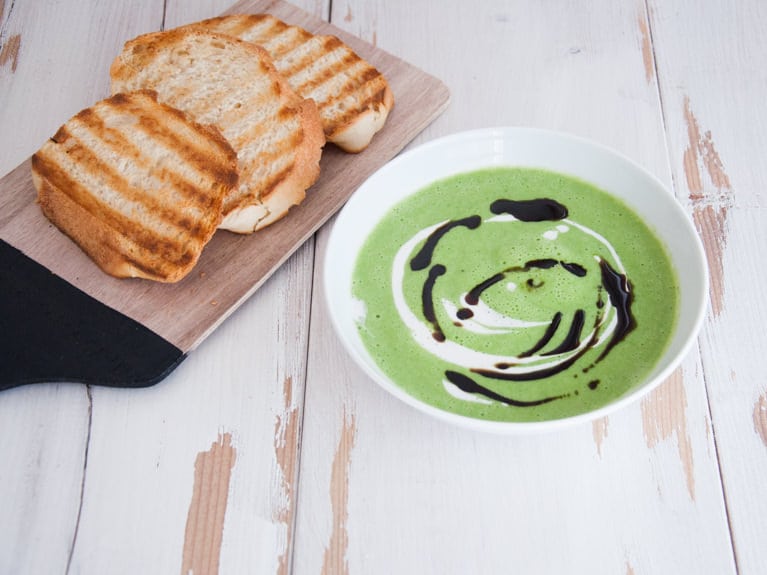 I love how easy and quick creamy soups are – I always forget about how amazing they are until I make them again. I blended this Vegan Broccoli Soup in my new blender, the Omniblend. It's super powerful but not as expensive as other professional blenders.
I particularly love green food (like this Palak Tofu, or this Avocado Ice Cream or these Spinach & Sesame Crackers), so this creamy, dreamy Broccoli Soup had to happen sooner or later. I've topped the soup with coconut milk and pumpkin seed oil swirls (soup art, anyone?) and served it with toasted white bread. It's the perfect fall comfort food!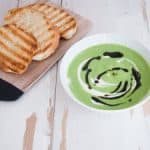 Vegan Broccoli Soup
Recipe for a creamy, dreamy vegan Broccoli Soup with Coconut Milk & Pumpkin Seed Oil Swirls. Super easy and super quick to make.
Ingredients
1

broccoli

2

cups

/ 500ml water

1/2

teaspoon

salt + more to taste

1/4

cup

/ 60ml full-fat canned coconut milk + more for swirls

pumpkin seed oil for swirls

(optional)
Instructions
In a large pot bring the water to a boil.

Chop your broccoli in florets and wash them.

Add the broccoli into the boiling water and 1/2 teaspoon of salt. Let it cook for about 7 minutes, until the broccoli is soft.

Place the soft broccoli in a blender and add the broccoli water. When blending hot liquids it's important to remove the center piece out of the lid and cover it with a kitchen towel! This prevents it from exploding all over your kitchen.

Blend until the soup is completely smooth, add in the coconut milk and 1/2 teaspoon salt and more to taste.

Once you're happy with the taste, pour the soup in the bowls, add the coconut milk swirls and pumpkin seed oil swirls and serve.
Recipe Notes
I've served the Broccoli Soup with toasted white bread which was an absolutely great combination.
Nutrition Facts
Vegan Broccoli Soup
Amount Per Serving
Calories 159
Calories from Fat 63
% Daily Value*
Total Fat 7g 11%
Sodium 697mg 29%
Potassium 1022mg 29%
Total Carbohydrates 20g 7%
Protein 9g 18%
* Percent Daily Values are based on a 2000 calorie diet.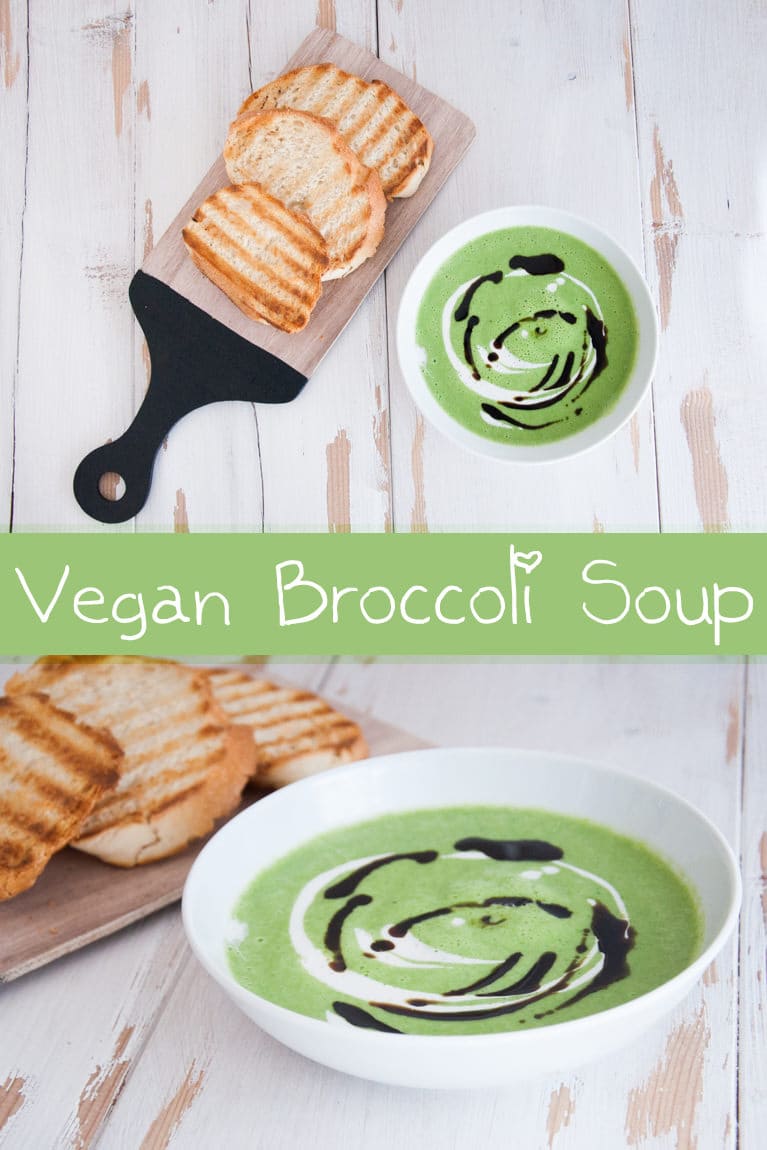 If you make this creamy Vegan Broccoli Soup, I'd be so happy if you'd leave me a comment. Should you post a photo of it on instagram, please use the hashtag #elephantasticvegan and tag me via @elephantasticvegan. I loooove to see all your lovely creations! Thanks <3
Affiliate Disclosure: This post contains affiliate links. If you click on a link and buy something I will get a small percentage. This helps me produce more great content and recipes.