This vegan Tempeh pizza with homemade pizza crust, flavorful tomato sauce, vegan cheese, and marinated tempeh crumbles is so good!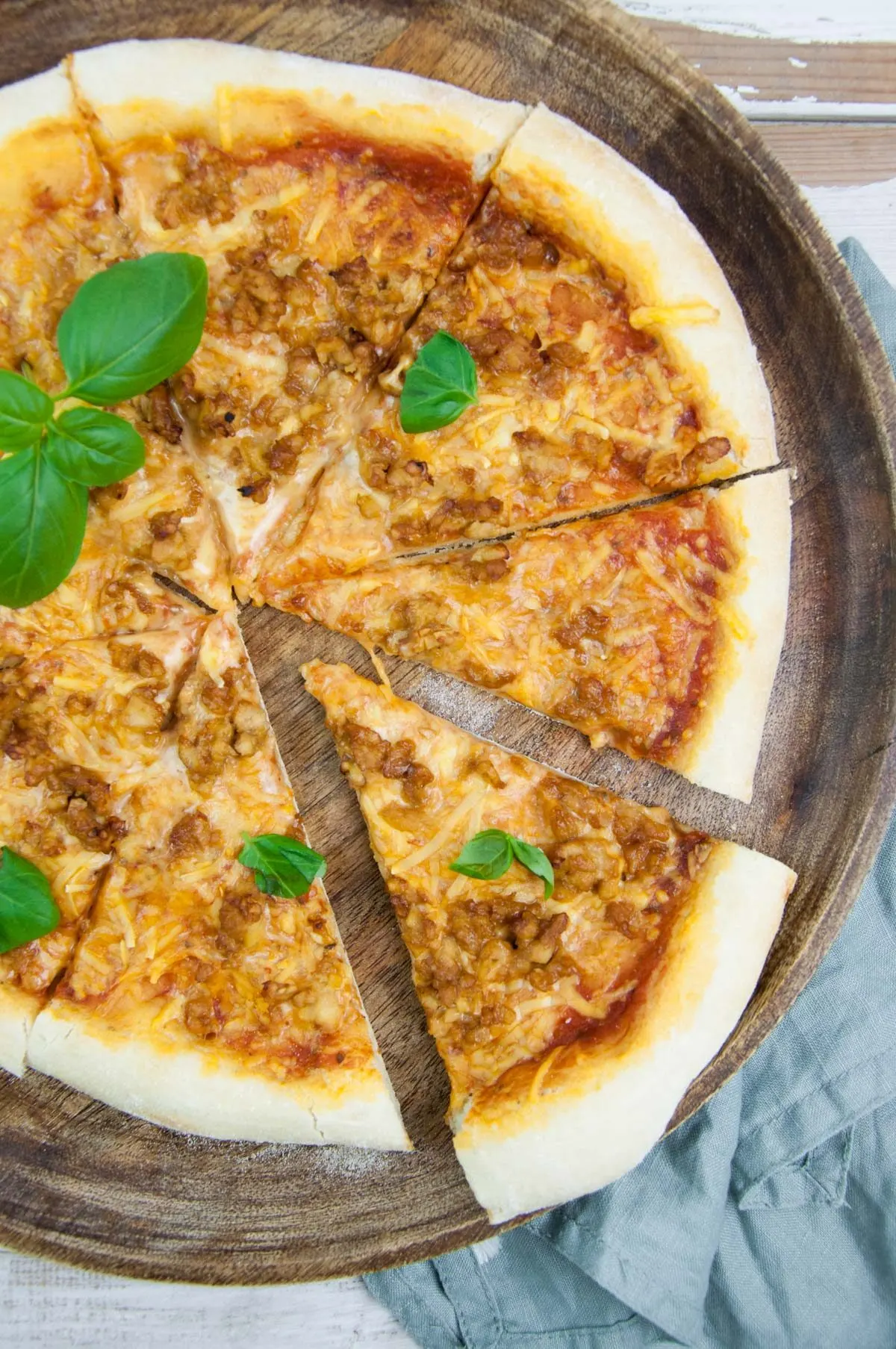 Have you ever had tempeh on pizza? The flavor and texture of the marinated tempeh crumbles are perfect if you're a fan of 'meaty' pizzas. It's just like sausage pizza, without the sausage.
The 'meaty' topping is super fast to make. Just add the tempeh into a food processor and pulse until crumbled (or crumble by hand). Then whisk a quick marinade and add the tempeh crumbles. The tempeh will soak up the marinade right away. Because tempeh is so porous, it's really easy to make yummy, flavorful tempeh.
So, what is Tempeh?
Tempeh is like tofu a soy product. Through culturing and fermentation, whole soybeans are molded into a block. Tempeh is even higher in protein, dietary fiber, and vitamins than tofu thanks to the fermentation and use of whole soybeans.
Pro-tip for buying tempeh: If you want to spend a lot of $$$ on mini tempeh, buy it at health food stores. If you want to spend little $ on lots of tempeh, buy it at Asian markets.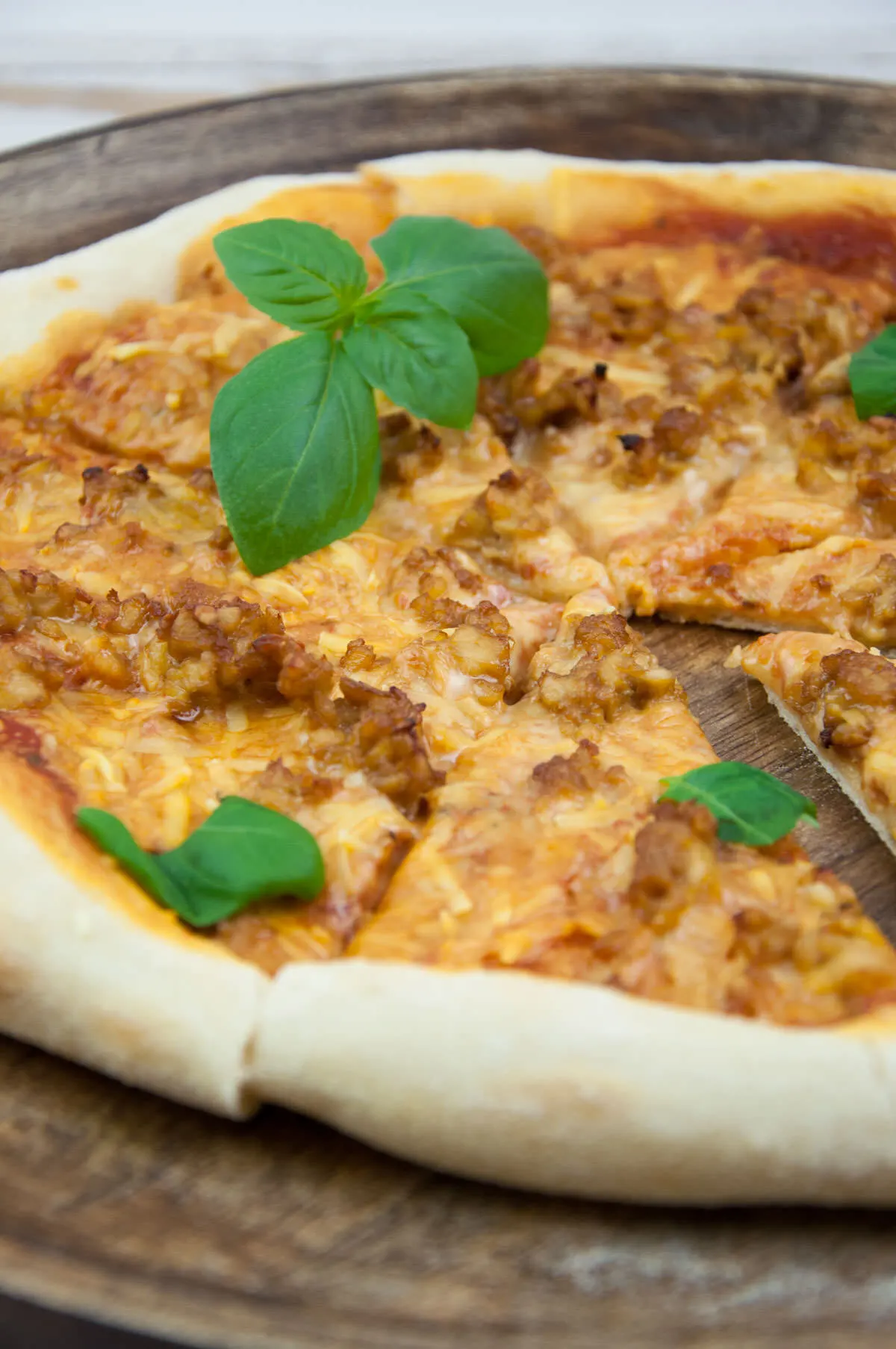 The pizza dough
As for the pizza crust, I am using my simple homemade pizza crust recipe. You'll need 1-2 hours for the dough to rise because of the yeast. You can also prepare the dough in advance the day before, keep it in the fridge overnight, and take it out an hour before making the pizzas.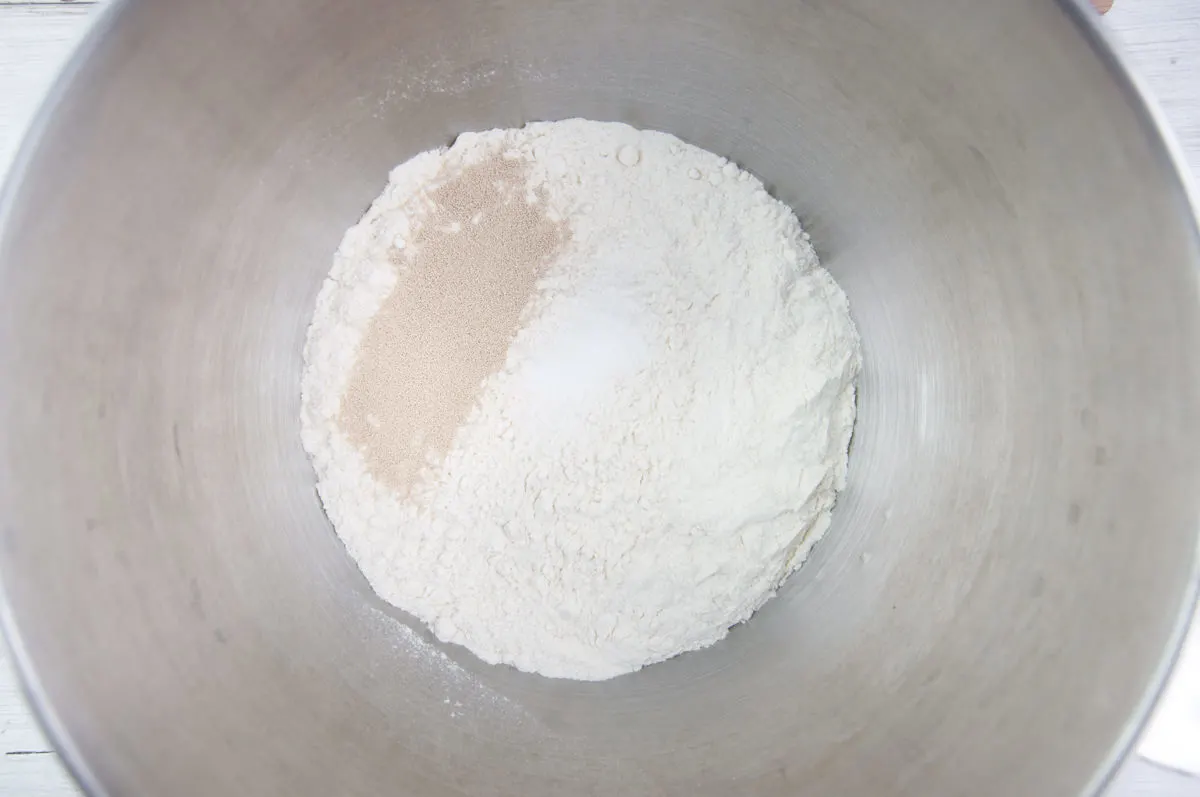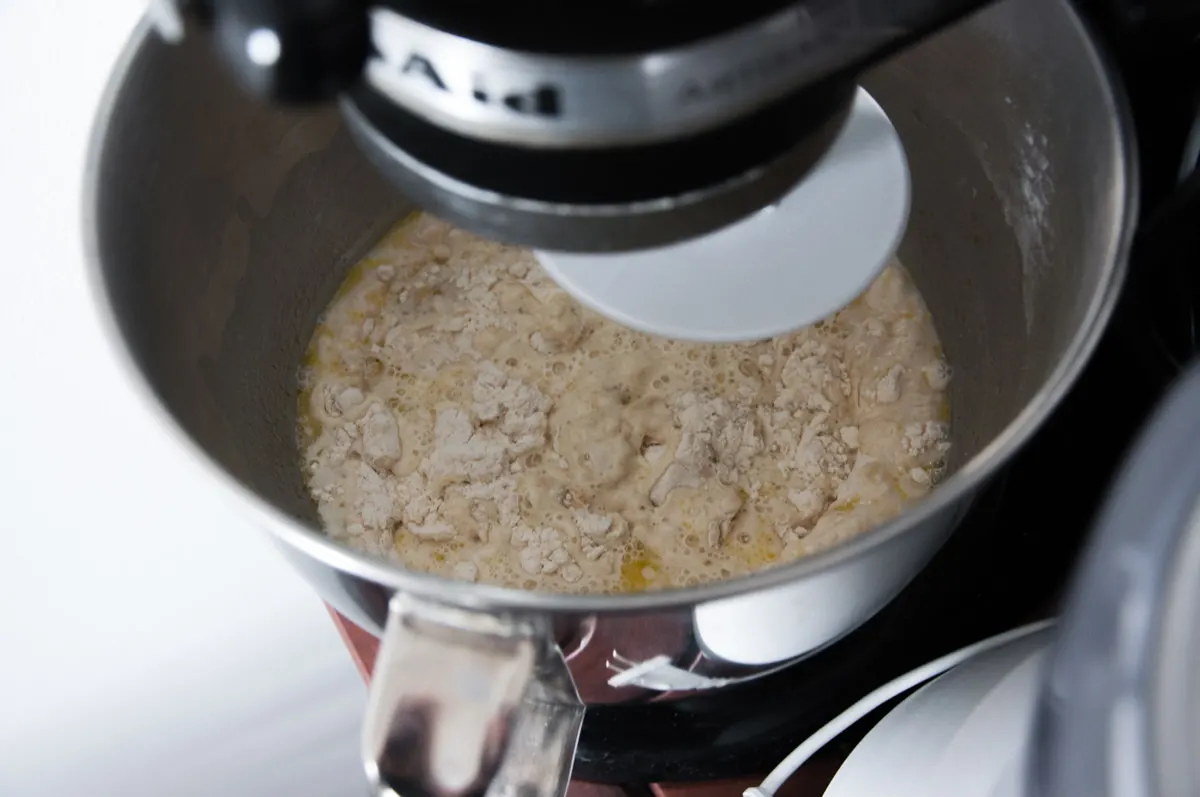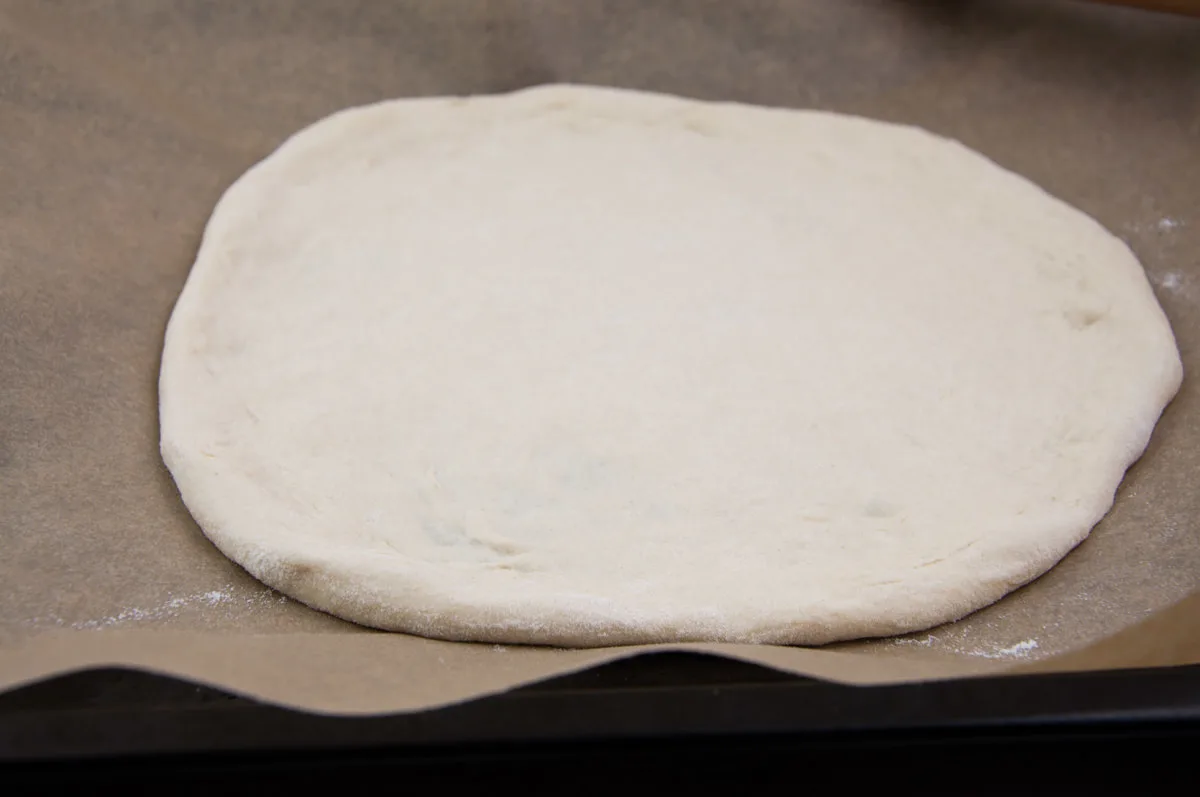 You can use the dough to make thick or thin pizzas. Of course, the baking times will vary on the thickness of your pizzas, so keep that in mind.
If you're looking for a quicker alternative, then this yeast-free vegan pizza dough is the way to go.
The tomato sauce
As for the tomato sauce, I am using tomato passata seasoned with dried oregano, garlic powder, and salt. You can also use (pre-seasoned) tomato sauce, canned diced tomatoes, or make your own tomato sauce if you're feeling fancy.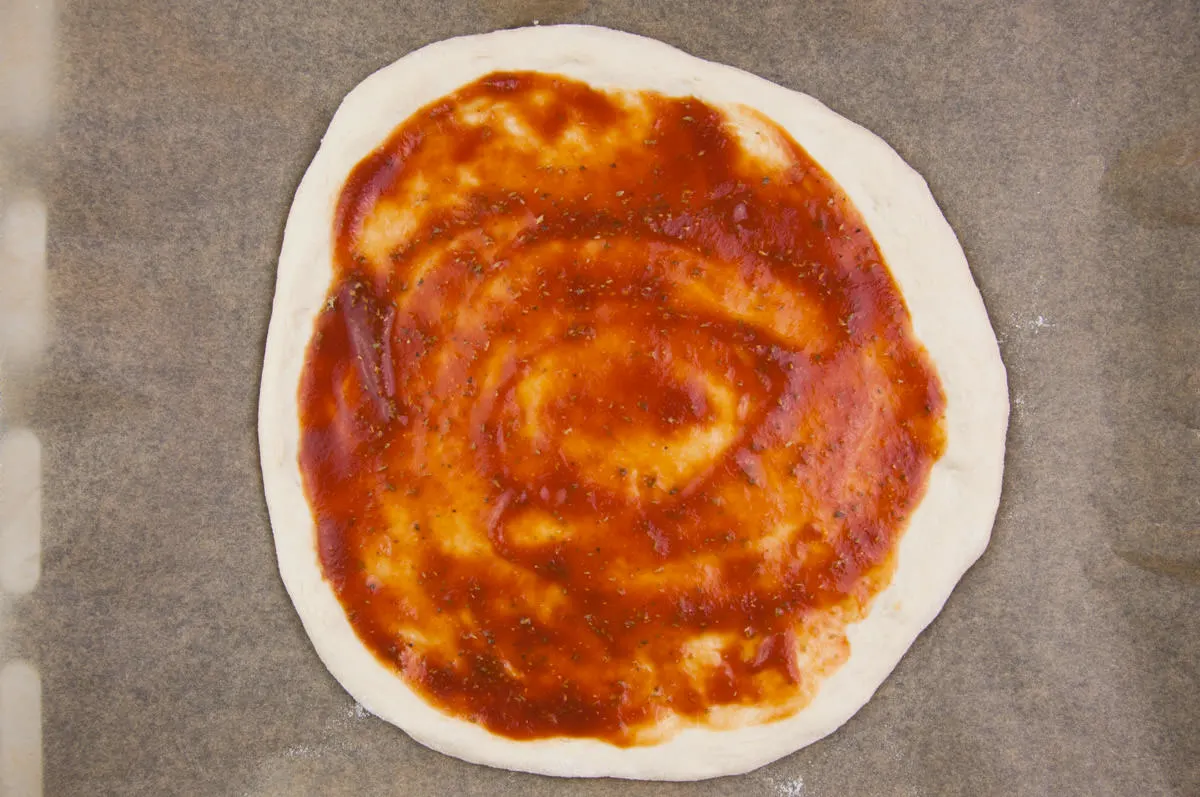 The vegan cheese
On top of the tomato sauce layer goes the vegan cheese. Vegan cheese needs moisture to melt better that's why we always want to put the cheese directly over the sauce. You can use your favorite vegan cheese shreds here. I used Bedda, which is a german brand.
If you want to make your own cheese, you can use this Nooch Cheese Sauce, Cashew Mozzarella, or Baked Almond Feta.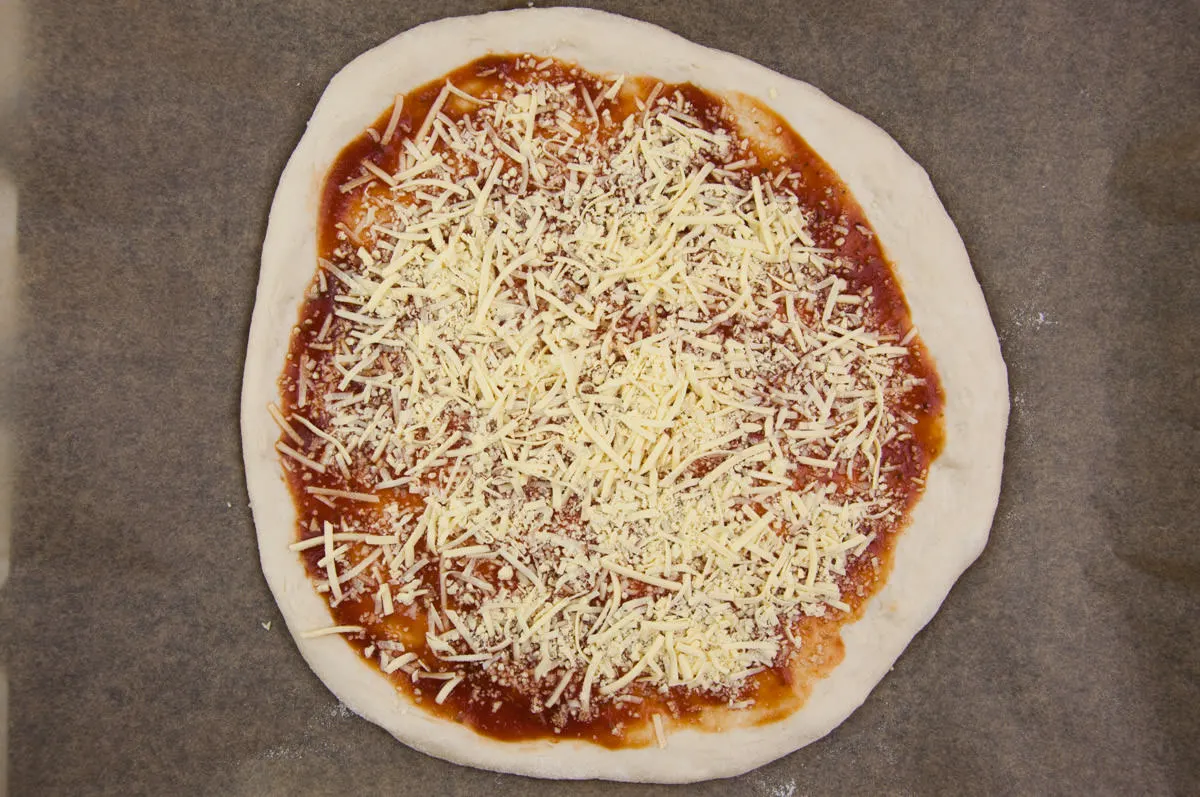 The tempeh crumbles
Then you can go crazy with the rest of the toppings, but I've added green olives, sun-dried tomatoes, and artichoke hearts. This is THE perfect antipasti variation for me.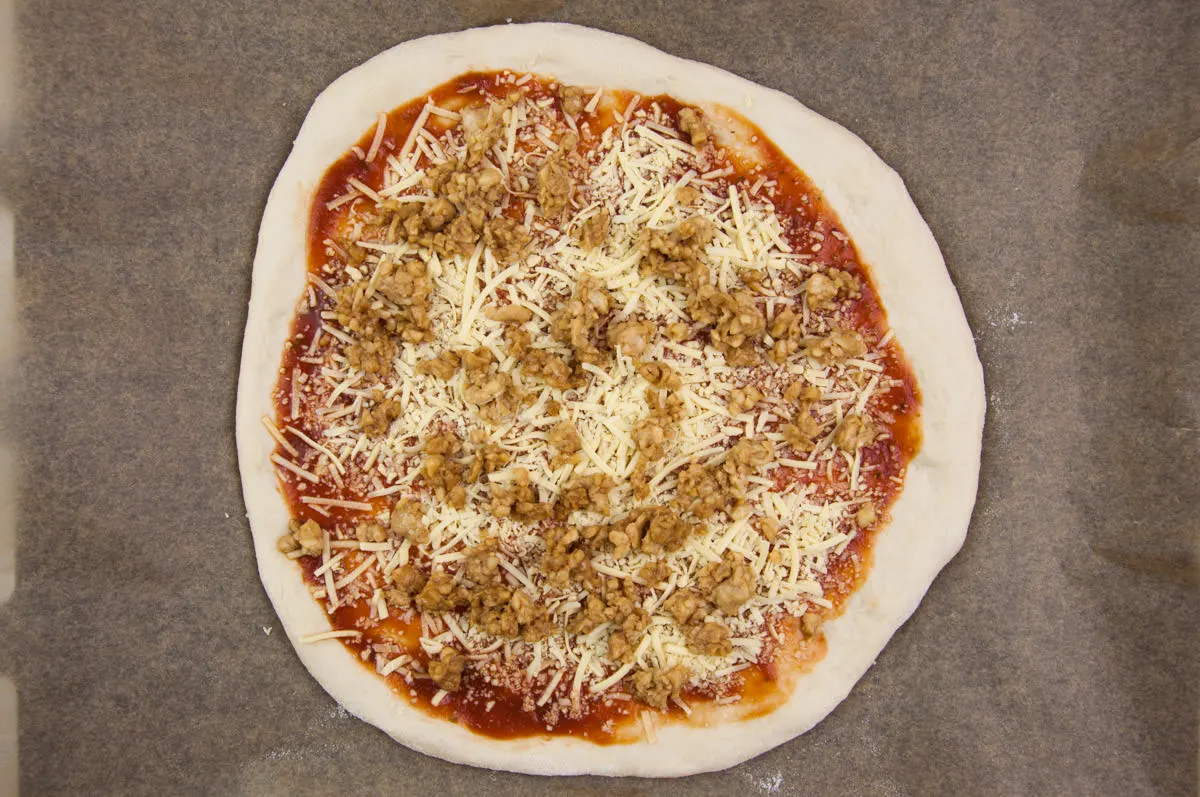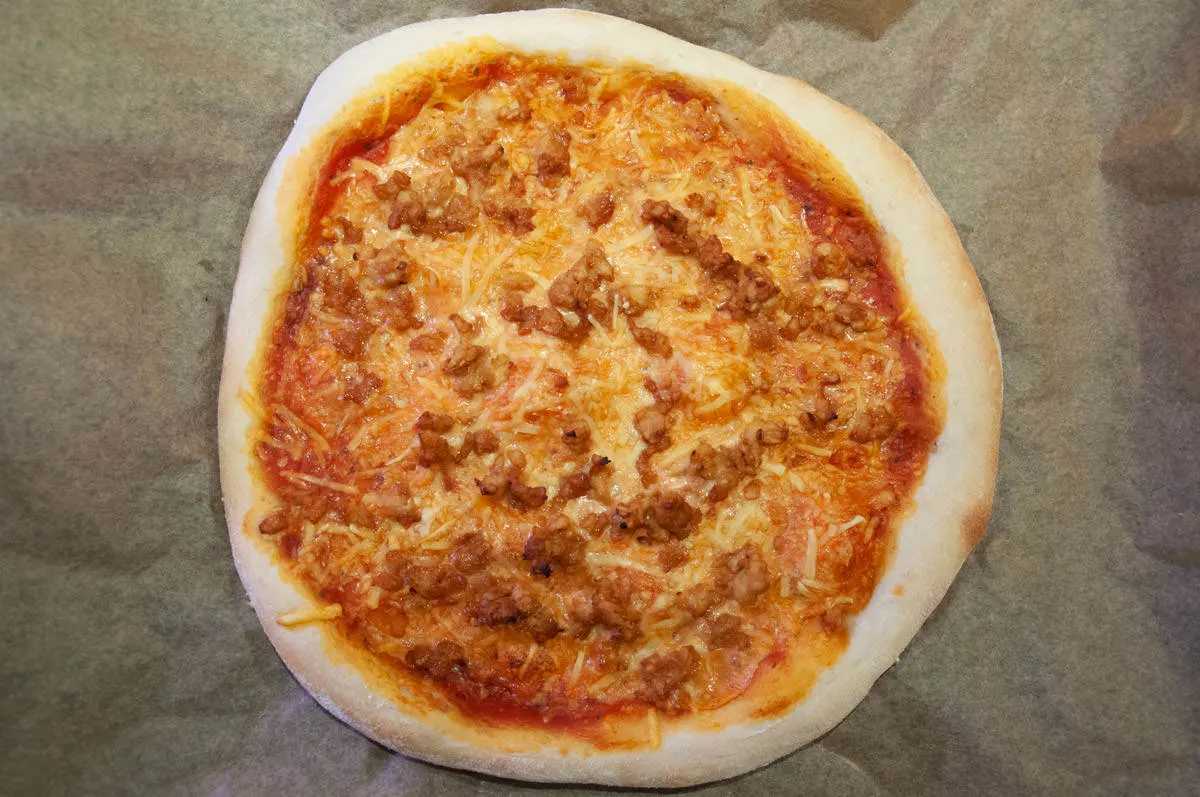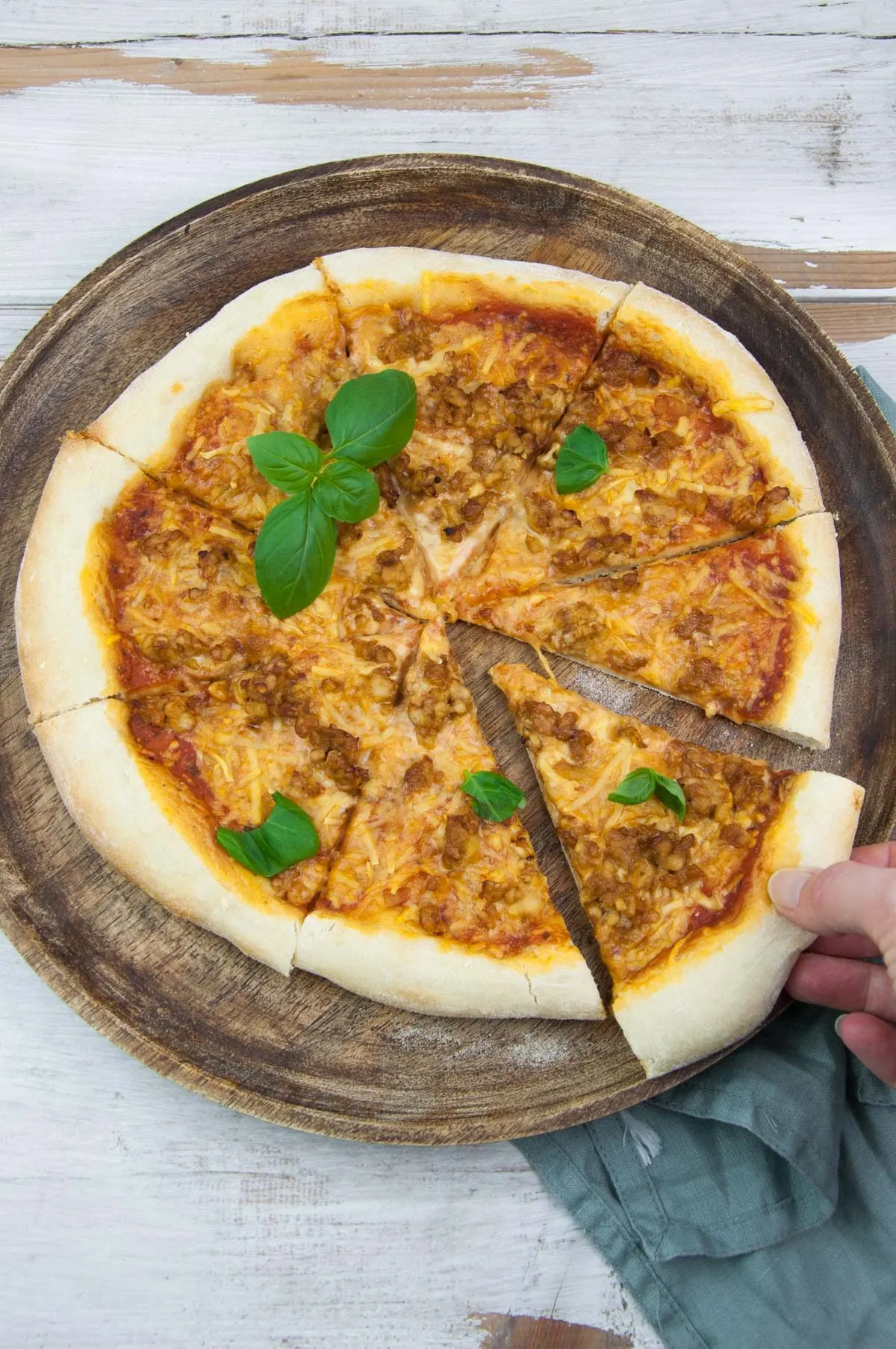 More vegan Pizza Recipes
Love it? Rate it!
I hope you will enjoy this vegan Tempeh Pizza as much as I did!
And don't forget to rate the recipe if you like it, this helps other users figure out if it is worth a try!
If you don't want to miss out on any new recipes, subscribe to my newsletter, follow me on Instagram and Facebook!
Cheers, Bianca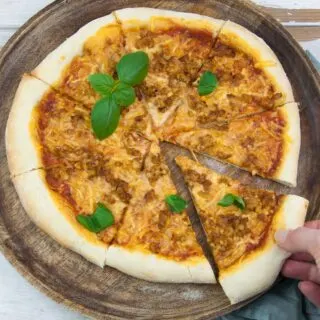 Vegan Tempeh Pizza
This vegan Tempeh pizza with homemade pizza crust, flavorful tomato sauce, vegan cheese, and marinated tempeh crumbles is so good!
Ingredients
Ingredients for the homemade crust
2

cups

all-purpose flour

+ more to dust the dough and surfaces

1

teaspoon

instant yeast

1/4

teaspoon

salt

1

teaspoon

olive oil

+ more to coat the dough

2/3

cup

water
Additional Ingredients
1/2

cup

tomato passata

1/4

teaspoon

salt

1/8

teaspoon

garlic powder

1/2

teaspoon

dried oregano

1/4

cup

vegan cheese shreds

fresh basil

to add on top after baking
Ingredients for the Tempeh Crumbles
4

oz

tempeh

2

teaspoons

canola oil

2

teaspoons

soy sauce

1/2

teaspoon

liquid smoke

1

teaspoon

maple syrup
Instructions
For the pizza dough: Combine the flour, instant yeast, and salt in a mixing bowl. Add the olive oil and water. Mix and knead by hand until it's a soft, non-sticky dough or put all the ingredients in a kitchen machine and let the machine knead the dough for you. (Finetune the dough: If it's too sticky, add more flour. If it's too crumbly, add more water.)

Coat the ball of dough in a drizzle of olive oil. Cover the bowl with a clean kitchen towel and let the dough rise until it has doubled in size (2-3 hours depending on the room temperature).

For the tempeh crumbles: Add tempeh to a food processor and pulse a bit until you end up with tempeh crumbles. Whisk together the marinade for the crumbles (soy sauce, canola oil, liquid smoke, and maple syrup). Add the tempeh crumbles and stir them around to marinate them evenly.

Preheat the oven to 480°F/250°C.

Divide the dough into two equal parts. Carefully roll it out on a lightly floured parchment paper into two pizza crusts (don't use too much pressure). You can stretch it a bit with your hands until it has the right shape.

Transfer the crust on the parchment paper onto a baking tray. Top the pizza dough with tomato passata, salt, garlic powder, and dried oregano. Spread the tomato sauce around. Then add the vegan cheese shreds and tempeh crumbles.

Bake the pizza for about 10 minutes until the crust is golden and crispy. Top with fresh basil and enjoy!
Nutrition
Calories:
722
kcal
Carbohydrates:
116
g
Protein:
28
g
Fat:
17
g
Saturated Fat:
3
g
Polyunsaturated Fat:
4
g
Monounsaturated Fat:
6
g
Trans Fat:
1
g
Sodium:
1093
mg
Potassium:
741
mg
Fiber:
7
g
Sugar:
6
g
Vitamin A:
343
IU
Vitamin C:
7
mg
Calcium:
121
mg
Iron:
9
mg
Affiliate Disclosure: This post may contain affiliate links, which means I may earn referral fees if you make a purchase through my link. While clicking these links won't cost you any extra money, they will help me keep this site up and running!