If you're following me on Instagram you may know already that I've made a super awesome Roasted Veggies Pizza with Whole Wheat Flour a few weeks ago. I didn't take any pictures, except the quick Instagram photo but when I took my first bite I regretted this decision immediately. It was so good I had to make it again (oohh… poor me) and publish the recipe on the blog and here it is: Vegan Whole Wheat Roasted Veggie & Tempeh Pizza.
Every once in a while I focus on using more whole wheat flour in my baking & cooking and ditch the white flour. For me, it's really hard to eliminate white flour completely but I love the welcome change. So I've made a whole wheat pizza dough for the base. It looks and tastes rather rustically and I love this about the pizza. It goes so well with the roasted veggies and the smoky tempeh.
Although it's a whole wheat pizza base, the dough is really easy to work with. As always I let my bread machine do the kneading but if you have a kitchen machine with a dough hook you can use that one or even knead it by hand.
I've made the tomato sauce a bit hot (Sriracha!) & smoky with the Liquid Smoke. I always use tomato purée to make a super quick tomato sauce. It feels like cheating – it's really that easy. Keep in mind tomato purée is not tomato paste. The purée is mostly sold canned or in Tetra Paks and it's not as thick as tomato paste.
I've put roasted eggplant, zucchini slices, mushroom slices and tempeh on my pizza, but you can use this recipe simply as an inspiration as well and put on your pizza whatever you feel like and what you have at home. However the combination I used was really, really good and I can recommend it completely.
Whole Wheat Roasted Veggies & Tempeh Pizza
Recipe for a vegan Whole Wheat Roasted Veggie & Tempeh Pizza. Very rustic and super delicious. You won't even miss cheese on this pizza!
Author:
Elephantastic Vegan
Ingredients
Ingredients for the pizza dough
2½ cups / 300g whole-wheat flour
½ teaspoon salt
½ package / ½ teaspoon active dry yeast
⅔ cup / 160ml warm water
1 tablespoon olive oil
1 pinch sugar
Ingredients for the toppings
¾ cup / 170g tomato purée*
¼ teaspoon Liquid Smoke
¼ teaspoon salt + more for the veggies & tempeh
⅛ teaspoon garlic powder
¼ teaspoon Sriracha Sauce
½ eggplant
½ zucchini
about 5 slices tempeh
4 cups / 500g mushrooms
olive oil for the pan
¼ teaspoon paprika powder
a few twigs fresh oregano
Instructions
For the pizza dough, put all the ingredients in a bread baking machine (use the dough program), kitchen machine or mix by hand and let it rise until it doubles in size.
Preheat the oven on full heat.
Form two balls with the dough and roll each of it out until it's a nice pizza base. At this step I already put the pizza base on a baking sheet and tray to make things easier afterwards.
Mix the tomato purée with the Liquid Smoke, salt, garlic powder & Sriracha Sauce and spread it over the pizza base.
Cut the eggplant and zucchini in thin slices and roast them in a pan with a bit of oil and salt for a few minutes and set aside.
Cut the tempeh in slices and in half. Pan-fry them with a bit of salt & paprika powder for a few minutes and set aside.
Wash & cut the mushrooms in thin slices and roast them in the pan until they lose most of their water.
Place the mushrooms, eggplant, zucchini and tempeh on the pizza and put it in the oven for about 20 minutes.
Top with fresh oregano once it's ready & enjoy!
Notes
*I used store-bought tomato purée (with salt, no additional herbs) for this recipe - it's often canned or in tetra paks, not to confuse with tomato paste which is thicker in consistency.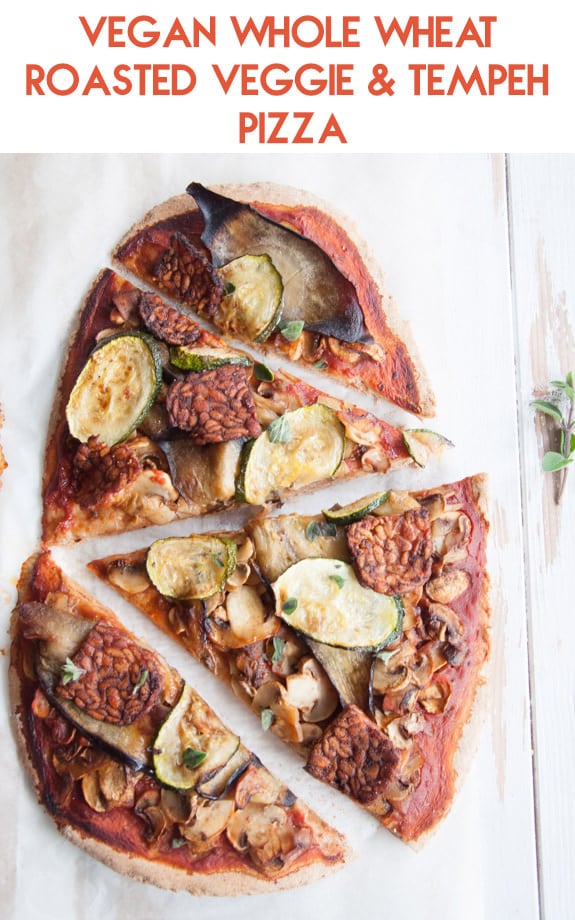 Should you decide to give this Whole Wheat Roasted Veggie & Tempeh Pizza a try I'd love to hear how it went! Write me a comment or post a picture on instagram, use the hashtag #elephantasticvegan and tag me via @elephantasticvegan to make sure I'll see it ^.^ I love to see all your lovely creations! Thanks! <3