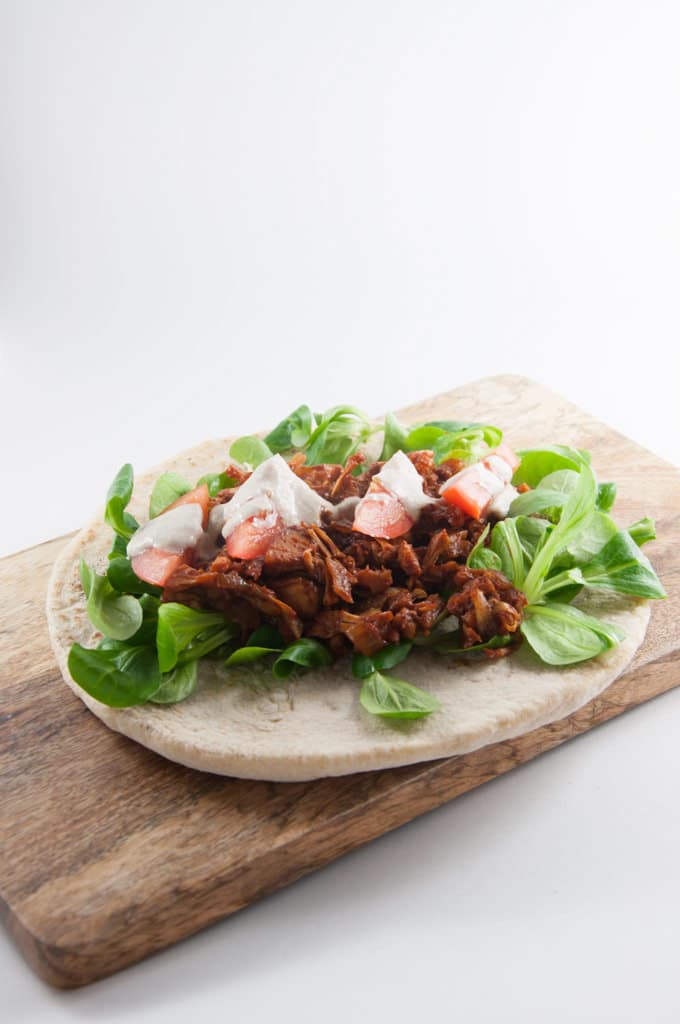 Seriously – I don't know why I waited that long to try Pulled Jackfruit. It's so good and not hard to make too. I guess the hardest part was to get the right jackfruit, because I've accidentally bought canned jackfruit in syrup and that's not the right one for this recipe (I've used the jackfruit in syrup for another recipe). For pulled jackfruit you want to buy the canned, unripe jackfruit in brine.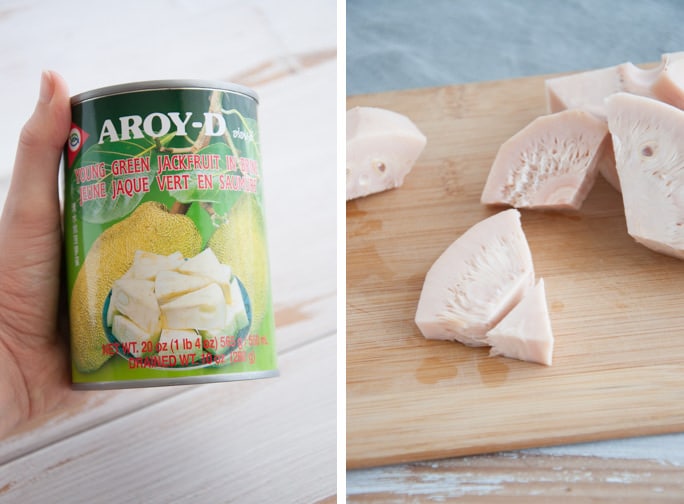 On top you'll see how it looks like before pulling it apart with a fork. Below it looks much more like pulled pork. For this wrap I've used super soft, fluffy thick homemade wheat & spelt tortillas, lamb's lettuce, a few tomato slices and my garlic sunflower seed dressing.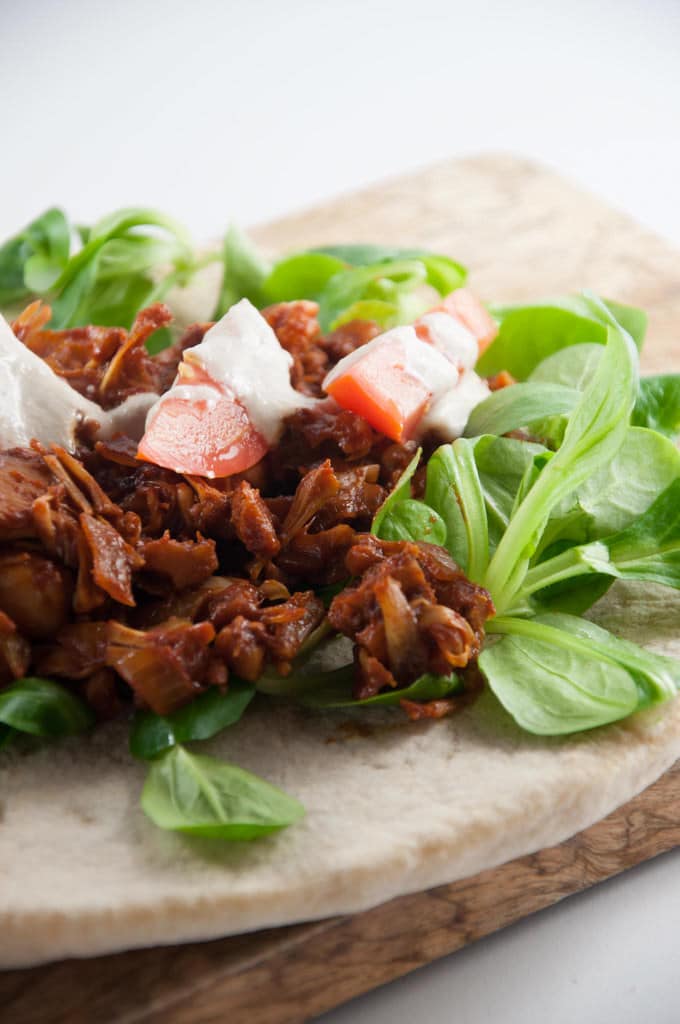 Doesn't the pulled jackfruit look super real? Like pulled pork? I've actually never, ever tried pulled pork so I don't know if it tastes similar, but it sure as heck looks like it! Even I was confused when I saw the pulled jackfruit in the pan after pouring the bbq sauce on top – and I was making the food! You should have seen my boyfriend's face! :D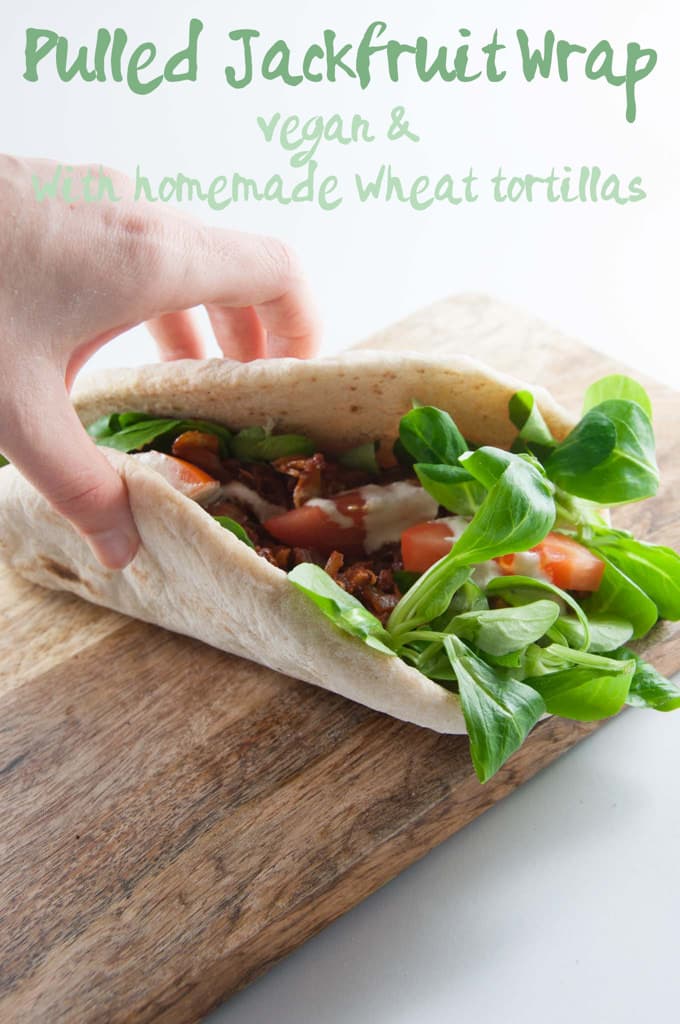 Pulled Jackfruit Wrap
Recipe for a vegan Pulled Jackfruit Wrap. Jackfruit is the perfect meat substitute. Cook it in spices, pull it apart, put it in a wrap and call it dinner. Done.
Author:
Elephantastic Vegan
Ingredients
Ingredients for the Pulled BBQ Jackfruit
1 teaspoon olive oil
1 tablespoon tomato paste
¼ cup water
¼ teaspoon garlic powder
¼ teaspoon paprika powder
¼ teaspoon curry powder
½ teaspoon salt
½ cup your favorite BBQ Sauce
Ingredients for the Wrap
Instructions
Prepare the tortillas and the garlic sunflower seed dressing.
Drain and rinse the jackfruit, remove the core of the jackfruit (harder triangular piece) for a better texture, and add the jackfruit to the pan. Pan-fry it for about 4 minutes, add the salt and spices and add the water, tomato paste, give it a good mix and let it simmer with the lid off until the water has been absorbed (about 15 minutes).
Use two forks to shred the jackfruits and to create this typical "pulled"-look!
Pour over the bbq sauce, give it a good mix, add additional spices to taste. Let it cook for another minute.
Then start assembling your Pulled Jackfruit wrap: Tortilla, lamb's lettuce, pulled jackfruit, tomato slices and drizzle it with the garlic sunflower seed dressing. Enjoy!
If you make this Pulled Jackfruit Wrap, I'd be so happy if you'd leave me a comment. Should you post a photo of it on instagram, please use the hashtag #elephantasticvegan and tag me via @elephantasticvegan. I loooove to see all your lovely creations! Thanks <3
10+ Vegan Jackfruit Recipes You'll Love
Check out more delicious vegan recipes using jackfruit!