Make your own vegetarian alternative to chicken nuggets with PUMPKIN! These vegan Pumpkin Nuggets are crispy on the outside and soft & creamy on the inside.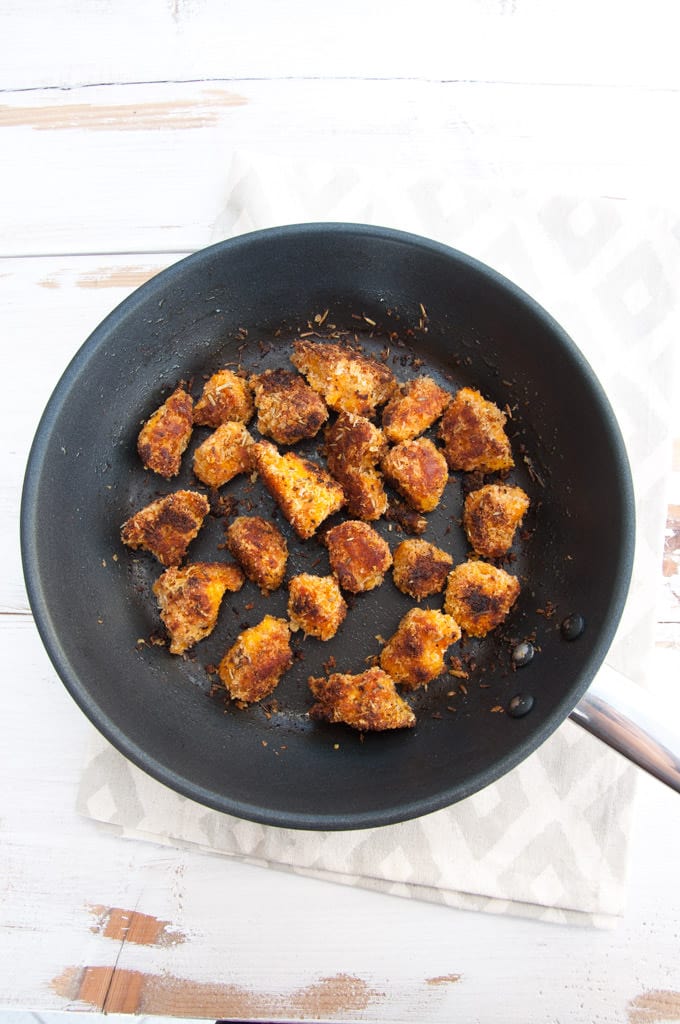 I've got a huge beast of pumpkin from a work colleague (aren't food gifts the best?!) and part of it was used to create these vegan Pumpkin Nuggets. They are little pumpkin bites coated in crispy panko flakes. Absolutely delicious! And I have to warn you, these are quite addictive, I had a few days were I only ate these in different meals – on a mixed plate, in pitas, in wraps or plain…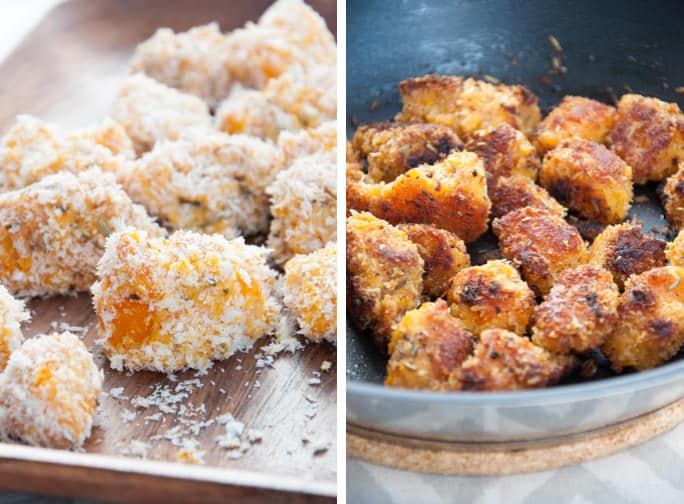 Left are the pumpkin bites coated in panko flakes (and spices) before they met the pan, on the right side they are already pan-fried. Alternatively, you could bake them, but they get a nicer golden color and will be crispier, when fried in oil. Also, the taste!! :D
For the seasoning, I used pretty much my go-to seasoning: salt, paprika and dried rosemary. Because everything tastes better with rosemary.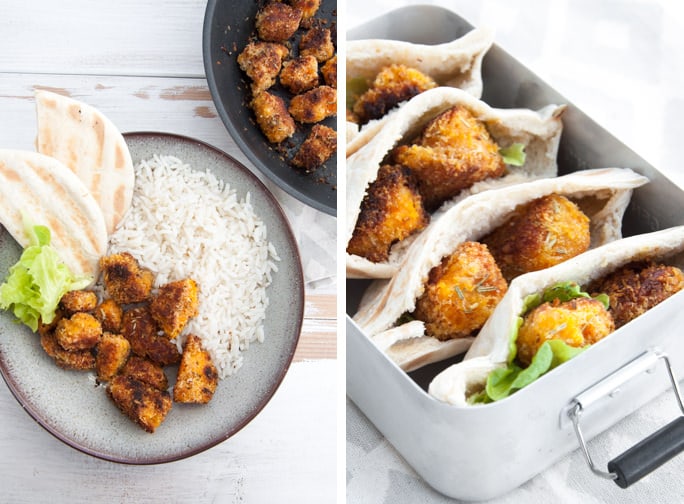 Uses for these vegan Pumpkin Nuggets are versatile. I've had them on a plate with white rice, salad and pita bread, snacked them as they were (yumm!) and stuffed them in pitas and brought them to work (and got lots of jealous looks!). They are so good!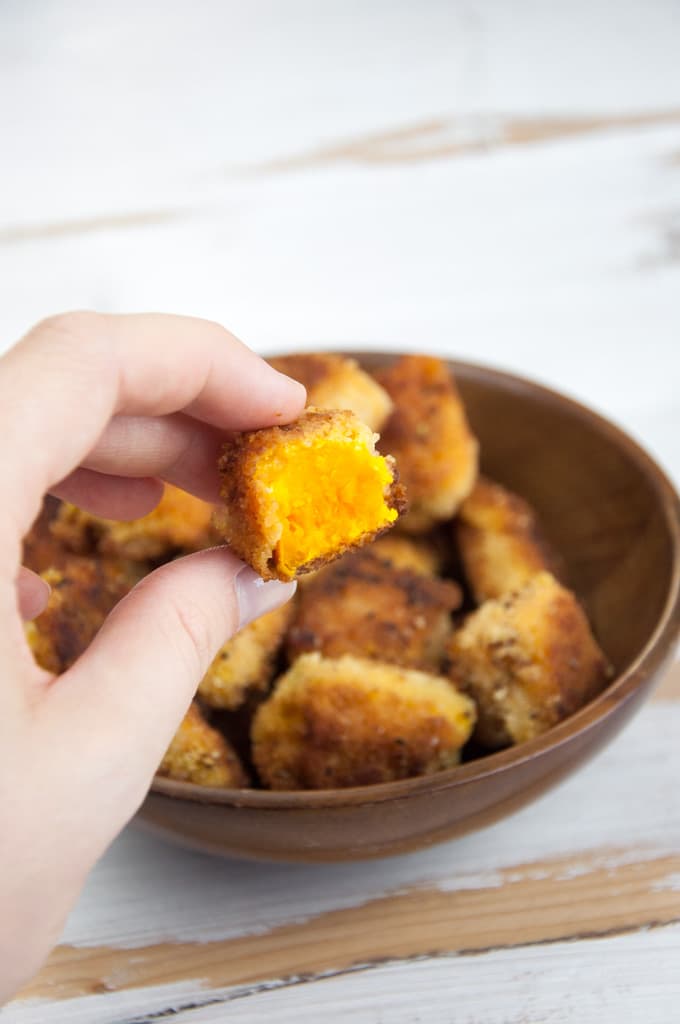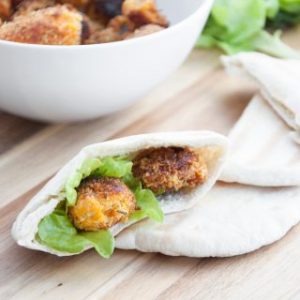 Vegan Pumpkin Nuggets
Recipe for vegan Pumpkin Nuggets. Crispy on the outside, soft and creamy on the inside. These little pumpkin bites are perfect for wraps, pitas or to snack them as they are.
Ingredients
3

cups

pumpkin

, chopped in chunks
Ingredients for the coating batter
Ingredients for the breading
1

cup

panko flakes

1/2

teaspoon

salt

1/4

teaspoon

paprika powder

1

teaspoon

dried rosemary

olive oil for the pan
Instructions
Boil the pumpkin in a pot with water until they get softer, they shouldn't be too mushy, though.

Mix the ingredients for the coating batter.

Mix the ingredients for the breading.

Drain the boiled pumpkin bites and toss them in the breading batter, then toss a few pieces into the breading. Give it a good mix so it's coated on all sides. Repeat until all the pumpkin pieces are coated.

Heat a pan with olive oil, and pan-fry the pumpkin pieces on each side until they are nice golden brown. Let them cool off a bit, before serving because they are HOT. :)
Nutrition
Calories:
93
kcal
Carbohydrates:
16
g
Protein:
4
g
Fat:
1
g
Sodium:
371
mg
Potassium:
301
mg
Fiber:
1
g
Sugar:
3
g
Vitamin A:
4980
IU
Vitamin C:
5.2
mg
Calcium:
35
mg
Iron:
1.4
mg

If you give these vegan Pumpkin Nuggets a try I'd love to hear how they turned out for you! Leave a comment or post a picture on instagram, use the hashtag #elephantasticvegan and tag me via @elephantasticvegan to make sure I'll see it ^.^ I love to see all your lovely creations! Thanks! <3