Seitan is the perfect base for making Vegan Chicken Nuggets because it's super meaty and juicy (at least the seitan I am making)! Who doesn't love golden, crispy Vegan Nuggets?!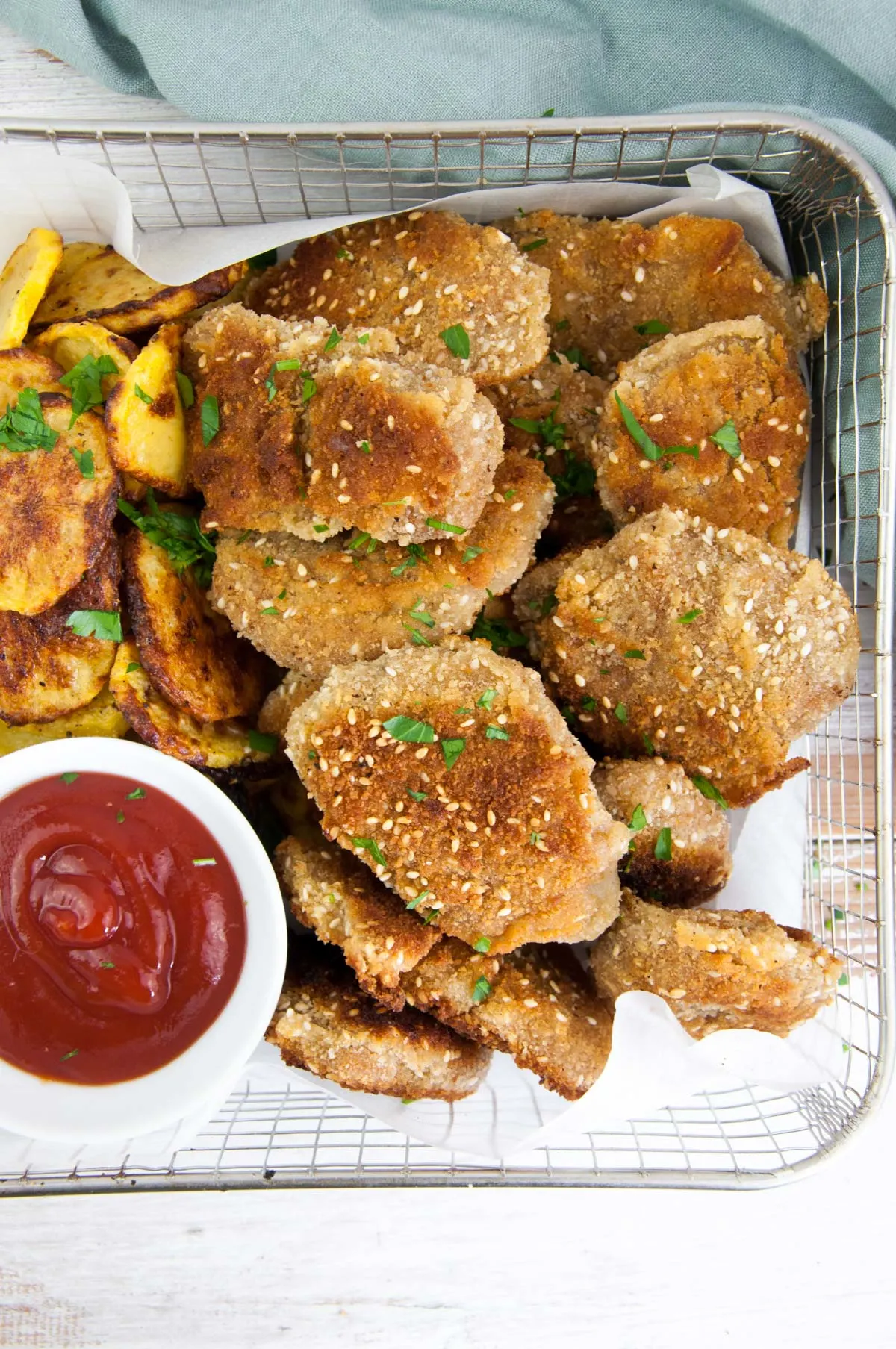 If you have bought seitan once, tried it, and didn't like it. I urge you to give MY version of homemade seitan a try because you can't compare it! While store-bought seitan is often rubbery and hard, my seitan is the complete opposite – it's juicy, soft, and full of flavor.
This is also the reason why seitan is the perfect base for these Vegan Chicken Nuggets.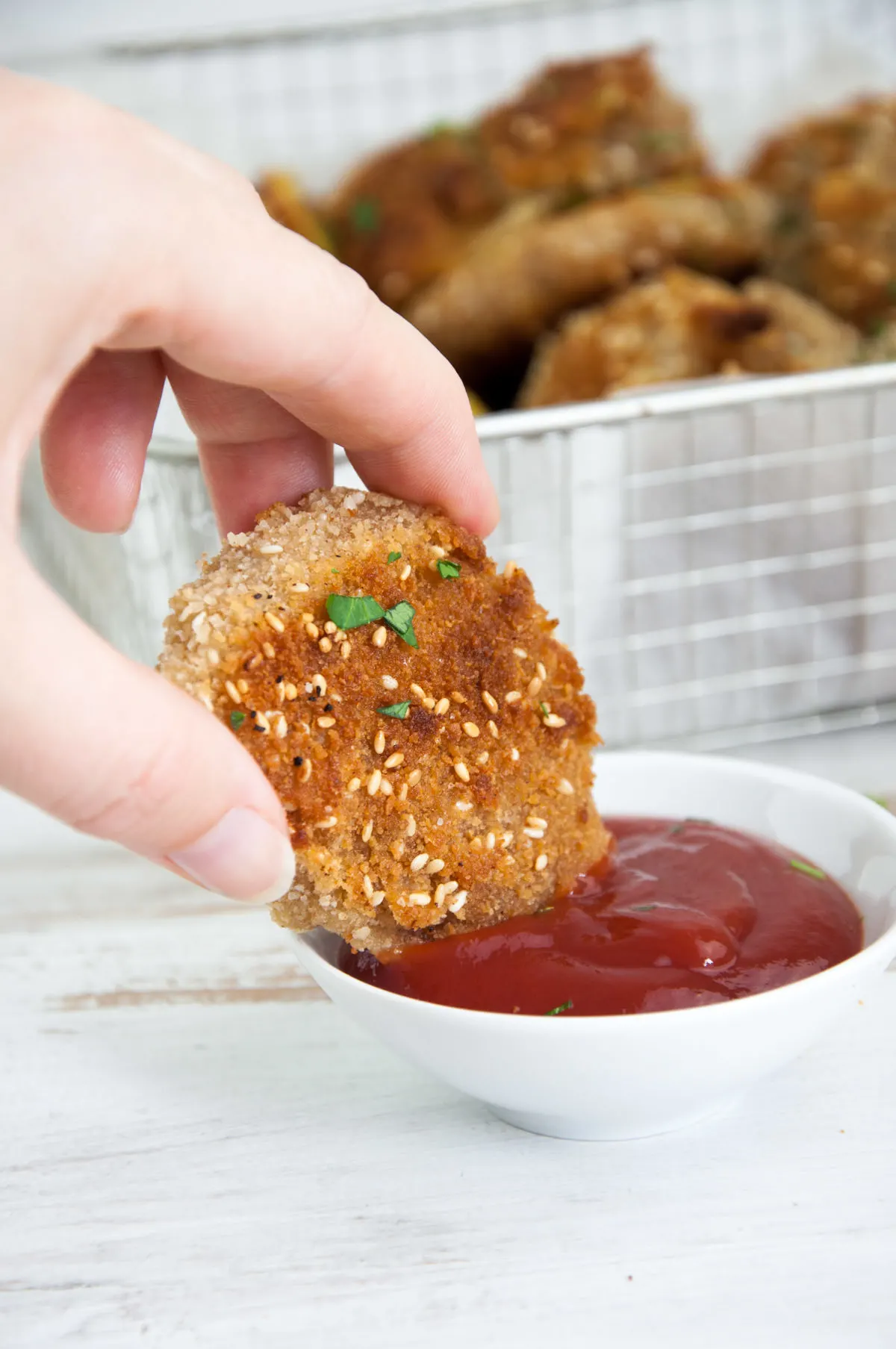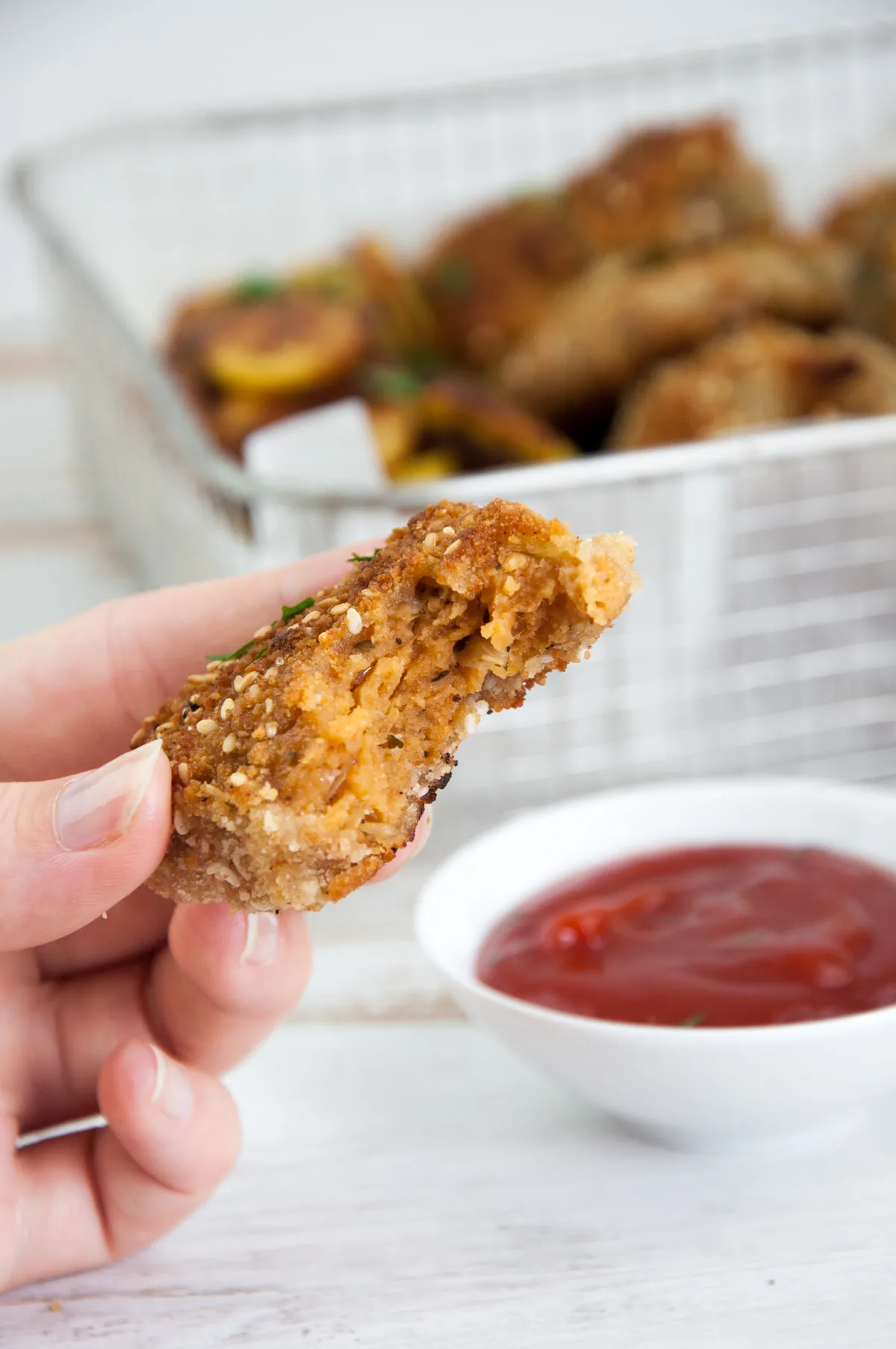 In case you're wondering: What is Seitan?
Seitan is a vegan meat alternative. If you combine wheat flour with water, form it into a ball, and wash it in water until all the white stuff washes away, what you are left with is seitan. So it's pure gluten. In this recipe, we are not making seitan with wheat flour because it takes much longer to make. We are using vital wheat gluten, which is basically seitan flour.
You can use seitan in any dish in which you want to substitute meat. Seitan is especially great for steaks, schnitzel, sausages, gyros, Philly cheesesteak sandwiches, pepperoni, curries, goulash, or stews.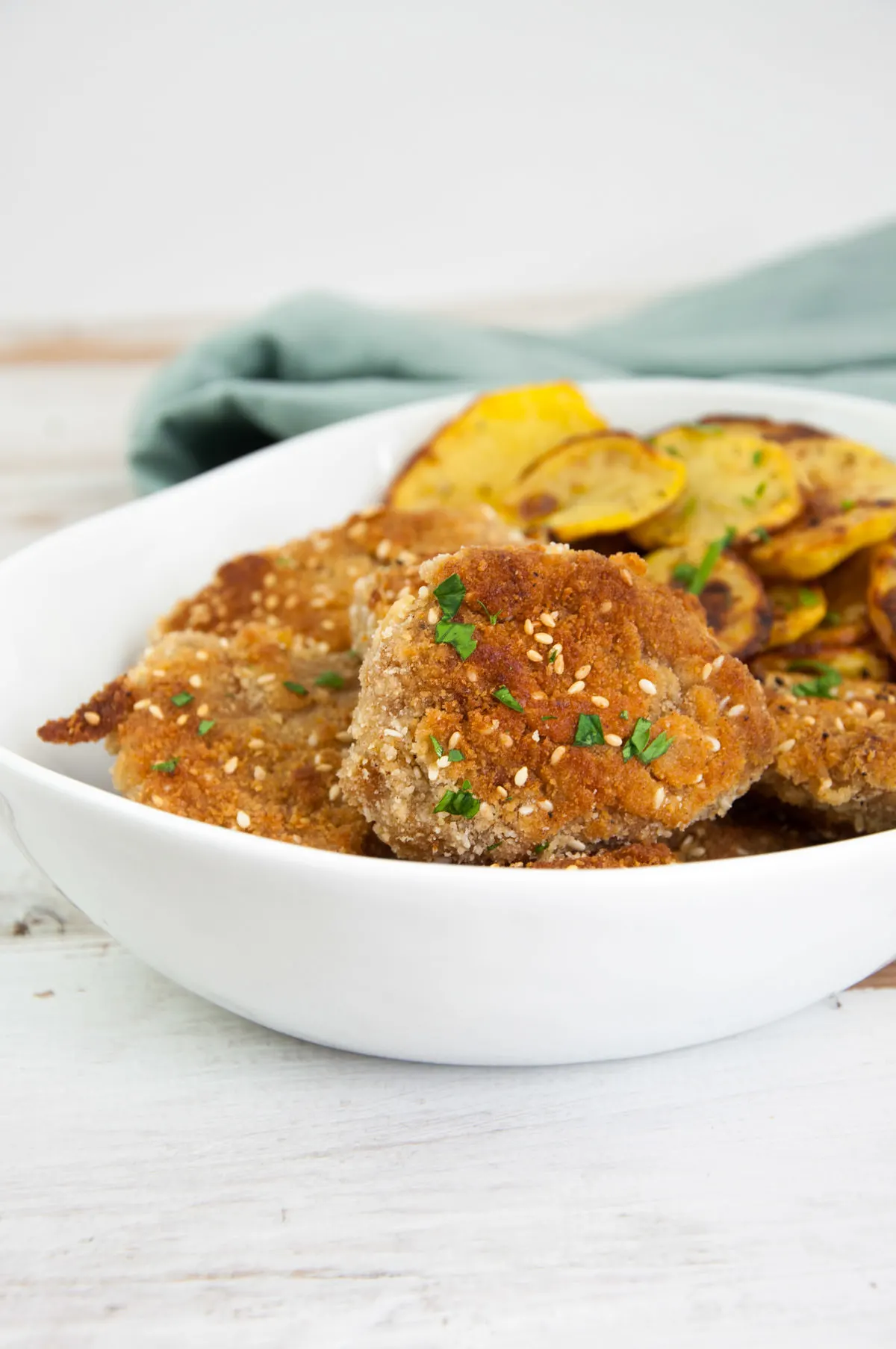 The Ingredients for the Seitan
You will need:
vital wheat gluten (a shortcut to making seitan because washing flour until the starches are washed away isn't fun (and takes a long time!)
onion & garlic
herbs & spices: thyme, fennel seeds, caraway seeds, salt, smoked paprika powder, and regular paprika powder
cooked chickpeas (to balance out the flavor and texture)
soy sauce (adds saltiness)
tomato paste (adds color)
sparkling water (gives the seitan an almost fluffy texture that is not as tough as store-bought seitan)
That's it! Sounds easy, right? Well… it's not hard.
Here's another pro-tip: We don't even knead the seitan by hand. We just let the food processor knead the seitan. That's what I call a kitchen helper.
How to make Seitan Chicken Nuggets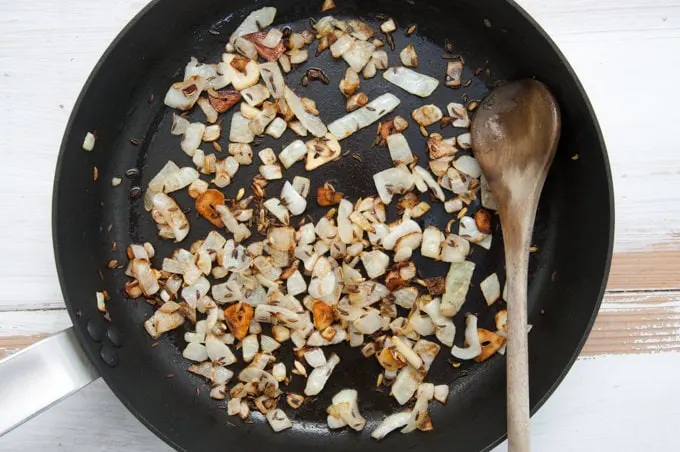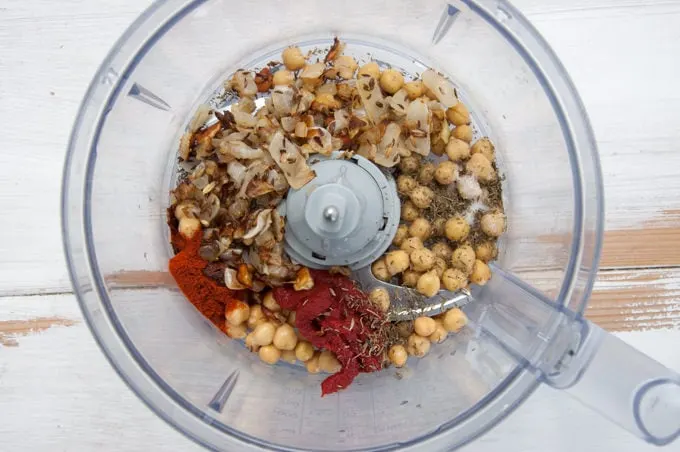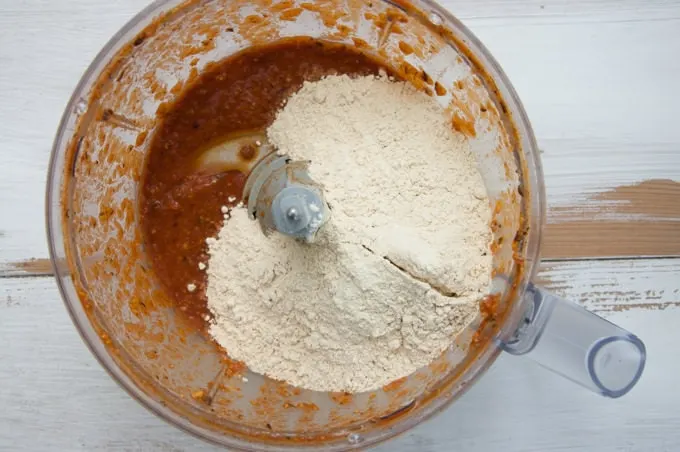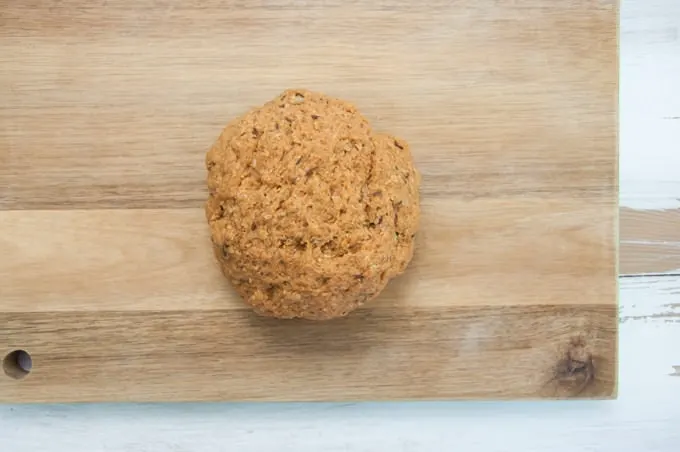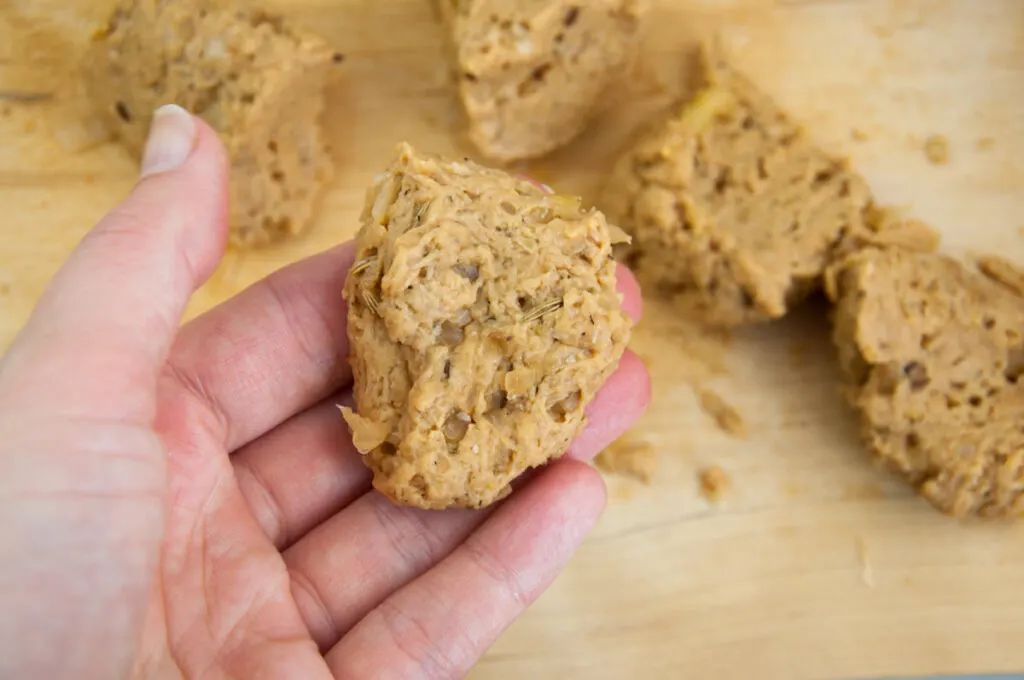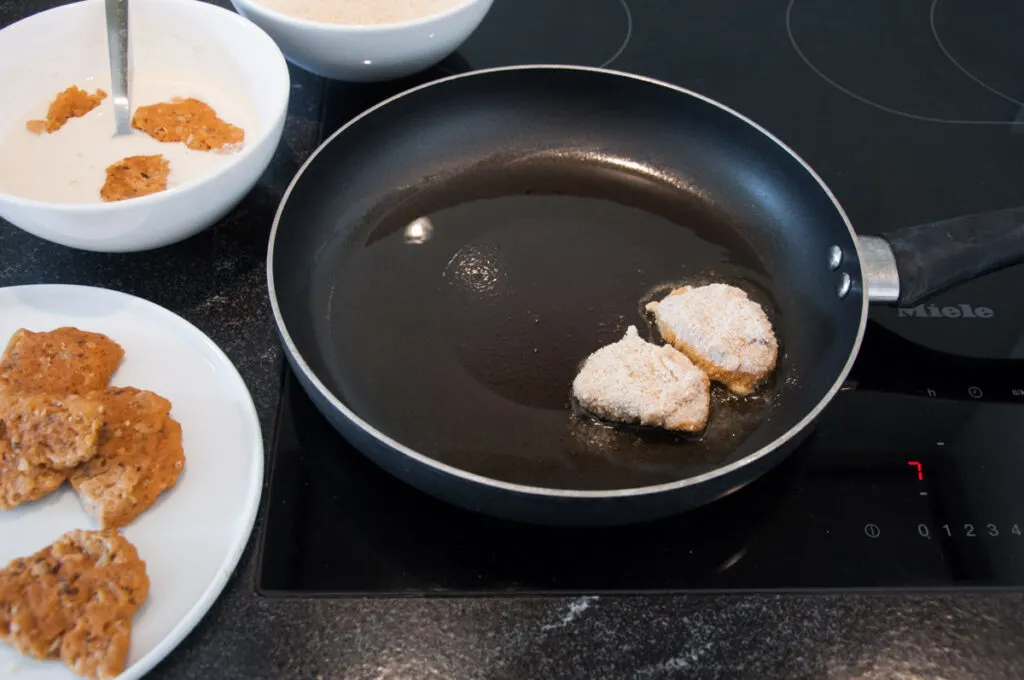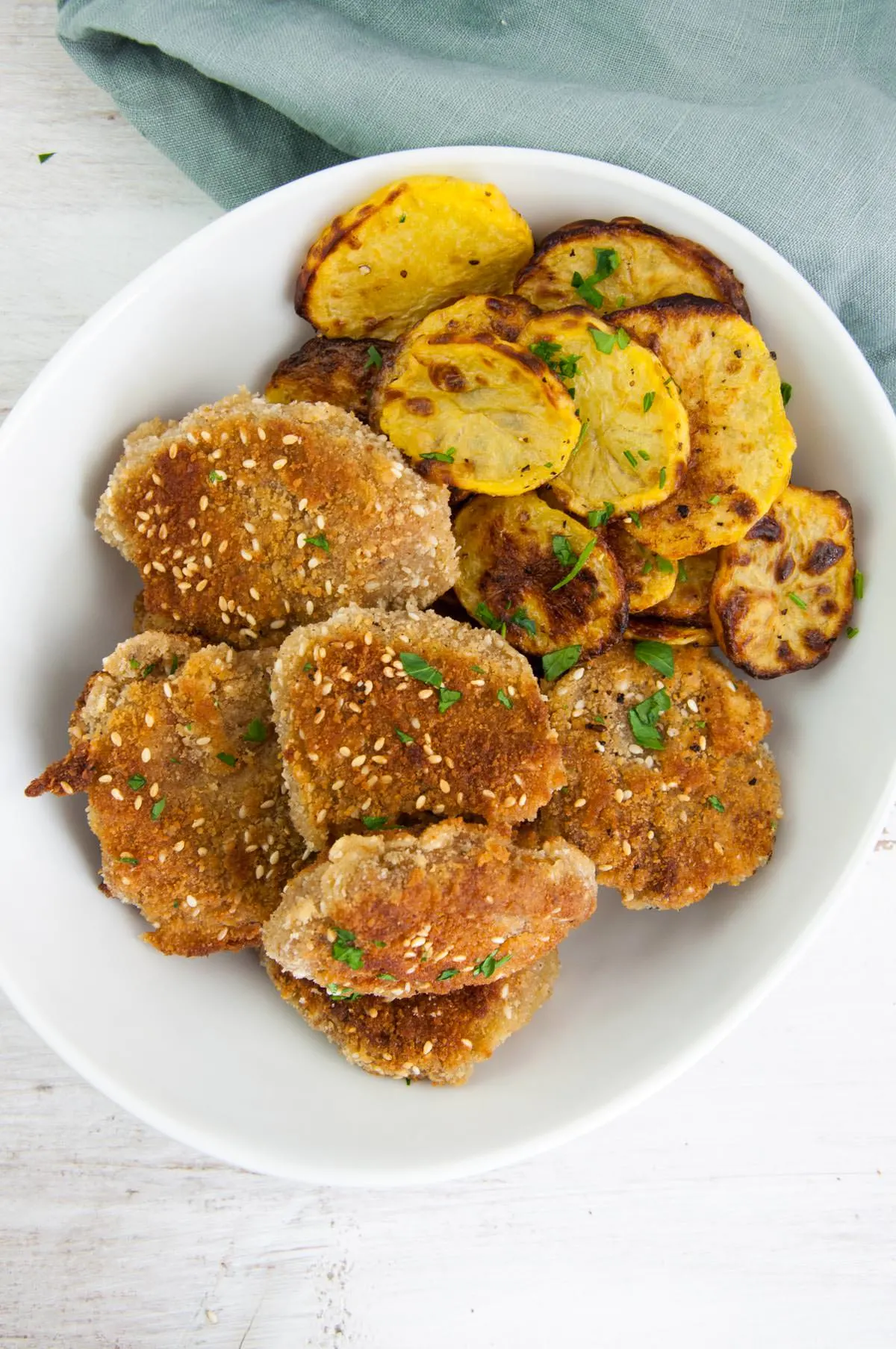 Your questions answered!
How to make Seitan that isn't spongy/rubbery/tough?
My super secret ingredient for Seitan that doesn't have the texture of a rubber mallet is sparkling water! It's just a simple substitution with a huge effect. The seitan has an almost fluffy consistency! Keep in mind that the texture of seitan changes with time. Seitan will be a bit tougher and chewier if you eat it the next day. Breaded seitan will stay softer than 'naked' seitan.
Can you freeze Seitan?
Yes, I've tried it with this seitan recipe and it works great! I would freeze the seitan only and add the breading when you are ready to eat it. Let the seitan cool off completely, place the seitan in a freezer-safe container or ziplock bag, freeze. When you want to eat it, let it thaw at room temperature for a few hours, dip in egg replacement, bread, and pan-fry. Good as new!
How to make Seitan without a food processor?
I would recommend using a blender to make the flavorful liquid sauce for the seitan (onion, garlic, chickpeas, spices, etc.), then pour it into a bowl, add the vital wheat gluten and knead with your hands until combined.
Can you substitute the vital wheat gluten?
Many ask me what to use instead if you're having a gluten intolerance. I haven't found a suitable substitute for the vital wheat gluten until now. If you have a gluten intolerance, then seitan is the last thing you want to eat. There's lots of other stuff though! :)
More Seitan Recipes you will love
Love it? Rate it!
I hope you'll enjoy these vegan Seitan Nuggets as much as I do!
Let me know if you give this recipe a try! I'd love to hear how it turns out for you.
If you don't want to miss out on new recipes, subscribe to my weekly newsletter and follow me on Instagram and Facebook!
Cheers, Bianca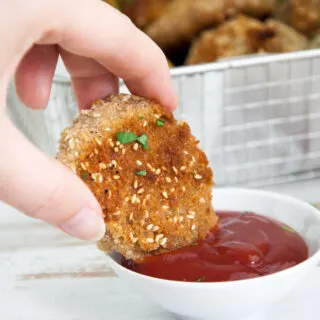 Seitan Chicken Nuggets
These homemade Seitan Chicken Nuggets are soft and juicy on the inside, golden and crispy on the outside!
Equipment
Ingredients
Seitan Base
1/2

tablespoon

canola oil

1/2

white onion

– chopped

2

garlic cloves

– chopped

1/4

teaspoon

caraway seeds

1/4

teaspoon

fennel seeds

1/4

cup

cooked chickpeas

1

tablespoon

tomato paste

1/2

teaspoon

thyme

1/2

teaspoon

smoked paprika powder

1

tablespoon

soy sauce

1/4

cup

sparkling water

3/4

cup

vital wheat gluten
Egg Replacement
1/2

cup

all-purpose wheat flour

1/2

cup

water

1/2

teaspoon

kala namak

or 1/4 teaspoon regular salt
Breading
1

cup

breadcrumbs

2

tablespoons

white sesame seeds

1/4

teaspoon

paprika powder

1/4

teaspoon

salt
Additional Ingredients
2-3

tablespoons

canola oil for pan-frying
Instructions
In a large pan with canola oil, sautée the chopped onion and garlic until soft. Add the caraway and fennel seeds. Let it cook for another minute until the spices are toasted.

In a food processor, add the chickpeas, onion-garlic-spices mixture, tomato paste, thyme, smoked paprika powder, soy sauce, and sparkling water. Pulse until it's saucy. Then add the vital wheat gluten and pulse again until it comes together in a ball.

Prepare a large pot (filled with a couple of inches of water) with a steaming basket and bring the water to a boil.

Divide the seitan into 14 equal pieces and flatten them with your hands until they are 0.5-1 inch thick (2-3cm). Add the nuggets into the steaming basket (without overlapping each other, you might have to work in batches) and let them steam for about 10 minutes, flipping them after 5 minutes.

In one bowl, combine the ingredients for the egg replacement, whisk until smooth. You might have to add a bit more water to get the consistency right.

In a second bowl, combine the ingredients for the breading.

Once the seitan nuggets are soft, let them cool off a bit, then dip them first in the egg replacement, then coat them in the breading until you've got them all coated.
Nutrition
Calories:
106
kcal
Carbohydrates:
11
g
Protein:
7
g
Fat:
4
g
Saturated Fat:
1
g
Trans Fat:
1
g
Sodium:
191
mg
Potassium:
60
mg
Fiber:
1
g
Sugar:
1
g
Vitamin A:
39
IU
Vitamin C:
1
mg
Calcium:
40
mg
Iron:
1
mg
Affiliate Disclosure: This post may contain affiliate links, which means I may earn referral fees if you make a purchase through my link. While clicking these links won't cost you any extra money, they will help me keep this site up and running!