These vegan Lotus Root Tempura are such a pretty appetizer! For the perfectly crisp and light tempura batter, I am using sparkling water, corn starch, and all-purpose flour.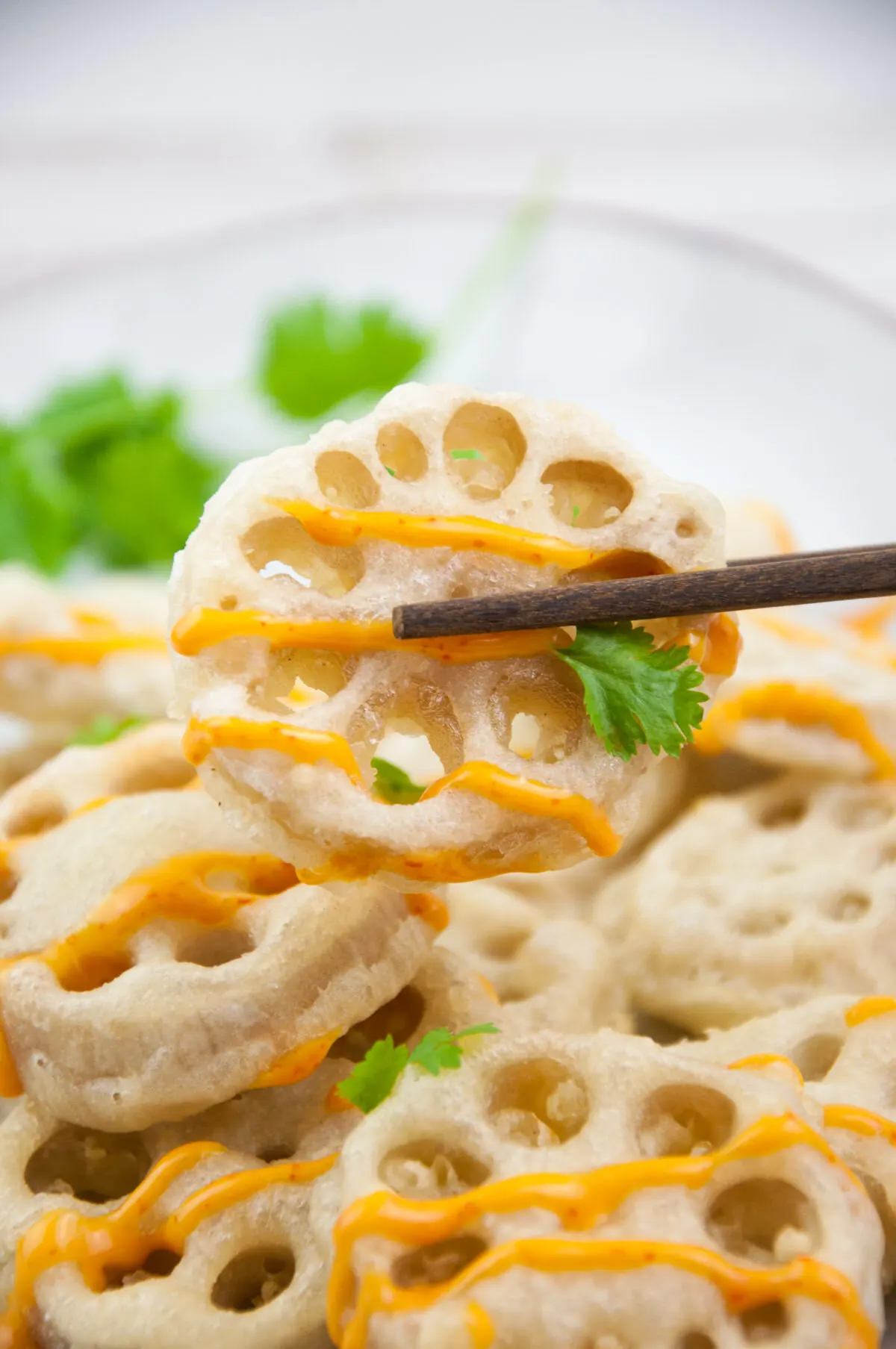 Lotus root is used a lot in the Southern and East Asian cuisine.
So when I found it at a local Asia market, frozen and conveniently already cut into slices, I just had to buy it. Was it clever to buy 1kg of frozen lotus root without any plan on what to do with it? Definitely not. It took a lot of space in my freezer for too long now, so I was looking for delicious ways to put it to good use.
I knew I want to try a breaded version because that's the way I had lotus root for the first time when I was in Berlin. But I also wanted to keep the batter light enough, so that the holes of the lotus root would come through, that's why I opted for a tempura batter.
The batter, by the way, is the perfect batter to make anything tempura. Broccoli. Carrots. Cauliflower. Vegan shrimps. Tofu. Whatever you can think of. You can tempura it.
Oh and don't worry about the frying part, you don't need a deep fryer to make these Lotus Root Tempura. I fry them in a small wok (which is perfect for frying because the base is narrow but it gets wider on top and therefore you don't need that much oil) but a regular pot will also work!
I added a bit of salt, sriracha mayo, and cilantro on top. I would definitely recommend adding a sauce or at least a dipping sauce. Because lotus root on its own doesn't that like much (more like a potato?), and the tempura batter isn't super flavorful either, it should just add that lovely crunch. But I loved the sriracha mayo and cilantro combo! I imagine it would also be really good with a thinner version of hoisin sauce or simply soy sauce.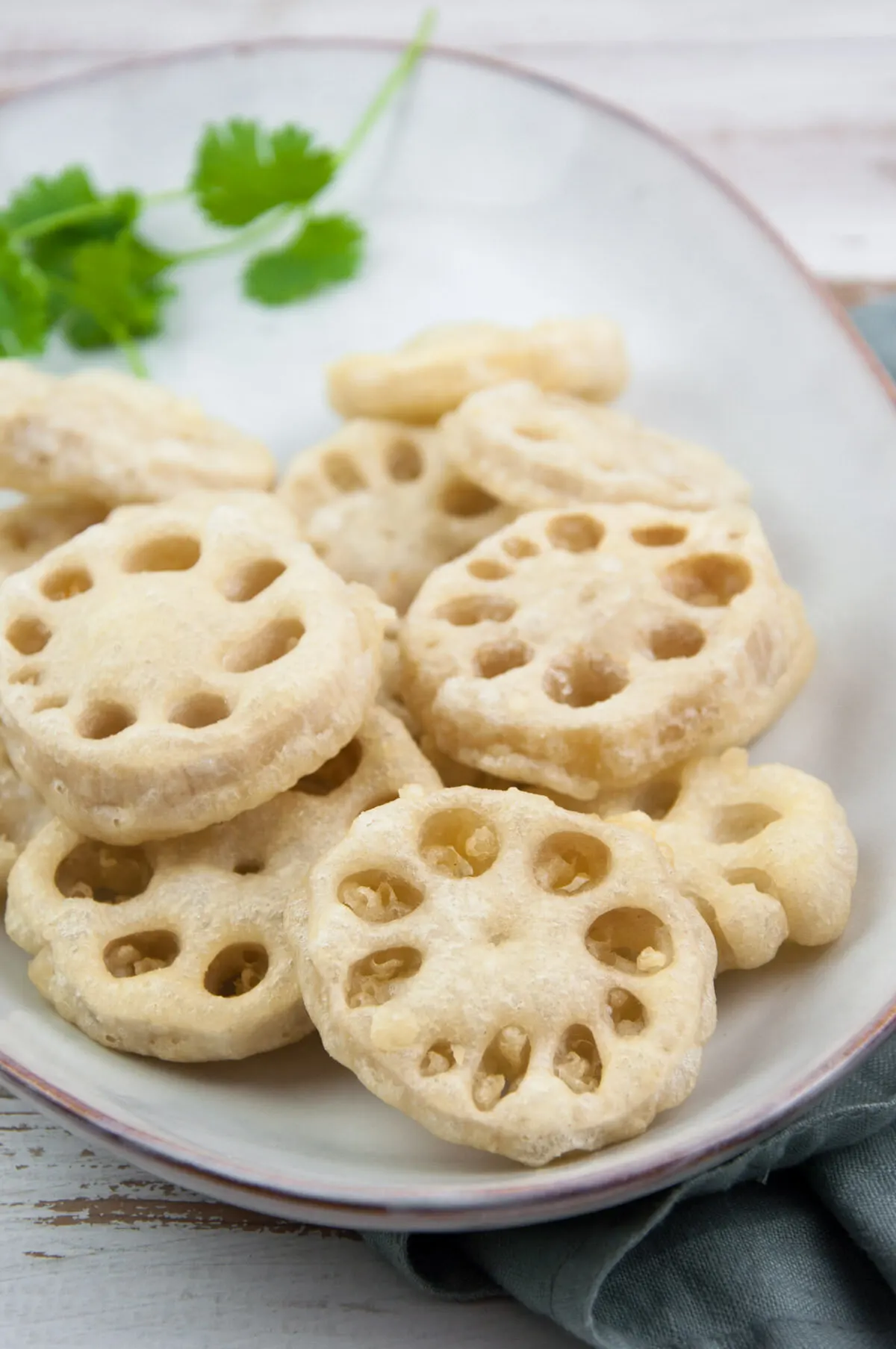 How to make Lotus Root Tempura
As always you will find the whole recipe in the box below, but I want to give you an overview of the key ingredients and the process with step-by-step photos first.
The Ingredients & Variations
You will need:
lotus root – I use frozen lotus root already cut into slices.
frying oil – I use rapeseed oil but you can also use canola, sunflower oil, or peanut oil.
all-purpose flour – I did not try a GF version, if you do try it out with GF flours feel free to let me know how it goes in the comments
corn starch – adds that certain crisp and lightness
sparkling water
salt
The basic steps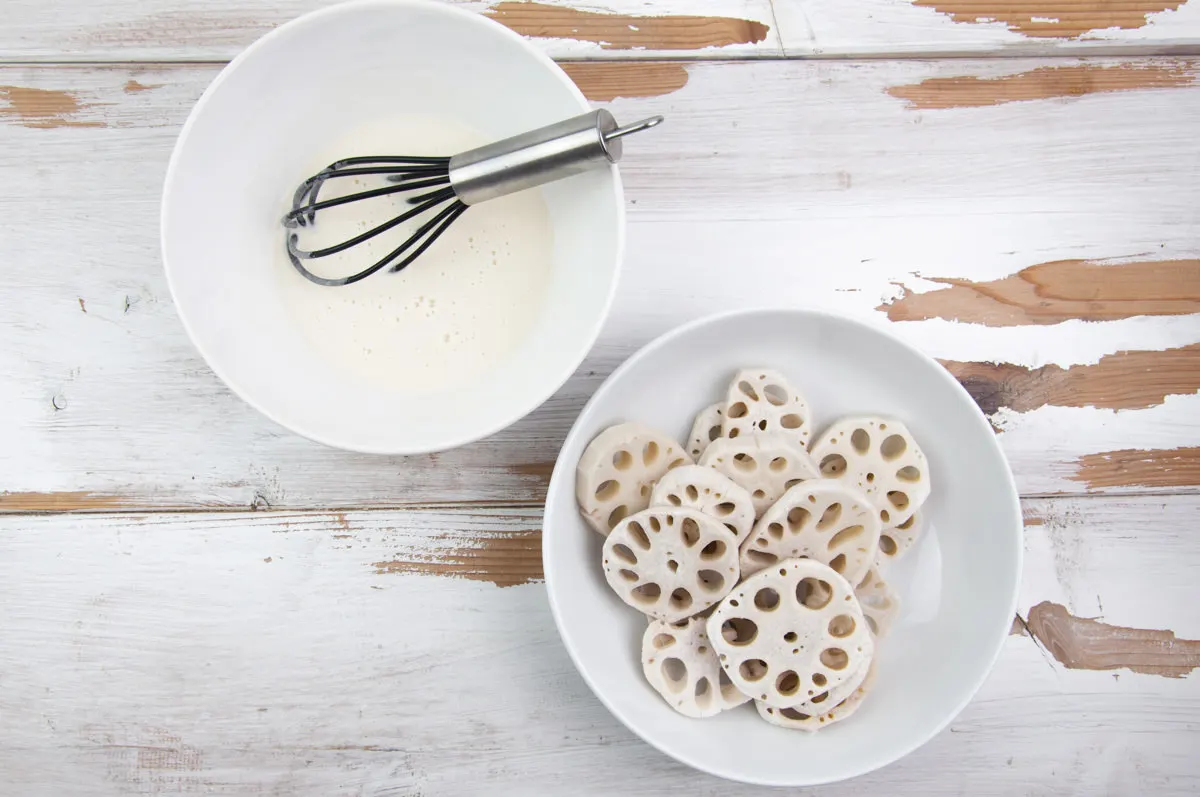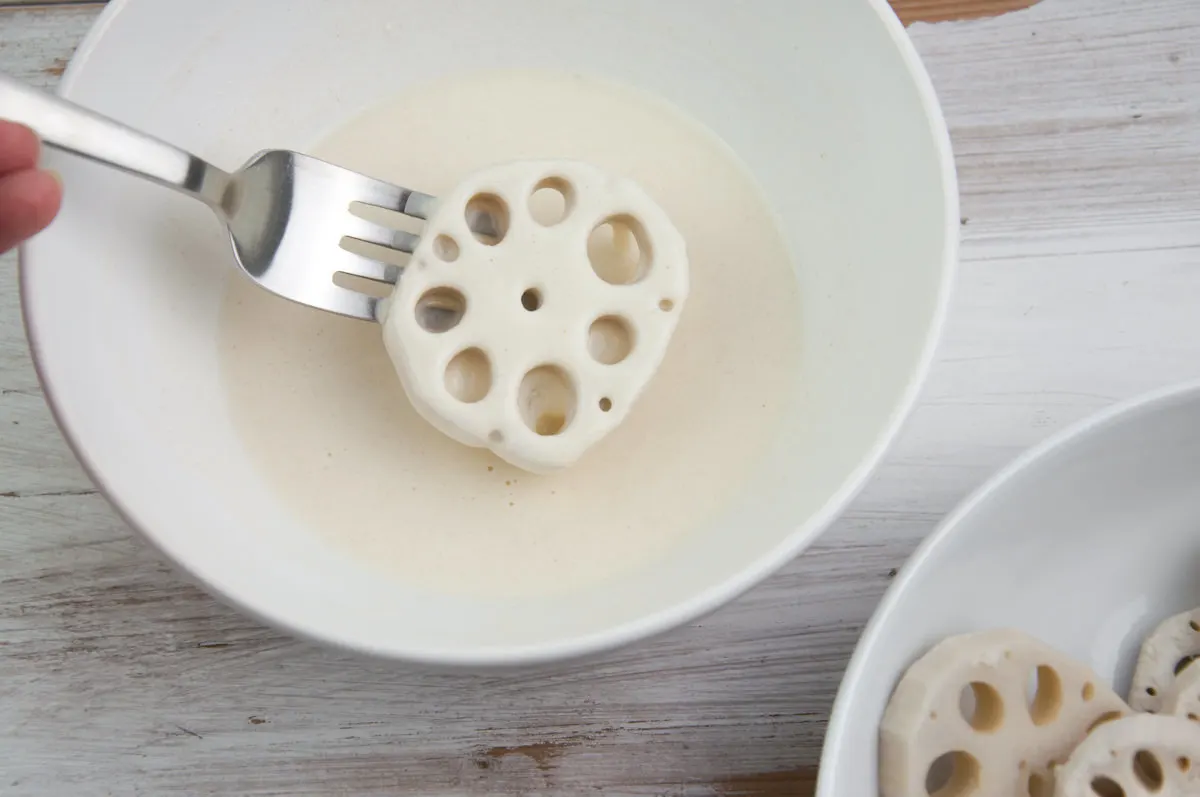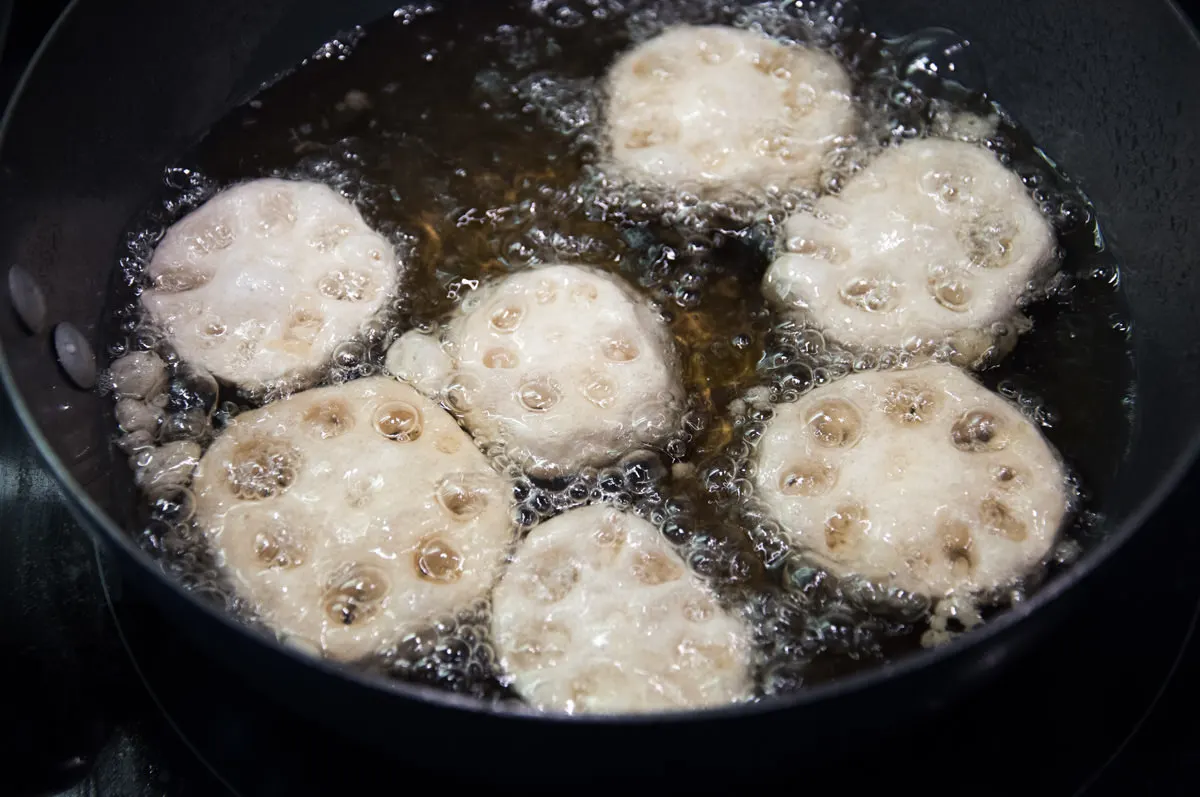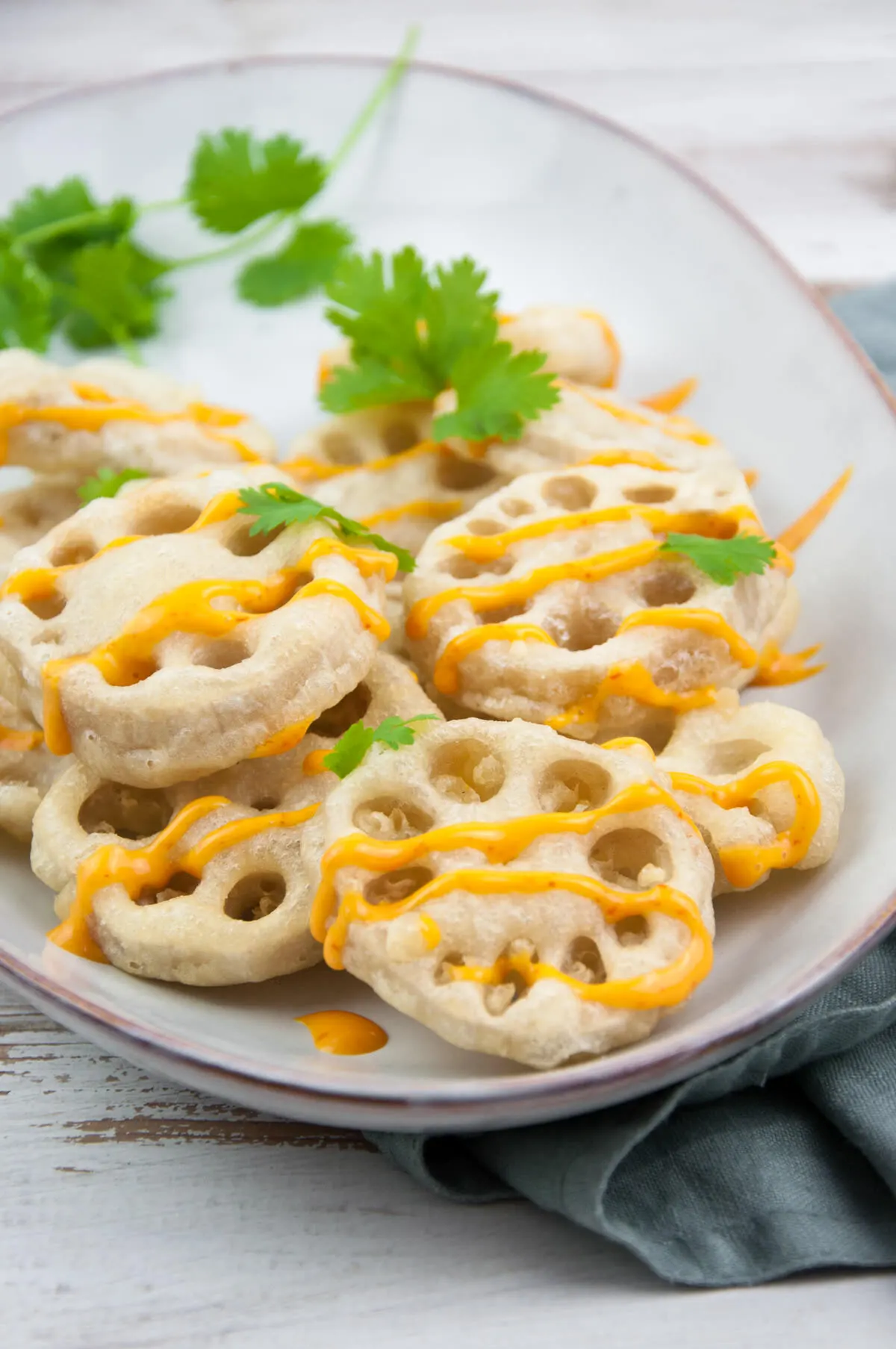 Lotus Root Tempura FAQ
Can I bake them or make them in an air fryer instead?
You can BUT you need to make a thicker batter because otherwise, it would just drip off the lotus root. Add more flour to the mixture until it's less drippy.
Can I use this tempura batter for different veggies?
Yes! It's the perfect tempura batter for all kinds of veggies: broccoli, cauliflower, carrots, sweet potato slices, and even vegan shrimps or tofu!
Can I use fresh lotus root instead?
Yes. Peel it, cut it into slices, blanch it, and then you can follow the recipe as it is.
What to do with the leftover frying oil?
Don't let that precious frying oil go to waste. Let it cool off, then pour it through a sieve to remove small bits, pour it into an air-tight glass jar, and reuse it!
Here are more vegan fried recipes:
Love it? Rate it!
I hope you enjoy these vegan Lotus Root Tempura as much as I do! Let me know if you give them a try!
If you don't want to miss out on new recipes, sign up for my weekly newsletter, join me on Instagram and Facebook.
Cheers, Bianca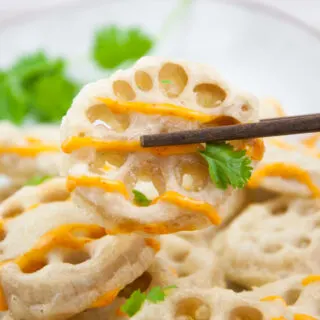 Vegan Lotus Root Tempura
These vegan Lotus Root Tempura are such a pretty appetizer! For the perfectly crisp and light tempura batter, I am using sparkling water, corn starch, and all-purpose flour.
Ingredients
15

slices

lotus root

frying oil

e.g. rapeseed oil (approx. 1 1/2 cups of oil depending on the size of the pot)
For the Tempura batter
3

tablespoons

all-purpose flour

3

tablespoons

cornstarch

1/4

teaspoon

salt

1/4

cup

sparkling water
Instructions
Let the frozen lotus root thaw at room temperature.

In a bowl, whisk together the flour, corn starch, salt, and sparkling water for the tempura batter. You can adjust the consistency by adding more flour if it's too runny or more sparkling water if it's too thick. The batter should be thick enough to stick to the lotus root, but thin enough so that it runs through the holes of the lotus root.

Heat the frying oil in a pot (or small wok) to 350°F/175 °C. You won't need much oil, but the lotus root should swim in it.

Dip the Lotus Root into the tempura batter and immediately add them to the oil. Work in batches to prevent overcrowding in the pot.

Let them fry for approx. 4 minutes until crispy.

Place the lotus root tempura on a paper towel to remove excess oil. Sprinkle them with more salt, drizzle with sriracha mayo and sprinkle with fresh cilantro. Enjoy!
Nutrition
Calories:
255
kcal
Carbohydrates:
30
g
Protein:
3
g
Fat:
14
g
Saturated Fat:
1
g
Polyunsaturated Fat:
4
g
Monounsaturated Fat:
9
g
Trans Fat:
0.1
g
Sodium:
323
mg
Potassium:
351
mg
Fiber:
3
g
Sugar:
0.03
g
Vitamin C:
27
mg
Calcium:
31
mg
Iron:
1
mg
Affiliate Disclosure: This post may contain affiliate links, which means I may earn referral fees if you make a purchase through my link. While clicking these links won't cost you any extra money, they will help me keep this site up and running!