Berlin is a vegan's paradise. In this post, I'm sharing my favorite places to eat vegan in the capital of Germany. Let's get started!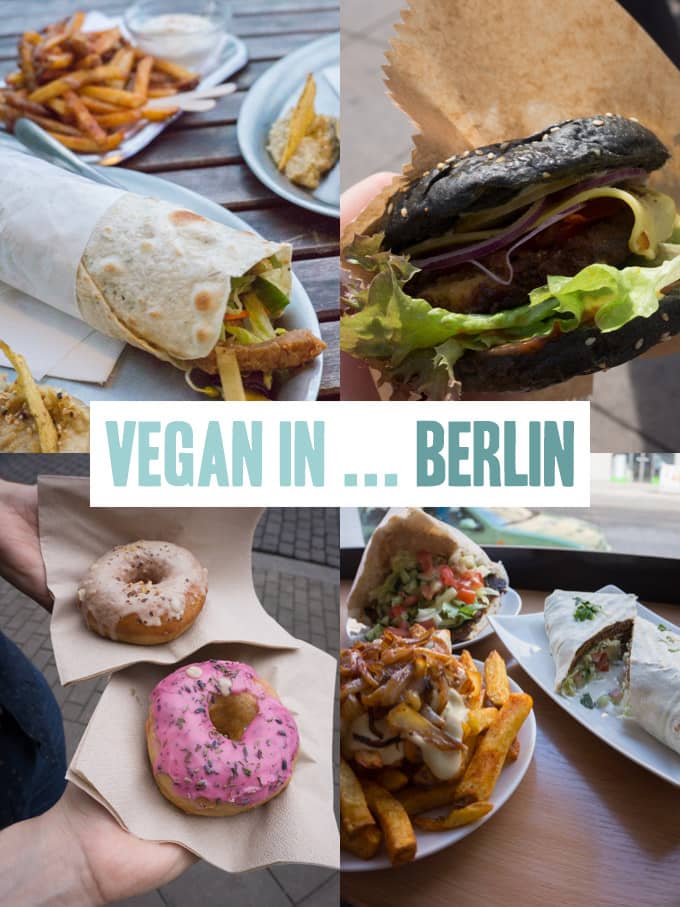 Vegan in … is a series of posts on Elephantastic Vegan where I write about my vegan travelling experiences. I love to travel especially to larger cities, rather than spending my days on the beach at some resort, but finding restaurants with vegan options in a foreign city isn't always that easy. With this post, I want to show you awesome places to eat for your next trip to Berlin in Germany! :)
It's never a bad idea to use HappyCow to get a neat overview of your vegan eating possibilities. I haven't even had the chance to try all of the vegan and vegan-friendly restaurants in Berlin because the city has so much to offer for vegans! So naturally, this post only contains the few options that I've tested & tried. I read about a vegan summer festival taking place and I simply had to go (I'm sure you understand!).
Vegan in Berlin – travel video
Instead of the regular sight-seeing section in my vegan in posts, I'll share some photos of the food at the vegan summer festival! If you have a chance to go there, I can absolutely recommend it. The food was amazing, the festival was perfectly organized, the people are so nice.. all in all.. it was perfect :)
…and now to the restaurants in Berlin.
Brammibal's Donuts
Maybachufer 8, 12047 Berlin
Website
Brammibal's Donuts was probably what I was most looking forward to during our Berlin trip and I wasn't disappointed. These were the best donuts (vegan or not) I've ever had. We had the Lavender Blueberry Donut, White Chocolate Pistachio, Chocolate Peanut Butter Fudge Donut, Strawberry Cream Cheese Donut and the Maple Coconut Bacon one. Can you tell we went there a couple of times? Brammibal's Donuts is a must-visit when you're in Berlin!
Der vegetarische Metzger (The vegetarian butcher)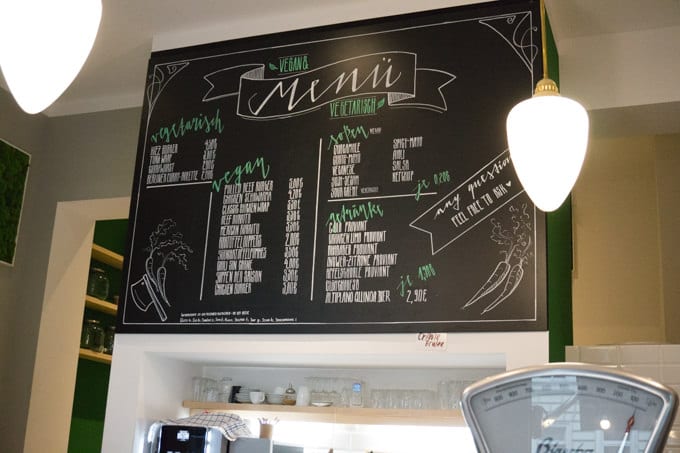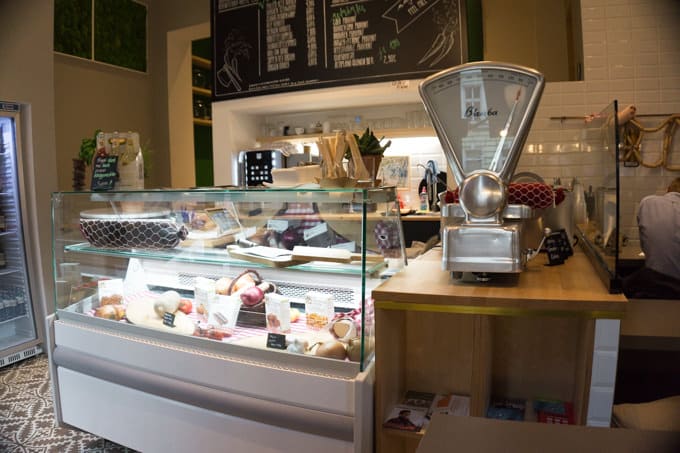 Bergmannstraße 1, 10961 Berlin
Website
We stumbled upon this small bistro and I'm so glad we did. We ordered the Pulled Beef Burger, fries with guacamole (yassss) and Chicken Shawarma. Everything was absolutely delicious and it's pretty inexpensive too. I loved the atmosphere in the restaurant – it's small but there's nice music, modern interior, and the staff is super friendly. You can also buy packaged meat alternatives.
1990 Vegan Living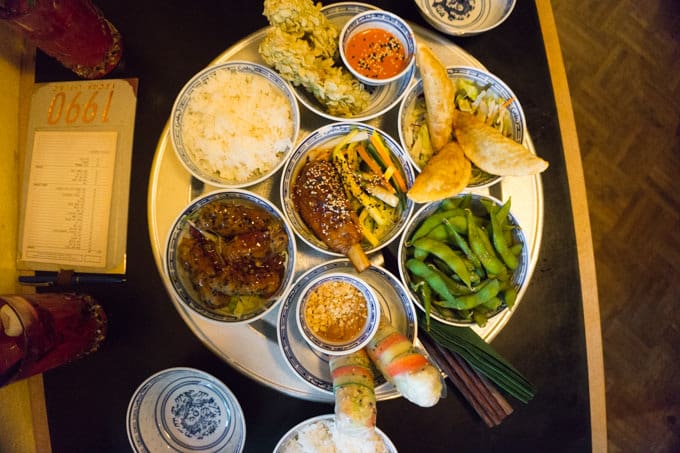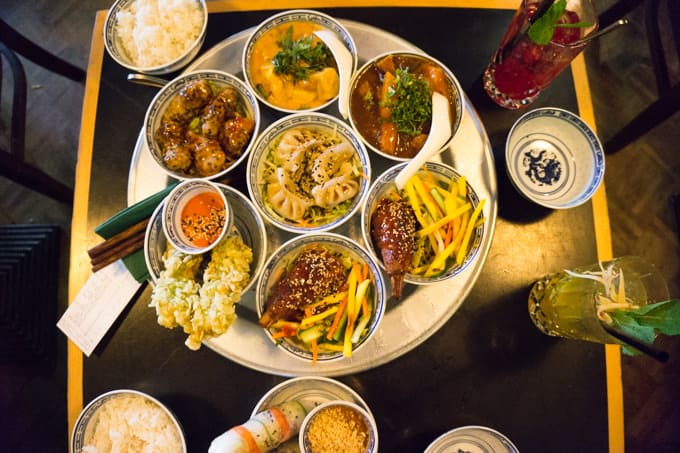 Krossener Str. 19, 10245 Berlin
Website
1990 Vegan Living offers Vietnamese tapas bowls, a few regular-sized portions, and awesome alcohol and non-alcoholic drinks. They have about 20 different tapas you can choose from, so there's plenty to try out. Everything was perfect: The food, the atmosphere, the drinks, the friendly staff. This restaurant is truly a hidden gem. The food was actually so good, we went there 3 times during our 5-day trip! We couldn't get enough and we've tried our way almost all the way through the tapas bowls menu. There's this one crazy bowl with marinated seitan on a sugar cane – omg – so good! We've even ordered two of that one and you can see it on the second photo.
Momos
Fehrbelliner Straße 5, 10119 Berlin
Website
Okay, we might have gone a bit overboard at Momos because we ordered a large set (18 pieces) of pan-fried momos plus all of the sides: green beans, salad, and edamame. But we couldn't resist! We opted for 3 different fillings for the momos: broccoli-shiitake-tofu, pumpkin-chickpea and mushroom-potato. The broccoli-shiitake-tofu filling was my favorite while my boyfriend liked the mushroom-potato one the most. But they were all delicious and we were so full afterward. Momos is not entirely vegan, but 4 of the 6 different fillings were vegan ones, so lots of options!
Vöner
Boxhagenerstraße 56, 10245 Berlin
Website
I don't think you can come to Berlin and not have a Vöner ;) Vöner is the plant-based alternative to Döner – meat on a rotisserie. I'm more of a wrap girl, while my boyfriend chose the vöner in bread (with peanut sauce! yumm!). We also had the special fries with a cheesy sauce and caramelized onions, which was absolutely delicious. The portions are huge! I couldn't even finish my wrap but it was a great breakfast the next day :D
Cat Tuong
Kastanienallee 89, 10435 Berlin
Website
Cat Tuong is a lovely small Vietnamese restaurant and 100% vegan. As for the appetizer, we had these fried dumplings/rolls of which I have forgotten the name, but they were really good. As the main course, I had the Pho Cary consisting of a red curry with coconut milk, tofu, seitan, veggies, and rice noodles. The portion was huge and delicious! I'm a sucker for red curries :D The tables in the restaurant are really tight next to each other, so it was a bit awkward. But when I took the photos of the food, the person sitting next to us asked me if I'm a food blogger, so we talked and actually realized that he was Eric, the founder of HappyCow! Ahhh what a crazy coincidence. We talked a lot and got drinks afterwards.
Djimalaya
Invalidenstraße 159, 10115 Berlin
Website
Djimalaya is an Israeli restaurant – they serve meat but the vegan options are marked in the menu, so they're easy to spot. We indulged in a mixture of their sharers: hummus, a plate of olives and pickled gherkins, sweet potato fries, homemade pita, and falafel. It was to die for and everything we've wanted in that situation. Yumm!
Playing with Eels
Urbanstraße 32, 10967 Berlin
Website
Playing with Eels serves vegan brunch every saturday – unfortunately we weren't hungry enough for an all-you-can-eat-buffet but we tried the suuuper fudgy chocolate brownie and berry milkshake. So good! I loved the interior of the store because it's bookshop-café combo.
Streetfood Market at Mauerpark (on Sundays)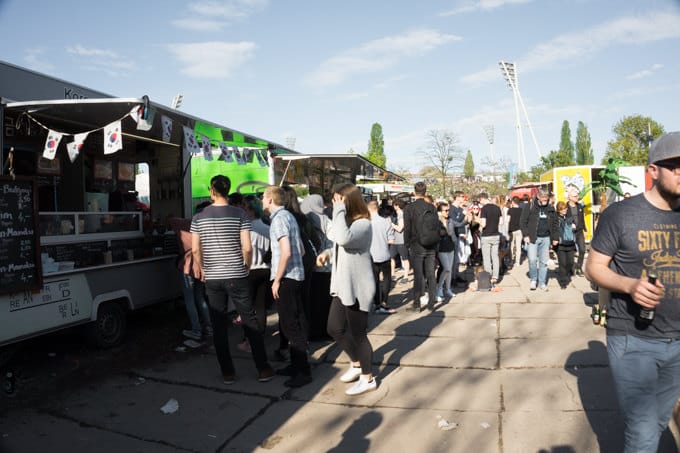 Bernauer Straße 63-64, 13355 Berlin
Website
I can highly recommend checking out the Mauerpark flea market on Sundays. Not only can you find lots of vintage items and enjoy live performances, but there's also a street food market and they have LOTS of vegan options. Actually so many, that we didn't even manage to try them all.
So this was pretty much my Berlin Trip. Have you ever been there? Do you have any additional vegan-friendly restaurant tips for Berlin? I'd love to know in the comments!
This post was first published in September 2016. Updated in February 2019. I've removed restaurants that closed permanently :(