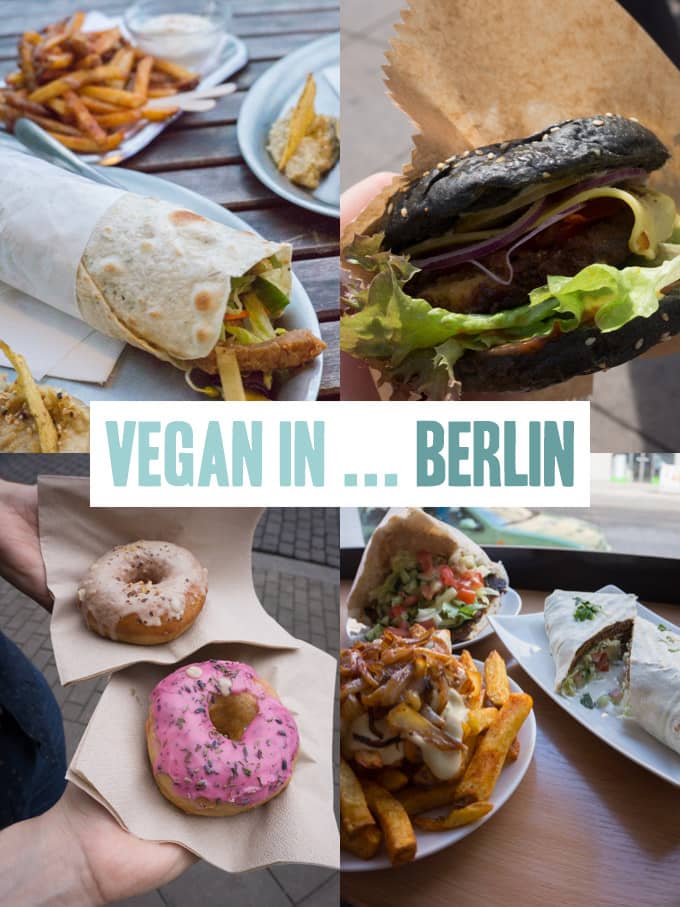 Vegan in … is a series of posts on Elephantastic Vegan where I write about my vegan travelling experiences. I love to travel especially to larger cities, rather than spending my days on the beach at some resort, but finding restaurants with vegan options in a foreign city isn't always that easy. With this post I want to show you awesome places to eat for your next trip to Berlin in Germany! :)
It's never a bad idea to use HappyCow to get a neat overview of your vegan eating possibilities. I haven't even had the chance to try all of the vegan and vegan-friendly restaurants in Berlin because the city has so much to offer for vegans! So naturally this post only contains the few options that I've tested & tried. I travelled to Berlin with my boyfriend in August 2016. I read about a vegan summer festival taking place and I simply had to go (I'm sure you understand!).
Vegan in Berlin – travel video
Instead of the regular sight-seeing section in my vegan in posts, I'll share some photos of the food at the vegan summer festival! If you have a chance to go there, I can absolutely recommend it. The food was amazing, the festival was perfectly organized, the people are so nice.. all in all.. it was perfect :)
…and now to the restaurants in Berlin. 
Momos
Fehrbelliner Straße 5, 10119 Berlin
Website
Okay, we might have gone a bit overboard at Momos because we ordered a large set (18 pieces) of pan-fried momos plus all of the sides: green beans, salad and edamame. But we couldn't resist! We opted for 3 different fillings for the momos: broccoli-shiitake-tofu, pumpkin-chickpea and mushroom-potato. The broccoli-shiitake-tofu filling was my favorite while my boyfriend liked the mushroom-potato one the most. But they were all delicious and we were so full afterwards. Momos is not entirely vegan, but 4 of the 6 different fillings were vegan ones, so lots of options!
Vöner
Boxhagenerstraße 56, 10245 Berlin
Website
I don't think you can come to Berlin and not have a Vöner ;) Vöner is the plant-based alternative to Döner – meat on a rotisserie. I'm more of a wrap girl, while my boyfriend chose the vöner in bread (with peanut sauce! yumm!). We also had the special fries with a cheesy sauce and caramelized onions, which was absolutely delicious. The portions are huge! I couldn't even finish my wrap but it was a great breakfast the next day :D
Brammibal's Donuts
Maybachufer 8, 12047 Berlin
Website
Brammibal's Donuts was probably what I was most looking forward in my Berlin trip and I wasn't disappointed. These were the best donuts (vegan or not) I've ever had. Prior to the trip I checked out the flavors on their website, and I was heart-broken when they didn't have the strawberry cream cheese one, but the Lavender Blueberry Donut and White Chocolate Pistachio were excellent comforters. The chocolate peanut butter fudge donut my boyfriend had was soooo good too!
Cat Tuong
Kastanienallee 89, 10435 Berlin
Website
Cat Tuong is a lovely small vietnamese restaurant and 100% vegan. As for the appetizer, we had these fried dumplings/rolls of which I have forgotten the name, but they were really good. As the main course, I had the Pho Cary consisting of a red curry with coconut milk, tofu, seitan, veggies and rice noodles. The portion was huuuuuge and delicious! I'm a sucker for red curries :D The tables in the restaurant are really tight next to each other, so it was a bit awkward. But when I took the photos of the food, the person sitting next to us asked me if I'm a food blogger, so we talked and actually realized that he was Eric, the founder of HappyCow! Ahhh what a crazy coincidence. We talked a lot and got drinks afterwards (which brings us to Chaostheorie).
Chaostheorie
Schliemannstraße 15, 10437 Berlin
Website
Chaostheorie is a 100% vegan cocktailbar and we've actually been there before about 4 years ago. They have a huge selection of cocktails (every single one we've tried was amazing!) plus they have cake! We tried the cocoa coconut cake and chai cake and they were so soft and fluffy! Yumm! The staff was exceptionally friendly. :) If you're looking for a nice and uncomplicated place for an after-work drink, this is it!
Djimalaya
Invalidenstraße 159, 10115 Berlin
Website
Djimalaya is an Israeli restaurant – they serve meat but the vegan options are marked in the menu, so they're easy to spot. We indulged in a mixture of their sharers: hummus, a plate of olives and pickled gherkins, sweet potato fries, homemade pita and falafel. It was to die for and everything we've wanted in that situation. Yumm!
Curryhain
Wühlischstraße 40/41, 10245 Berlin
Website
If you don't want to leave Berlin without trying the world famous Currywurst, then Curryhain is the best choice, because they have a vegan Currywurst! We tried the vegan sausage in tomato sauce at the Vegan Summer Festival and loved it.
Playing with Eels
Urbanstraße 32, 10967 Berlin
Website
Playing with Eels serves vegan brunch every saturday – unfortunately we weren't hungry enough for an all-you-can-eat-buffet but we tried the suuuper fudgy chocolate brownie and berry milkshake. So good! I loved the interior of the store because it's bookshop-café combo.
Yellow Sunshine Burger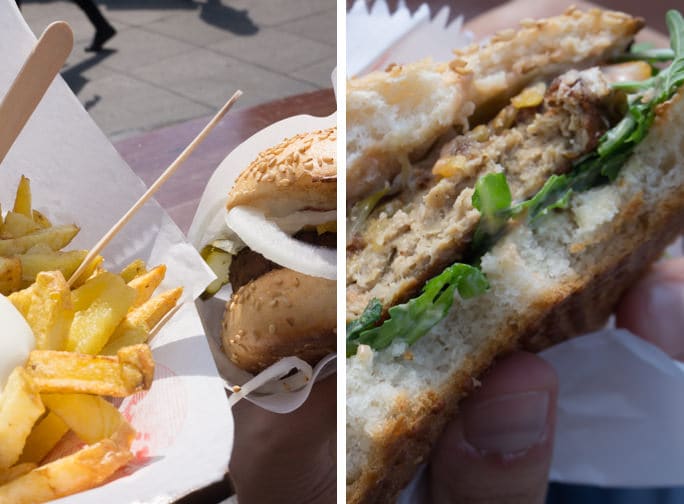 Wiener Straße 19, 10999 Berlin
Website
Yellow Sunshine Burger isn't a completely vegan place, but they have lots of vegan options! We tried the Cheese Burger at the Vegan Summer Festival and it was awesome! I especially loved that the patty wasn't as "beefy" tasting as many other burgers. I really liked that!
Fast Rabbit (Closed) :(
Eberswalderstraße 1, 10437 Berlin
Website
This was actually our first meal in Berlin and wow..what a start! I opted for the Asia "Dirty Roll" with seasoned soy strips, peanut butter sauce, salad and veggies, while my boyfriend choose the Mexican "Dirty Roll". And because we were hungry from the trip we also had fries and they were exceptionally good – they tasted a lot like curly fries. The Dirty Rolls came with a dollop of hummus – totally delicious! The restaurant is right across the Mauerpark where there's a huge flea market every sunday.
So this was pretty much my Berlin Trip. Have you ever been there? Do you have any additional vegan-friendly restaurant tips for Berlin? I'd love to know in the comments!