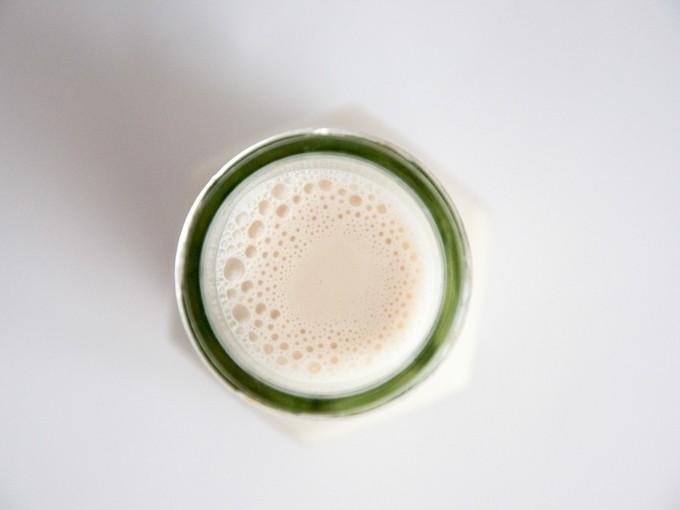 When I adapted a vegan diet, changing to plant-based milks wasn't difficult for me, they do taste way better anyways! I especially like nut milks because I try not to consume too much soy. I love trying and experimenting with different nut milks and different purposes, but found hazelnut milk and almond milk to be my favorites. When I received my new blender, I couldn't wait to make homemade nut milk. I was so happy with how the Date-Sweetened Hazelnut Milk turned out, so I have to share it with you!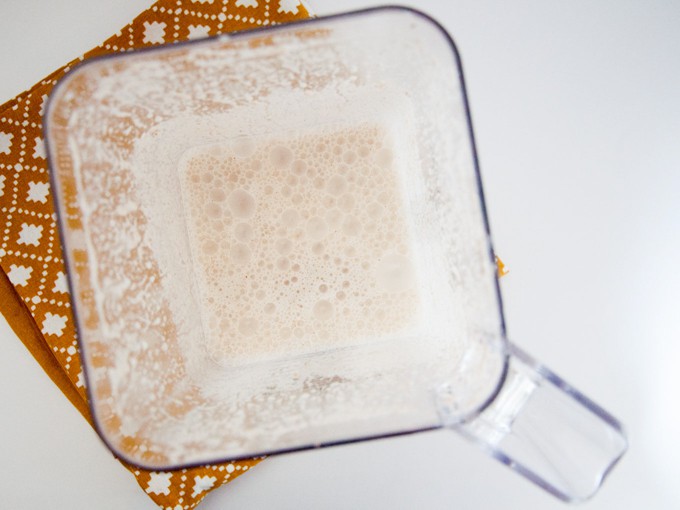 A powerful blender and a nutmilk bag are important tools to make this hazelnut milk. Only with these the milk will get this super silky consistency.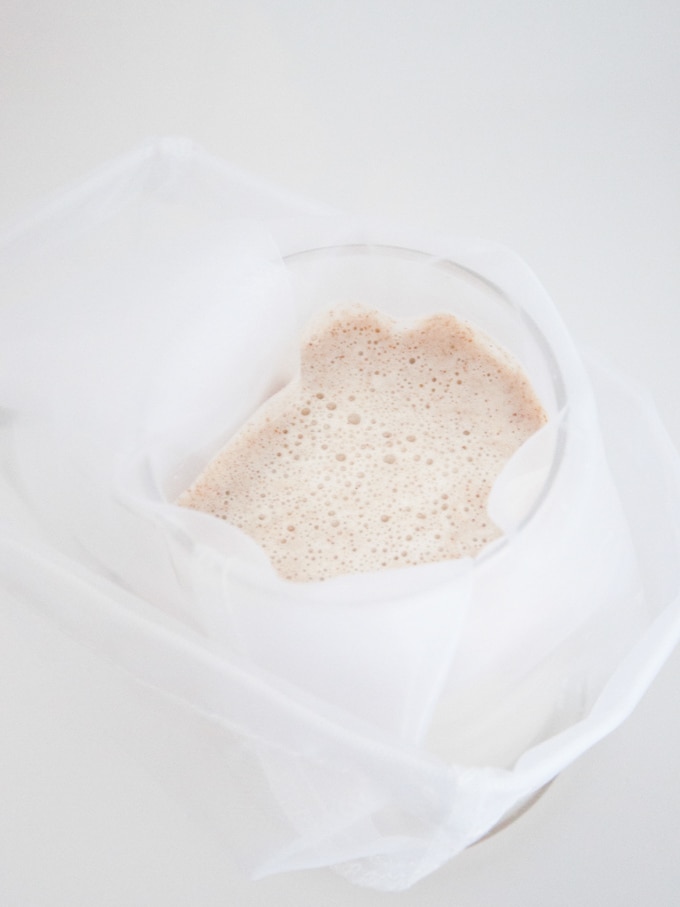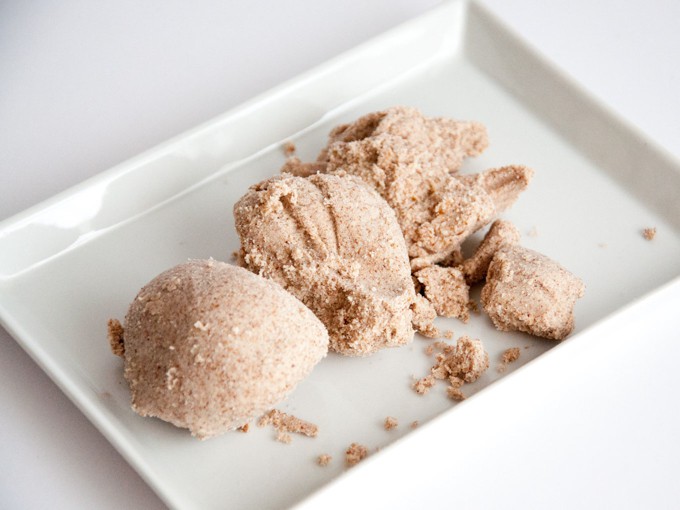 When making the milk you'll end up with this hazelnut meal… but don't toss it. You can use it in smoothies or baked goods like muffins.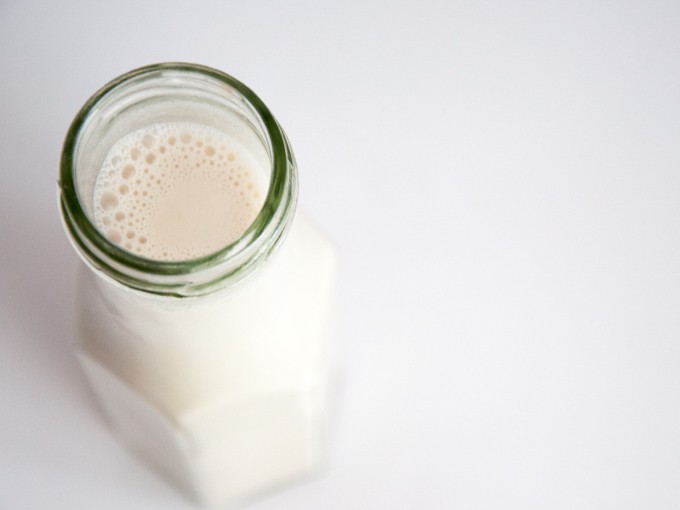 When I let my boyfriend have the first sip of this date-sweetened hazelnut milk, he just stared at me in wonder. Who needs nasty ingredients in store-bought hazelnut milks when you can make the most amazing nut milk at home?! The milk is not too sweet and has a lovely hazelnut taste – it's perfect for cereal, smoothies, baking, hot cocoa and to dip cookies into.
Or you can make a double batch! :)
Date-Sweetened Hazelnut Milk
You want to make your own Hazelnut Milk at home? It's actually super easy! I have a date-sweetened recipe for you, that is super yummy and delicious. It's great for cereals, chia puddings or for hot cocoa.
Author:
Elephantastic Vegan
Instructions
Fill the hazelnuts and the dates in a bowl, cover them with water and let them soak overnight.
Drain the water, rinse and place the hazelnuts together with the dates and 2 cups of fresh water into a high-speed blender and blend for about 3-4 minutes until completely fine.
Place a nutmilk bag over a large glass or bowl and pour the liquid over the cloth. Squeeze out as much liquid as possible (Don't toss the hazelnut meal, you can use it in muffins or smoothies).
Fill the hazelnut milk in an airtight glass jar and store it in the fridge (1-2 days max) until you use it!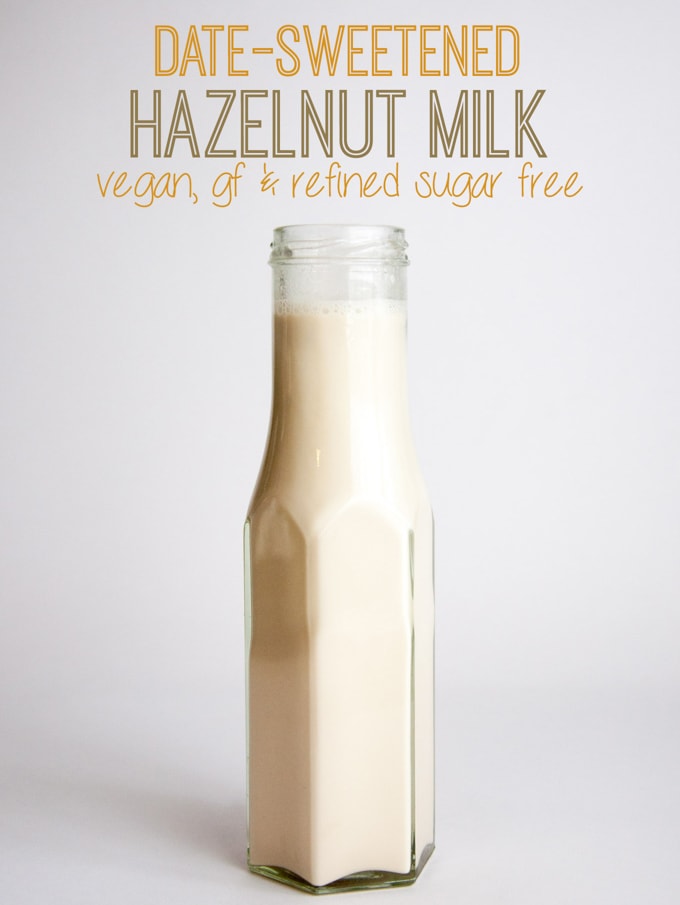 Should you decide to give this Date-Sweetened Hazelnut Milk a try I'd love to hear how it went! Write me a comment or post a picture on instagram, use the hashtag #elephantasticvegan and tag me via @elephantasticvegan to make sure I'll see it ^.^ I love to see all your lovely creations! Thanks! <3