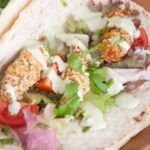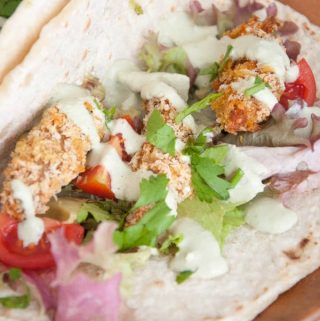 Print
Vegan Chicken Tacos with a Cilantro Coconut Sauce
Recipe for vegan Chicken Tacos using TVP soy strips as the chicken alternative. Served in homemade tortillas with salad, avocado, tomatoes and a Cilantro Coconut Sauce.
Ingredients for the Vegan Chicken
1

cup

TVP Soy Strips*

3/4

cup

panko flakes

1/2

teaspoon

paprika powder

3/4

teaspoon

salt

, divided

1/4

teaspoon

garlic powder

1/4

teaspoon

onion powder

1/4

teaspoon

dried dill

1/3

cup

chickpea flour

1/3

cup

water

1/2

teaspoon

sriracha
Ingredients for the Cilantro Coconut Sauce
Instructions for the Vegan Chicken Strips
Preheat the oven to 500°F/250°C.

Heat water (about 3 cups) in a large pot and toss in the dried TVP Soy Strips once it's boiling.***

Meanwhile mix the chickpea flour, sriracha, 1/4 teaspoon salt and water in a large bowl (it should have the consistency of an egg, add more water or flour if needed).

In another bowl prepare a mixture of panko flakes, dill, paprika powder, onion powder, 1/2 teaspoon salt and garlic powder.

When the TVP strips are soft, drain them and gently press excess water out of them.

Toss the TVP strips first in the chickpea flour-water mixture until coated evenly, then in the breadcrumbs.

Place them on a baking sheet and bake them for about 15-20 minutes until lightly golden and crispy.
Instructions for the Cilantro Coconut Sauce
Instructions for assembling
Quarter the cherry tomatoes, scoop out the avocado flesh and cut it in cubes. Wash the salad.

Divide the salad onto the 4 tortillas, add the avocado cubes and cherry tomatoes. Add the vegan chicken strips, drizzle with the cilantro coconut sauce and top with chopped cilantro.

Enjoy!
*I used the german brand Vantastic Foods, but these look rather similar. | You won't need all the chicken strips for the tacos. You can dip the rest of them in the Cilantro Coconut Sauce - so good!
**I used my Wheat Flour Tortillas recipe, substituted the whole wheat flour with spelt flour and made 4 small tortillas.
***Leave out this step when you use other meat alternatives, that don't need any cooking.
Calories:
489
kcal
|
Carbohydrates:
70
g
|
Protein:
13
g
|
Fat:
47
g
|
Saturated Fat:
15
g
|
Sodium:
1056
mg
|
Potassium:
717
mg
|
Fiber:
22
g
|
Sugar:
19
g
|
Vitamin A:
620
IU
|
Vitamin C:
14.3
mg
|
Calcium:
92
mg
|
Iron:
6.5
mg