This vegan Fried TVP Chicken is made by wrapping TVP slices in rice paper, dipping them in egg replacement and flour, and lastly pan-frying them until golden and crispy.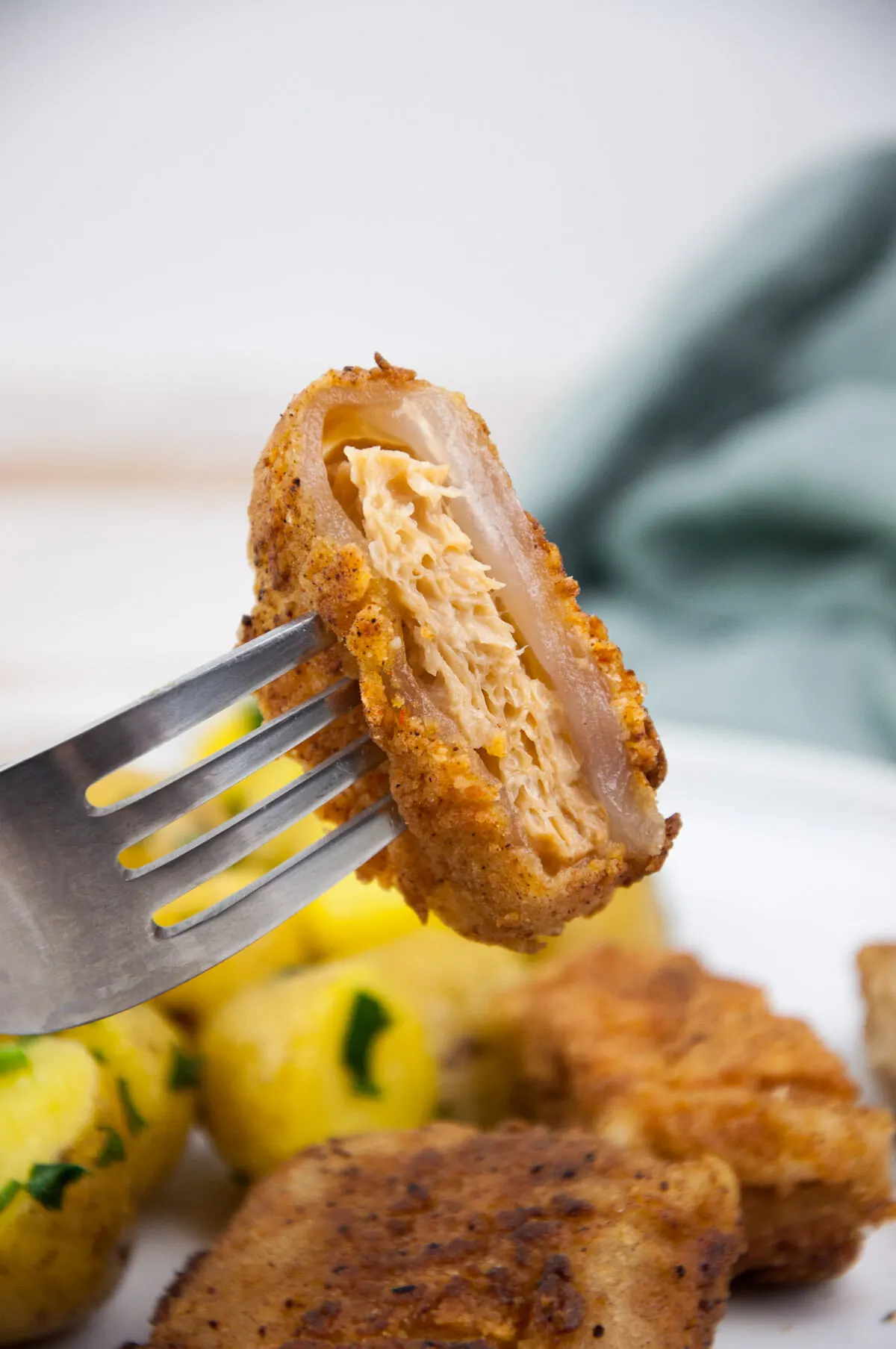 This recipe is somehow similar to my Vegan Schnitzel recipe because it also uses the TVP slices as a base, but with the added rice paper skin and pan-fried to crispy perfection, it turns into vegan Fried TVP Chicken! And it's a little bit insane.
TVP is short for Textured Vegetable Protein, it's available in different forms: granule, chunks, slices, curls. I am sure you have seen them in the store! I LOVE TVP because it's versatile, has a great "meaty" texture, and is easy to prepare (they cook rather quickly!). It also stores forever. You can read more about it in my Guide about TVP.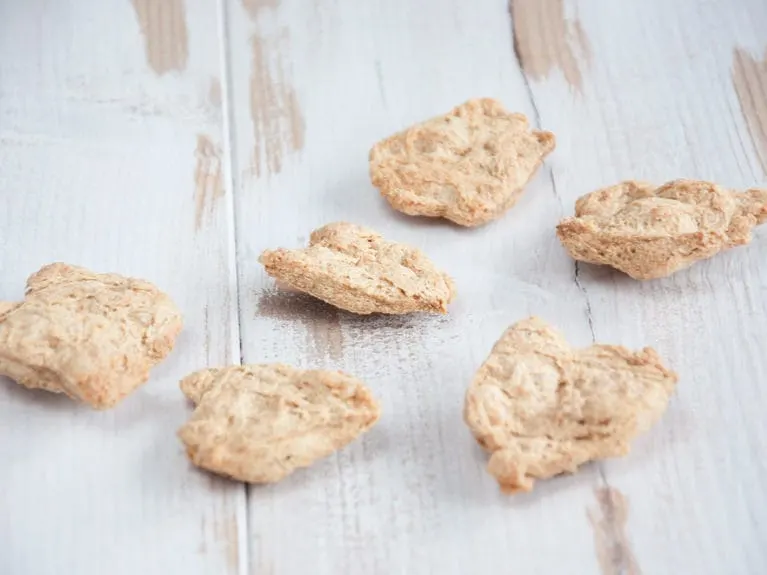 The TVP slices in this recipe are wrapped in rice paper wrappers which makes an awesome crispy skin. Depending on the size of your rice paper wrappers you'll have more or less skin.
I have to say – these are weirdly and amazingly awesome! The skin reminded me so much of fried chicken – I've never had anything that similar on a vegan basis.
The rice paper has to be soft and flexible in order to wrap the TVP slices. I've placed one rice wrapper after another into a shallow plate with water. It only takes a few seconds for the paper to get soft enough.
As for the spices, I've used a classic 'fried chicken' seasoning, salt, paprika powder, and garlic powder. But you can experiment with different spices. What about tandoori masala fried chicken? Or spicy sesame fried chicken? There are endless possibilities!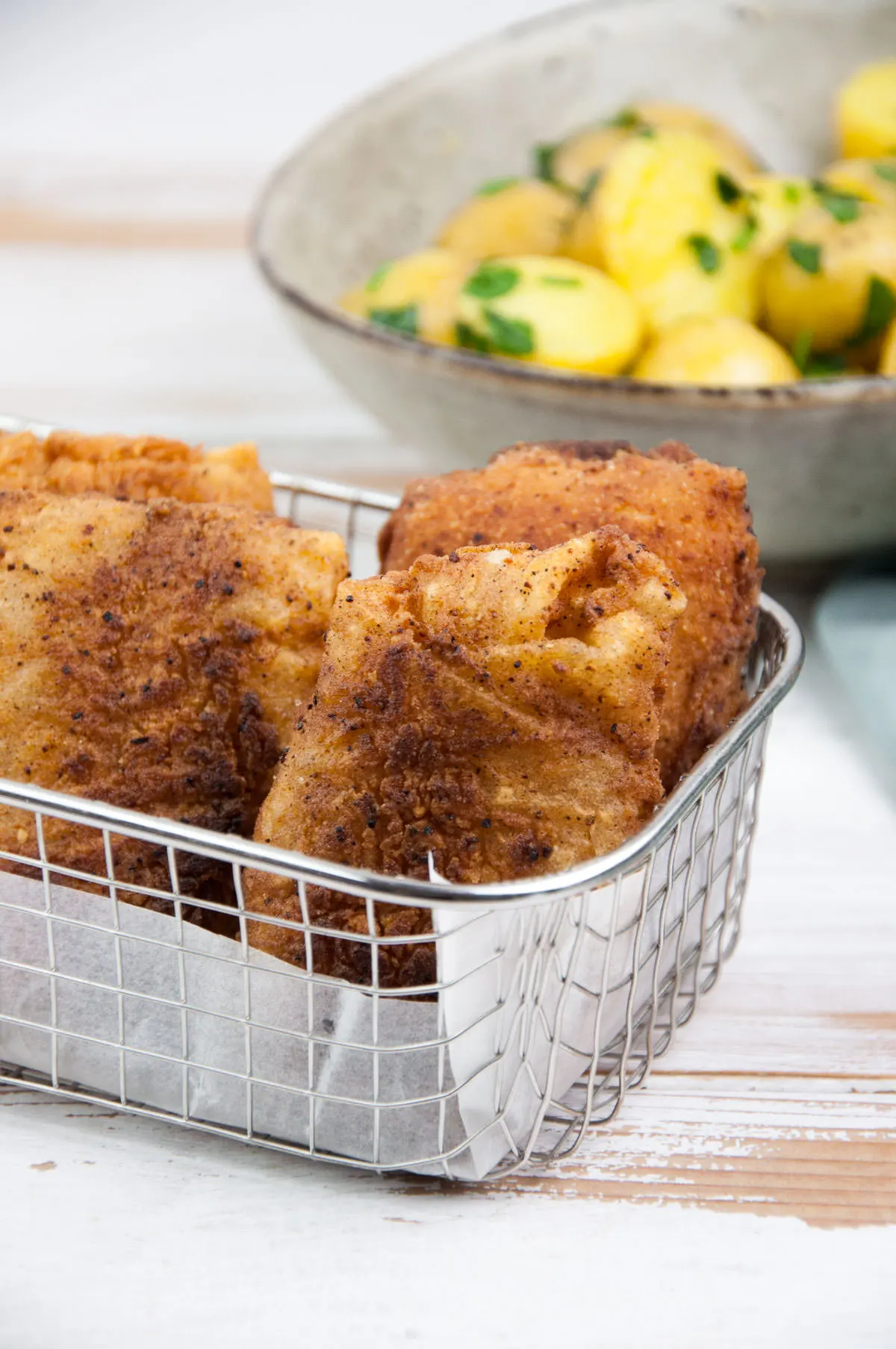 How to make Vegan Fried TVP Chicken
As always, you can find the whole recipe in the box below but I want to give you an overview of the required ingredients and basic steps with step-by-step photos first.
The ingredients
You will need:
TVP slices/medaillons – If you don't have any access to TVP slices, you can easily sub it with some gardein or other fake meats that are available where you live. But keep in mind, that some of these fake meats don't need any boiling so just leave out the first step!
veggie broth (alternatively just use water)
rice papers
frying oil
flours: chickpea flour, all-purpose flour
sriracha sauce
spices: kala namak (or regular salt), salt, paprika powder, garlic powder
The basic steps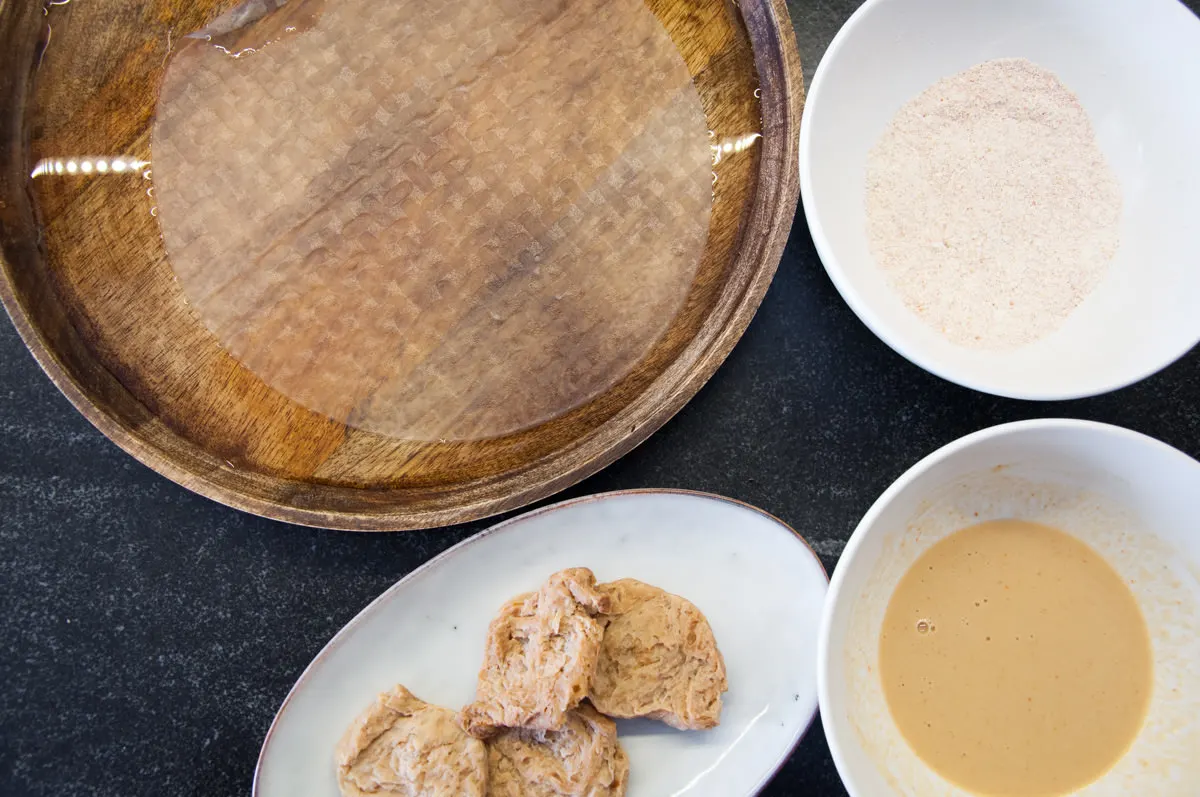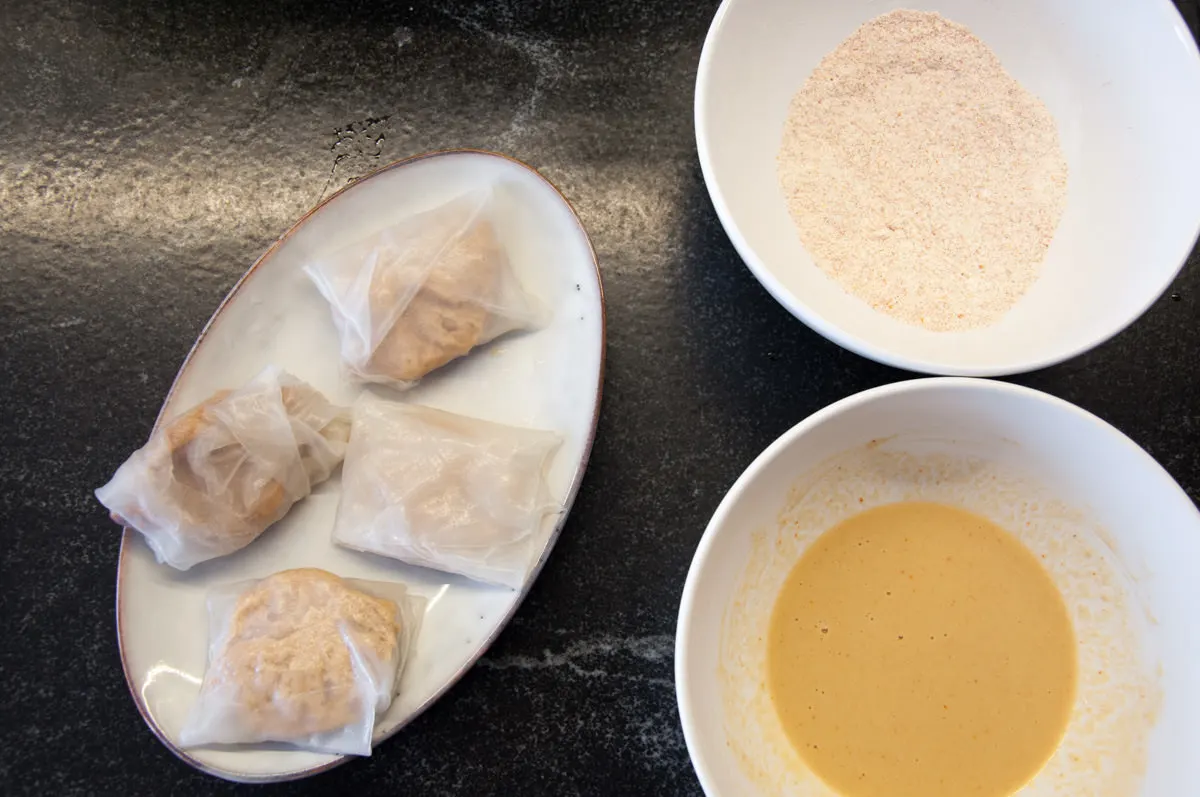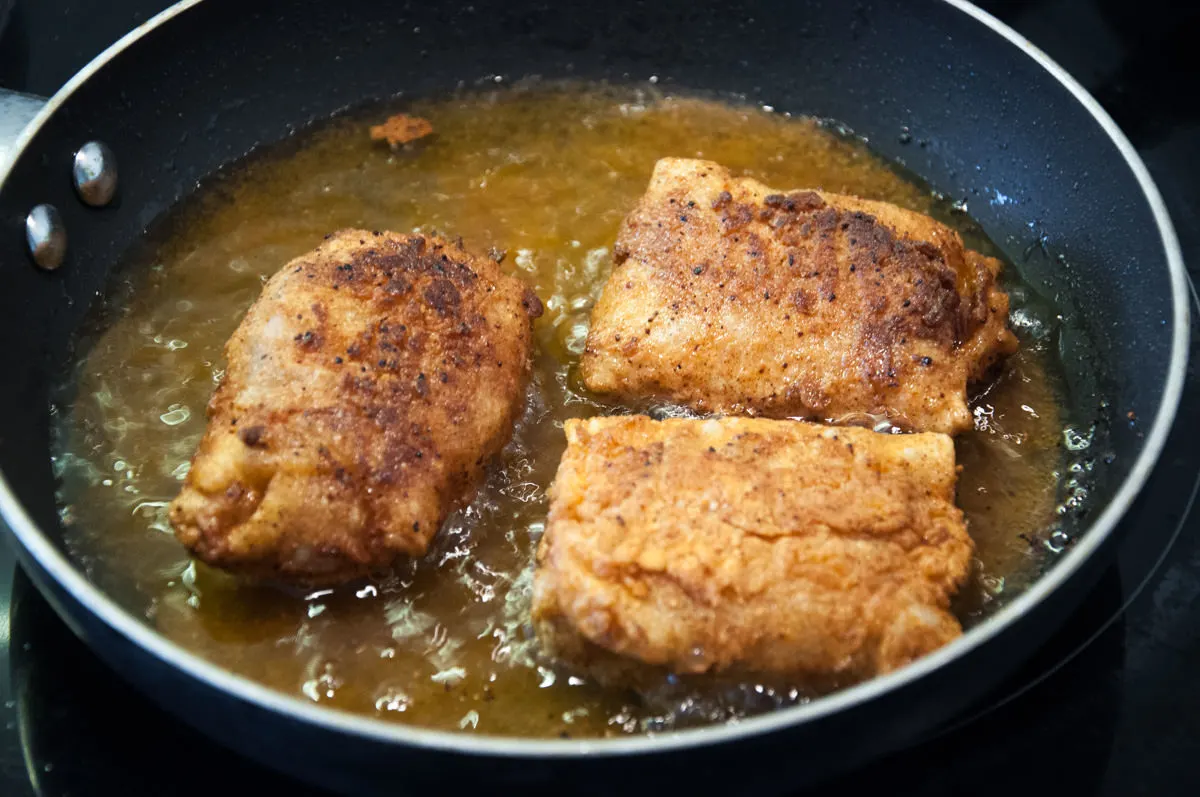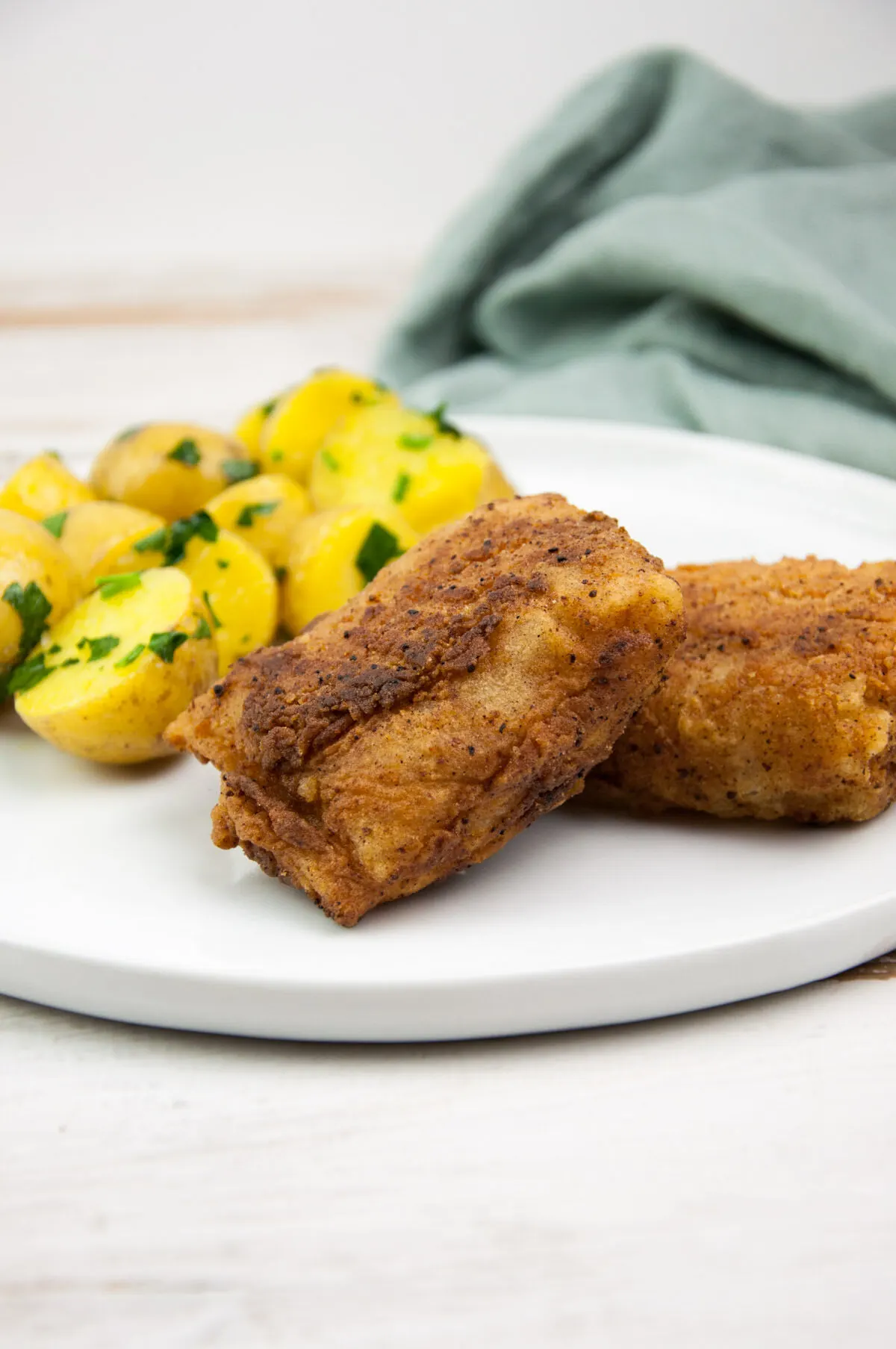 Serve the Vegan Fried TVP Chicken with…
Love it? Rate it!
I hope you will enjoy this Vegan Fried TVP Chicken as much as I did! Drop me a comment if you've tried it!
And don't forget to rate the recipe if you like it, this helps other users figure out if it is worth a try!
If you don't want to miss out on any new recipes, subscribe to my newsletter, follow me on Instagram and Facebook!
Cheers, Bianca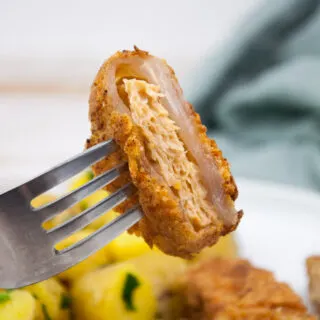 Vegan Fried TVP Chicken
This vegan Fried TVP Chicken is made by wrapping TVP slices in rice paper, dipping them in egg replacement and flour, and lastly pan-frying them until golden and crispy.
Ingredients
2

cups

vegetable broth

(or water)

frying oil
Ingredients for the egg replacement
3

tablespoons

besan/chickpea flour

3

tablespoons

water

1/4

teaspoon

sriracha sauce

1/2

teaspoon

kala namak

(gives it an eggy taste, alternatively replace it with 1/4 tsp salt)
Ingredients for the flour coating
3

tablespoons

all-purpose-flour

1/2

teaspoons

salt

1/2

teaspoon

paprika powder

1/8

teaspoon

garlic powder
Instructions
In a pot, bring the veggie broth to a boil. Add the TVP slices and cook them until soft (takes about 10 minutes). Once they are soft, drain them and gently press out excess water.

In a small bowl, whisk together the chickpea flour, water, sriracha sauce, and kala namak for the egg replacement. The mixture should be egg-like, you can add more or less water if you need to.

In another small bowl, mix the ingredients for the flour coating: flour, salt, paprika powder, and garlic powder.

Soften the rice paper by placing one in a shallow plate filled with water – it will be soft in 10-20 seconds.

Transfer the softened rice paper onto a clean, lightly wet surface and add one TVP slice in the middle. Wrap it in. Repeat until you've wrapped all the TVP slices.

First dip the rice paper-wrapped TVP slices in the egg replacement, turn them, then coat them in the flour breading. Then add them to a pan with frying oil (the bottom should be covered with the oil but don't fill it too much otherwise it might spill over). Pan-fry the vegan TVP chicken on both sides until golden and crispy but this only takes about 4 minutes.

Transfer them onto a paper towel to remove excess oil. Then you're done!
Nutrition
Calories:
335
kcal
Carbohydrates:
41
g
Protein:
8
g
Fat:
16
g
Saturated Fat:
1
g
Polyunsaturated Fat:
5
g
Monounsaturated Fat:
9
g
Trans Fat:
1
g
Cholesterol:
3
mg
Sodium:
2351
mg
Potassium:
157
mg
Fiber:
2
g
Sugar:
3
g
Vitamin A:
758
IU
Vitamin C:
1
mg
Calcium:
27
mg
Iron:
3
mg
Affiliate Disclosure: This post may contain affiliate links, which means I may earn referral fees if you make a purchase through my link. While clicking these links won't cost you any extra money, they will help me keep this site up and running!