This is a vegan version of its fried meaty counterpart: Chick-o-Vilet – Vegan Fried Chicken. Wrapping rice paper around it gives it a lovely crispy skin!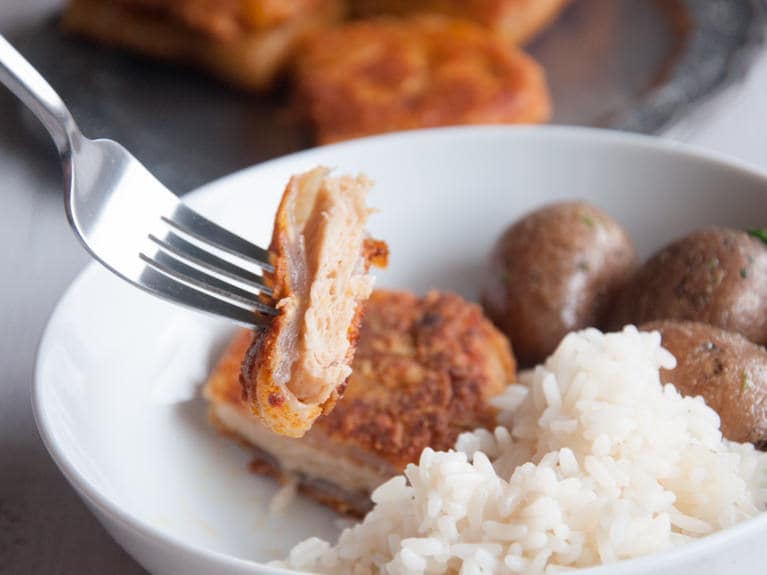 This recipe is somehow similar to the
Vegan Schnitzel
I have on the blog, because it also uses the TVP slices as a base, yet tastes completely different.
TVP is short for Textured Vegetable Protein, it's available in different forms: chunks, slices, bolognese, and many more. I like them because they are versatile, have a great "meaty" texture and are quick to prepare (they cook rather quick!). You can read more about it in my Guide about TVP.
The TVP slices in this recipe are wrapped in rice paper wrappers which makes an awesome crispy skin. Depending on the size of your rice paper wrappers you'll have more or less skin. But I have to say – these are weirdly and amazingly awesome! The skin reminded me so much of fried chicken – I've never had anything that similar on a vegan basis – for real! My boyfriend loved them and begged me to make them more often now. They are bit of work but with some practice, it's getting easier and easier.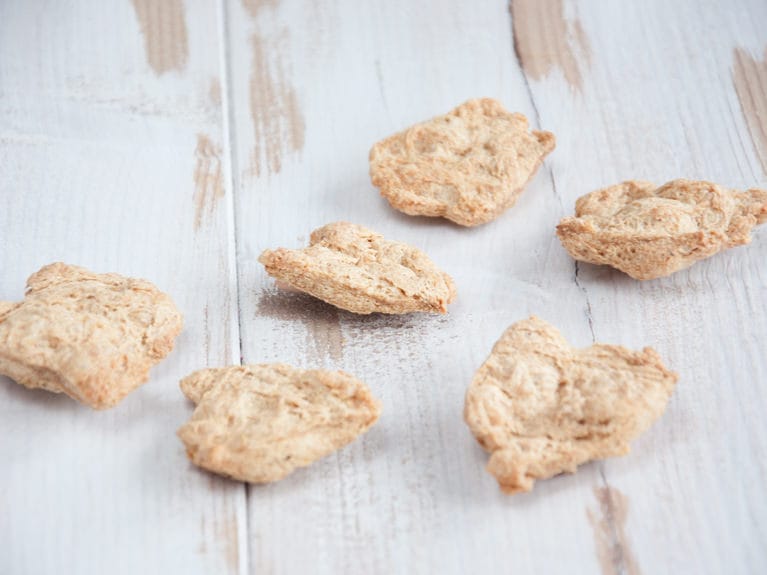 If you don't have any access to TVP slices, can easily sub it with some gardein or other fake meats that are available where you live. But keep in mind, that some of these fake meats don't need any boiling so just leave out the first step!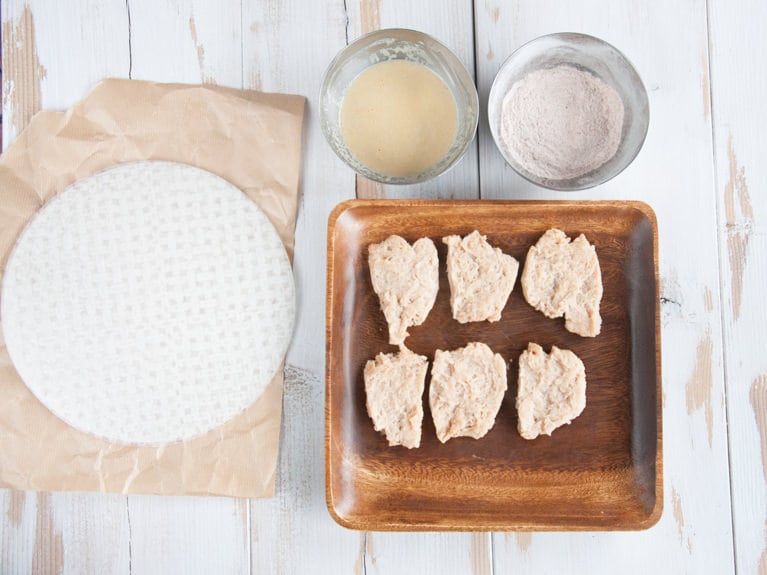 These are the ingredients I've used: Rice Paper Wrappers, the TVP slices (they are cooked in this photo), the homemade egg replacement and the flour coating.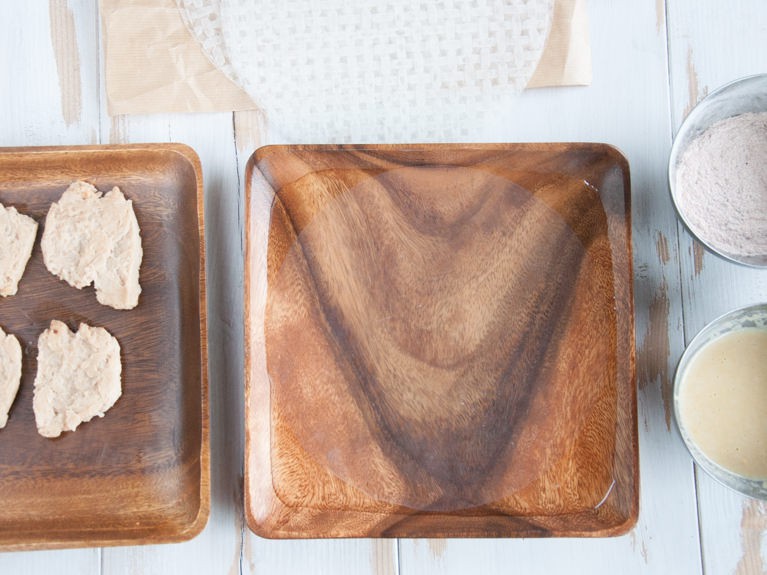 The Rice Paper Wrappers have to be soft and flexible in order to wrap the TVP slices. I've placed one rice wrapper after another in a shallow plate with water. It took me a few seconds to half a minute until the rice wrappers were soft enough.
I always like to place my bowls in the correct order so I don't mess it up. The wrapped TVP Slices first go into the egg replacement, followed by the flour coating.
For the egg-replacement I've mixed besan/chickpea flour with water, spices and Sriracha Sauce.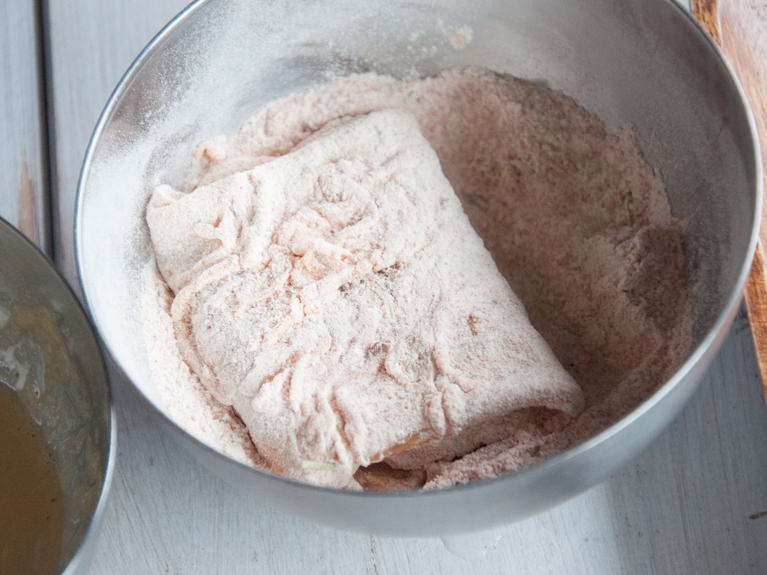 I've put a lot of spices like paprika power, garlic powder, dried rosemary and salt in the flour coating – Don't miss out on that flavor explosion!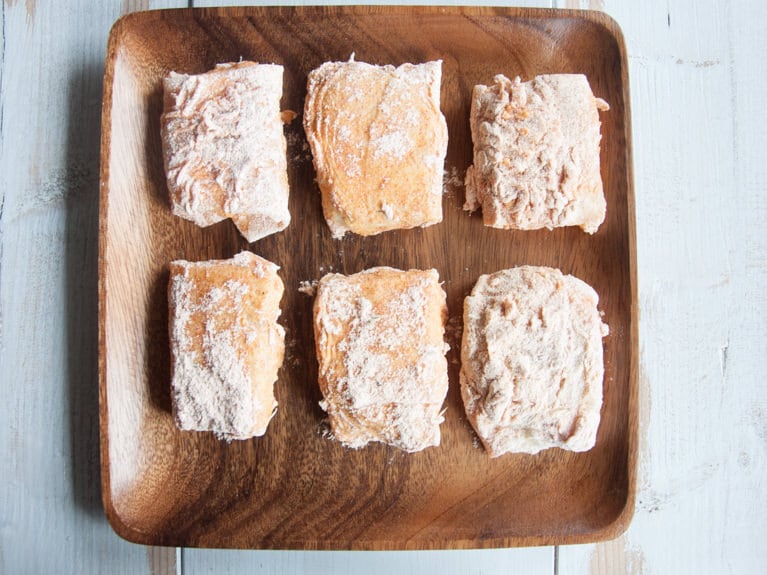 Once the TVP slices are coated in the egg replacement and flour coating the hardest part is done – you only need to fry them and they're ready! I've pan-fried them and it worked perfectly! Look how crispy and golden they are :)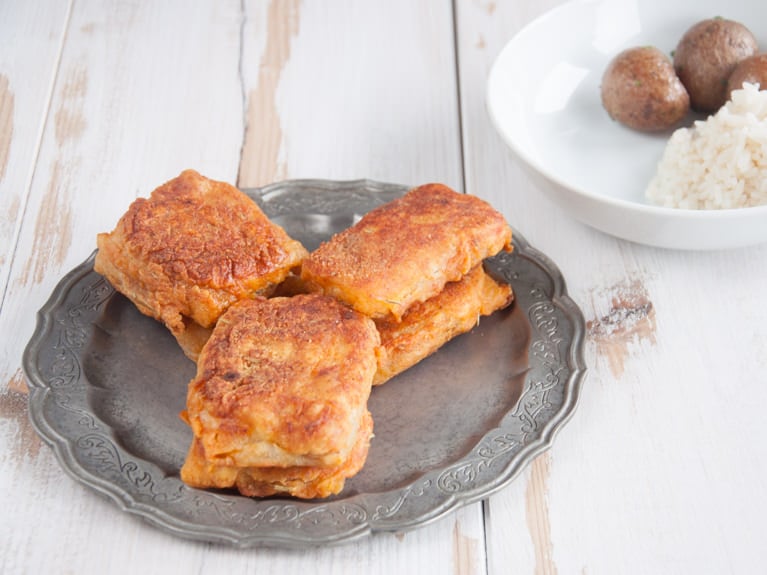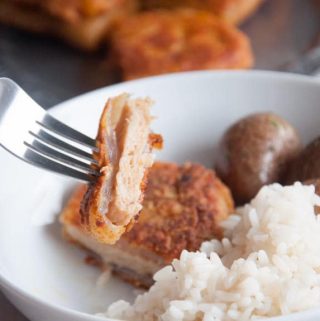 Chick-o-Vilet - Vegan Fried Chicken
Recipe for Chick-o-Vilets, the vegan alternative to fried chicken. It uses TVP as a base and yields 6 pieces, which serve 2-3 people.
Ingredients
Ingredients for the egg replacement
3

tablespoons

besan/chickpea flour

3

tablespoons

water

1/4

teaspoon

sriracha sauce

1/2

teaspoon

kala namak

(gives it an eggy taste, replace with salt if don't want to use it)
Ingredients for the flour coating
3

tablespoons

+ 1 teaspoon all-purpose-flour

1/2

teaspoons

salt

1/4

teaspoon

garlic powder

1/2

teaspoon

paprika powder

1/2

teaspoon

dried & cut rosemary
Instructions
Heat enough water in a big pot and toss the TVP slices in there once it's boiling. When the TVP slices are soft, drain them, press gently the water out of them. Leave this step out, if you use instead of the TVP slices other fake meats that don't need some cooking.

In a small bowl mix all the ingredients for the egg-replacement (the mixture should be egg-like, add more or less water if you need to).

In another small bowl mix all the ingredients for the flour coating.

Soften the rice wrappers by placing one by one in a shallow plate filled with water - they'll be soft in a few seconds to half a minute.

Flatten the rice paper on a clean, lightly wet surface and add one TVP slice in the middle. Wrap it in. Repeat for every TVP slice.

First place the TVP slices in the egg replacement, turn them, and put them in the flour coating - turn them again so that they're coated evenly. Repeat for the others.

When all TVP slices are coated you can put them in a hot pan with about 2 teaspoons of canola oil - the bottom should be covered with enough oil. Turn once the side is nicely browned.

Once both sides have a nice golden color, they're done!
Notes
Recipe adapted from Chef Roberto Martin (via TheOfficialHungry)
I think the Chick-o-Vilets are great with rice and cooked potatoes with parsley, but feel free to use any sides you want! They are awesome in a burger bun as well!
Nutrition
Calories:
538
kcal
Carbohydrates:
68
g
Protein:
43
g
Fat:
8
g
Cholesterol:
5
mg
Sodium:
1516
mg
Potassium:
141
mg
Fiber:
13
g
Sugar:
9
g
Vitamin A:
245
IU
Calcium:
255
mg
Iron:
10.6
mg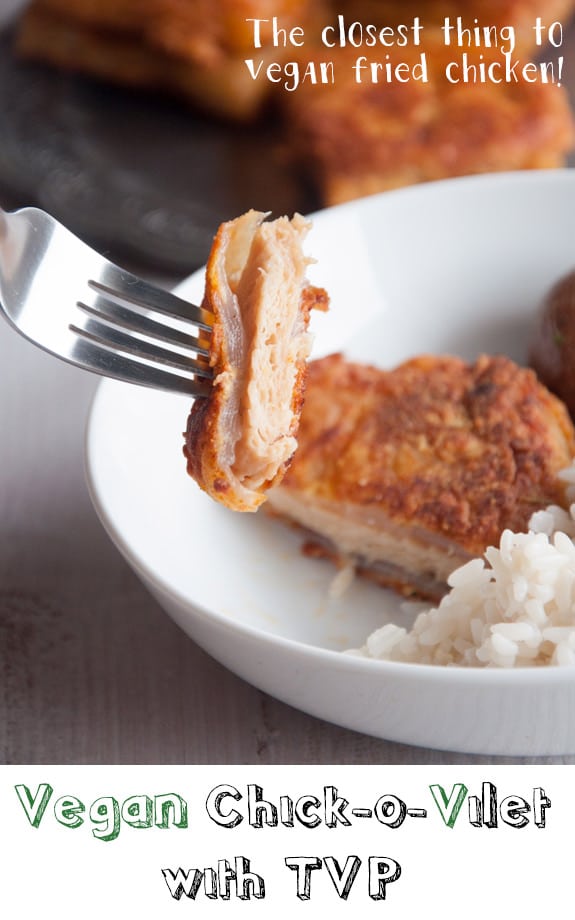 Should you decide to give these a try I'd love to hear how it went! Write me a comment or post a picture on instagram and tag me via @elephantasticvegan to make sure I'll see it ^.^