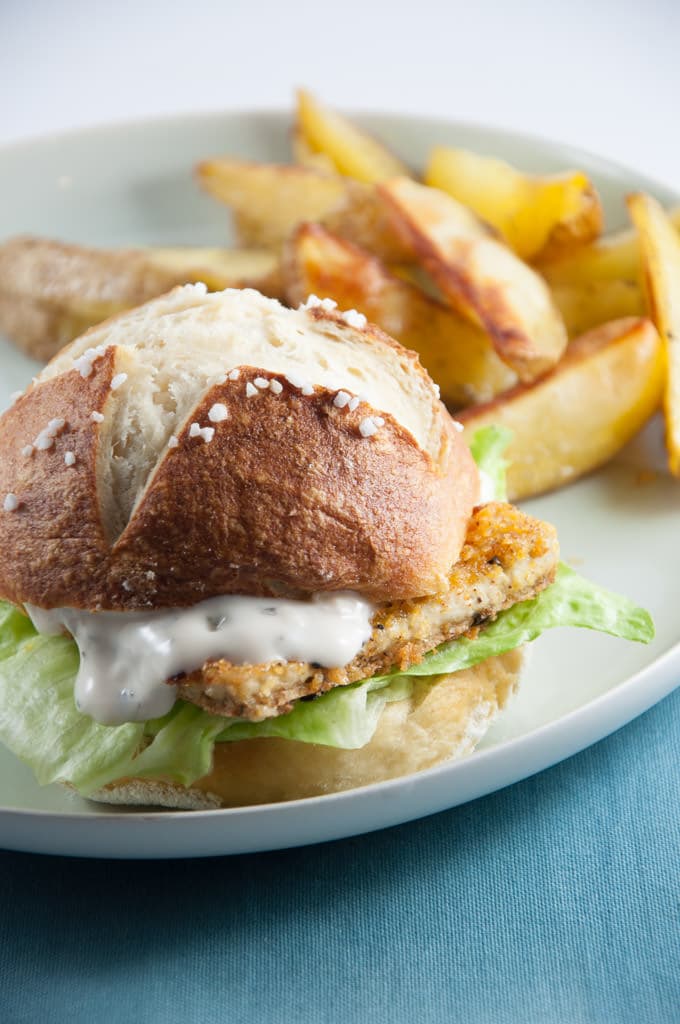 The idea of a vegan Fish Burger has been in my head for such a long time. I can't believe I've waited that long before I finally managed to give it a try. Once I tried them, I was amazed at how awesome these burgers turned out. But you can't go wrong with a breaded tofu filet in homemade Pretzel Rolls, lettuce and a garlic yoghurt sauce, can you?
I've served these burgers with homemade potato wedges < perfect side dish for this burger to make it into a whole meal.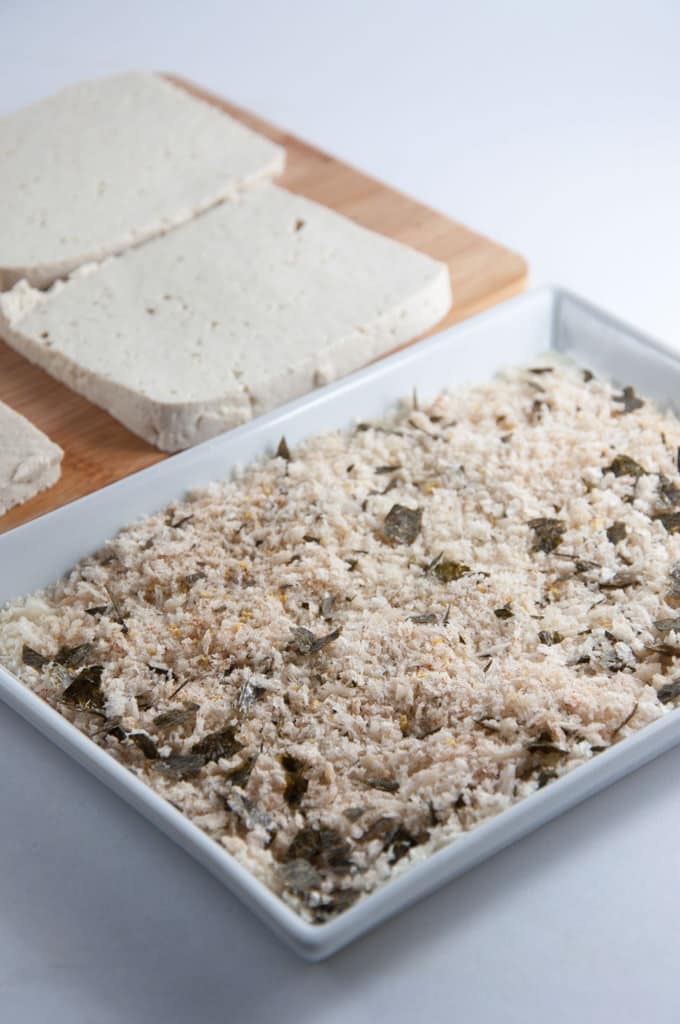 Panko flakes (which are practically flaky breadcrumbs often used in Japanese cooking) are the perfect base for this "fish" filet breading. They are super crispy! The dried seaweed add a lovely "fishy" and "underwater-taste"? Is this a thing? Underwater-taste? You know what I mean! :)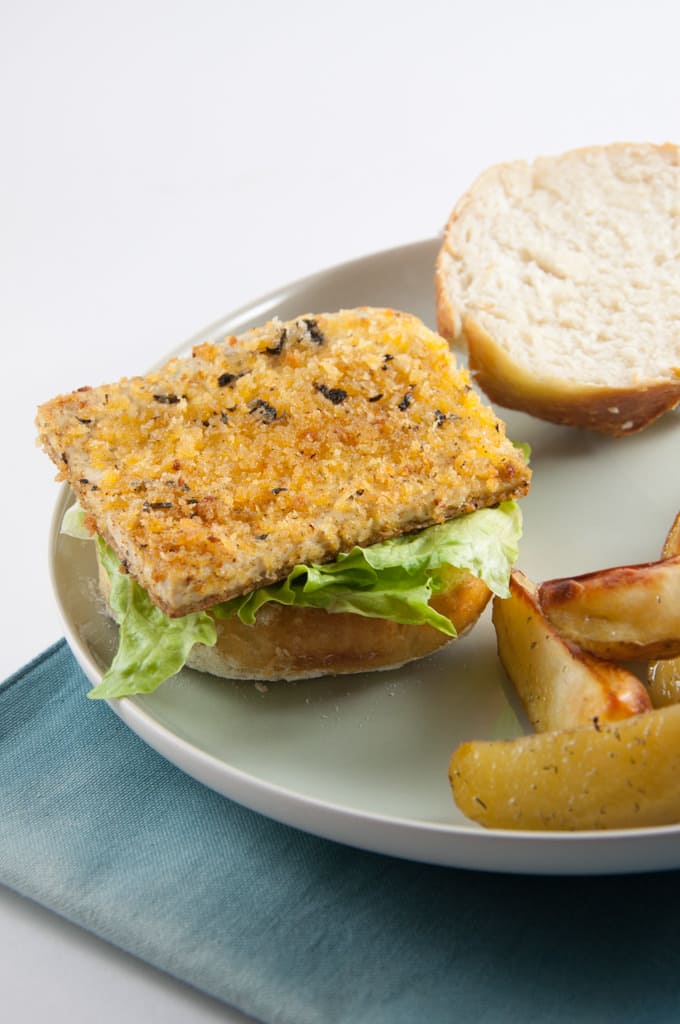 Do I really have to tell you how amazingly fluffy, soft and airy the pretzel rolls are? I've included the recipe for the rolls/buns as well because I want you to have the full experience. But if you're not in the mood to make your own bread, you can also use store-bought pretzel rolls or white bread.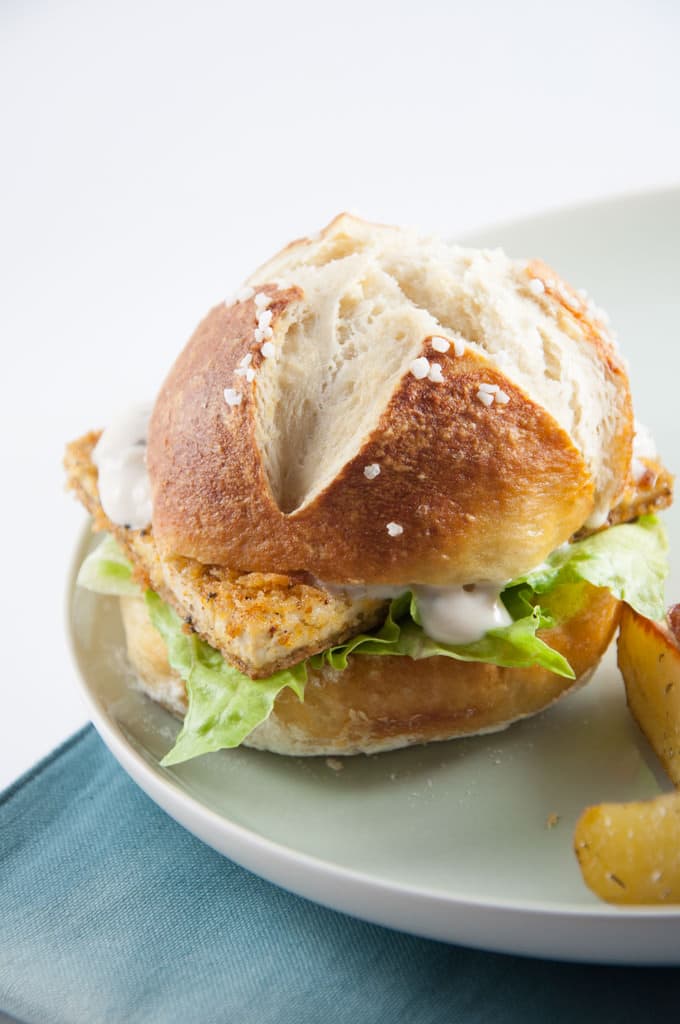 Vegan Fish Burger with homemade Pretzel Rolls
Recipe for a vegan Fish Burger (made with a tofu filet) in homemade Pretzel Rolls. So yummy! Completely plant-based.
Author:
Elephantastic Vegan
Ingredients
Ingredients for the "fish" filets
1 block firm tofu
½ cup panko flakes
1 teaspoon lemon zest
¼ teaspoon dried dill
¼ teaspoon mild curry powder
¼ teaspoon paprika powder
¼ teaspoon salt
⅓ sheet nori dried seaweed
2 tablespoons all-purpose flour
2 tablespoons water
½ teaspoon salt
canola oil for pan-frying
Ingredients for the garlic yoghurt sauce
½ cup unsweetened soy yoghurt
salt to taste
1 teaspoon chopped dill
1 garlic clove, minced and roasted
Ingredients for the pretzel rolls
2½ cups / 300g all-purpose flour
1 teaspoon active dry yeast
½ teaspoon salt
1 teaspoon olive oil
¾ cup / 180ml lukewarm water + ½ cup water for the water bath
2 teaspoons baking powder
1 teaspoon pretzel salt
+ a few lettuce leaves
Instructions
Instructions for the pretzel rolls
Mix all the flour, active dry yeast and salt for the rolls, add in the olive oil and about ¾ cup lukewarm water, knead by hand until a soft dough firms or put the ingredients in kitchen machine and let the machine knead the dough for you.
Let it sit until it doubles in size (about 1-2 hours).
Preheat the oven to 480 °F / 250 °C.
Cut the dough in four equal pieces and form the rolls.
In a small pot, heat the water for the water bath and add in the baking soda. Place one roll after another in the hot baking soda water bath with the top side down and let it simmer in there for about half a minute to a minute. Then put them on a floured baking sheet.
Carve the surface of the dough lightly with a knife and add the pretzel salt on top.
Bake the bread in the oven for about 20 minutes and take it out once the surface is wonderful golden. You can knock on the bottom of the bread and when it sounds hollow it's done!
Instructions for the fish filet
Carefully press out excess water of the tofu.
Meanwhile mix the flour with 2 tablespoons of water and add ½ teaspoon of salt (it should have an egg-like consistency, add more water or flour to achieve that). Prepare the breading by mixing the panko flakes, lemon zest, dried dill, curry powder, paprika powder, salt and crumbled up dried seaweed.
Cut the tofu in 4 slices, dip them in the egg replacement (flour + water + salt), then coat them with the breadcrumbs. Repeat for all the slices and pan-fry them in a large pan with olive oil until they're crispy and golden on both sides.
Assemble
For the garlic yoghurt sauce, simply mix all the ingredients together.
Slice the pretzel buns, add a few leaves of lettuce, then the fish filet and top with the garlic yoghurt sauce. Enjoy!
If you give this vegan Fish Burger a try I'd love to hear how it turned out for you! Leave a comment or post a picture on instagram, use the hashtag #elephantasticvegan and tag me via @elephantasticvegan to make sure I'll see it ^.^ I love to see all your lovely creations! Thanks! <3