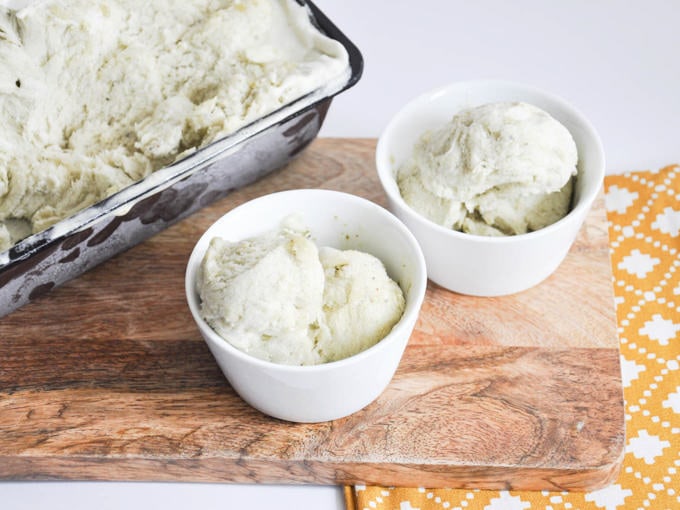 Yeah guys!! This happened! It's Minty Cotton Candy Ice Cream! Vegan & gluten-free and made with Aquafaba (Chickpea Water). I would be lying if I told you that I wanted to make a Cotton Candy Ice Cream on purpose- it just happened and it's amazing. It's sweet and airy and the consistency is so fluffy – just like cotton candy (or at least how I remember it).
What is Aquafaba?
Aquafaba is the liquid from canned chickpeas (or other beans/legumes). I know, I know… If this is the first time you hear about Aquafaba or if you haven't worked with Aquafaba before or  you must think that's gross as hell. I promise, this ice cream tastes nothing like chickpeas. Aquafaba is pure magic. You can whip the liquid with an electrical hand mixer or with a stand mixer and it will get stiff and airy. If you want to read more about Aquafaba, you can do that here.
I haven't had much luck with Aquafaba in the past – if you follow me on instagram (this was my try of making vegan meringues) you know what I mean – but now with this ice cream everything changed.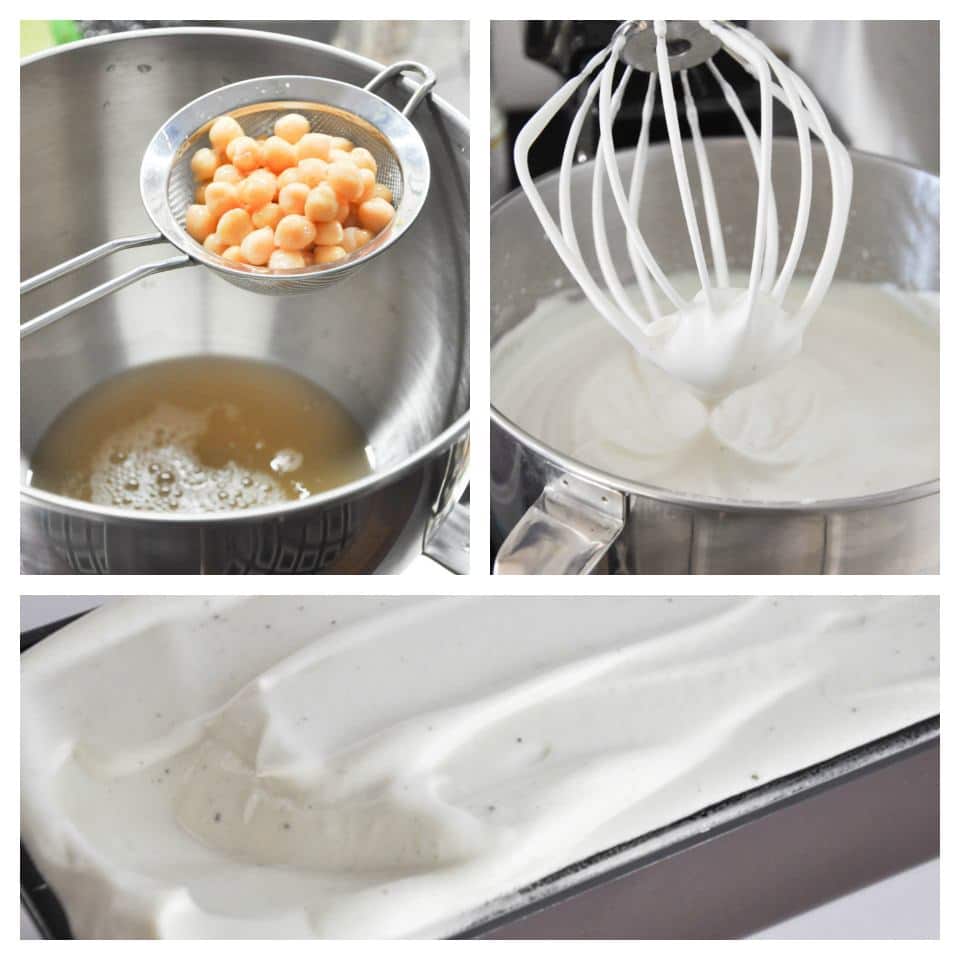 I've let my KitchenAid whisk the Aquafaba until it reached a stiff peak (this took about 5 minutes), then added in the rest of the ingredients, whisked again and froze it. Actually that's super easy, right?!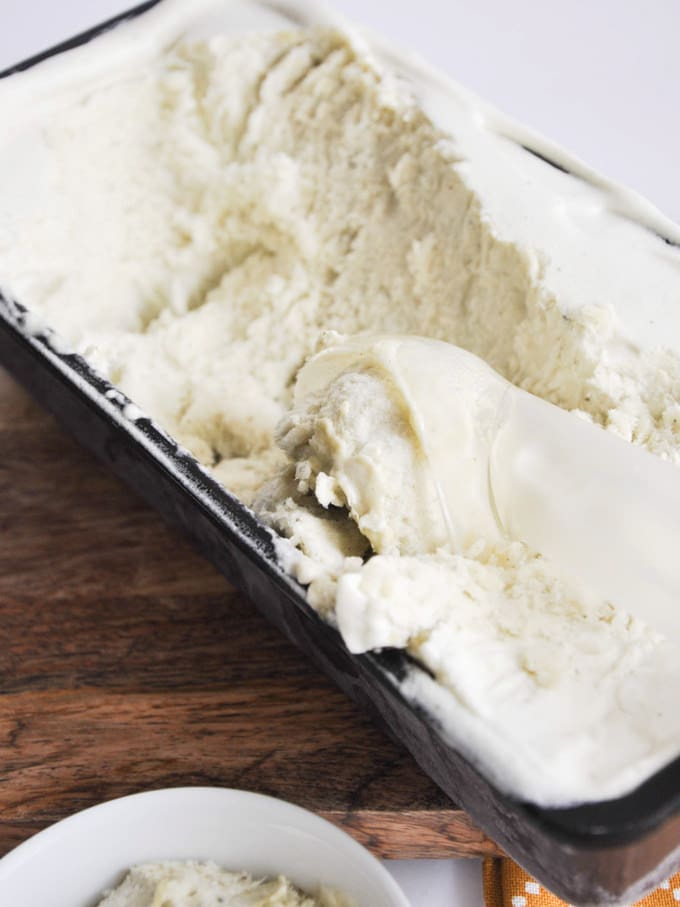 The consistency is crazy! So airy and fluffy and weird, but awesome. Like cotton candy! It practically melts in your mouth.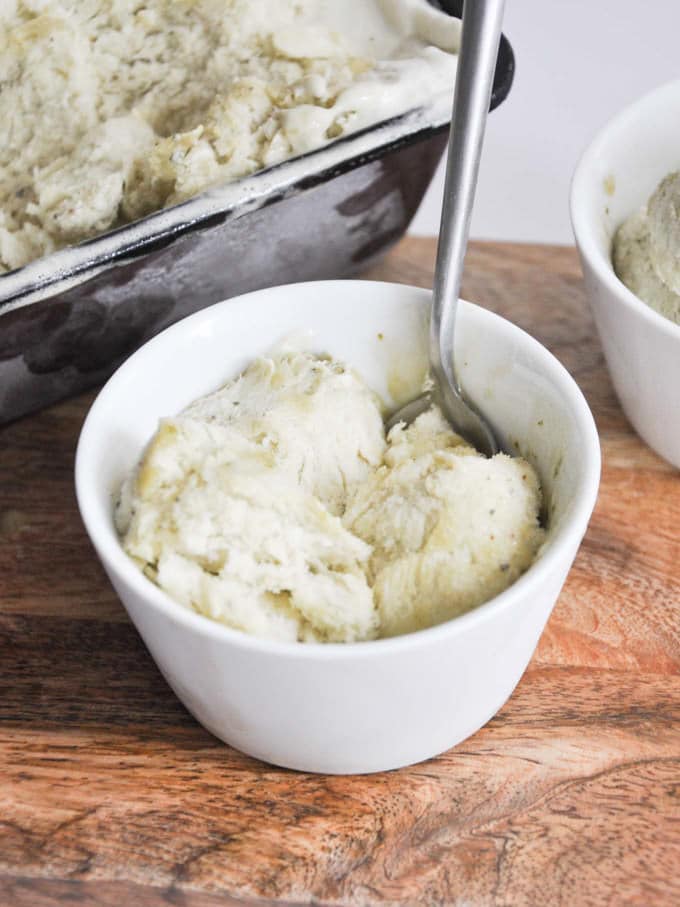 Vegan Minty Cotton Candy Ice Cream made with Aquafaba
Recipe for a vegan & gluten-free Minty Cotton Candy Ice Cream which is made with Aquafaba (Chickpea Liquid). It's sweet, airy and fluffy - like cotton candy!
Author:
Elephantastic Vegan
Ingredients
½ cup Aquafaba* (liquid from canned chickpeas)
2 tablespoons confectioner's sugar (or more to your personal preference)
½ teaspoon vanilla extract
¼ teaspoon vanilla powder (ground vanilla beans)
½ teaspoon peppermint liqueur (or extract**)
Instructions
Drain the chickpeas and fill the liquid of the canned chickpeas in a mixing bowl.
Whisk it with a stand mixer until it reaches a stiff peak (about 5-10 minutes).
Slowly add in the confectioner's sugar, vanilla extract and powder and peppermint liqueur and whisk it again for a few minutes. At this point, it's a good idea to taste it and to add more sugar or peppermint liquor to your preference.
Then fill it in a freezer-safe dish*** and put it in the freezer for at least 6 hours or overnight. (You don't have to give it a mix every x hours, I didn't and it turned out great.)
After that it's good to go! Serve and enjoy immediately. The ice cream melts a bit faster than regular ice cream.
Notes
GENERAL NOTE: This is probably the trickiest recipe I have on the blog. Aquafaba is not always easy to work with, so there is a chance that this recipe doesn't work for you, even if you follow the instructions. I have had readers tell me that the recipe worked for them, for others the liquid separated in the freezer. It's just a heads up, but if you do try it out, let me know how it works out for you! :)
*Aquafaba is the fancy term for the cooking liquid of beans and legumes, discovered by Goose Wohlt. You can read all about aquafaba on
aquafaba.com
.
**If you're using peppermint extract or essence, start with less and add more to taste.
***The container I used is 10 inches long, 4 inches wide and 2 inches high (25x11x5cm)
If you give this vegan Minty Cotton Candy Ice Cream recipe a try I'd love to hear how it turned out for you! Leave a comment or post a picture on instagram, use the hashtag #elephantasticvegan and tag me via @elephantasticvegan to make sure I'll see it ^.^ I love to see all your lovely creations! Thanks! <3