With a few simple ingredients, you can make delicious homemade crackers. Top them with za'atar seasoning and you have the best Za'atar Crackers ever! Serve them with hummus and you'll be in foodie heaven!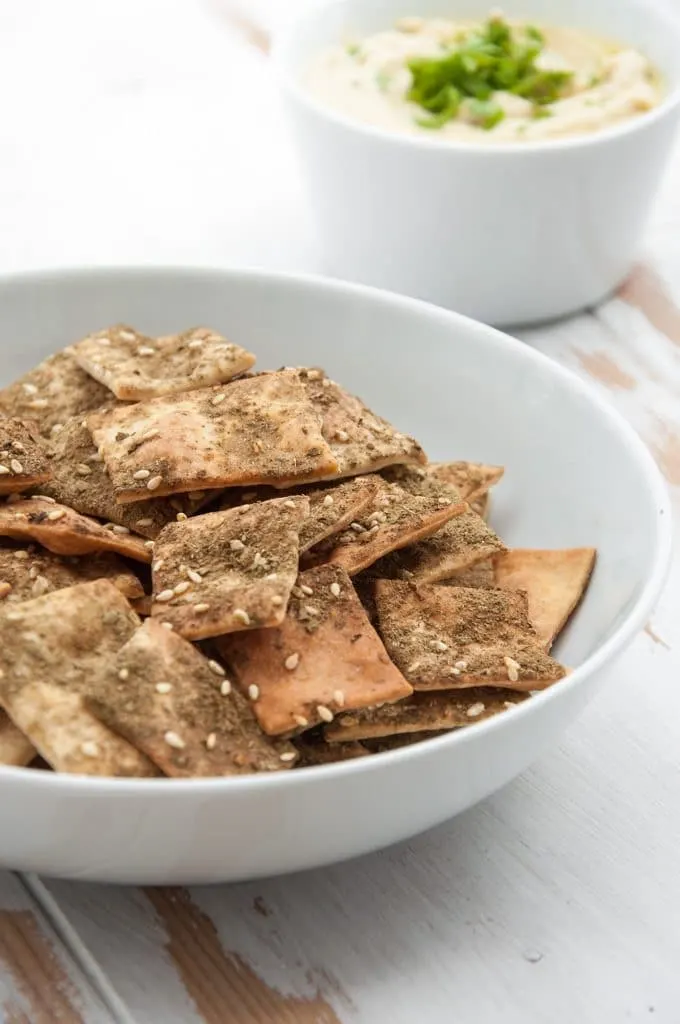 Oops, I did it again. The whole cracker family just got a bit bigger. Say hello to our newest member, Za'atar Crackers :D
If you've been following the blog, you probably know that I love making homemade crackers because they are so easy to make and I know exactly what's in there. Plus, there are endless possibilities of add-ins and toppings. And if that wasn't enough you can always play around with different dips to serve.
I've topped these crackers with za'atar, which is my favorite spice mix right now. I always get in the mood for Mediterranean foods when it's warm.
So what is Za'atar?
Za'atar is a traditional herb and spice blend of the Eastern Mediterranean cuisine. It's a mix of dried sumac berries, marjoram, thyme, basil, oregano, white sesame seeds and Himalayan pink salt. There are a few different za'atar spice mixes out there, but basically, these are the usual ingredients. You can find Za'atar in most supermarkets in the spice section or order it online.
How to make homemade crackers
This is the way to snacking heaven:
Mix and knead a dough by combining flour, baking powder, salt, olive oil, and water.
Roll the dough out as flat as you can.
Add herbs or spices if you want to. At this step, I've brushed the top with water and maple syrup so that the spices don't fall off the crackers once they're baked.
Use a pizza cutter to cut them in individual shapes.
Bake it in the oven for about 10-15 minutes until crispy. Let them cool off a bit.
Check out the detailed recipe below!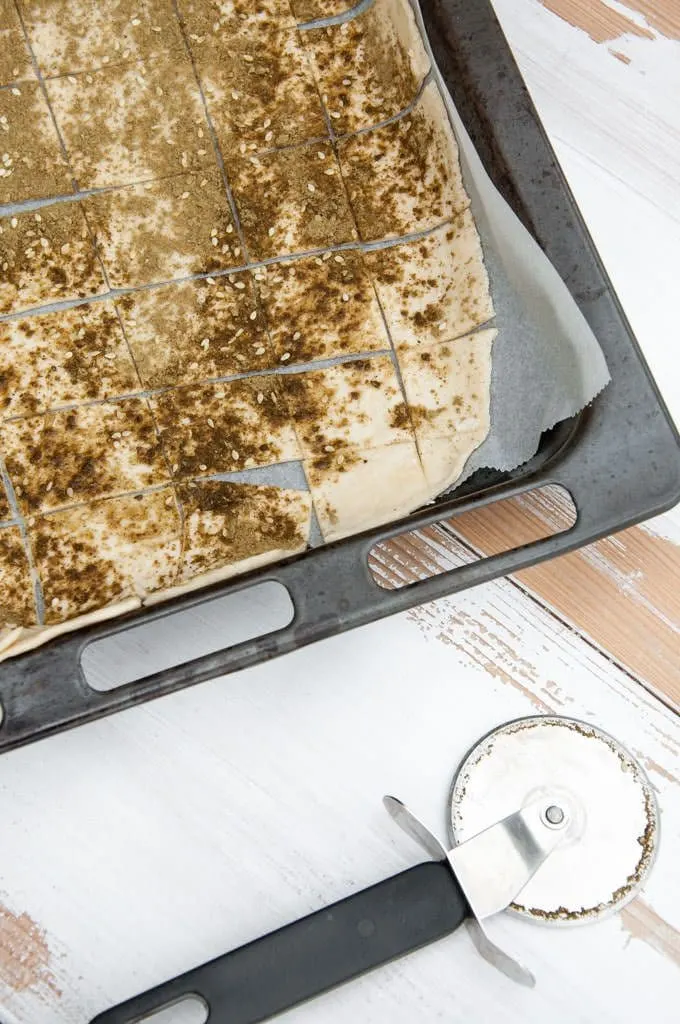 Tips for making the perfect crispy crackers
The consistency of the dough: Flour, water, even altitude matter when making the dough, so it's best to trust your instincts a bit when making the dough. Add water until you can make a smooth dough. If you're not sure, it's best to make it too wet than too dry, you can always work more flour into the dough while rolling out the crackers. A wetter dough is easier to roll out than one that is hard and crumbly.
The cracker thickness: Roll out the dough as thin and as even as possible. This ensures even baking! If they are not thin enough, they will be rather chewy than crispy. The best way to do this is to roll out the dough on a lightly floured parchment paper, cut them, and then carefully pull the parchment paper with the crackers onto the baking sheet. It also helps if you take your time rolling out the dough..sometimes it looks like it doesn't get any thinner. Then I walk away for one minute and come back..then the dough has relaxed a bit and can be rolled out easier and thinner.
Rolling pin: A proper rolling pin helps a lot with rolling the dough evenly. It works best with a large rolling pin with rotating handles.
Baking times: All ovens are different. Keep a close eye on them if you make them the first time. If a few of them start to puff up a bit, that's a good sign! They should get slightly golden/brown. If you're not sure, they should be crispy to the touch.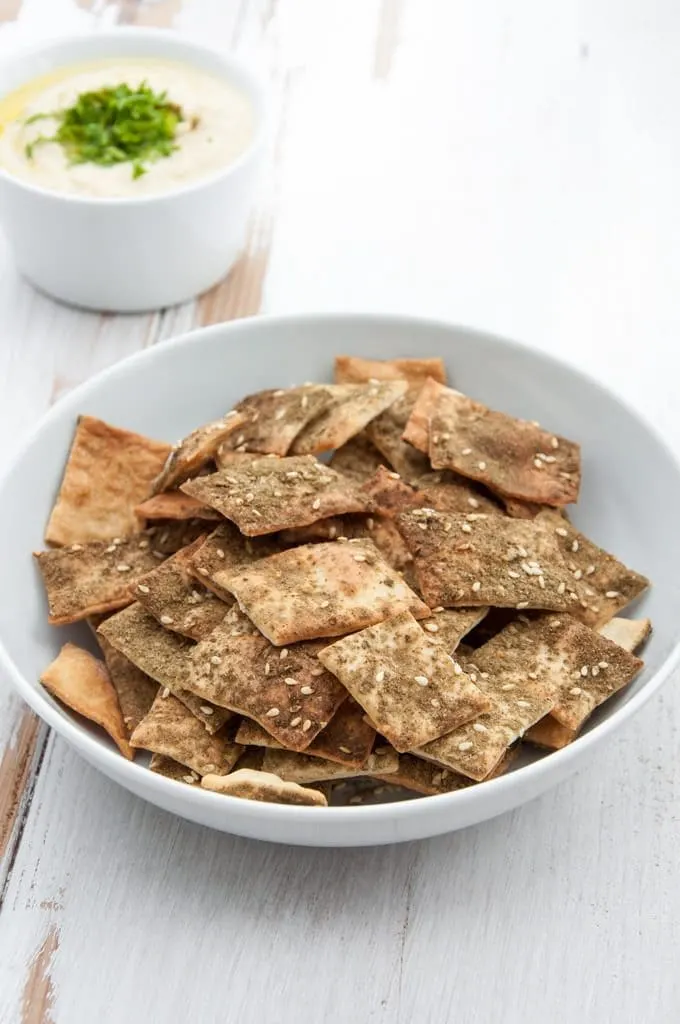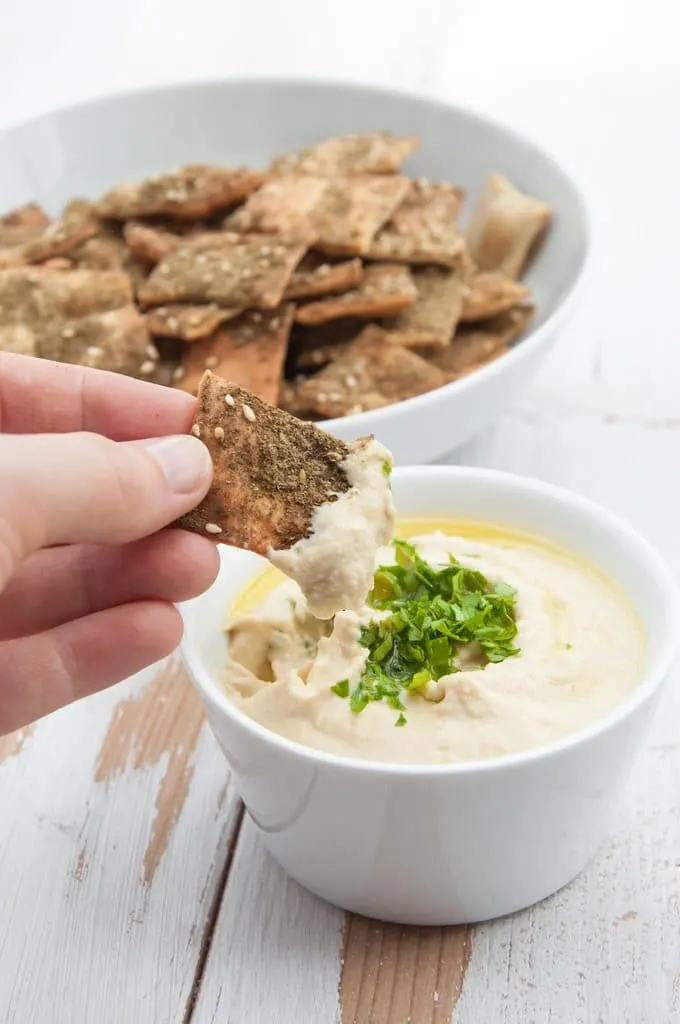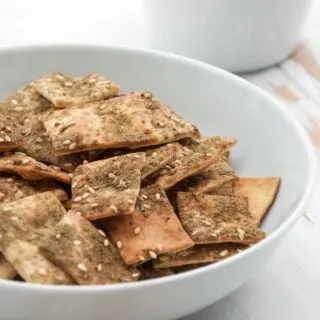 Vegan Za'atar Crackers
With a few simple ingredients you can make delicious crackers. Top them with za'atar seasoning and you have the best crispy Za'atar Crackers ever! Vegan.
Ingredients
1⅔

cup

all-purpose flour

½

teaspoon

baking powder

1/2

teaspoon

salt

1

teaspoon

olive oil

1/2

cup

water + 1 tablespoon water for brushing the top

1

teaspoon

maple syrup

1

tablespoon

za'atar seasoning
Instructions
Preheat the oven to 400°F/200°C.

In a mixing bowl add in the flour, baking powder, and salt, whisk and then add in the olive oil and water. Mix with a large wooden spoon until it comes together and knead with your hand until it's a smooth dough. Add more flour if the dough is too sticky.

On a lightly floured parchment paper, roll out the dough as thin and even as possible. Use more flour if you need to.

Mix 1 tablespoon of water with 1 teaspoon of maple syrup and brush the top of the crackers with it. Then sprinkle the za'atar seasoning on top.

Cut it with a pizza cutter length- and widthwise into individual crackers. Carefully pull the parchment paper with the crackers onto a baking sheet.

Bake them in the oven for about 15 minutes until they get crispy and golden brown. Let them cool off a bit before digging in. They're delicious with homemade hummus.
Notes
To store them: Let them cool off completely, then put them in an air-tight jar. This way they should stay crispy and delicious!
Nutrition
Calories:
825
kcal
Carbohydrates:
167
g
Protein:
21
g
Fat:
6
g
Sodium:
1177
mg
Potassium:
424
mg
Fiber:
7
g
Sugar:
4
g
Vitamin A:
150
IU
Vitamin C:
2
mg
Calcium:
193
mg
Iron:
14.6
mg

Did you make these Vegan Za'atar Crackers? Tag @elephantasticvegan on instagram and use the hashtag #elephantasticvegan. Don't forget to subscribe to the Elephantastic Vegan Newsletter to see Reader Remake Features!
More Easy Vegan Cracker Recipes
Affiliate Disclosure: This post may contain affiliate links, which means I may earn referral fees if you make a purchase through my link. While clicking these links won't cost you any extra money, they will help me keep this site up and running!