These vegan bacon bits are made using TVP (soy granule). You can enjoy them in tacos, burritos, salads, sprinkled over pasta, pretty much anything that needs that extra flavor and crunch!
You probably already know that I am a huge fan of TVP and soy granule. If you don't know what TVP is, then check out this guide on TVP I've written a couple of months ago (it also includes all of my favorite TVP recipes!).
I love TVP because
it can be stored at room-temperature like forever,
it is inexpensive,
it expands when cooked, so it doesn't need much space when storing it
and it's super versatile!
I've been using TVP and soy granules since the very first start of me going vegan (in 2012). It's very easy to make formerly meaty recipes vegan by using TVP. This works especially well for Spaghetti Bolognese, Lasagna, and Chili.
It has helped me a lot in the beginning, and I still enjoy using TVP because of the amazing texture and it soaks up flavors really well.
How to make Vegan Bacon Bits using TVP
The ingredients
You will need:
soy granule / soy crumbs / TVP
water
soy sauce
paprika powder
dried thyme
salt
liquid smoke
plant-based, neutral oil such as canola oil or sunflower oil
The basic steps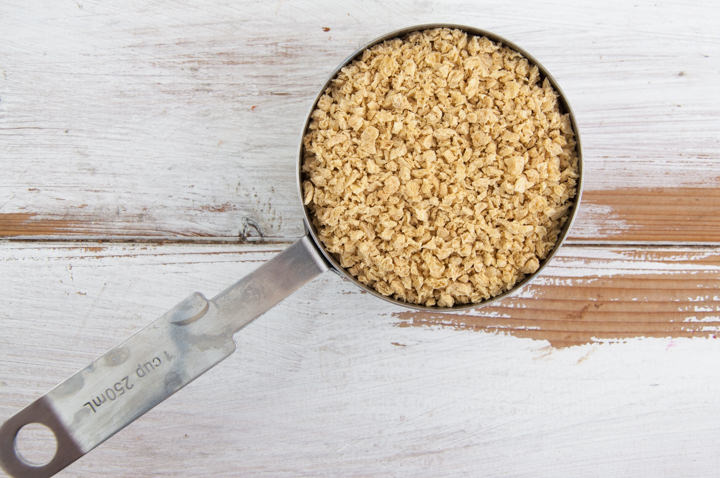 This is how the TVP / soy granule looks like that we are working with today. It is hydrated, so the first step is to rehydrate it and we're doing this with water, spices, and herbs (to add more flavor!).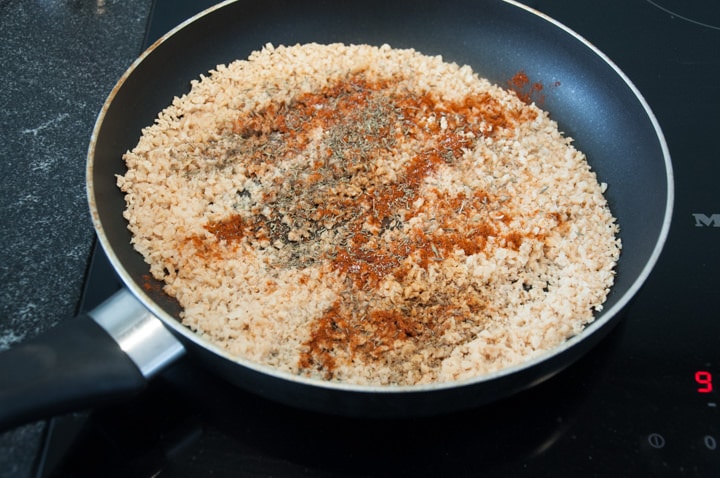 Step 1: Add the soy granule, water, spices and herbs to a large pan. Bring it to high heat.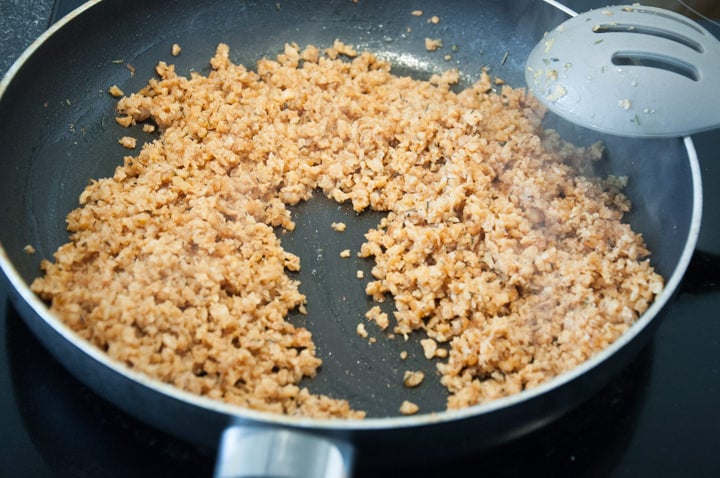 Step 2: Stir to combine. Let it cook until the soy granule has absorbed the water.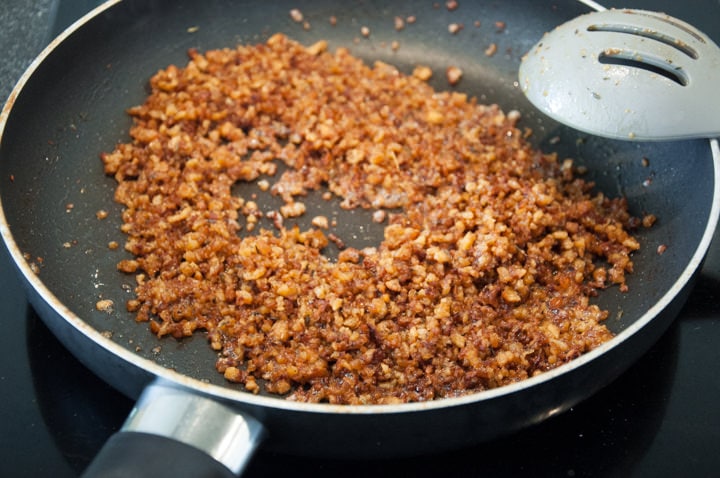 Step 3: Then add oil and let it cook further until the soy granule turns brown and gets crispy.
I hope you enjoy these versatile vegan bacon bits as much as I do! Let me know if you give them a try!
If you don't want to miss out on any new recipes, subscribe to my newsletter, follow me on Instagram and Facebook!
Cheers, Bianca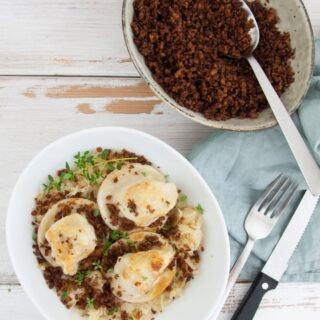 Vegan Bacon Bits
These vegan bacon bits are made using TVP (soy granule). You can enjoy them in tacos, burritos, salads, sprinkled over pasta, pretty much anything that needs extra flavor and crunch!
Ingredients
1

cup

soy granule

3/4

cup

water

2

teaspoons

soy sauce

1

teaspoon

paprika powder

mild

1

teaspoon

dried thyme

1/2

teaspoon

salt

1/2

teaspoon

liquid smoke

1

tablespoon

plant-based oil

(sunflower oil or canola oil)
Instructions
Add all the ingredients (except the oil) in a large pan, stir to combine. Bring it to high heat.

Once the soy granule has soaked up the water, add 1 tablespoon of oil. Stir constantly.

It will take about 10 to 15 minutes for the soy granule to get brown and crispy. You might have to add a bit more oil to achieve that. Then you can use the vegan bacon bits as taco 'meat', in salads, on pasta, or whatever you're craving!
Notes
Storage: Let the vegan bacon bits cool off, then you can put tem in an air-tight container and keep them in the fridge for up to 3 days.
Nutrition
Calories:
438
kcal
Carbohydrates:
29
g
Protein:
46
g
Fat:
14
g
Saturated Fat:
1
g
Sodium:
1858
mg
Potassium:
46
mg
Fiber:
16
g
Sugar:
12
g
Vitamin A:
985
IU
Calcium:
317
mg
Iron:
12
mg
Affiliate Disclosure: This post may contain affiliate links, which means I may earn referral fees if you make a purchase through my link. While clicking these links won't cost you any extra money, they will help me keep this site up and running!