Skip expensive store-bought burger patties, and make your own high-protein, healthy, you-know-exactly-what's-in-there-burgers!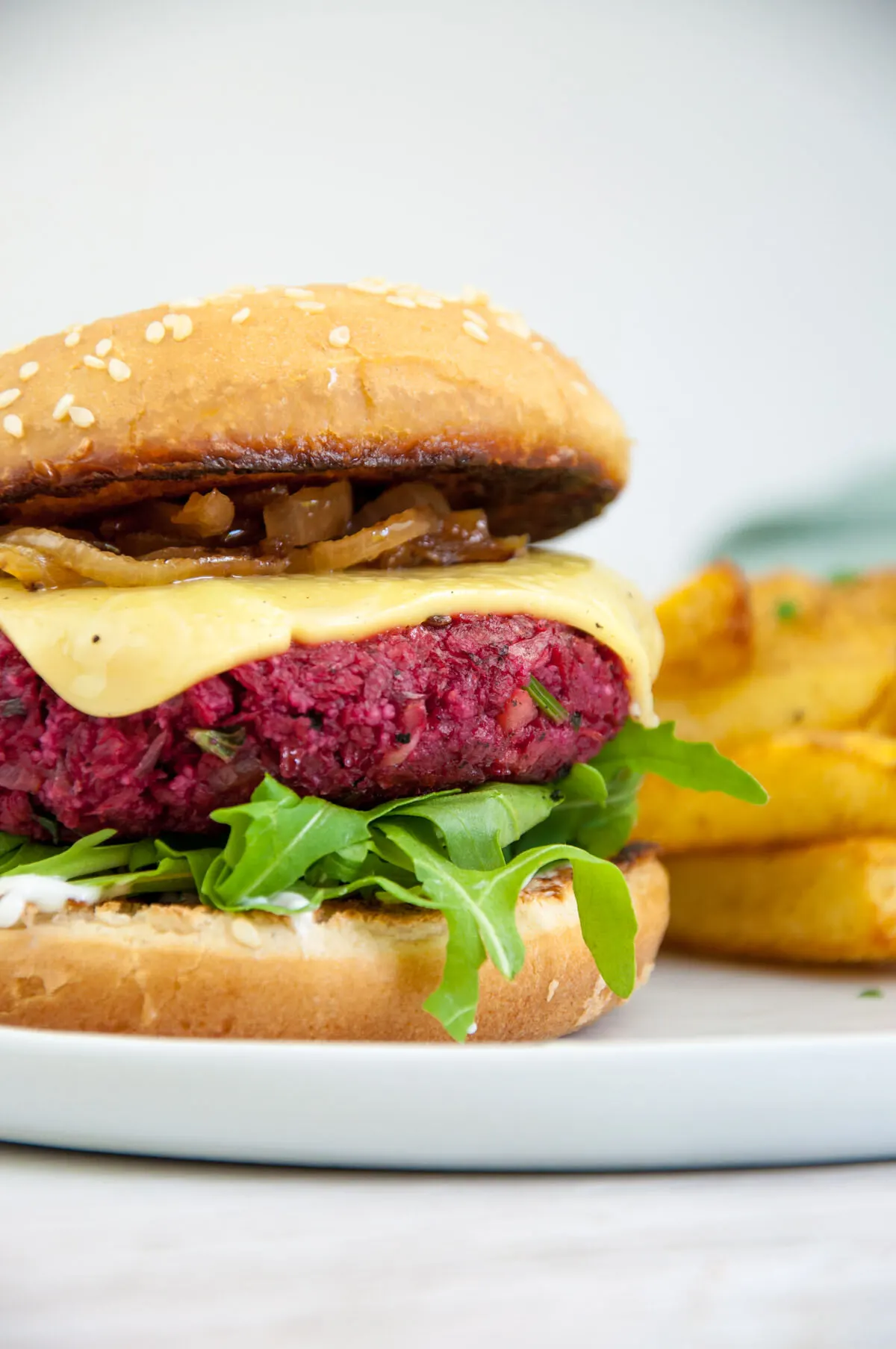 You can spend A LOT OF money on store-bought burger patties, especially those new beyond/impossible/whatever brands. I don't know what it is, maybe they are too authentic, but I don't like the taste of them.
So, I am making my own high-protein and low-fat burger patties with TVP (soy protein).
The texture is amazing, thanks to the soy granule. And the flavor is so good because I am adding caramelized onion and garlic into the mixture. Also some fresh parsley. I am adding beet juice for a pink color.
What is TVP?
TVP stands for Textured Vegetable Protein, often also called soy meat, soya chunks/granule/slices. It is made out of defatted soy flour, which is extruded into shapes (such as granules, flakes, chunks, slices, strips, nuggets,…).
For these burger patties, we are using the smallest kind: granules.
I love TVP because
it can be stored at room-temperature – like forever,
it is high in protein, low in fat,
it is inexpensive,
it expands when cooked, so it doesn't need much space in the pantry
and it's versatile!
Soy Granule is the KEY INGREDIENT in these patties. It's very easy to work with. First, we're re-hydrating the granule with beet juice and water (and some salt, soy sauce, and liquid smoke to make it tasty). Then we can use it just like ground meat.
TVP (soy protein, soy granule) is gluten-free, so you can make these burger patties gluten-free by using gluten-free breadcrumbs or oat flour as the binding ingredient.
How to make Soy Protein Burger Patties
You can find the whole recipe below in the box, but I want to share with you the ingredients and basic steps first to give you an overview!
The ingredients
You will need:
For the Soy Protein Burger Patties:

soy granule / TVP
yellow onion
garlic cloves
fresh parsley
bread crumbs
red beet juice
soy sauce
liquid smoke
salt

Additional ingredients for the burgers:

burger buns
vegan mayo
arugula salad
caramelized onions
vegan cheese slices – I am using Violife cheddar flavour.
The basic steps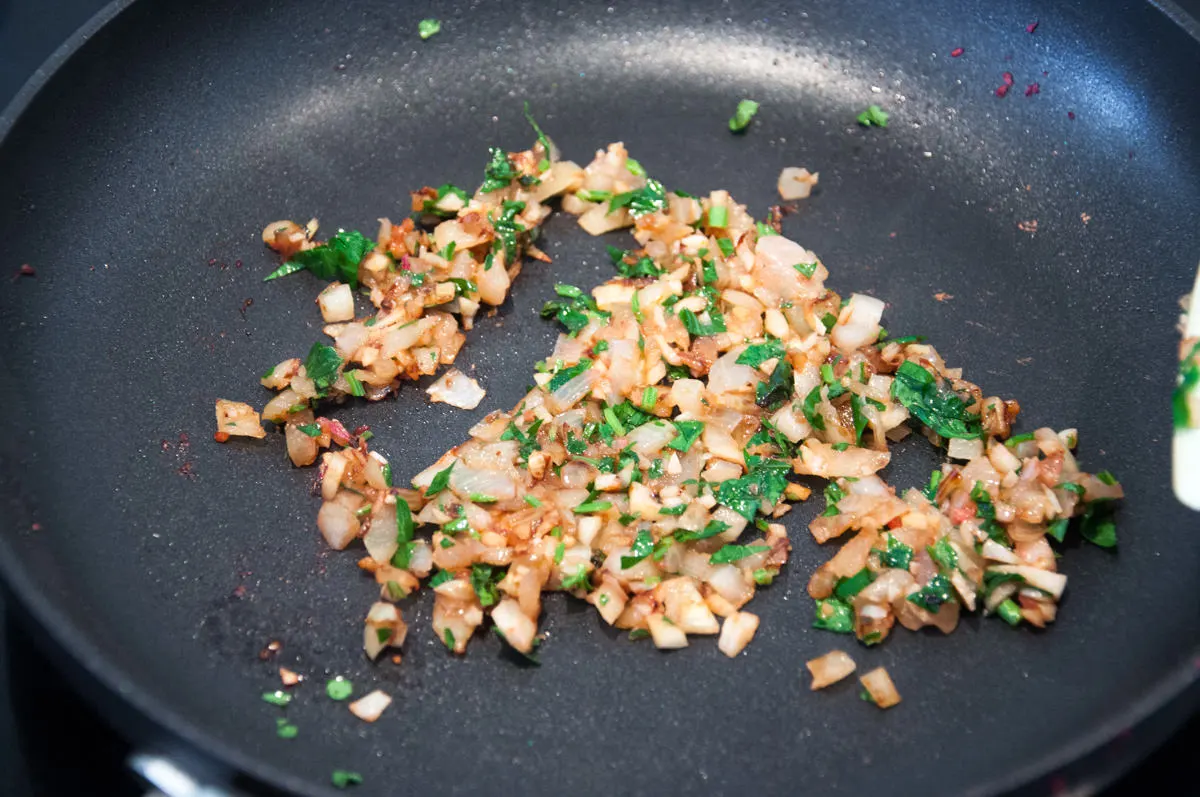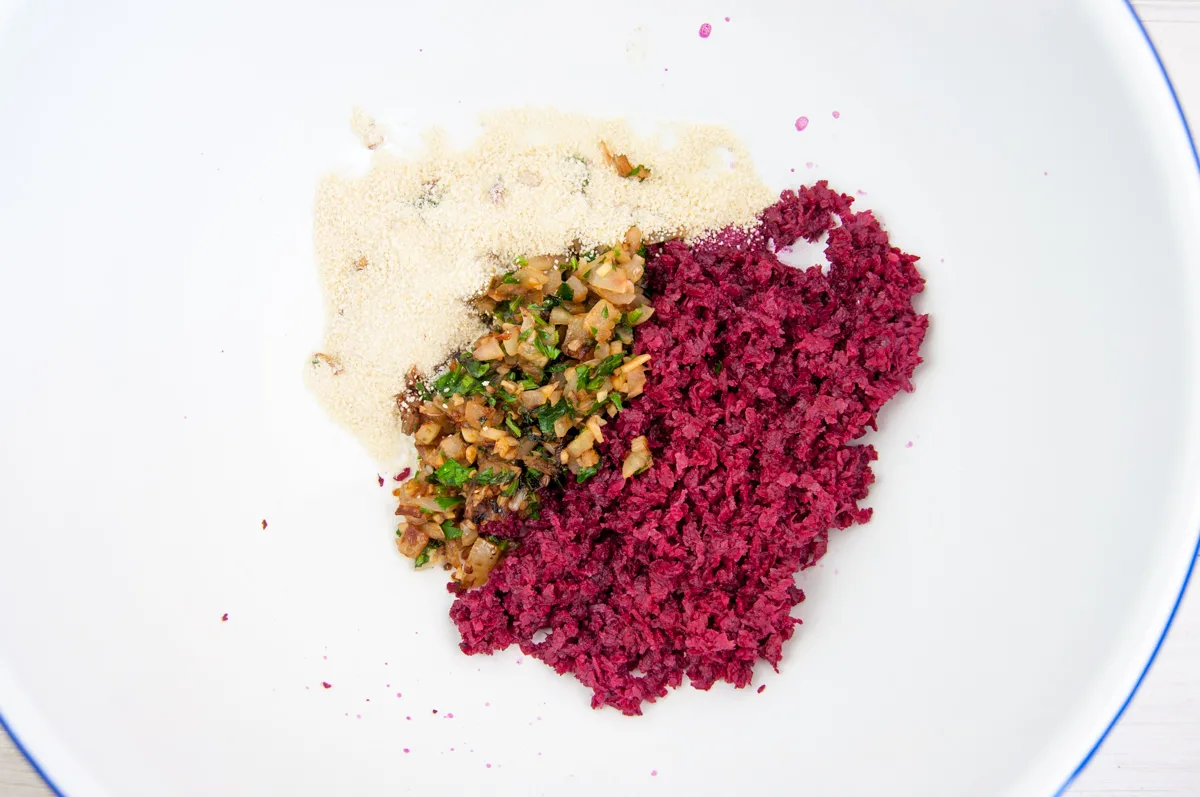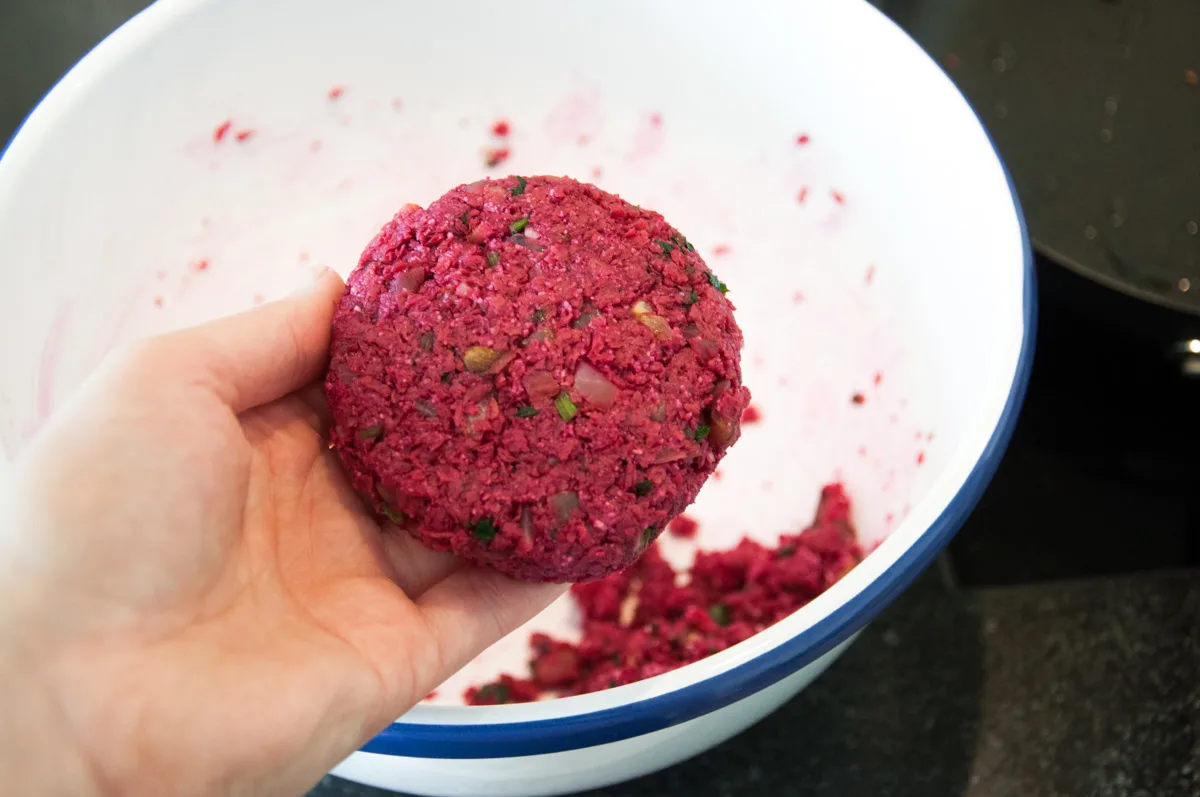 Soy Protein Burger FAQ
My mixture doesn't hold together, what can I do?
If it's too crumbly/dry you can add more water or oil; if the mixture is wet enough but doesn't hold together, you can add more breadcrumbs or all-purpose wheat flour.
Can I bake the patties?
Sure! After baking, the patties will be firmer and hold together even better, you can even put them on a grill afterward. Bake them at 400°F/200°C for 15 minutes. The color will change, though, it won't be that vibrant.
Is the red beet juice necessary?
No, absolutely not. I added it for a 'meaty' color but I also made some patties without the beet juice and they were just as good.
Looking for more recipes with TVP?
Love it? Rate it!
I hope you enjoy this Vegan Soy Protein Burger as much as I do! Let me know if you give it a try!
If you don't want to miss out on new recipes, sign up for my weekly newsletter, join me on Instagram and Facebook.
Cheers, Bianca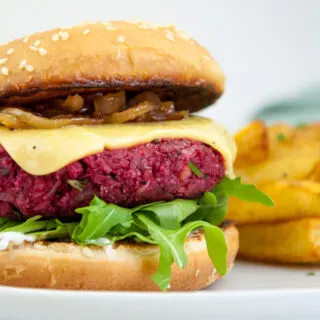 Soy Protein Burger
Skip expensive store-bought burger patties, and make your own high-protein, healthy, you-know-exactly-what's-in-there-burgers!
Ingredients
Soy Protein Burger Patties
1/4

cup

red beet juice

1/4

cup

water

1

teaspoon

soy sauce

1

teaspoon

liquid smoke

1/2

teaspoon

salt

1/2

cup

soy granule

1

teaspoon

olive oil

1/2

yellow onion

chopped

1

garlic cloves

minced

2

tablespoons

parsley

chopped

4

tablespoons

breadcrumbs
Additional Ingredients for the Burger
2

burger buns

1/3

cup

arugula

2

teaspoons

vegan mayo

2

vegan cheese slices

2

tablespoons

caramelized onions
Instructions
In a pan, heat red beet juice, water, soy sauce, liquid smoke, and salt. Give it a good mix. Add the soy granule and let it cook over medium heat for 2-3 minutes until the soy granule has soaked up all the liquid. Then transfer it into a bowl.

I am using very fine granule so it takes only a minute until it has soaked up the liquid, it may take a bit longer when your granule is bigger.

In a pan with olive oil over medium to high heat, cook the chopped onion and minced garlic until translucent and slightly brown. Then add the chopped parsley. Give it a quick mix. Then add it to the bowl with the soy granule.

To the soy granule and onion-garlic-parsley, add the breadcrumbs.

Let it cool off a bit until it's cold enough to handle. Then shape the burger patties. The mixture should be enough for 2 patties à 100g.

Heat a pan with oil over medium heat. Add the burger patties. Flip them, add the vegan cheese, add a teaspoon of water into the pan, put the lid on, and turn off the heat. The steam will help the cheese to melt.

Let's assemble! I put a layer of vegan mayo on the bottom bun, then add the arugula, then the burger patties with the melted cheese, caramelized onions, and the top burger bun. Enjoy!
Nutrition
Calories:
340
kcal
Carbohydrates:
48
g
Protein:
19
g
Fat:
7
g
Saturated Fat:
1
g
Polyunsaturated Fat:
1
g
Monounsaturated Fat:
2
g
Sodium:
1145
mg
Potassium:
201
mg
Fiber:
6
g
Sugar:
9
g
Vitamin A:
417
IU
Vitamin C:
10
mg
Calcium:
198
mg
Iron:
5
mg
Affiliate Disclosure: This post may contain affiliate links, which means I may earn referral fees if you make a purchase through my link. While clicking these links won't cost you any extra money, they will help me keep this site up and running!