Recipe for vegan "Egg" Spaetzle – they are tossed in a super creamy Avocado Sauce. A secret ingredient will make the spaetzle taste and smell super egg-y!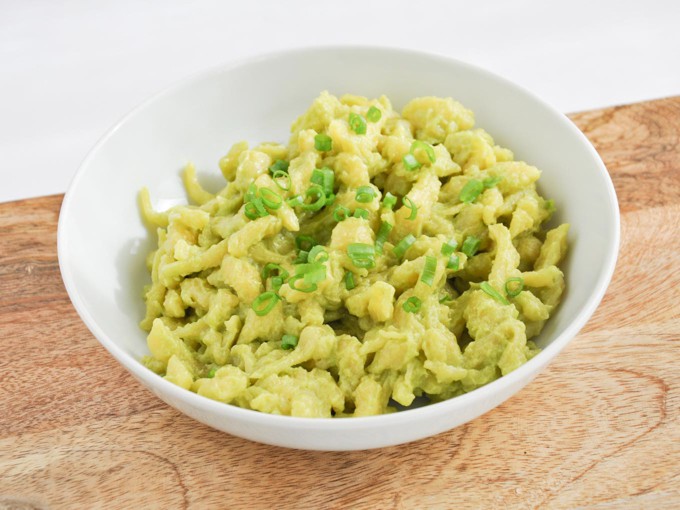 Spaetzle are a very popular dish in the german-speaking area (Germany and Austria). Spätzle or how they are often called Knöpfle, are normally made with a lot of (and I really mean a lot!!) eggs, so I was extremely excited that a vegan – egg-free – version turned out that great. You might want to have a look at my other spaetzle recipes: Cheesy Spaetzle and Spinach Spaetzle.
In this recipe I've tried to make the spaetzle as similar to non-vegan spaetzle as possible. I've added turmeric for the yellow color and my secret ingredient – Kala Namak – for that typical eggy taste. Kala Namak is a Himalayan Black Salt – due to its high sulfur content, it's perfect for all dishes that profit from an "eggy" taste and smell. I've tossed the Spaetzle in a super creamy Avocado Sauce and topped the dish with finely cut spring onion and sprinkled it with additional Kala Namak.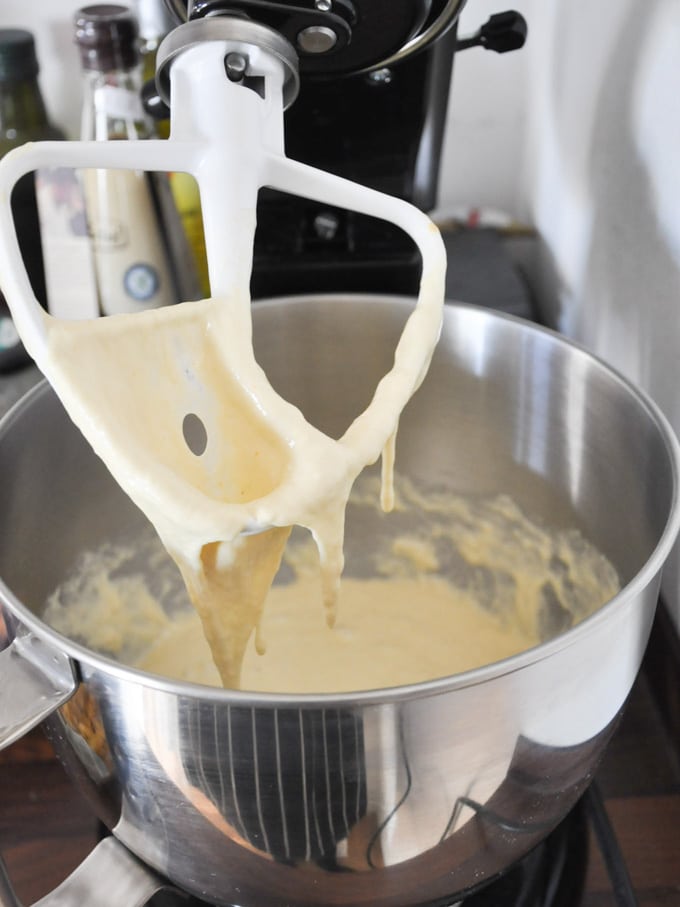 This is the consistency the dough/batter should have. It's a sticky, slimy & gooey dough, but this one works best! I've mixed the dough in my KitchenAid, but a simple whisk works too.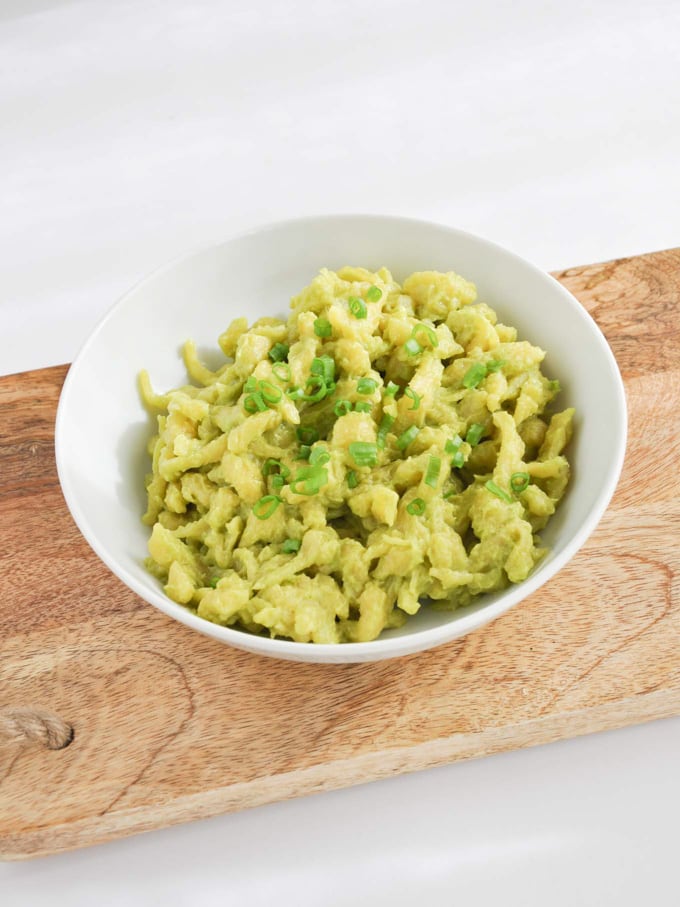 If you have a Spaetzle Maker, you won't have any problems making the Spaetzle and it's very easy. However there are different devices you can use: A Spaetzle Board, a Spaetzle Press, a Spaetzle Lid or like I did, a Spaetzle Maker.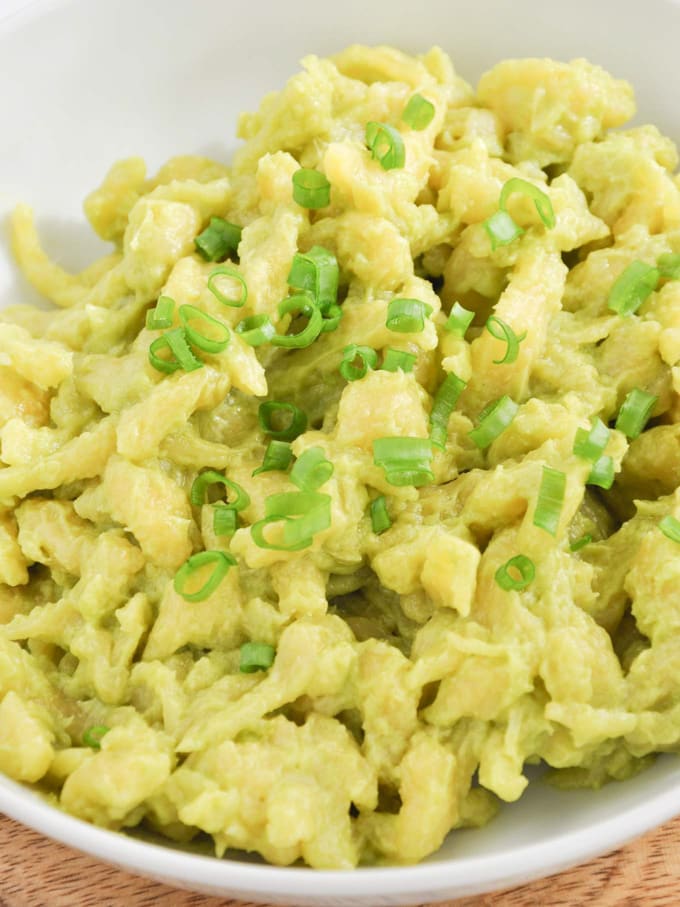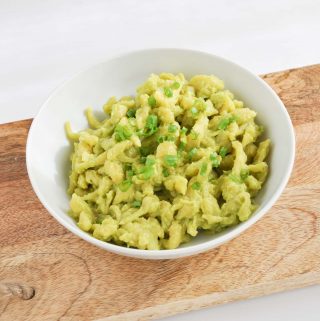 Vegan "Egg" Spaetzle with a creamy Avocado Sauce
Recipe for vegan "Egg" Spaetzle - they are tossed in a super creamy Avocado Sauce. A secret ingredient will make the spaetzle taste and smell super egg-y!
Ingredients
Ingredients for the Spaetzle
2

cups

all-purpose-flour

1

cup

water + more for boiling the spaetzle

1

teaspoon

kala namak

(key ingredient!)

1/4

teaspoon

turmeric powder
Ingredients for the Avocado Sauce
1

ripe avocado

1/4

teaspoon

water

1

teaspoon

lime juice

1/4

teaspoon

kala namak

1

tablespoon

finely chopped spring onion

+ more kala namak for sprinkling

(optional)
Instructions
Fill a large pot with water until it's 3/4 full and bring it to a boil.

Put the flour in a mixing bowl, add in the Kala Namak and turmeric, whisk and add in the water and whisk again until it's a sticky dough (like in the photo above).

Once the water is boiling you can place the

Spaetzle Maker

on top of the pot.

Fill the Spaetzle Maker with the dough and move it up and down until all the dough is pressed into the water. (Depending on the size of your Spaetzle Maker you may have to make the Spaetzle in two batches)

The Spaetzle will swim on the surface once they are done (which should be in a minute or two).

Use a skimmer to transfer the Spaetzle in a strainer, pour some cold water over them to prevent them from sticking together and drain.

Cut the avocado in halves, remove the pit and spoon out the avocado flesh into a food processor and mix it with the rest of the ingredients for the avocado sauce until completely smooth.

Reheat the spaetzle in a large, lightly oiled hot pan on medium heat. Add in the avocado sauce, give a good mix and divide the Spaetzle onto two plates and top it with the finely chopped spring onion and sprinkle additional Kala Namak on top if you want to!
Notes
I highly recommend using a Spaetzle Maker for this recipe or any other Spaetzle Making Device you prefer or have at home.
A leafy green salad is the excellent side dish for these Spaetzle.
Nutrition
Calories:
618
kcal
Carbohydrates:
104
g
Protein:
15
g
Fat:
15
g
Saturated Fat:
2
g
Sodium:
1469
mg
Potassium:
621
mg
Fiber:
10
g
Sugar:
1
g
Vitamin A:
175
IU
Vitamin C:
11.4
mg
Calcium:
31
mg
Iron:
6.5
mg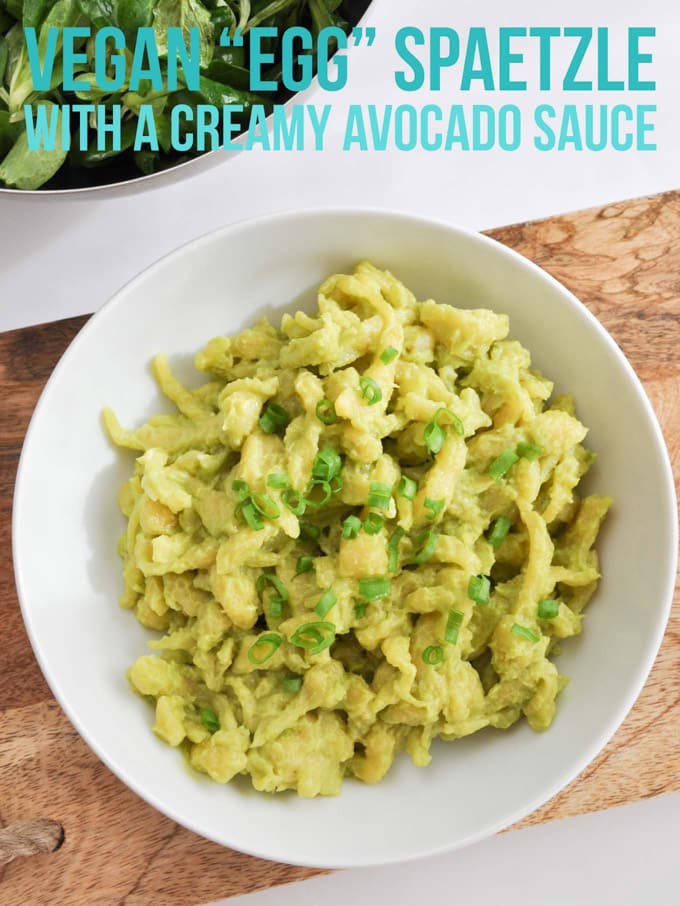 Should you decide to give these creamy Vegan "Egg" Spaetzle a try I'd love to hear how it went! Write me a comment or post a picture on instagram, use the hashtag #elephantasticvegan and tag me via @elephantasticvegan to make sure I'll see it ^.^