A few years ago, my boyfriend and I started the tradition of making a homemade Christmas Liquor, my relatives loved it so we simply kept making one year after year. I love that it is so easy to make and it is such a cute little gift, especially if the alcohol is filled in little bottles. We store the alcohol for about 1 month before we remove the fruits and spices and fill them in individual bottles.
So November is the perfect time to start with the Christmas Liquor. Of course you start even earlier and let the fruits soak for months, but I've found 1 month to be a good time. The base for this Christmas Liquor is Korn, which is a distilled beverage made from rye with an ABV of 38% but if you don't have Korn, Vodka works too.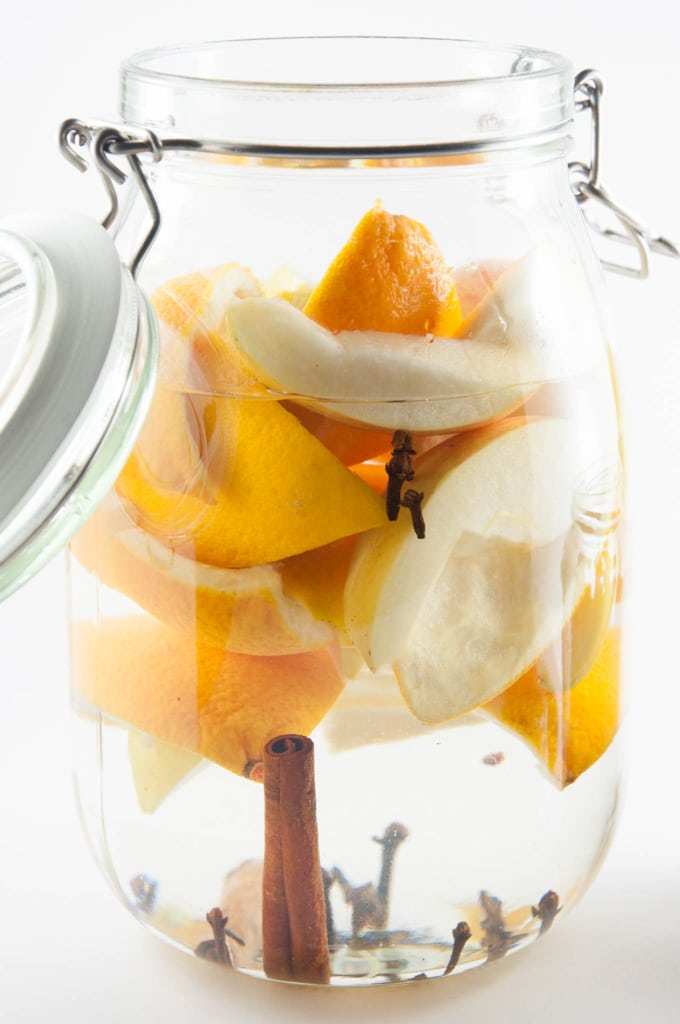 In this years Homemade Christmas Liquor are orange peels (make sure it's from an organic orange!), an apple, cinnamon sticks, cloves and xylitol (which helps extract the flavor off the fruits and into the alcohol). Instead of the xylitol you could also use granulated white sugar or coconut sugar. But I like to use xylitol, which is also called birch sugar because it's supposed to be healthier (not that it matters in the alcohol..but…you know :)).
I always store the jar of alcohol in the bedroom, because it's usually darker and not so warm. Just let it sit for a month and give a quick stir once or twice in between. Below, I have a pro tip for you to prevent the orange peel to float on the surface.
Homemade Christmas Liquor - the perfect gift
Make this homemade Christmas Liquor with apples, oranges, cinnamon and more! It's the perfect little gift for your relatives or co-workers.
Author:
Elephantastic Vegan
Ingredients
4 cups / 1 litre of clear alcohol (I used Korn which is a distilled beverage made from rye with an 38 ABV (alcohol by volume) but vodka works too)*
peels from two organic oranges
1 apple
3 cinnamon sticks
1 teaspoon cloves
¼ cup white sugar
Instructions
Wash and peel the oranges. Wash and cut the apple in slices and remove the stem.
Pour the alcohol in a large enough jar, add the orange peel, apple slices, cinnamon sticks, cloves and sugar. Give a quick stir.
Place a clean shot glass on top to prevent the orange peels from floating on the surface. Everything should be covered by alcohol to prevent mold.
Store the Christmas Liquor for about 1 month in a dark place, give it a quick mix once or twice.
After a month you can pour it through a strainer and fill it into individual small bottles and you have the perfect gift ready!
Pro tip: Place a shot glass on top to prevent the orange peel and apple slices from floating on the surface.
Should you decide to give this Homemade Christmas Liquor a try I'd love to hear how it went! Write me a comment or post a picture on instagram, use the hashtag #elephantasticvegan and tag me via @elephantasticvegan to make sure I'll see it ^.^ I love to see all your lovely creations! Thanks! <3