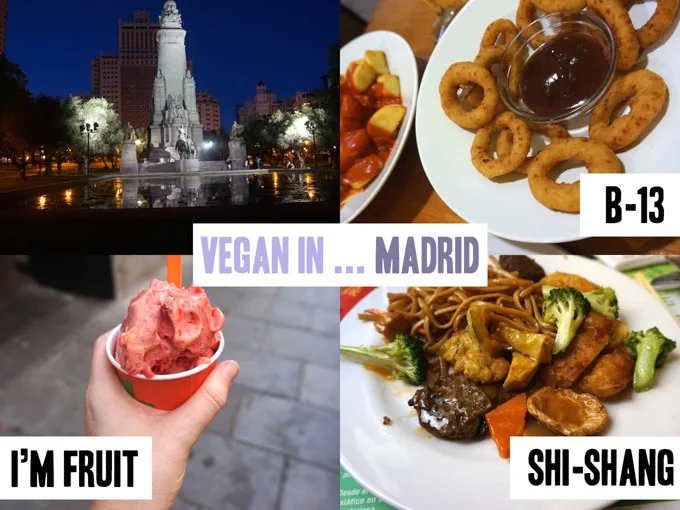 Vegan in … is a series of posts on Elephantastic Vegan where I write about my vegan travelling experiences. I love to travel to larger cities, rather than spending my days on the beach. So should you ever be there as well, I hope these posts will help you!
This summer [2014] I spent a few days in Madrid with my boyfriend. This was our second trip there but the first one as vegans. With anticipation we checked possible restaurants before on happycow, but I thought these were all backup plans. It was actually really, really hard to eat in regular restaurants, as they do not offer many options for vegans. Often not even for vegetarians. They really love their jamón, calamares, gambas y anchovies. Therefore we mainly ate in vegan-friendly or completely vegan restaurants. Thankfully the Hotel we stayed in was at the Gran Vía, so there were a lot of restaurants nearby.
Shi-Shang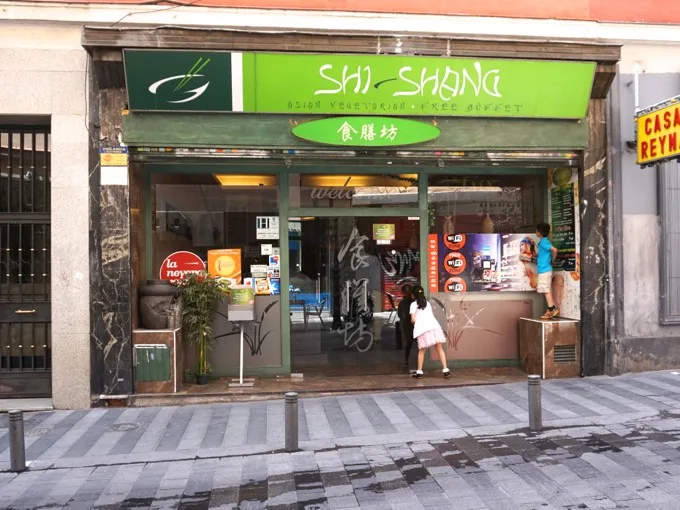 The first Restaurant we ate in was Shi-Shang, a Chinese restaurant. We tried the all-you-can-eat buffet (nearly everything is vegan, except some desserts), which is very reasonable priced (it was around 7 €). There was a great selection of various fake meats like chicken, pork, beef and typical Chinese dishes. I tried through most of the dishes. But I have to say it was all very fatty and rich.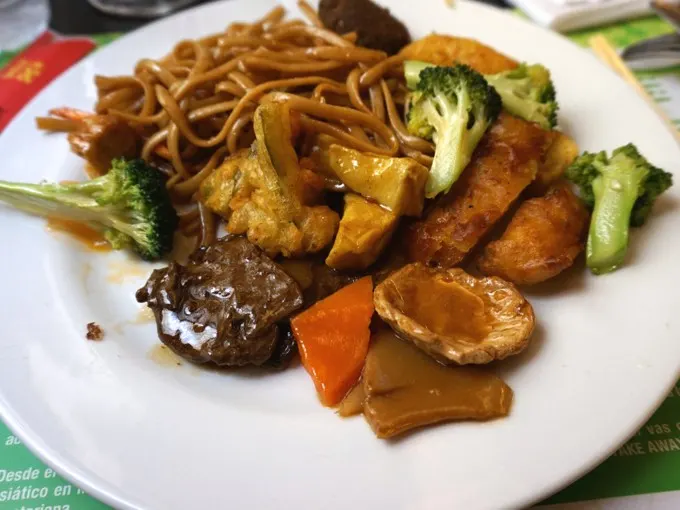 I'm fruit
Something I didn't saw on happycow but discovered during strolling through the city was I'm fruit. It's a very small shop where they make ice cream (and shakes) with only frozen fruit and the best part is that you can choose what you want. I had a combination of banana, strawberries and mango. It was really good and refreshing.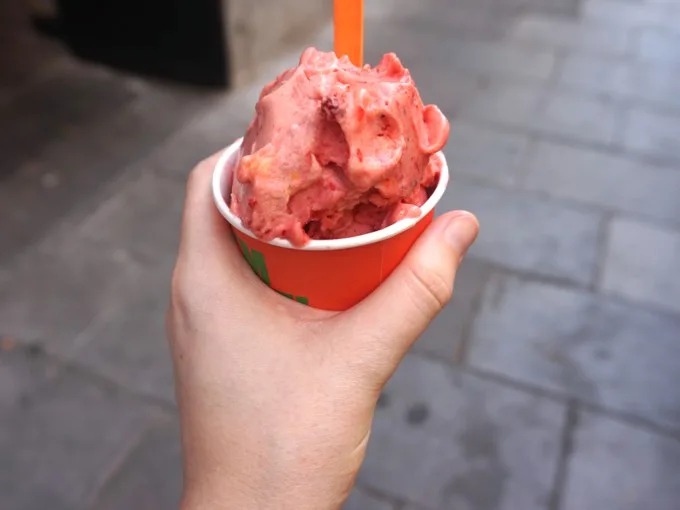 Loving Hut
Next up was a visit to the Loving Hut, which serves like all the other Loving Huts around the world, 100% vegan food. It was really nice to have so many options and I've never had a bad experience in other Loving Huts, so I was really looking forward to the food. I had the burrito with soy pieces and grilled vegetables and my boyfriend had the hamburger. We tried the spring rolls for an appetizer and strawberry ice cream for dessert. It was all very tasty and delicious.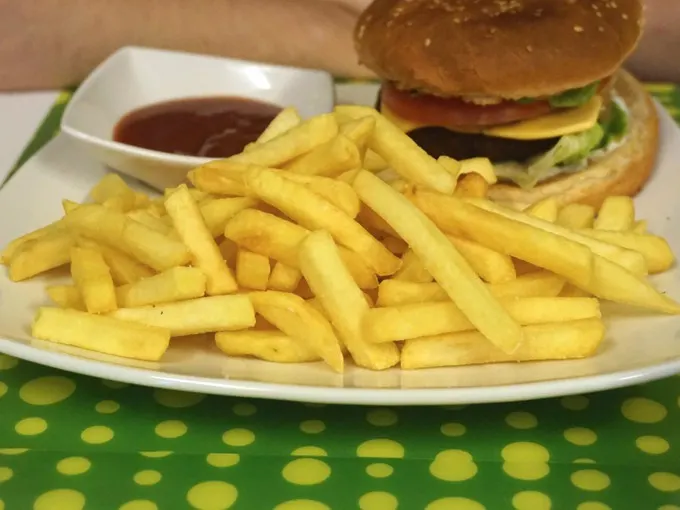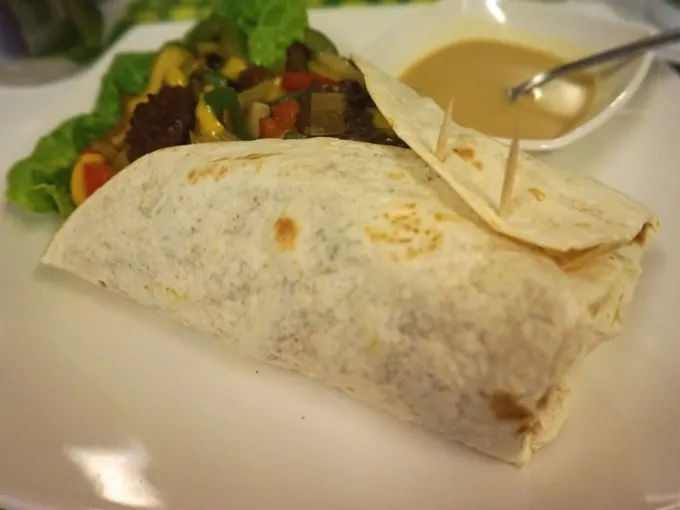 Then we visited B-13. What should I say? The food is to die for. Really. It's a 100% vegan bar, which also serves beer and wine. They offer tapas (we ordered way too many because we didn't know the portions were so huge!), they also have burgers, sandwiches, hot dogs, kebabs, and desserts. We ordered tortilla espanola, onion rings, patatas bravas (potatoes with a very spicy sauce), and calamares. As you can see in the photos the portions are not exactly small. The food was so good, we visited the bar for the rest of our vacation in Madrid. We went there three times in total. No regrets. We also tried the chorizo baguette, chicken-style burger, and hot dog (sorry no photos). EVERYTHING was perfect and delicious. This was my absolute favorite restaurant in Madrid. Oh… and it was so inexpensive! I miss it already.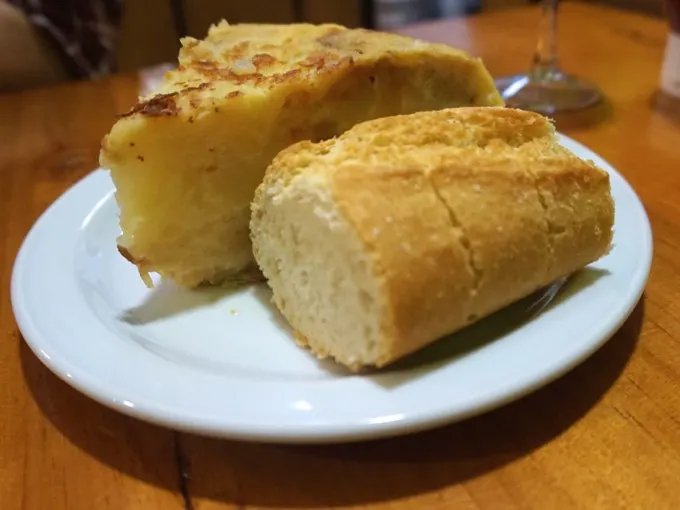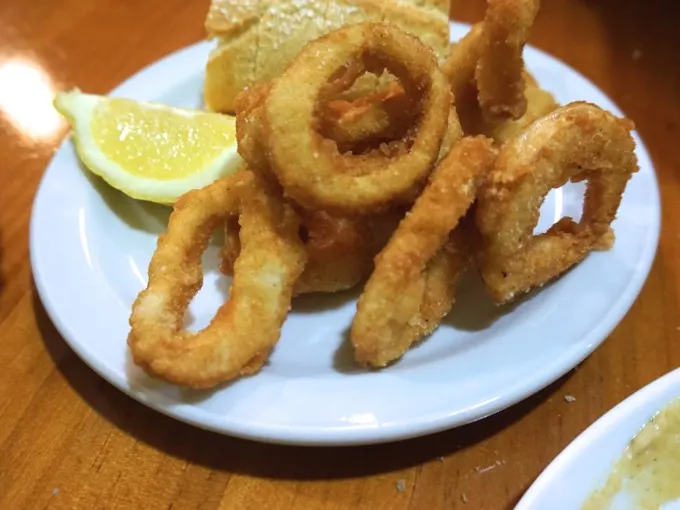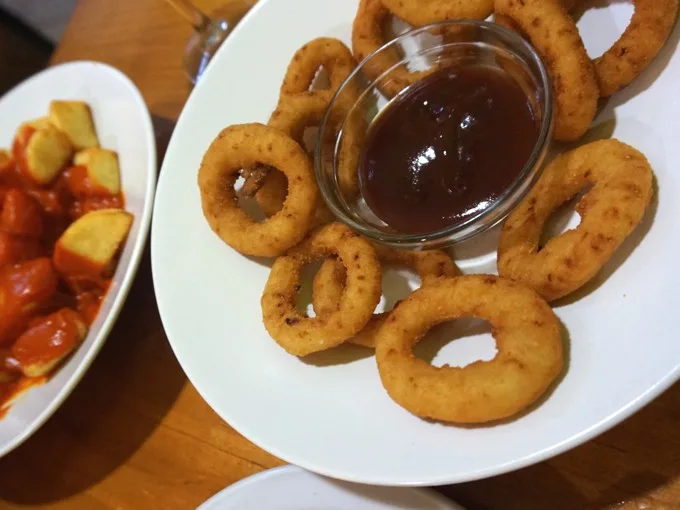 Have you been to Madrid? Do you have any more tips where to get awesome vegan food? Please share it in the comments below! :) Thank you!