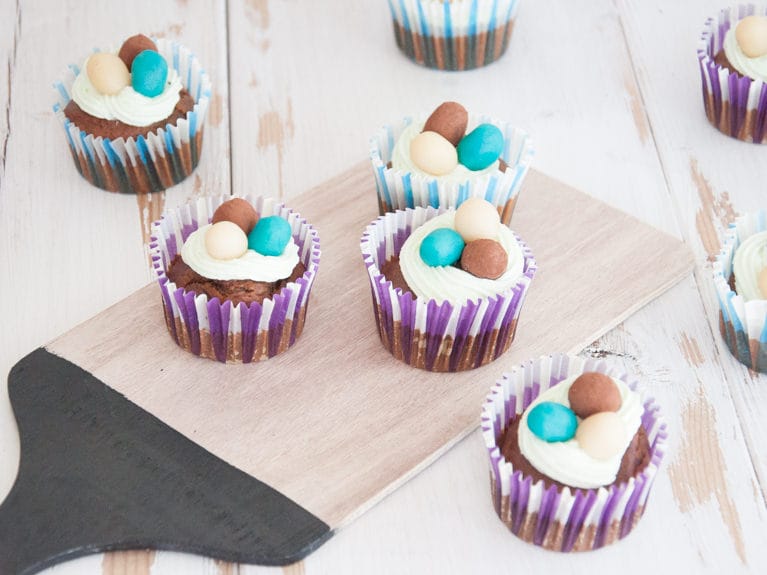 Time to prepare for Easter! This is not the first time I've been making these Easter Cupcakes and they always have been a great hit with my family and colleagues. They look just too cute. When I was a child we celebrated Easter and my parents hid chocolate and colored cooked eggs (…yes) in the garden which my sister and I had to search. Good for me that my bedroom's window was facing the garden and I was watching them in the morning hiding the treats, therefore having an advantage to my younger sister. Hah. Now I don't celebrate Easter anymore, but I really enjoy baking for people I like and I'm always inspired by festive occasions. Therefore I was making festive Easter Cupcakes that recreate a Easter Nest. I've formed little balls with almond paste and colored them to look like colored eggs.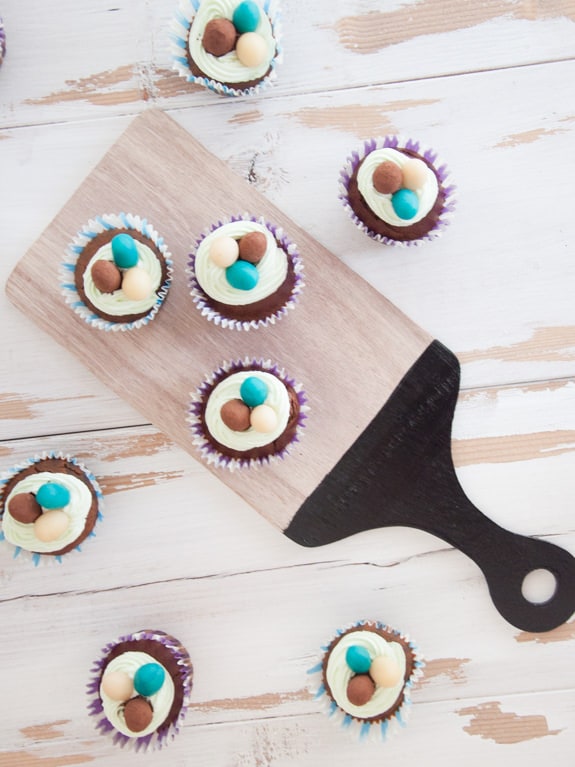 The base is a fluffy and super soft cocoa muffin. It's so good. Then it is topped with a Peppermint Liqueur Frosting. You can sub this, of course, with Peppermint Extract but you'll need much less of it, I guess. I don't have any experiences with Peppermint Extract – sorry!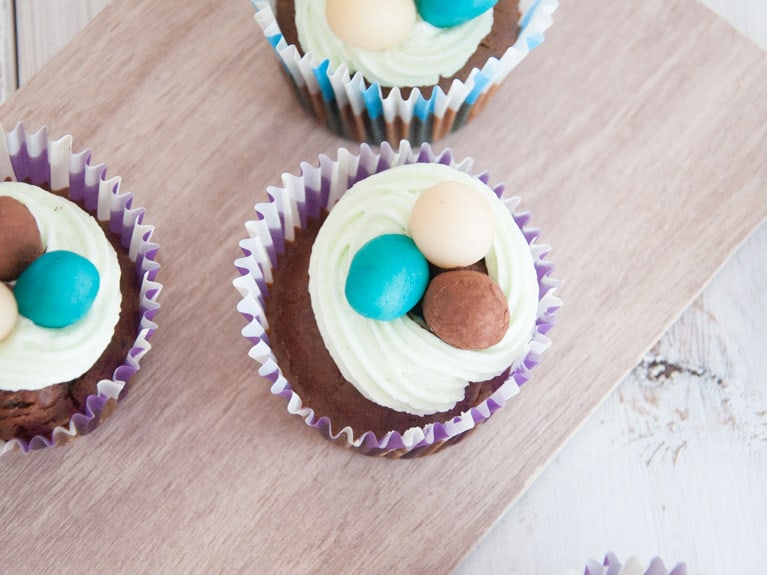 I used store-bought almond paste and colored one part blue, coated one in cocoa powder and left the other one plain to have three different colors, but if you have any other food colors at home feel free to use those! You'll need 12 almond past balls of each color. Watch out for the almond paste to be vegan… I've never seen non-vegan almond paste, but who knows. Better be safe than sorry.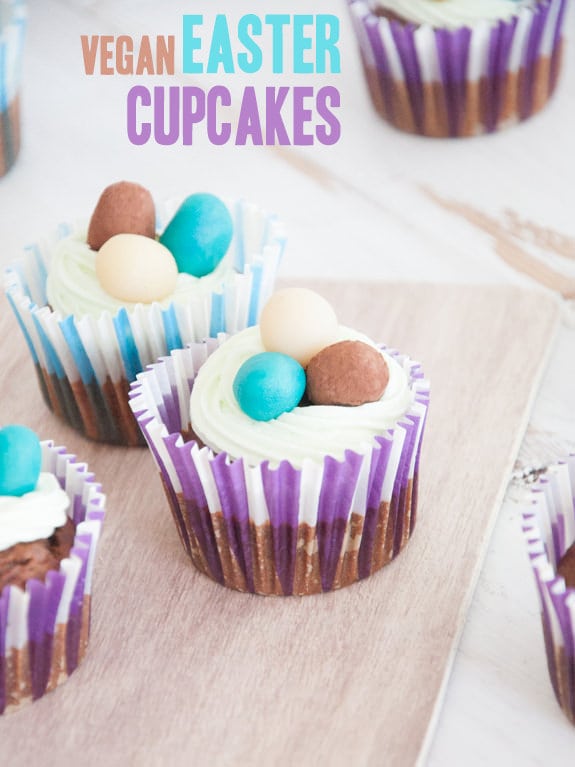 Easter Cupcakes
Recipe for festive, cute little vegan Easter Cupcakes! Perfect for the holidays.
Author:
Elephantastic Vegan
Ingredients
Ingredients for the Cocoa Muffins
2 cups / 240g all-purpose-flour
1 teaspoon cocoa powder
1 teaspoon baking soda
1 teaspoon baking powder
a pinch salt
1 cup / 120g Dextrose* or your sweetener of choice
1½ cups / 360ml almond milk (I used sweetened)
2 teaspoons coconut vinegar
½ cup / 120ml canola oil
a few drops vanilla extract
Ingredients for the Peppermint Liqueur Frosting
½ cup / 100g vegan butter (Alsan, Earth Balance,..)
1½ cups / 150g confectioner's sugar
¾ teaspoon peppermint liqueur (if you sub it with peppermint extract you'll need less)
Ingredients for the Almond Paste Eggs
1 cup / 250g almond paste
1 teaspoon cocoa powder
¼ teaspoon blue vegan food coloring**
Instructions
Preheat the oven to 350°F/180°C.
In a mixing bowl add all the dry ingredients given above for the muffin and whisk.
Mix in the wet ingredients for the muffin and whisk again until it's a nice smooth dough.
Put muffin liners in a muffin tray and fill them with the dough about ¾ full.
Put them in the oven for about 20 minutes. (Use the Toothpick Method to make sure the dough is done in the middle.)
Let the muffins cool off completely before applying the frosting.
Meanwhile mix the butter along with the confectioner's sugar and the peppermint liqueur with an electrical handmixer until it's a smooth frosting.
Fill the frosting in a piping bag and put it in the fridge for the meantime.
Divide the almond paste in 3 equal pieces.
Color one piece blue by adding food coloring into the the almond paste and kneading it until it has an even color.
Roll out of every piece 12 small almond paste balls with your hands.
Put the cocoa powder in a small bowl and roll 12 almond paste balls around in the bowl until they are all coated with cocoa powder.
If your muffins have cooled down by now pipe circles with your frosting on the muffins.
Place the little almond paste balls into the circle. Start by putting the cocoa coated ball first, otherwise it will get messy.
Ready are your Easter Cupcakes!
Notes
*I've used Dextrose in this recipe which is a fructose-free sugar, but you can sub it with your preferred granulated sweetener.
**Instead of the blue food coloring, you could use a splash of beet juice for an all-natural pink food coloring :)